100% Free Methods to Convert RAR to MP4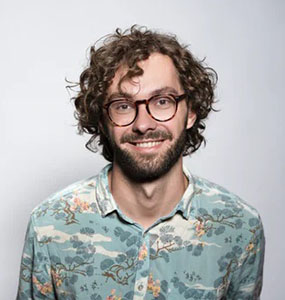 Joshua Hill
Both RAR file and MP4 file are very common in our daily life, but have you ever thought of converting RAR to MP4? And is it possible to convert an RAR file to MP4 file? Go no further! You will find all the answers to these questions in this article. We are about to introduce something about RAR file, and outline several top RAR to MP4 converter tools for you.
Part 1. What is a RAR File?
RAR is a private file format for file compression and archiving. RAR is used for data compression and archive packaging. Simply put, the original file data is compressed and saved as the rar extension. Usually, the original files are saved as RAR file through WinRAR for Windows users.
People tend to use RAR files because it is very convenient to save and transfer. Moreover, the compressed RAR file size is much more smaller than the original file size.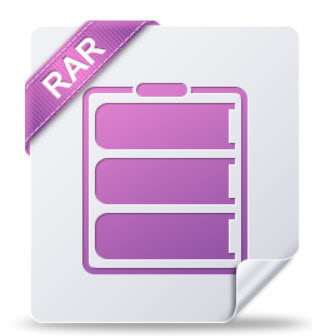 Part 2. How to Convert RAR to MP4 on Windows PC/MAC
Once you understand what RAR file format is, we will show you how to convert RAR file to MP4 in this part, whether you are a Windows user or a Mac user.
How Do I Convert RAR to MP4 on Windows Using WinRAR?
WinRAR is a powerful file compression tool. It can back up data, reduce the size of email attachments, create new compression files in RAR and ZIP formats, and decompress CAB, ARJ, LZH, TAR, GZ, ACE, UUE , BZ2 and other types of compressed files.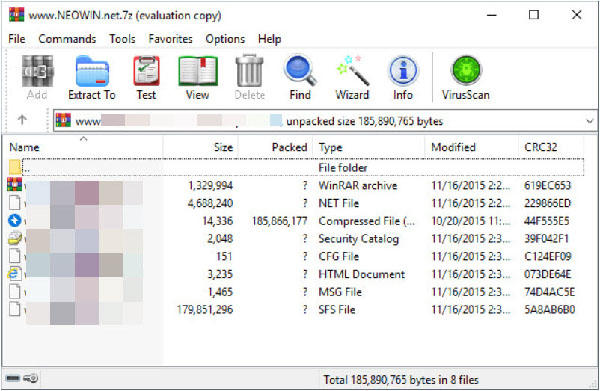 How to convert RAR to MP4 with WinRAR:
Step 1: You will have to download and install WinRAR software in your computer first. If there is no software installed yet, try to download it from the website or within the Microsoft Windows Store.
Step 2: After installing, locate the RAR file that you want to convert. Ensure to choose to open it with WinRAR software.
Step 3: A window will pop up asking you to confirm opening with WinRAR, then confirm it.
Step 4: Another new window will open, and you will see the MP4 file(2) included in your RAR file. You are free to copy, delete, or open these files.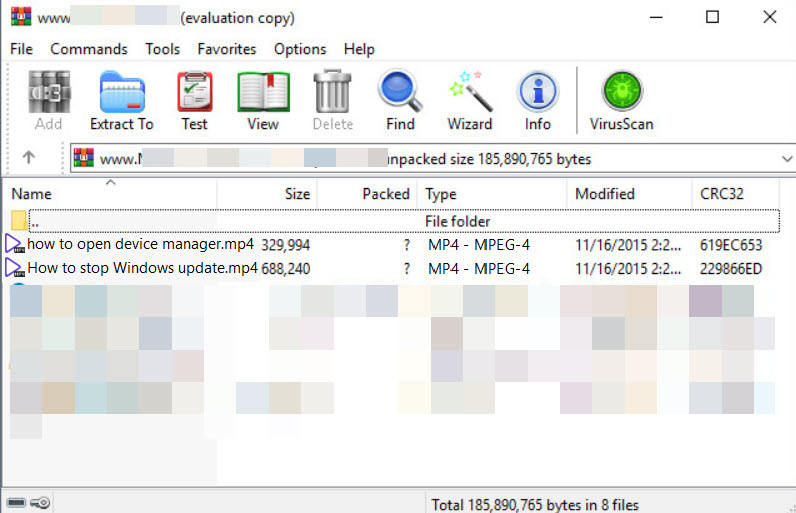 How to Turn a RAR File into a MP4 on Mac Using The Unarchiver?
Additionally, if you are using a Mac device and you would like to turn an RAR file into an MP4 file, that is pretty easy as well. If there is MP4 file in the compressed RAR file, then The Unarchiver would be a great RAR to MP4 converter. Try these steps:
Step 1: First of all, free download RAR to MP4 converter - The Unarchiver application from App Store in Mac. Then install it.
Step 2: Select the types of archive files that you want to app to open, and ensure to select RAR.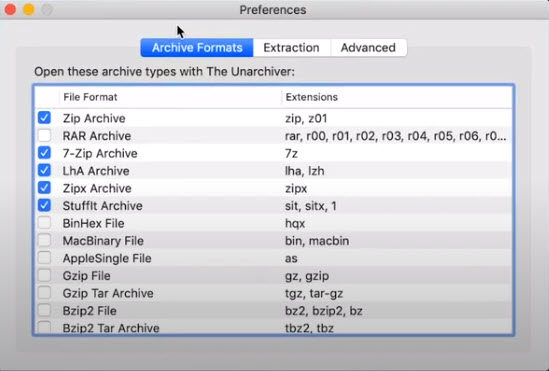 Step 3: Open the RAR file that you would like to convert, and then open it with The Unarchiver.
Step 4: Choose where you want to save the RAR extraction files. And then the app will extract and save it to the folder.
Step 5: Open the folder and you will see the converted MP4 files.
Part 3. How to Convert RAR to MP4 Online
In addition to WinRAR, there are several RAR to MP4 converters online that will help you convert RAR file to MP4 file.
1. RAR to MP4 Converter Free Online - filezigzag
Filezigzag is well known of its ability to convert files to various formats, and it has been categorized by several sections: image converter, video converter, audio converter, document converter, etc. Meanwhile Filezigzag offers an extension for your browser, so that it is easily approached.
To convert RAR to MP4 using Filezigzag:
Step 1: Go to Filezigzag website in your browser.
Step 2: Click Browse for Files, and then upload your RAR files.
Step 3: Under Target Format section, select your targeted format and start converting.
2. Convert RAR File to MP4 Online Free - ezyzip
Ezyzip is a powerful tool that is designed particularly for online converting. Although it is an online tool, it will protect your data privacy and make your conversion very quick.
Step 1: Click on the ezyzip website, and then click Choose File.
Step 2: Select your rar file, and click Extract.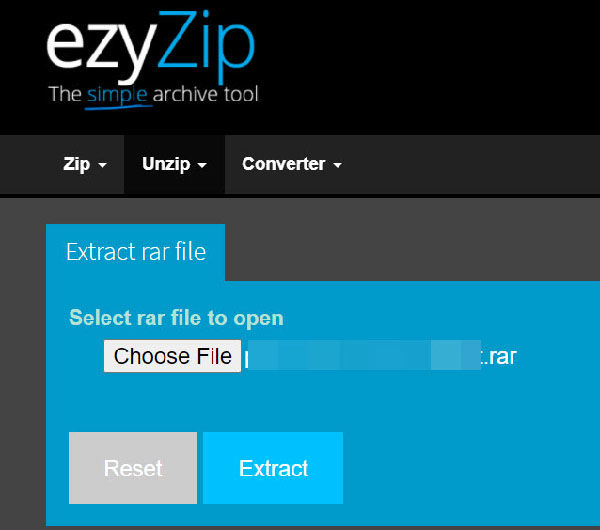 Step 3: The website will unrar your files and you will get your MP4 files.
3. RAR File to MP4 Video Converter Online - rar-to-zip.file-converter-online
With this tool you can convert any file formats to the supported formats online. This is a great tool since 2013, and it has converted more than 40 million files for users.
Step 1: Click rar-to-zip.file-converter-online in your browser to open the website.
Step 2: Click Choose File, and select your RAR file to upload.
Step 3: Choose the file type, and click Start Converting.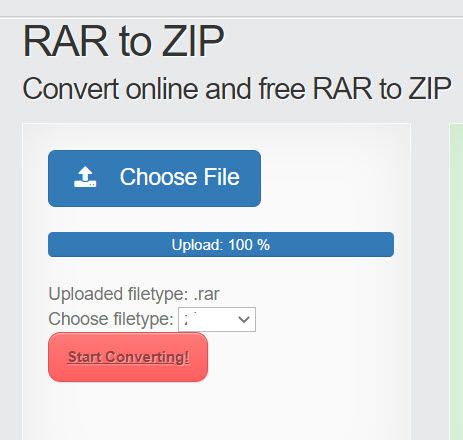 Then you are good to go.
Part 4. Additional Tips: How to Convert Video to MP4 without Any limitation?
There is no such thing as a free lunch. These free converters have more or less limitations on the video size, the download speed and the ads. We've got the perfect tool that you can feel free to convert any videos. That is  HitPaw Toolkit Audio and Video Converter. It is an amazing video and audio file converter that is compatible with numerous different formats. Furthermore, HitPaw Toolikt Audio and Video Converter is easy to use thanks to its user-friendly interface and can get the job done within seconds! It is recommended for both professionals, as well as beginners.
Easy steps to use HitPaw Toolkit Audio and Video Converter.
Step 1:Download and install HitPaw Toolkit Audio and Video Converter, and then open the program in your computer.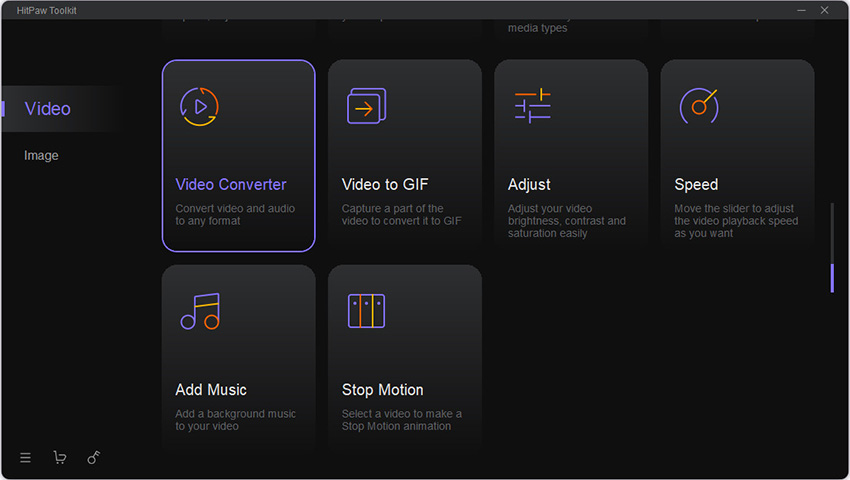 Step 2: Select 'Video Converter' and press 'Add Files' from the top-left corner.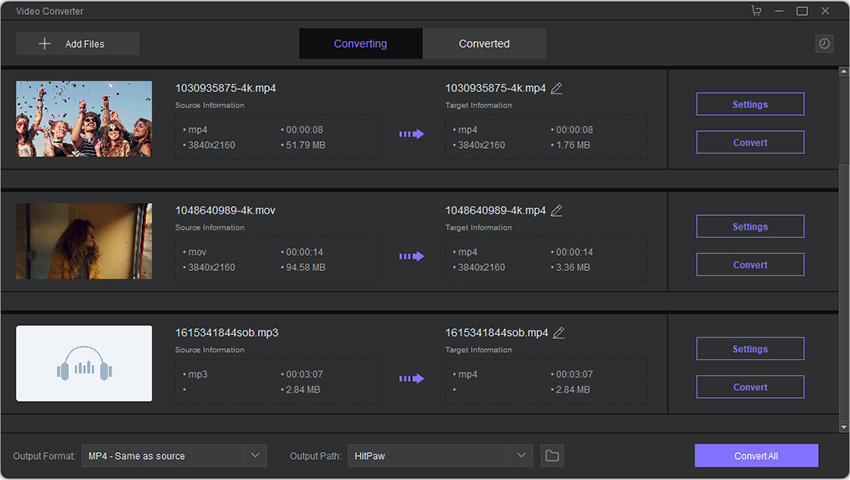 Step 3: After importing, click the Settings button next to the video.
Step 4: Click Video > MP4, and choose the video quality as you like, such as same as source, 4K, HD, etc.
Step 5: Click the Convert button, or the Convert All button if there are multiple videos. Afterward, you can check the converted video file from the 'Converted' tab.
Final Thoughts
If you want to convert RAR to MP4, check out this article as it tells you what an RAR file is, how to convert RAR file to MP4 in Windows and Mac, introduces the best RAR to MP4 online tools, and another bonus tip - HitPaw Toolkit Audio and Video Converter, which has been gained a great number of users around the world.