How to Convert M3U8 to MP4 with/without VLC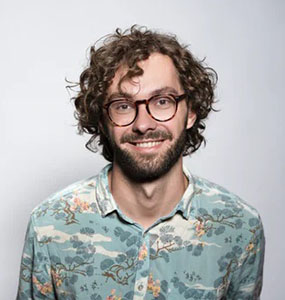 Almost everyone downloads videos from the internet on their computers or mobile phones. But; what if that video doesn't play or you are not able to send that video to someone because the format of that video is M3U8? It would be worth nothing if you are not able to play or send any video with the M3U8 format. M3U8 is a video format that is not compatible with many media players and lots of people complain about the same on the internet.
In order to play M3U8 format on your system, you can use an M3U8 to MP4 converter so that you can convert it to other common video formats. Here in this discussion, we will assist you to convert M3U8 to MP4 format conveniently by providing a few proven ways for the conversion.
Part 1. What is an M3U8 File?
M3U8 is a computer file type that allows you to create an ever-growing playlist that is linked to an online broadcast. M3U8 differs from M3U in that it utilizes UTF-8-encoded characters rather than M3U-encoded characters. M3U8 files are the current industry standard for transferring video and audio over the internet over HTTP Live Streaming (HLS). The M3U8 file, on the other hand, only texts with no audio or video. Because the M3U8 file contains links to the original media files, you may use an M3U8 downloader to analyze and convert M3U8 to MP4. The next section explains how to convert M3U8 to MP4 using a suggested M3U8 converter.
Also read: How to Convert Convert M3U to MP3
Part 2. How Do I Open M3U8 Video Format File?
M3U8 files can be opened in most editors including Notepad in Windows. However, opening the M3U8 with Notepad only lets you read the file preferences, not the media file.
You can try to open M3U8 file with the compatible media player. Some of the media players that support to play M3U8 are VLC, Apple iTunes, or Songbird.
The question is M3U8 is not compatible with most of the devices. Thus, converting M3U8 to MP4 or other common formats are necessary.
Part 3. How to Convert M3U8 to MP4?
Here we are going to recommend the proven ways to convert M3U8 to mp4 on PC or Mac.
Way 1. How to Convert M3U8 File to MP4 with VLC
VLC is an unrestricted and open-source cross-platform multimedia player for a range of systems that can play most multimedia files from discs, network, and device streaming protocols. VLC Media Player also functions as a video converter, to easily convert M3U8 to MP4, FLV, WMV, AVI, MOV, and other formats.
Notes:
1. If you use the VLC to convert M3U8 to MP4, there are so many uncorrectable green glitches you may encounter with and the problem is unfixable. Thus, HitPaw Video Converter is the most trustworthy tool to convert M3U8 video without losing quality. Learn more here.
2. 2. When you convert M3U8 with VLC, it converts it to TS file format first; and to get the MP4 file format, you are required to convert from TS to MP4.
1

To start, please download and install VLC media player to a PC or Mac system.

2

Open VLC on computer, and go to the Media menu from the top menus, and choose Open Network Stream there.

3

Copy your .m3u8 link and paste it to VLC. Toggle the Play option in the lower right corner to Convert.

4

In the Profile drop-down list, please select MP4 with H.264 codec. Choose a destination folder and click Start button to start converting M3U8 to MP4.
Way 2. Convert M3U8 with HitPaw Video Converter
If you look for a professional M3U8 to MP4 converter, HitPaw Video Converter is your best choice. Every M3U8 file contains a number of TS video clips and each of them lasts for a few seconds only. Now; if you want to watch an interruption-free video, you are required to combine all the TS video clips into an MP4 file format.
With HitPaw Video Converter, you don't need to have this much technical knowledge as with a few clicks, you will be able to convert M3U8 to MP4.
Step-by-step guide to convert M3U8 with HitPaw Video Converter:
Step 01 Download and install HitPaw Video Converter Windows or Mac version to your computer.
Step 02 On the Convert tab, click "Add Video" or "Add Folder" to add your M3U8 folder which contains all .ts files.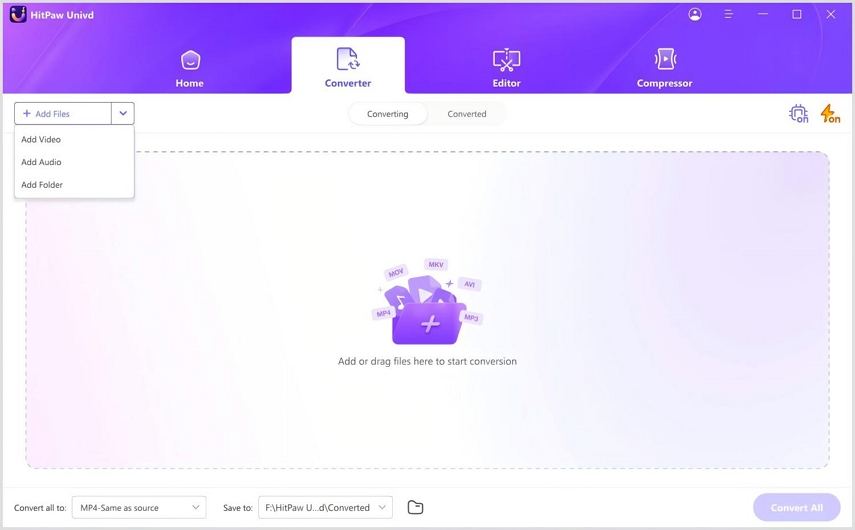 Step 03 In this step, you can select MP4 file format as your output video format. You can click "Convert all to" option from the left bottom and find MP4 profiles.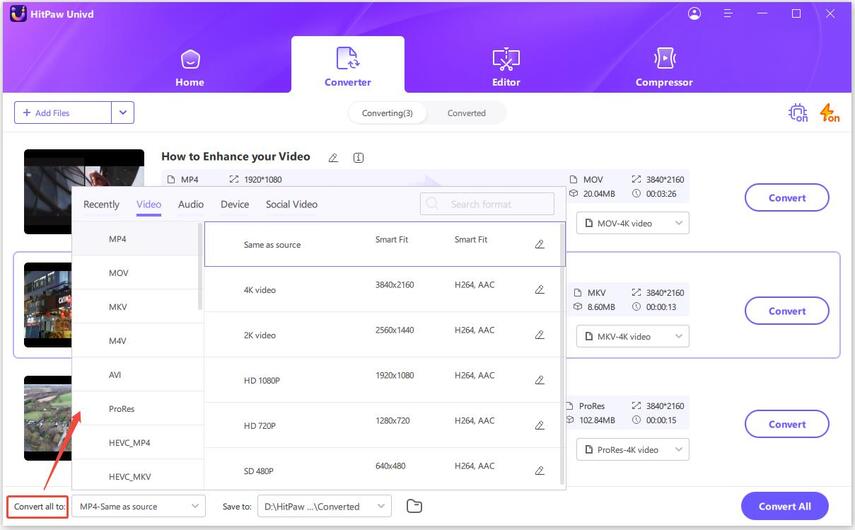 Step 04 Prior to conversion, you can enable the GPU acceleration and lossless conversion.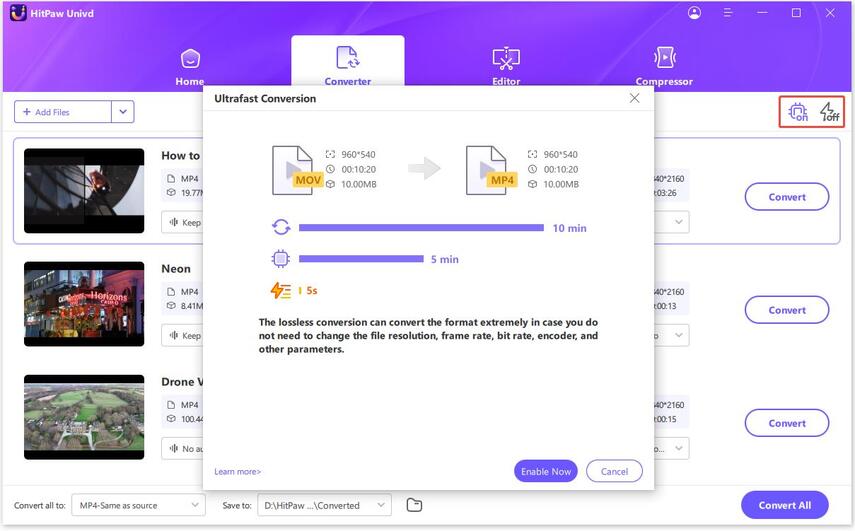 Step 05 Click "Convert All" button to convert these .m3u8 files to MP4.
Step 06 These files will be converted as separate MP4 files on computer. If you'd like to merge them into one, switch to the Edit feature and merge these files into one in a click.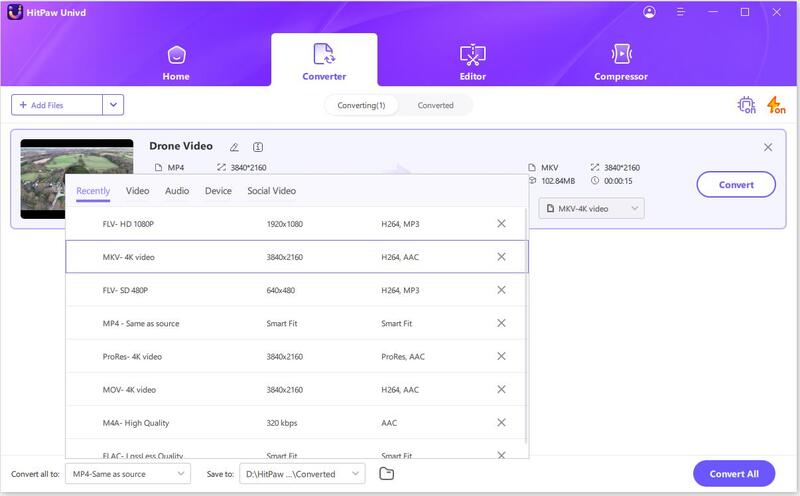 Way 3. Convert M3U8 with FFmpeg
FFMPEG is also the most frequently used media framework, capable of decoding, encoding, transcoding, streaming, filtering, and playing practically any human or machine-created media. You can also use it to convert M3U8 to MP4.
However, if you are not a technically savvy person and know how to cooperate command line, this method will be difficult for you.
Step 1. As a first step of the process, you are required to go on the https://www.ffmpeg.org/, and then you may get the application package for your operating system by downloading it. After that, create a folder in which to store the unzipped files and the software followed by changing the Environmental Variables to C:\FFmpeg\bin.
Step 2. In the 'Inspect > Network on your browser' section, get the M3U8 link; and then write down the command line on a 'Text Document'- "ffmpeg -i http://.../playlist.m3u8 -c copy -bsf:a aac_adtstoasc output.mp4 ". After that, you need to replace "http://.../playlist.m3u8" with the link you copied online.
Step 3. In the Search Windows box, type "Command Prompt" and then open it. Press Enter after pasting the command line into it.
Step 4. Following the path before the command line, such as C:\ffmpeg\>bin, will lead you to the MP4 video output after the process is finished.
Part 4. How to Download M3U8 Video to MP4?
If you have an M3U8 streaming video, you can download it and convert it to MP4 with HitPaw Video Converter. This video downloader tool can download media files from 10000+ streaming sites in high quality. You even don't need to do the conversion as HitPaw Video Converter will download M3U8 to MP4 directly.
1

Free download HitPaw Video Converter to your computer and switch to the Download feature.

2

Open the .m3u8 live video through a web browser like Chrome or Firefox. Right click on the video and go to Inspect > Network. Find the M3U8 file URL with the suffix .m3u8 and copy it.

3

Now, paste the link to HitPaw Video Converter – Download clipboard.

4

This program will obtain and display the database info for this video. Choose an output format for this video and click the "Download" to start downloading it online.
The Bottom Line
This talk was about how to convert M3U8 to MP4 on PC and Mac. Several ways are provided, and HitPaw Video Converter is the top recommended. It can be used as M3U8 converter and downloader to convert M3U8 to MP4 without losing quality.