Converting CPI to MP4 : The Effective Way Tested By Us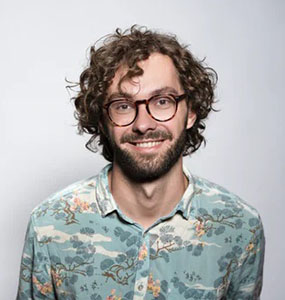 Joshua Hill
Most people may not be familiar with CPI file format, and it is very frustrating to open CPI files. Under this circumstance, it is quite common to convert CPI to MP4, making it easier and approachable to open and play. Here we will introduce everything about CPI and how to convert CPI to MP4 step by step.
Part 1. What is CPI file format?
Many of you may be wondering: what is CPI file format? CPI file contains metadata information that is used to describe an AVCHD video file, such as frame rate, frames per second, and aspect ratio. An AVCHD video file format was created by Sony and Panasonic in 2006.
In a word, CPI is not a commonly seen file format, but we will have a better understanding of it after reading this article.
Part 2. What Program will Open a CPI file?
Just because cpi extension is not commonly seen doesn't mean that it can't be opened. On the contrary, there are several programs that will open a CPI file.
If you want to open CPI files on Windows computer, you can try Adobe Premiere Pro, Roxio Creator NTX Pro, CyberLink PowerDirector 15 Ultra, Pinnacle Studio 23, Corel VideoStudio 2020, and Kdenlive.
If you try to open CPI files on Mac, then Adobe Premiere Pro 2020 and Roxio Popcorn can be taken into consideration.
For Linux users, Kdenlive would be your go-to option to open CPI files.
Part 3. CPI to MP4 Converter: HitPaw Toolkit Video Converter (No Limitation)
HitPaw Toolkit Video Converter is a perfect video converter, which helps convert to more than 1,000 video and audio formats and no any limitations. The software features a super intuitive user interface and it is friendly to beginners, so you can feel free to convert CPI file to MP4.
Why recommend HitPaw Toolkit Video Converter:
HitPaw Toolkit Video Converter supports a huge number of formats and no any limitations, so you are free to convert your video and audio files to any formats.
This software is small and lightweight to download and install, so there is no need to worry about your computer hardware or the conflict issue.
It is fast to import your files, and to convert your files.
Just as many other video converter, HitPaw Toolkit Video Converter features a Convert pane for users. Apart from that, It also offers a Converted pane, so that users can check the converted history and review the converted files anytime.
How to convert CPI to MP4 using HitPaw Toolkit Video Converter:
Although CPI is not a common file format, it is not difficult to convert CPI to MP4 files using HitPaw Toolkit Video Converter. All you need to do is just to follow these steps:
Step 1: Download and install HitPaw Toolkit Audio and Video Converter, and then launch the program in your computer.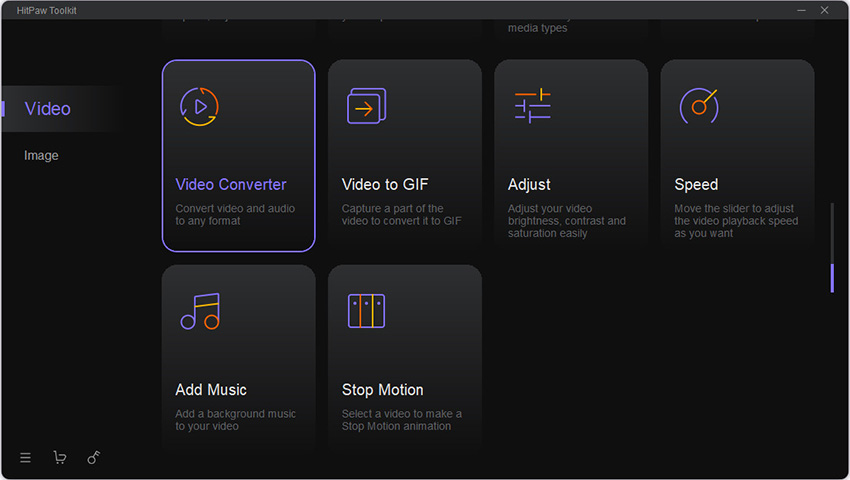 Step 2: Select "Video Converter" and click "Add Files " button in the center or on the upper left to import the videos you want to convert, or you can drag and drop the CPI files into the main window.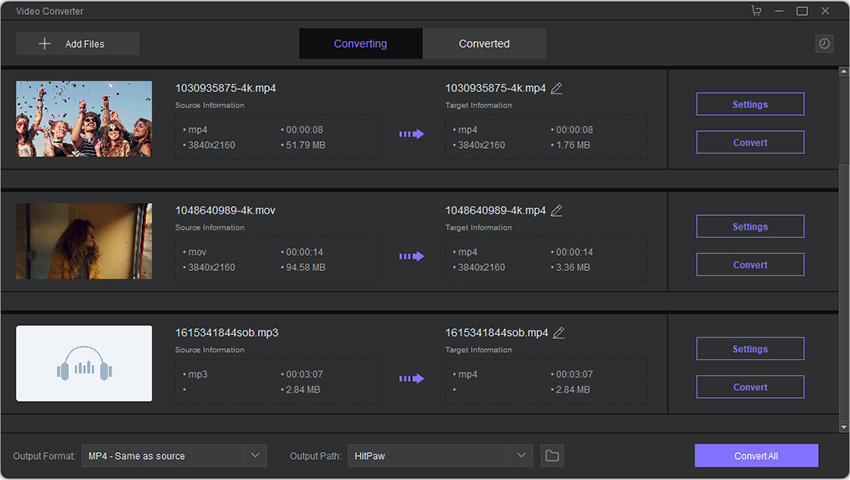 Step 3: After importing, click the Settings button next to the video.
Step 4: Click Video > MP4, and choose the video quality as you like, such as same as source, 4K, HD, etc.
Step 5: Click the Convert button, or the Convert All button if there are multiple videos.
Step 6: HitPaw Toolikt Video Converter will start converting. Once finished, click Converted tab and you will see the converted files.
Now you will be able to play the MP4 files anywhere and anytime.
Conclusion
To sum up, this article answers what CPI file is, what program will open CPI files in various operating system, and also guides you how to convert CPI to MP4 using the remarkable tool - HitPaw Toolkit Video Converter, which has been gained a great number of users around the world.
People Also Ask About CPI File
1.Could I convert CPI to MP4 online?
Yes, of course. There are online tools that help convert CPI files to MP4. It is recommended to Google the best online tool to convert CPI to MP4 format. However, converting files online can be risky sometimes, especially when it comes to important files. It is always recommended to convert files using a desktop software, such as HitPaw Video Converter.
2.Is there any CPI to MP4 converter free online?
If you are looking for a free online tool to convert CPI to MP4, there are online tools that would serve your purpose. For example, Online Converter is a great option for you, not only because it is a free tool, but also it is a powerful tool that can convert various files to lots of formats you want.
3. Is it possible to convert arf files to mp4 without webex
Unfortunately, I am afraid that there is no other program that can convert ARF files to MP4 but WebEx. WebEx is a great tool that is particularly designed and you are rest assured to try WebEx to convert ARF to MP4.