What Are the Best Android Virtual Webcam Apps.
A virtual camera is an application that lets you use the computer or phone's camera during a live video chat instead of an actual webcam. Using a virtual camera serves tons of purposes, be it communicating with your colleagues, video chatting with mates, or giving a how-to tutorial.
All you need is a credible virtual webcam Android app to get the job done. That is why we have rounded up the most efficient programs for using your Android smartphone as a webcam.
Stick to reading and single out the one that meets your expectations.
Part 1. Is a phone a good webcam?
The first question that pops up in mind is, if using a virtual webcam Android is a good idea or not? With the advanced Android phones offering state-of-the-art cameras, it's always a handy choice to use Android as a virtual cam.
Even a mid-range Android phone offers better video quality than traditional USB webcam or the webcam built into your laptop. However, Android doesn't offer the native support for acting as a webcam for PC and you need a competent third-party software to do the job.
Part 2. The Best Virtual Webcam Apps for Android
Below are the five popular Android virtual webcam apps along with their key features.
1. iVCam Webcam
iVCam is a popular virtual webcam app that comes with many unique features. It can work on both Wi-Fi and USB and lets you record anything your Android phone sees on the PC. Come of the distinct features of the iVCam app is support for 4K video and high-quality audio as well as configurable frame rate, exposure, and ISO.
The non-technical users may face some issues in setting up the app and getting it ready for recording. But apart from that, iVCam is a handy option to use your Android as a webcam. Not to mention, you can capture the PC screen in both landscape and portrait modes, and also swap out your background if needed.
2. DroidCam
With its ability to work on both Windows and Linux systems, DroidCam is an efficient virtual cam Android application. What makes it so popular is tons of customization options it offers to users. You can easily flip, mirror, or rotate video to capture the attention of your audience.
It gives you the option of connecting your Android to PC via both USB or Wi-Fi. The latter option preserves the battery of your phone and comes handy for making longer videos. Similarly, the app allows you to adjust brightness and contrast as well as use your smartphone's LED flash on for more light.
DroidCam comes in both paid and free versions, but getting the $5 premium plan is necessary to access all its features.
3. Reincubate Camo - Great Virtual Camera Android
Want more control over your Android phone's settings during the streaming session? Look no further and get Reincubate Camo. With this virtual webcam for Android tool, you can easily switch between your phone's lenses, stream video at higher resolutions, and apply different filters.
Accessing these and many more features require you to get the premium plan, which costs $4.99 a month or $39.99 a year.
4. Iriun - Free virtual camera for android
One of the few webcam apps that offer complete support for 4k resolution. It requires you to install the app on both Android phone and PC to connect the two. Just like most similar programs, Iriun supports both Wi-Fi and USB connections.
But many users have complained of frequent failed USB connection, even after purchasing the paid version. Also, it shows compatibility issues with many popular video streaming apps including Zoom.
5. XSplit Connect - Android Virtual Camera
Just because this Android virtual webcam program is last on our list, it doesn't make it any less efficient than the rest. You can use both the front and back camera for capturing the computer's screen.
XSplit Connect has earned quite positive points for its simple yet advanced connection and customization settings. Both USB and Wi-Fi connections work perfectly and should one fail, you can easily rely on the other.
Having the ability to record in 720p, it also supports many popular streaming apps including OBS, Streamlabs, XSplit Broadcaster. However, it automatically sets the portrait mode for the selfie camera and landscape for the back one. You have no option to rotate the camera whatsoever.
Part 3. The Best Virtual Webcam Software on PC
When it comes to the best virtual webcam software for PC, HitPaw Screen Recorder stands out. It offers a click-through process to use your iOS device as a webcam.
The program lets you add stickers, templates, and pictures in real-time to make video meetings more interesting. In addition, users can easily change to the desired virtual background with one click. Not to mention, it supports all popular video meeting and video chatting apps of 2022.
HitPaw Screen Recorder also gives you added functionality of recording the video session to use it in future. Without any prior knowledge, you can start using the virtual camera feature of this tool.
Key Features of HitPaw Screen Recorder:
The app gives you freedom to use an iOS device as a webcam
Add interesting stickers, templates, or backgrounds during the live session.
Compatibility with all popular video conferencing applications.
A comprehensive recorder to capture your live session.
It lets you record your own live event on multiple platforms simultaneously.
Comes with a built-in editor.
How can the HitPaw Screen Recorder virtual camera be used?
Check out how easy it is to use the virtual camera feature of HitPaw Screen Recorder.
Step 01 Download and launch HitPaw Screen Recorder
Step 02 Click on "Virtual Camera" until the Live tab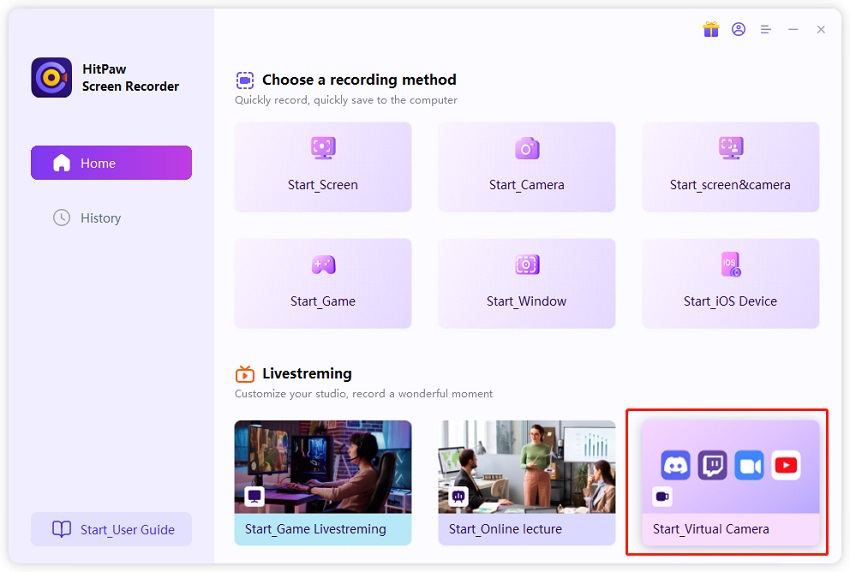 Step 03 Now, add a source that you want to show to the audience. You can choose your "iOS" device as the source device and virtual webcam
Step 04 After that, open your video source platform, join/host a meeting, and select "HitPaw Camera" from the camera list.
And that's it, you can now make your smartphone as a virtual camera and engage with your audience like never before.
Final Thoughts
To sum up, this article has introduced some of the best virtual cam Android apps that you can use. Now, turning your smartphone into a virtual camera is no longer a complicated task.
Choose any of the aforementioned tools that best meets your requirements. But as far as our recommendation goes, get HitPaw Screen Recorder to have the best possible results. This program makes it extremely easy to use your iOS device as a webcam and stream high-quality videos.