[2023] Top 8 JPG Upscalers to Instantly Improve Your JPG Quality
Are you frustrated with the limitations of low-resolution JPG images? Do you find yourself wishing to upscale and enhance your JPG files to bring out the finest details and clarity? If so, you're not alone. Many individuals and professionals encounter the challenge of working with low-quality JPGs and yearn for effective solutions to overcome this hurdle.
We will explore eight remarkable solutions that can uplift the quality of your JPG images, whether you're a photography enthusiast, a designer, or a marketer. Get ready to unlock the full potential of your visuals and witness a remarkable transformation with the best JPG upscaler tools.
The Best 7 Tools to Upscale JPG Online Available in 2023
In the sea of ai upscale JPG tools - we have curated a list of the best 7 tools that will make your images pop!
HitPaw Online Photo Enhancer
Many individuals and professionals often encounter the challenge of dealing with low-resolution images that lack the clarity, sharpness, and detail they desire. Whether it's due to capturing images with lower-quality cameras or receiving low-resolution files from clients, the need to upscale and enhance these images becomes paramount to achieve the desired visual impact.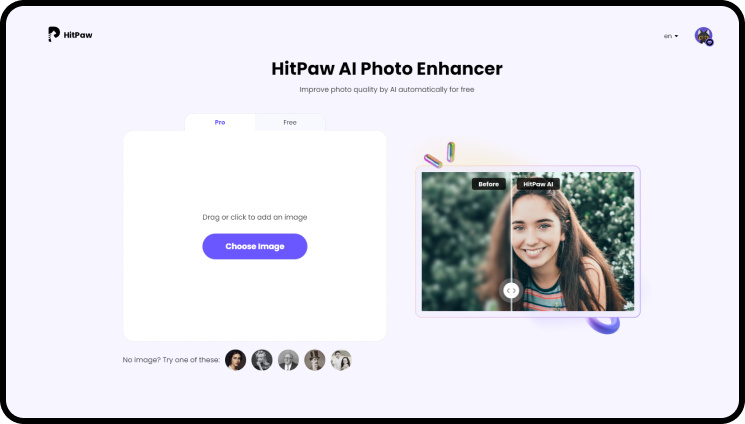 Enter HitPaw Online Photo Enhancer, the ultimate solution to elevate the quality of your images and overcome the limitations of low-resolution files. With its advanced algorithms and powerful editing capabilities, HitPaw Photo AI empowers you to upscale and enhance your images effortlessly with this upscale JPG image tool.
Powerful upscaling technology that intelligently enhances low-resolution images, adding missing details and improving overall clarity.
User-friendly interface that makes it easy for anyone, regardless of their technical expertise, to navigate and utilize the advanced editing features.
Ability to preserve the natural look of the photo while enhancing its quality.
IMG Upscaler
A cutting-edge upscale JPG resolution tool designed to breathe new life into your low-resolution images. Say goodbye to pixelated and blurry visuals with this advanced upscaling solution. With IMG Upscaler, you can effortlessly enhance the quality of your images, bringing out stunning details and improving overall clarity.
Its user-friendly interface ensures a seamless experience, allowing you to upload and process your images with ease. Unlock the true potential of your low-resolution images and witness the remarkable transformation with IMG Upscaler.
Big JPG
Big JPG is a straightforward and user-friendly online tool that simplifies the process of compressing and optimizing your JPG images.
Big JPG allows you to upscale your images without compromising on quality. Whether you need to optimize images for web use, reduce storage space, or improve loading times on your website, Big JPG provides a simple and effective solution. Just upload your JPG file and let Big JPG handle the rest of the work as upscale JPG online tool.
Within moments, you'll have a more optimized JPG image ready to use. Experience the ease and convenience of Big JPG and streamline your image compression process effortlessly.
Upscale.Media
Upscale.Media is an innovative image upscale solution for your question how to upscale a JPG for better clarity. It harnesses the power of artificial intelligence to elevate the resolution and quality of your images.
The user-friendly interface makes it easy to upload and process your images, providing a hassle-free experience. Embrace the transformative capabilities of Upscale.Media and witness the remarkable enhancement of your images with exceptional clarity and precision.
Pixelcut
Pixelcut is a revolutionary image upscaler that harnesses the power of artificial intelligence to elevate the resolution and quality of your images.
Pixelcut provides an innovative solution for enhancing low-resolution images and transforming them into visually stunning, high-definition masterpieces.
Whether you're working with photographs, graphics, or other digital images that lack the desired level of detail and sharpness, Pixelcut analyzes the image content and applies state-of-the-art upscaling techniques to enhance the overall image quality.
Icons8
Icons8, the magical image upscaler, brings a touch of whimsy to the world of visual enhancements. With its pixel-expanding wizardry, Icons8 turns your tiny, lackluster images into grandiose masterpieces bursting with vibrant details and larger-than-life charm.
Upscalepics
Prepare to witness a transformation like no other with Upscalepics, this image upscaler that takes your visuals on an exhilarating journey to new dimensions. Unlock the full potential of your images as Upscalepics works its magic, breathing life into every pixel and unraveling hidden details with its awe-inspiring algorithms.
Whether you have vintage photographs longing for a modern makeover or digital artwork thirsting for enhanced brilliance, Upscalepics is your creative companion.
[Stable & Fast] Your AI JPG Upscaler to Upscale Images Right Now
HitPaw Photo AI emerges as the unrivaled champion among image enhancement tools, offering an unparalleled combination of features that elevate it to the top spot. With its powerful AI one-click enhance feature, HitPaw takes your photos to the next level effortlessly, enhancing sharpness, improving colors, and refining details with incredible precision.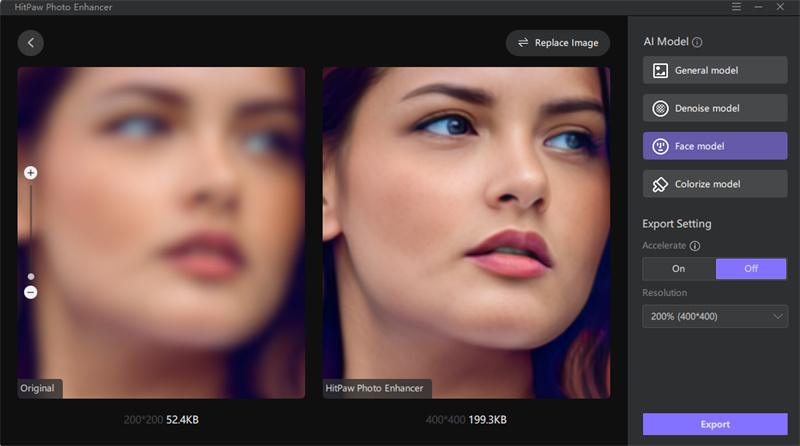 But it doesn't stop there. HitPaw also supports batch sharpening, allowing you to enhance multiple images simultaneously, saving you valuable time and effort.
Furthermore, HitPaw understands the importance of customization, providing you with the ability to adjust your photo size according to your specific requirements. Whether you need a high-resolution image for printing or a compressed version for web use, HitPaw gives you full control over the size and dimensions of your photos.
The best tool that works for both Windows and Mac.
Enhance in seconds.
Straightforward steps for ease.
Conclusion
Each tool brings its unique features and capabilities to the table, providing users with a range of options to choose from based on their specific needs. However, among the competition, one tool stands out as the ultimate recommendation: HitPaw.
HitPaw Photo AI offers an all-in-one solution that caters to professionals and enthusiasts alike. Its powerful algorithms and user-friendly interface make image enhancement a seamless and enjoyable experience for your JPG upscaler tasks.