How to Download WhatsApp Audio Easy and Fast in 2023
As one of the most popular social apps currently available, WhatsApp offers a variety of choices for its users. Many individuals use it to share music and other audio files, as well as voicemail. However, after saving the audio files in WhatsApp, users frequently have trouble playing them again.
WhatsApp audio can be downloaded in a number of different ways, depending on whether you're using an iPhone or Android. Here, we'll go over the same ground but with more focused advice on how to download audio from WhatsApp like an expert.
Part 1. How Do I Save and Download Audio from WhatsApp?
Keeping in touch with loved ones is easy with the help of WhatsApp. However, it's important to regularly back up any important audio files you get from loved ones by downloading them onto a mobile device or PC.
1. For PC
Here's how you can save and download WhatsApp audio on a PC.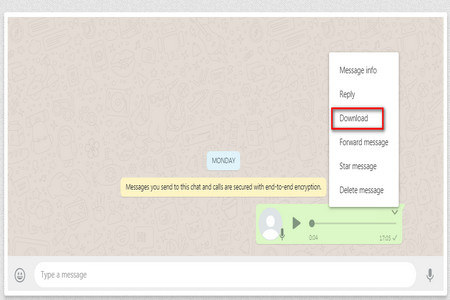 Step 1.Open your voice message via the WhatsApp web/desktop app.

Step 2.Wait until the triangle icon appears in the top right corner of the screen while still hovering the cursor over the voicemail. 

Step 3.Select Download from the menu that appears.

Step 4.Choose an output folder and then click "Save."
It is how to download WhatsApp voice messages on a PC.
2. For iPhone
Here's how to do WhatsApp voice download on iPhone.
1) Using The Files App from WhatsApp
The following steps will show you how to save WhatsApp voice messages through this method.
Step 1.Launch WhatsApp and navigate to the conversation containing the audio recording you wish to download.

Step 2.Hold the message with the attached file on your fingertip till a menu appears and "Forward" from the menu.

Step 3.Decide how to share. Then, to access your files, choose that option from the menu.

Step 4.Choose "Save to Files" to store the information. You'll see the locations where your audio file can be saved. 

Step 5.Go to the directory where you stored the file and open it. 
If you followed the steps successfully, you should now be able to know how to download voice messages from WhatsApp.
2) Using Export Chat
The iPhone's Export Chat feature is another simple option for you if you want to know how to download voice notes from WhatsApp. Here's how to save voice notes on WhatsApp.
Step 1.Choose the chat and click the Export button.

Step 2.Specify which chat you want to save audio from WhatsApp. 

Step 3.Decide if you wish to add any files. Select Attach Media.

Step 4.A zip archive will be generated by WhatsApp. Keep waiting until you're given the option to choose a destination to store it. 

Step 5.Open the Files app and navigate to the directory where you put the compressed archive. You can find the music on iCloud by going to Drive and selecting theme> Audio. 

Step 6.When you click it, iOS will begin the export process immediately. After exporting your chat, you can navigate to the new folder to view its contents. The audio files must be included.
And this is how to save WhatsApp audio on iPhone.
3. For Android
Here's how you can save and download audio from WhatsApp on Android.
1) Through Email
WhatsApp audio files can be downloaded more quickly on Android. You can also select a single audio file and send it to yourself through email to keep.
Step 1.Open WhatsApp and access the chat containing the desired file.

Step 2.Press and hold the message you want to send. Then, a menu of available actions will show just at the top of the screen.

Step 3.Select the Share symbol (it looks like three dots joined) from the menu and decide how you want to share the file. 

Step 4.Click the "Send" button in the upper right corner to finish.

Step 5.Check your inbox for the email with the audio attachment, and then play it. To obtain the document, click on it.
It was a method of how to save voice notes from WhatsApp.
2) Through Raw Files
The steps of how to save voice messages from WhatsApp are listed below.
Step 1.Open WhatsApp storage location. The screenshot shows a WhatsApp folder with 0 entries. Most files we desire are on internal or cell phone storage.

Step 2.View your internal storage folders. Scroll down to see the WhatsApp storage folder.

Step 3.This folder holds all WhatsApp-downloaded media items, including audio. Music files are saved in WhatsApp Audio.

Step 4.Paste your file in a separate area on your phone's storage. 

Step 5.You may do whatever you like with it once it's pasted.
It was how to save WhatsApp voice notes on Android through raw files.
Part 2. FAQs of Saving and Downloading WhatsApp Audio
Following are the most frequently asked questions regarding saving and downloading WhatsApp audio.
1. Why Is My WhatsApp Audio Not Downloading?
Check the following if you are having trouble with the WhatsApp voice message download:
Your phone can connect to the internet, and the signal is strong.
To be sure, try loading a website.
The date and time on your phone are correct.
Most of the time, you can't download voice note WhatsApp because of these things.
2. Where Does WhatsApp Save Audio Files?
WhatsApp has different saving locations for iPhones and android phones. Let's know where WhatsApp audio files are stored on iPhone and Android.
For iPhone:

Tap the "Media'" folder you'll find by navigating to Internal Storage > WhatsApp. You'll find WhatsApp image, audio, voice, and video folders, etc. 

For Android:

On Android, your WhatsApp/Media/folder is the default location for media files. The WhatsApp folder can be found in Internal Storage if your device supports it. The folders will be located on an external storage device if internal storage is unavailable.
3. What Format Downloaded WhatsApp Voice Will Be?
WhatsApp's audio recordings are saved as Opus files on Android and Ogg files on iPhone by default. However, converting them to a more standard and user-friendly MP3 format can be done by using an audio converter like HitPaw Video Converter.
Part 3. Ultra-tips: How Do I Convert WhatsApp Voice to MP3?
The Ogg format is used for voice messages downloaded using the WhatsApp Web or Desktop App. If you want to listen to the file, you'll need to convert it to an mp3 format first.
There are numerous advantages of using HitPaw Video Converter. This top-rated batch Converter can convert up to 5,000 files at once while expediting by a graphics processing unit. As a result, you may quickly batch-convert a collection of audio files to a desired format or device. In addition, it's easy to use and allows you to edit, combine, and high-quality crop files in various formats. 
This tool ensures the conversion of audio files without losing any of your data. It works as advertised and is a breeze to operate. Also, the audio quality is maintained at its original level in every way possible.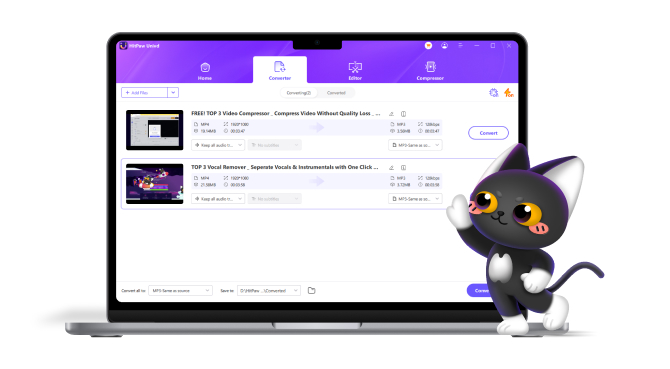 Features of HitPaw Video Converter
Audio conversion to a wide variety of file types
Supports batch conversion and simultaneous conversion between many audio formats.
Fast enough to convert Ogg to mp3 without sacrificing quality or data loss.
It supports over 10,000 sites so that you can get music from a wide variety of places.
Easy to download large numbers of audio at a quick speed.
Apple Music, podcasts, audiobooks, and iTunes can easily be converted with the Windows version of this software.
Now you can convert your downloaded WhatsApp audio in any format using the HitPaw Video Converter. It's easy to use and helps you convert audio into any format without hassle.
How to Convert Downloaded WhatsApp Audio Files with HitPaw Video Converter?
HitPaw Video Converter can convert audio files across formats and extract audio from videos. Here is how you can do it.
Step 1.Download this software on your computer and set up your preference.

Step 2.Click the down arrow (inverted triangle) on the right-hand side of the file to choose an output format.

Step 3.When you're ready, pick the files you want to convert or click Convert All files on your Pc to convert all of them at once without losing quality.

Step 4.To preview the completed files, select Open Folder and check the converted files.
Part 4. Conclusion
WhatsApp is a useful and widely used software. It is essential in our everyday lives despite its pros and cons. However, downloading audio files from WhatsApp can be difficult, especially if you're using an iPhone.
This article discusses multiple techniques for saving WhatsApp audio files to iPhone, PC, and Android. Converting the files to mp3 format might also give you a hard time. Still, with the help of HitPaw Video Converter, you can easily convert your file to any desired format.