Coachella 2023 Introduction and Stream Download
It's no exaggeration that Coachella 2023 is shaping up to be one of the most talked-about music festivals of all time. The world-renowned music festival, Coachella, is set to make a grand return in 2023 after a two-year hiatus due to the COVID-19 pandemic.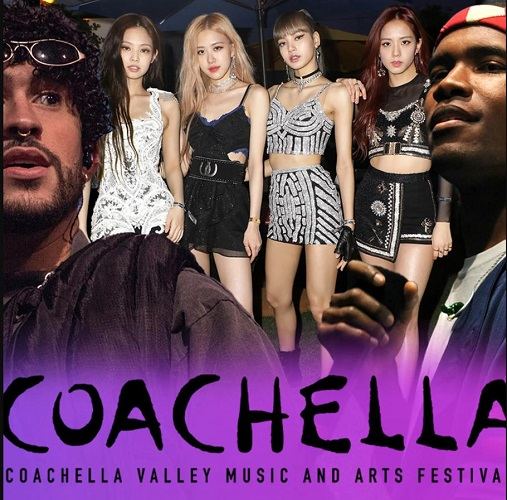 Fans of the festival can barely contain their excitement as the lineup has been announced, and there are some big names on board. But who are these performers, and where can you get the stream downloads for them?
In this article, we'll answer all your questions and provide insight into the upcoming Coachella 2023. So, whether you're a veteran festival-goer or just getting into the music scene, this is your one-stop guide for all things Coachella 2023.
Part 1. What is Coachella 2023?
Coachella is one of the most well-known music festivals in the world, and in 2023, it is set to return to Indio, California, for two weekends of music, art, and culture. The festival, which started in 1999, has grown to become a cultural phenomenon, attracting music fans from all over the globe.
Venue
Coachella takes place at the Empire Polo Club in Indio, California. The venue is located in the Coachella Valley, a region that is known for its beautiful weather and stunning natural scenery. The Empire Polo Club is an expansive space that provides ample room for stages, art installations, and various other attractions.
Period and Time
Coachella 2023 is set to take place over two weekends. The first weekend will run from April 14-16, and the second weekend will take place from April 21-23. Each weekend will have the same lineup of performers, so attendees have the option of choosing which weekend works best for their schedule.
Accommodation
There are several options for accommodation when attending Coachella. Many festival-goers choose to camp at the festival grounds, which offers a unique and immersive experience. For those who prefer a more traditional lodging experience, there are hotels and vacation rentals in the surrounding area.
Part 2. Coachella 2023 Lineup
The lineup for Coachella 2023 has been announced, and it's packed with some of the world's biggest musical acts.
The 2023 lineup is headlined by Bad Bunny, Blackpink, and Frank Ocean. Other notable bookings include Jai Paul, Boygenius, and Blondie. There's also a slim British presence with Wet Leg, Yungblud, Bakar, Lava La Rue, and Charli XCX.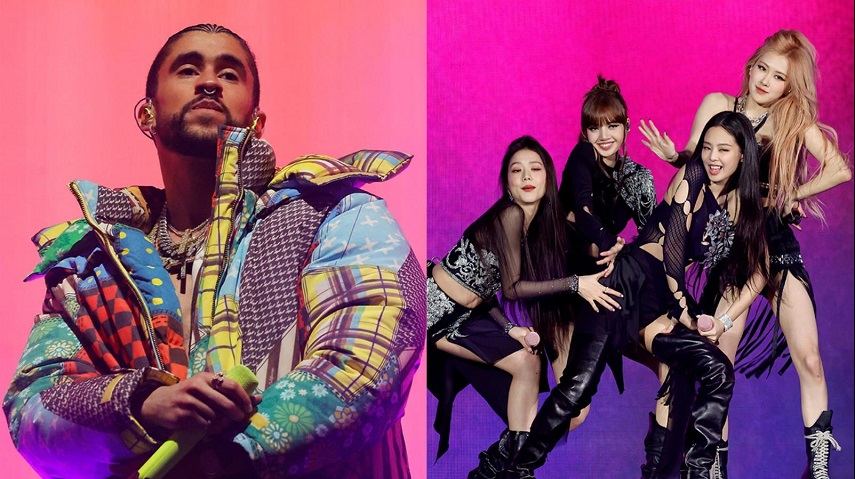 Topping off the lineup is a surprise appearance from Calvin Harris. His appearance will mark the first time he's played at Coachella since 2016.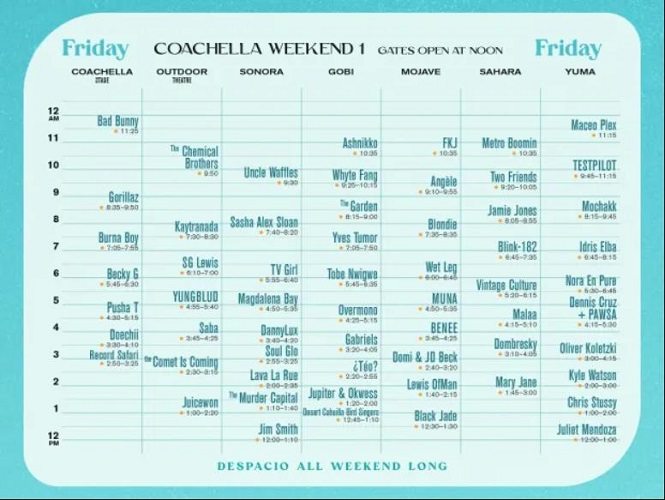 Part 3. How Much are Coachella 2023 Tickets
Ticket Prices
As of now, ticket prices for Coachella 2023 have not been officially announced. However, based on previous years, we can estimate that prices will range from approximately $400 to $1,000, depending on the type of ticket and the weekend you attend. VIP packages are also available, which can cost upwards of $2,000.
It's worth noting that these prices are subject to change, and the festival may introduce new ticket packages or pricing structures for 2023.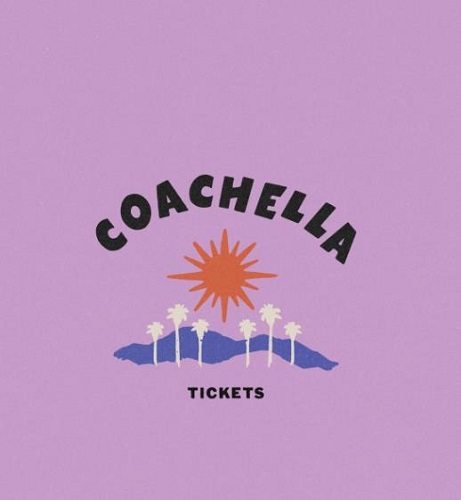 Ticket Sales
Coachella typically offers a pre-sale for tickets, which takes place several months before the festival. This pre-sale is available to those who have signed up for the festival's email list and typically offers a discount on ticket prices. However, pre-sale tickets tend to sell out quickly, so it's important to act fast if you want to secure your spot at the festival.
General ticket sales for Coachella typically take place in early January, a few months before the festival. Tickets can be purchased online through the festival's website or through third-party ticketing websites. It's important to only purchase tickets through official channels to avoid scams or counterfeit tickets.
Ticket Purchase Methods
When purchasing tickets for Coachella, there are a few things to keep in mind. First, be sure to have your information and payment method ready when tickets go on sale, as they tend to sell out quickly. Second, be aware of any restrictions or limitations on the type of ticket you're purchasing - for example, some tickets may only be valid for one weekend of the festival.
Finally, be sure to check the festival's refund and transfer policies in case you need to sell or transfer your ticket at a later date. Keep in mind that tickets for Coachella are in high demand, so it's unlikely that you'll be able to purchase a ticket on-site at the festival.
Part 4. How to Watch Coachella 2023, Live Stream?
Coachella 2023 will be streamed live for viewers who can't make it to the festival. The official live stream will be available on YouTube and other major streaming platforms.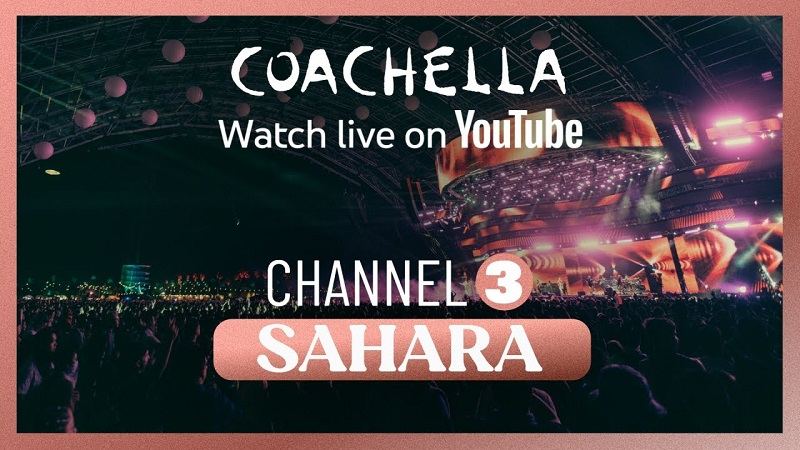 For those who want to watch the live stream live, YouTube will be hosting a special Coachella 2023 Live Stream on their platform at the same time as the festival. This stream will include live performances, interviews, and more from the festival grounds.
In addition, there are several third-party live streams available for those who prefer a more interactive experience. These live streams typically include commentary from hosts and other festival attendees. Some of these third-party live streams are available for free, while others may require a subscription fee.
Part 5. Download Music Videos from YouTube for Offline Watching
Music at Coachella 2023 promises to be an unforgettable experience. With so many amazing acts, you'll want to relive the moment by downloading your favorite music videos from YouTube.
But how do you get your favorite videos downloaded and ready to watch offline? There's a lot of complicated software out there, but when it comes to the superstar solution, HitPaw Video Downloader and Converter is the way to go.
HitPaw Video Converter supports downloading videos and music from YouTube (YouTube Music), Bilibili, Facebook, SoundCloud, and more. It supports converting videos up to 8k resolution and audio to 320kbps. In addition, the batch download feature allows you to easily download multiple videos and music at once.
So whatever your preference is for downloading music from Coachella 2023, HitPaw Video Converter is the simple and easy way to get it done. Get ready for a music experience like never before.
How to Download Coachella 2023 Music Videos using HitPaw Video Converter
Step 1. Download and install HitPaw Video Converter to your computer. This desktop software supports both Windows and Mac systems.

Step 2. Now, open the YouTube video or music that you want to download. It supports both YouTube and YouTube Music. Copy the link from the browser address bar.

Step 3. Launch HitPaw Video Converter and switch to the Download tab. Paste the link to the analyze.

Step 4. After analysis, you shall see the video information. Select the download settings, such as resolution, format, and file size.

Step 5. Click "Download" to begin the process. Once the download is complete, you can access to the downloaded videos in the Downloaded tab.
That's it! You'll now be able to watch your favorite Coachella 2023 music videos anytime, anywhere - even without an internet connection.
The Bottom Line
Coachella 2023 is sure to be an amazing event that everyone will want to experience. Whether you're attending in person or watching from home, there are plenty of ways to get the most out of the festival.
Be sure to purchase tickets early, follow the festival's guidelines and restrictions, and remember to check out their refund and transfer policies.
However, if you want to relive the moment and watch your favorite music videos again, then downloading them with HitPaw Video Converter is your best option.