Top 9 Free MP3 Audio Songs Downloaders You Must Have
When it comes to finding music online, one has a lot of options available to pick from nowadays; however, it is important that one be aware of which MP3 downloader to trust in order to avoid being scammed.
There are a lot of best free music download sites and apps out there, but many of them have poor functionality, provide poor-quality MP3 files, or have a confusing user interface.
Now, let's take a look at some of the top 9 free MP3 audio song downloaders.
Part 1. Best MP3 Audio Downloder to Save the Music with Easy Steps
HitPaw Video Converter is a multifunctional video utility that allows you to convert, download, and edit video and audio files. Using HitPaw Video Converter, you can quickly and effortlessly download or convert any video or audio file to the widely-used MP3 format from almost any website.
Using HitPaw Video Converter, we can effortlessly download whole YouTube channels or playlists, without having to wait for them to load or worry about annoying watermarks.
You can also use it to listen to Apple Music and download videos from TikTok and Sound Cloud MP3. HitPaw Video Converter's video converter and editor have both been optimized for peak efficiency.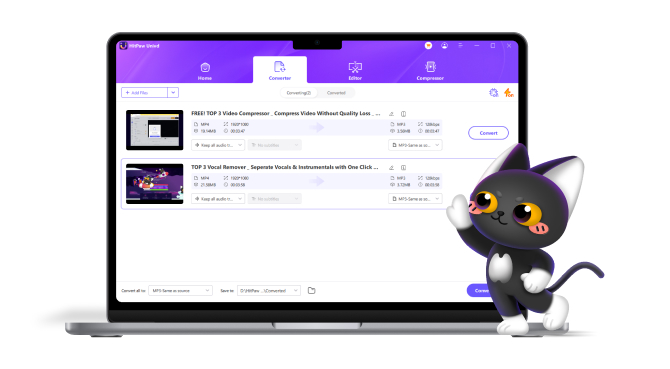 Some of HitPaw Video Converter's core functions include:
Quickly and easily convert video for playback on any of a wide range of devices and file formats.
You can easily get videos from more than 10,000 websites.
Lightning-fast, huge playlist, and channel downloads (Windows version only).
It is possible to change the format of your iTunes library.
When additional editing options are used, the quality of a video can increase.
With this new technology, video can be converted at a rate 90 times quicker with no noticeable loss in quality.
Here we'll look at utilizing HitPaw Video Converter and audio music downloader.
Step 1.Download and open HitPaw Video Converter and go to the Downloads tab.

Step 2.Open HitPaw Video Converter and go to the Downloads tab.

Step 3.Return to the Download page. Right away after you click the Paste URL button, the URL will be inserted automatically.

Step 4.HitPaw Video Converter will start verifying the link as soon as you paste it. You will see all the information of the audio or video. You can also set the download preferences like quality, name, output, etc.

Step 5.Simply hit the "Download" button to get started with the MP3 music file download. Whenever an MP3 file has finished downloading, you'll find it in the Finished section of the main menu. You can also further edit the audio.
Part 2. 3 Audio Songs MP3 Free Downloaders on Desktop
1. ByClick Downloader
Download videos in a variety of formats, including HD, MP3, MP4, and more, from sites like YouTube with the help of ByClick Downloader, music to MP3 download. Over 40 websites are supported, so you may use it with no worries. All major browsers and browser versions are supported, including Chrome, Firefox, Internet Explorer, and Microsoft Edge. The UI is straightforward.
Pros:

You may save whole channels or playlists from YouTube with the help of ByClick Downloader.

Videos may be downloaded in high definition (HD) and ultra-high definition (4K).

You can monitor downloads in detail.

Cons:

Expensive paid version
2. VideoProc
If you need anything related to video editing, you may get it at VideoProc. Cut, crop, merge, apply effects, etc., are all features it possesses. A high-quality media converter is included, with support for converting video, audio, and DVDs. This internet resource allows you to look up matched subtitle texts.
The green screen recording capability, three different recording modes, and utility features make VideoProc's screen recorder easy and powerful.
Pros:

The abilities of A-to-B conversion are available in VideoProc.

It can take in 370 different codecs and output to more than 420 different formats.

It can convert audio files into many formats including mp3, iPhone Ringtone, and more with its built-in audio converter and extractor.

Cons:

Not good for beginners.
3. 4K Video Downloader
There is a desktop tool called 4K Video Downloader that will let you download videos from any of the most famous video hosting websites. It'll enable 4K video downloads so you can watch them on your computer or mobile device. Videos in HD, 1080p, 720p, 4K, and 8K resolutions are all audio song downloads. You may use this program to collect media from many online sources.
Pros:

Features like in-app proxy and smart mode are included in the 4K Video Downloader.

You may use its included tools to get the subtitles from YouTube.

YouTube channels and playlists are available for download.

Cons:

Limited features.
Part 3. 3 Free Legal MP3 Music Download Sites
More than a thousand online video-sharing platforms are just a mouse click away, ready to be downloaded. The download4.cc service is compatible with Macs, PCs, and Android devices.
Users may not only download videos from YouTube, but they can also convert them to several different file types. You may safely utilize Download4.cc. Visitors can feel safe when using this website because it has been thoroughly tested and has no known issues. It is among the best music downloading sites.
The following are only a few of Download4.cc's many advantages:
This site has not been compromised by any viruses. There are no harmful inbound links that might compromise your system.
Distracting advertisements are a website's worst enemy. It's fantastic that there are no annoying ads on Download4.cc.
In addition to YouTube, more than a thousand more video-hosting sites are supported.
Allows you to save a video from YouTube in MP3 format.
Here is how to MP3 download songs free using Download4.cc:
Step 1.If you're looking to audiodownload some music you can do it via YouTube.

Step 2.Simply copy the audio link.

Step 3.After that, just put the song's URL into the corresponding section on Download4.cc.

Step 4.You will get your MP3 file by clicking the download button now.
2.YouTube Audio Library
For anyone in need of music for video creation that won't cost them anything to utilize, YouTube's Audio Library is a great resource. However, using YouTube Studio, anybody with a YouTube account may browse the collection and download an unlimited number of songs.
According to the library's regulations, you're free to use the music in whatever you like, not simply videos. The music may also be used in videos that generate revenue on YouTube.
Pros:

Official and copyright-free music.

Easy to use and free of cost.

Directly use in YouTube videos

Cons:

Limited options.
3. Amazon
In spite of its widespread use, many people still don't know that Amazon also offers a huge selection of free music downloads. More than six thousand tunes are downloadable at this time.
When compared to other free music download sites, you may really find well-known artists here. Artists like the Foo Fighters, Ashaneen, Tony Elman, Carole King, and many more may be heard right now. Artists come and go, so if you like what you hear, get it while you can.
Pro:

Simple, easy, and reliable.

6000+ music files are available.

Popular musicians and singers.

Cons:

No free audio anymore.
Part 4. 2 Powerful MP3 Audio Downloader Apps on Android and iPhone
1. Free Music Downloader + MP3 Music Download
It's quite simple to search for and listen to high-quality, CC-licensed music files with the help of the fantastic Android app free music downloader. The application facilitates a search for your preferred music file by artist, track, album, etc., and returns the most suitable mp3 file for your listening enjoyment, whether you're connected to the Internet or not.
The app claims to have more than a billion songs available for no cost. It also allows users to pick and choose whatever mp3 they want to listen to later. Users may also invite their friends to download the same MP3s they like.
Pros:

Listen to mp3s online or download them with ease.

Modify the mp3's size and quality to your choice.

Listen to music together

Cons:

Limited music options.
2. Fildo
Fildo is an excellent music software for Android smartphones that lets you listen to music online or download high-quality mp3s to listen to later. The licenses for the files hosted on Fildo's platform are not owned by Fildo. It's basically an intermediary that connects users to other online music services.
As such, it empowers music fans with the tool to obtain whatever song they desire on their android devices. The Fildo lite version of the software is now accessible for use on Windows, XBOX, and iOS devices.
Pros:

Simple mp3 search and download speed

Providing a high-quality streaming experience for media files

Intermediary to a variety of music hosting sites online

Cons:

No editing features.
Part 5. FAQs of MP3 Audio Songs Downloading
1. Why you should choose HitPaw Video Converter
| App/Feature | Operating System | Ease of Use | Rating |
| --- | --- | --- | --- |
| HitPaw Video Converter | Windows & Mac | Very easy | 4.9 |
| ByClick Downloader | Windows | Moderate | 4.2 |
| VideoProc | Windows & Mac | Difficult | 4.0 |
| Download4.cc | Online | Very easy | 4.7 |
| YouTube Audio Library | Online | Very easy | 4.6 |
| Amazon | Online | Difficult | 3.8 |
| Free Music Downloader + MP3 Music Download | Windows, Mac, iOS, Android | Moderate | 4.2 |
| Fildo | Android | Difficult | 4.0 |
2. How to convert a video to a MP3 song file?
Create an MP3 version of your music video to share with the world. Your video file can be converted to an mp3 using one of the numerous available free video converter programs, which you can then play on your computer. Before beginning the converting procedure, double-check that you have the necessary software installed.
Part 6. Conclusion
We have reviewed and tested the 9 best and most free MP3 music and audio downloaders and free music download sites. It can be difficult to pick the best one. You can get an idea from the comparison table.
However, we recommend you use HitPaw Video Converter. It is free and user-friendly. It has all the downloading and editing features including Sound Cloud MP3 download.