8 Free 320kbps MP3 Download Websites 2023
Listening to music has always been a preferred way to pass time or relax. And this experience is enhanced if the music you are listening to is in the highest possible quality. One of the factor that determines the music quality is the bitrate. And if you are listening to a song in a bitrate of 320 kbps, then definitely it is in the highest possible quality. But most of the times users want MP3 320 kbps download in order to experience their music offline. If you are among such users, then this article will definitely help you.
Part 1. Best 320kbps MP3 Downloader for YT, Spotify, SoundCloud
The best thing to experience highest quality music is to download it. You can download music 320 kbps with an ideal music downloader - HitPaw Video Converter. It can help you download you favorite music from almost any site. Downloading music in 320 kbps is now possible on both Windows and Mac devices with this tool.
Download real 320kbps MP3 and FLAC music 
Convert music to MP3, AAC, WAV, FLAC, AIFF, and ALAC
Download music from different platforms with original audio quality
Permanently download your favorite Music for offline listening
Get hold of ID3 tags information of your music post conversion
Follow the below steps to know how to use this tool for downloading music from Spotify.
Step 1:Run HitPaw Video Converter after installing. On the main home page, select Spotify Music from the Add Files drop down list.

Step 2:Next, drag the albums, playlists, tracks, or artists from Spotify to begin the conversion. Users can also copy-paste the link to the music in the search bar.

Step 3:After entering the link, the tool will analyze it from Spotify and you see all the music files on the screen once the analysis is done. Select the files they need to convert.

Step 4:Select the output format for all the music files in the Convert all to option and select an output directory for the converted music files in the Save to option.

Step 5:Tap the Convert All option to convert with batch conversion in one go.
Part 2. 3 Free 320kbps MP3 Download Websites to Download MP3 Free
If you wish to download the songs from any other online platform, then we have answer to that problem as well. Note that users might get confused between 16 bit FLAC vs 320kbps MP3, since these platforms does not provide many options, unlike HitPaw. Keep reading.
1. PaglaSongs
PaglaSongs is one of the trending streaming websites and has a major contribution in the FLAC vs MP3 320kbps battle. The site offers users with the permission to have hands on millions of songs from all over the globe. Users can download and listen to all types of music without shelling a penny. In addition to this, users do not even require creating an account to use the service. Users just need to visit the site and they can download the music.
2. Gaana
Another site that can contribute in the FLAC vs 320kbps MP3 battle is Gaana. With over 200 million active users, this platform is one of the biggest commercial music streaming platform. The site provides international as well as Indian music content, since it originates from India. The entire Indian music library can be seen and is accessible to people all over the world. The site also features music from different languages such as Odia, Assamese, and Tamil. It allows users to make public playlists so other people can see and add them in their list of favorites. Also, the mobile app of the site was rolled out to support almost all well-known operating systems such as iOS, Android, and Windows.
3. Pagalfree
Pagalfree is yet another site that helps users to settle the FLAC vs MP3 320 battle. The site allows users to download songs in different platform. It is one of the leading sites and allows users to download all movie songs in 320 kbps for entertainment purpose. Users can play as well as listen online mp3 songs and download it.
Part 3. 5 Popular Platforms to Buy and Download Music 320kbps
Now, this section helps users to settle the MP3 320 vs FLAC battle in a different way. This section lists some of the best streaming platforms available to use to buy and subscribe for high quality music. Have a look.
1.Spotify
Spotify is one of the well-like and well-known music streaming platforms all over the world. The platform comes with a huge music library with more than 50 million songs. Users can not only settle their 320 MP3 vs FLAC debate but also use this platform on different devices such as tablets, mobile phones, TVs, computers, and car stereo systems. In addition to this, users can opt for the monthly $9.99 Spotify Premium plan to download podcasts and music for offline experience.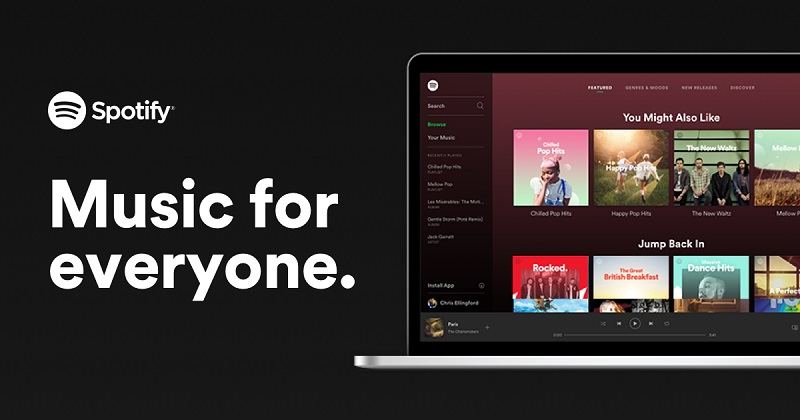 2. Google Play Music [Know Dubbed As YouTube Music]
Operated by Google and earlier known as Google Play Music, YouTube Music is a podcast and music streaming as well as online music storage platform. With this service, users can discover number of playlists, millions of songs, and freely store almost 50, 000 songs. As a cross-platform service, this platform is accessible on iOS, Android, and web browsers. Hence, users can easily settle the MP3 320 kbps vs FLAC battle and can listen to music anytime anywhere.
3. Soundcloud
Soundcloud is yet another platform that provides high-quality music and is one of the best options to get free music download. The site provides more than 135 million songs and allows users to share music with friends and family via different platforms. Users can listen to unlimited audio and the platform enables users to place a video widget on any site. The platform is supported on OS such as iOS and Android as well as offers high-quality audio. Users can find the music with its unique filters and they can stream music before downloading.
4. Deezer
With a vast music library with 30,000+ radio channels and more than 56 million songs, Deezer is the next in our list. Even though the amount of music is not that great, the quality that it offers makes it one of the best platforms. The platform has a huge variety of features to assist improve the listening experience. It can be accessed on most platforms, Android, Web, Windows, and iOS. To stream and download high quality tracks for offline listening on Deezer, the Premium plan is needed. Based on your requirements, there are various plans to select from.
5. Apple Music
Last, but not the least, Apple Music comes next in our list. It is a music streaming subscription-based service and provides access to more than 90 million songs. It comes with different features such as offline listening and combines all your music in one place. The platform also provides integration with Siri and live radio stations. The service not only allows users to stream on-demand any song from its catalogue but also provides access to user's music in one place on all of their devices.
Conclusion
Having said that, we just had a look at top 8 sites and platforms that can help users perform MP3 320 kbps download for offline listening. In addition to this, the best way to download music 320 kbps is to use HitPaw Video Converter. The tool helps you download your favorite music from almost any site.