Free & Paid 9 Meme Soundboard for Win/Mac/Mobile in 2023
While playing the online game, you want to express your anger towards your team members. Can you use the meme soundboard to send sound effects to your friends? Many soundboard meme tools assist you in playing sound effects when playing online games or having conversations with friends.
Get into this exciting post to access the 9 top-notch Soundboard memes tools.
Let us start it.
Best 9 Meme SoundBoard Apps for Desktop and Mobile
A brilliant meme soundboard is vital to make the gaming experience worth talking about and sensational. You can look at the 9 terrific soundboard memes tools in this guide.
1. Resannance
Resannance is an awesome meme soundboard with high-quality features despite offering a simple user interface. By supporting the FLAC, OGG, WAV, and MP3 audio formats, Resannance enables you to create your sound effects by importing the audio files.
You can also set up the customizable deck or own hotkeys to trigger your sounds. Interestingly, this meme soundboard also holds the credentials to produce the speech from the text.
2. Soundpad
Another awesome meme soundboard that can help you produce the mind sound effects for using them in real-time gaming is Soundpad. Although it comes up with a free version, the primary purpose of this meme soundboard for Discord is to come up with the premium package. With hundreds of effective sounds, it also helps you generate your sound effects.
3. Voicemod
You can't ignore the Voicemod when looking for a memes soundboard app. Despite offering a simple user interface, this remarkable soundboard memes tool blesses you with 100+ high-quality sound effects. Voicemod helps you to upload the audio in WAV or MP3 audio format.
4. Podcast Soundboard
Podcast Soundboard is compatible with almost all operating systems and offers gigantic sound effects at affordable rates. This meme soundboard helps you import the audio and customize its voice credentials to produce brilliant meme soundboards.
5. MagicMic
If you ask for the best Soundboard memes tool, we won't avoid naming the MagicMic. With hundreds of built-in sound effects, this meme soundboard tool allows you to record the voice and edit accordingly.
MagicMic supports importing audio files in MP3 or WAV format. From allowing you to change voice in real time on online gaming to offering the ability to alter the sound effects in live streaming, MagicMic has all the basics covered. Moreover, MagicMic empowers you to customize the audio effects after importing the audio files.
6. Clownfish Voice Changer
Clown Voice Changer could also be an inspirational soundboard meme tool that helps you alter the sound using different voice effects, including aliens, robot voices, or pitch changes. It also offers a sound player helping you set up a hotkey making a lot of effort.
On top of that, Clownfish Voice Changer also brings in the text-to-speech feature that empowers you to choose from multiple voices. Although Clownfish Voice Changer might not have contained the best soundboard options, it is worth mentioning when playing the sound effects while chatting or playing a game.
7. JN Soundboard
JN Soundboard is vital in setting sound to various hotkeys. It means playing specific sounds on Discord or other gaming platforms automatically is possible courtesy of the JN Soundboard.
You can import sound effects in multiple audio formats, including AC3, M4A, WMA, WAV, and MP3. Moreover, JN Soundboard also empowers you to turn the text into speech, allowing you to generate brilliant audio by text prompts.
8. Voxal Voice Changer
Besides being a massively rated meme soundboard, Voxal Voice Changer is also a remarkable voice-changing tool. It asks you to upload the audio files and then develop the various sound effects, including alien, atmospheric, girl, and robot, to your desired audio.
Luckily, Voxal Voice Changer also helps you create custom sound effects through built-in effects, including pitch shift, distortion, etc. Voxal Voice Changer is compatible with the two audio formats, including the WAV and MP3 file formats.
9. Voice Changer Plus
Voice Changer Plus is another meme soundboard that brings in mind-blowing sound effects. Since it is a mobile app, you can install it from the Play Store or App Store. After installing the app, all you need to do is launch the app, import the audio, and select the sound effects you'd like to apply.
Luckily, this brilliant meme soundboard app enables you to apply sound effects in multiple audio files and doesn't shy away from exporting the generated audio files to multiple online and gaming streaming platforms.
Best Voice Changer to Work with Your Meme Soundboard
Actually, here we got the best solution of voice changers, which easily changes the voiceovers to another funny sound and works with your meme soundboard. With the arrival of HitPaw Voice Changer, applying voice filters to the audio has become simple. Luckily, HitPaw Voice Changer doesn't distort sound quality, offering a high-quality changed voice for your speech, chat or streaming.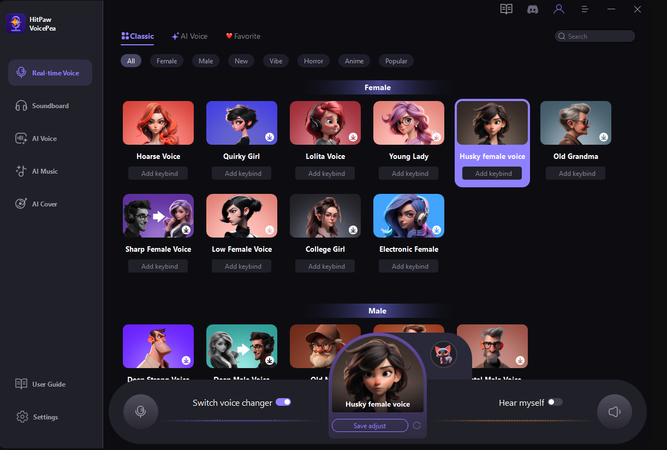 Helps you to produce the most realistic human voices
Offers the intuitive user interface
Integrated with the multiple online streaming platforms
Make your voice sound like the celebrities
Here're easy steps that how you can use HitPaw Voice Changer.
1.Go to "Settings", and click the drop-down button to select the input and output you are using. Then adjust to the volume you prefer.

2.Choose the effects you prefer and try speak into the microphone to listen to the transformed sound of your voice.

3.Adjust the sound effect in the sound settings,you can adjust volume, pitch, timbre of the sound. Then Turn on the "Voice Changer", "Hear myself" and "Noise Reduction" on the buttom.

4.After choosing the effect, simply click the "connect" to changer your voice on other platforms like Twitch, Discord, Steam, etc.
Conclusion
Getting the appropriate meme soundboard to play the sound effects in real-time gaming is always satisfying. We have enlisted the 9 breathtaking meme soundboard tools that aim to make the gaming experience flawless and top quality. Apart from revealing all the Soundboard memes tools, you can use HitPaw Voice Changer for a try.