ElevenLabs AI Overview: Everything You Care About
Eleven Labs AI is one of the most versatile and realistic AI speech tools present in the industry. The tool offers the most rich, engaging, and lifelike voices for users all over the world and cater to their needs. Users can generate top-quality spoken audio in any style and voice with the most versatile and enhanced AI speech tool. Eleven Labs Prime Voice AI uses deep-learning model to generate human tone and intonation with unprecedented accuracy. This article provides a brief overview of this tool so that you can make a sound decision if you are planning to buy it. Keep reading to know more about the tool.
Part 1.

What AI Does ElevenLabs Use?

Eleven Labs AI voice comes with a text-to-speech models that can generate a realistic-sounding human voice. The official website of the tool claims that the company mission is to create multilingual on-demand audio suffice different needs across streaming, education, movies, gaming, audiobooks, and even real-time conversation. The tool efficiently clones the voice of the speaker so that users can hear the speech as they speak.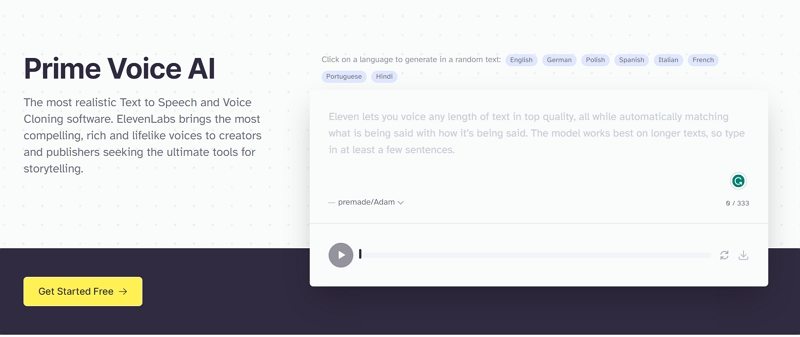 Part 2.

Is ElevenLabs AI free?

Yes! You can use Eleven AI for free. The company provides a free plan for users with up to 3 custom voices, up to 10,000 characters per month, and attribution required.

The Starter plan comes with a price tag of $5 per month for 30,000 characters, instant voice cloning, and up to 10 custom voices.

The Creator plan has a price tag of $22 per month for 100,000 characters, high-quality audio outputs, and up to 30 custom voices.

The Independent Publisher plan comes for a price tag of $99 per month for 500,000 characters, volume-based discounts, and up to 160 custom voices.

The Growing Business plan has a price tag of $330 per month for 2,000,000 characters, enterprise-level support, and up to 660 custom voices.

A custom Enterprise plan is also available apart from the Eleven Labs AI free and paid plans.
Part 3.

What is the Quota Limit for ElevenLabs?

At the moment, you can generate 10,000 per single request for free plan. If users run out of characters on the Eleven Labs voice AI free plan or the Starter tier, they will need to wait for the billing cycle to end so that the characters are reset. Else, they can upgrade to a higher plan.

On plans higher apart from the Starter (Creator, Independent Publisher, and Growing Business) plan, users can opt for usage-based pricing, which will offer access to extra characters. The extra characters are billed at the end of the billing cycle, and when the outstanding balance surpasses 2 times the subscription cost. If users go over this limit and make a decision to downgrade or upgrade their plan, they will be instantly charged for this outstanding balance.
Part 4.

How Good is ElevenLabs Voice Cloning?

Now that we had a look at Eleven Labs AI voice free and paid plans, let us have a look at the pros and cons of this tool.
Pros
Lifelike synthetic voices
Fast and efficient voice creation process
Allowing users design completely new AI-based voices
asy voice conversion, saving time and resources
Users can listen its demos for free now
Provide a unique and customized experience for users
Cons
Audio output may face stability issues
May be lack of emotional nuances
Exhibit slight deviations or unnatural qualities
Unstable version of the platform, as well
Part 5.

What is the Best Voice Cloning Program?

This section talks about the different Eleven AI voice alternatives that are a great choice as the best voice cloning program. Have a look.
1. Murf.AI AI Speech Generator
Murf.AI is one of the best Eleven AI Dagoth Ur alternatives and utilizes AI to create high-quality voiceovers. The tool allows different platforms to use its tech with the help of APIs that it offers. With this tool, users can easily and quickly create realistic voiceovers without using any special recording tools. The tool uses AI to make the process of creating a voiceover easy and straightforward for anybody to use. The basic plan, the free plan, the enterprise plan, and the pro plan are the four pricing subscriptions provided by this tool, which tries to simplify the process of creating high-quality voiceovers.
Expressive emotional speaking styles
Huge library providing over 100 AI voices across languages
AI Voice-Over Studio
Audio and text input support
Customizable through tone, accents, and more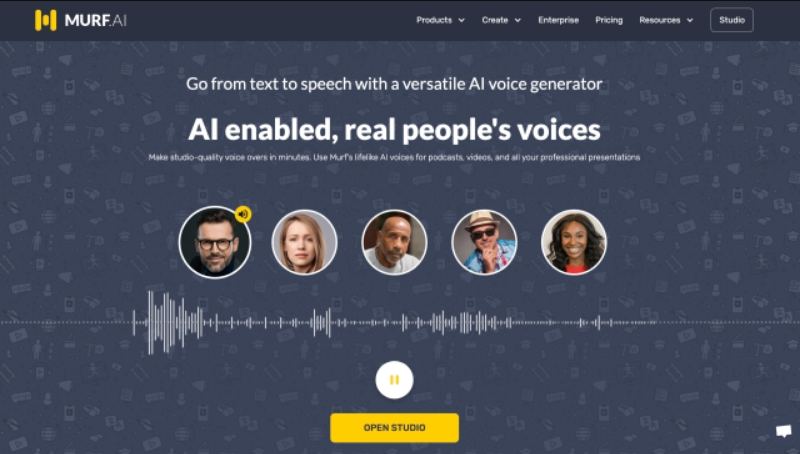 2. Play.HT Text-to-voice Generator
PlayHT is the next Eleven Labs.AI alternative that allows users to create speech that is really actually human-akin from the text. It does the exact thing that it was aimed to perform and that is to take a voice and reproduce from the details. Their very high-resolution and realistic generated voices help users in automating and scaling their content development. This is helpful for users who need to use these voices for professional purposes. The tool permits corporates and individuals to duplicate work into as many possible copies with different voices.
Real-time voice synthesis
Blog posts to audio
Voice-overs for videos, e-learning, podcasting, and more
More than 570 accents and voices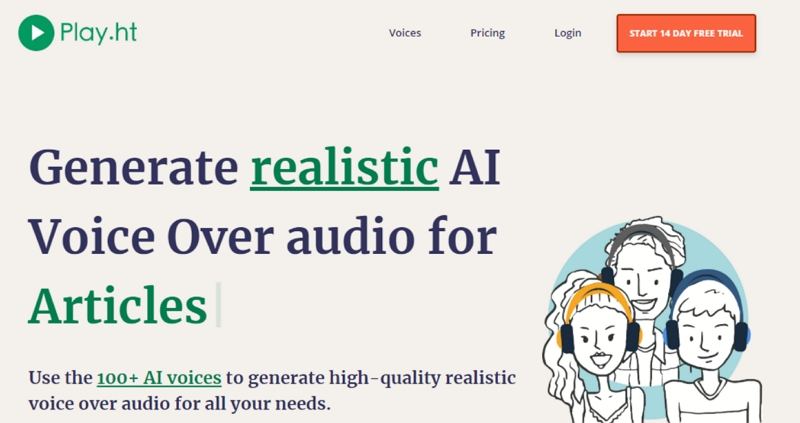 3. Listnr AI Voice Generator
This elevate AI alternative is different from rest of the options mentioned here. Because, while the company do not have the product developed for the mass market of users who require voice cloning services yet, the demo they have to offer and their private beta are mind-blowing as per reviews from people who have utilized it. When paired with their ability to design in different languages and offer commercial distribution rights to the users, it is a good deal. Listnr claims that using almost 4 minutes of speech data, it consumes about 30 seconds to synthesize a user's voice.
Customizable audio player embed
Different formats like accent selection and genre selection
Great for podcasting
Highly personalized to each listener
4. Speechify AI Text to Speech Reader
Speechify is a great option to Eleven Labs AI voices and was developed by Cliff Weitzman, who is dyslexic. Since individuals like Cliff have a hard time reading and learning, they have to learn via other methods such as visuals or voice. The tool took its time to tell just how voice cloning operates and the point that highlighted the most was where they claimed that correct voice cloning tools go much deeper in their speech pattern study, which allows them aim on aiming and making use of all the details that the end voice unique.

Features
More than 15 languages
Web-based with Chrome and Safari extensions
Scan and convert printed text to speech
Over 30 voices to select from
5. AI Voice Generator
Lovo.ai is an award-winning AI-based alternative to Eleven.AI. The tool is one of the easiest and most robust program to use that creates voices that sounds just like real human voice. It has offers a huge variety of voices, servicing different industries, including banking, entertainment, gaming, education, news, and documentary, by incessantly refining its voice synthesis models. Due to this, the tool has claimed a lot of interest from all over the world, making it stand out.
Pronunciation editor, emphasis, and pitch control
Library of voices of over 500+ AI voices
Non-verbal interjections, sound effects, royalty free music, stock photos and videos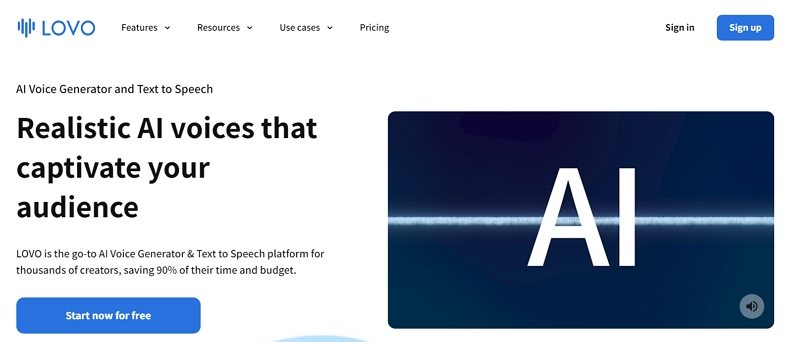 Bonus Tip:

Best Voice Changer to Make More Realistic Voice

In some cases, voice cloning may produce a voice that sounds close to the original but exhibits slight deviations or unnatural qualities. You can use HitPaw Voice Changer to modify the voice to more realistic voice. It is a popular Voice Changer software known for its extensive features and versatility.
Generate voices that sound realistic and like real human voice
Convert voice to the most realistic and natural voices in real time
Instantly transform voice to imitate famous characters, celebrities, or iconic voices
Integration with Streamlabs OBS and other Streaming Platforms
Feature a user-friendly interface that is intuitive and straightforward to navigate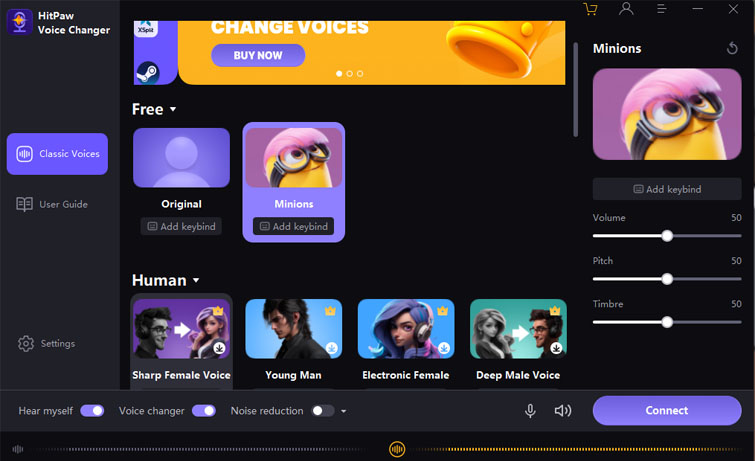 Conclusion
With that being said, we just had a look at a brief overview of Eleven Labs AI and other details of the tool. We also had a look at some of the best voice cloning programs that can be a great alternative to Eleven Labs AI voice generator. If you want to enhance the entertainment experiences, create unique content, or simply have fun with friends during voice chats or gaming sessions, HitPaw Voice Changer will be a nice choice for you.