Learn About Speechify And Its Alternatives
The way we comprehend and consume written material has been revolutionized by Speechify. With the help of advanced text-to-speech technology, Speechify has made it possible for individuals with visual impairments or learning difficulties to access any written material by converting it into natural-sounding audio. In this article, we'll explore the various features and capabilities of Speechify, along with its pricing plans and tips on how to make the most of its Chrome extension. Additionally, we'll furnish a few remarkable substitutes for individuals seeking comparable resolutions.
Part 1. What is Speechify
The Speechify app is a state-of-the-art tool that converts written content into spoken language. The applications of this technology are diverse, ranging from assisting people with visual impairments to enriching educational experiences. Speechify utilizes advanced technologies like artificial intelligence and natural language processing to transform text from various sources such as books, articles, and websites into top-notch audio output. Users with varying backgrounds and requirements can benefit from the versatility of this tool, thanks to its customizable settings and user-friendly interface.
Part 2. How To Use Speechify Chrome Extension And Speechify Pricing
1. How to Use Speechify Chrome Extension
With the Speechify Chrome extension, users can easily utilize Speechify's advanced text-to-speech features without having to leave their web browser. With the installation of the extension and a simple selection of text, users can immediately have the words transformed into audible speech. With the Chrome extension, Speechify is just a click away whether you're surfing the web or typing up a report. This handy tool makes any text easier to access and more convenient to use.
The process of utilizing the Speechify Chrome Extension is quite simple. These are the initial steps to begin:
Install the Speechify Chrome Extension from the Chrome Web Store.

Once installed, open the webpage or document you want to convert into speech.
Select the desired text you want to convert.
Right-click on the selected text to open the context menu.
From the context menu, click on the Speechify extension icon.
The selected text will now be converted into spoken words using Speechify's text-to-speech technology.
Adjust the playback settings, such as speed or voice, if desired.

Sit back and listen to the converted text as high-quality audio.
To stop or pause the playback, use the controls provided by the Speechify Chrome Extension.
By following these simple steps, you can make any text on a webpage or document accessible and listen to it using Speechify's Chrome Extension.
2. Speechify Pricing
Speechify offers flexible pricing options to cater to different user needs. The pricing plans include free and premium tiers, each with its own set of features and limitations. The free version allows users to convert up to 300 pages per month, with access to basic functionalities. The premium version unlocks unlimited page conversions, offline access, and additional customization options. Speechify offers different pricing options to cater to the varying needs of its users.
The free version provides access to 10 standard reading voices, the ability to listen at speeds up to 1x, and text-to-speech features. For those looking for more advanced features, Speechify offers two premium options.
Speechify Premium, priced at $11.58 per month or $139 billed annually, provides access to over 30 high-quality, natural reading voices, support for more than 20 languages, scanning and listening to printed text, listening at 5x faster speeds, advanced skipping and importing, and powerful highlighting and note-taking tools.
Speechify Audiobooks, priced at $9.99 per month or $120 billed annually, offers actor-narrated audiobooks, 1 free credit with trial, 12 credits per year, access to 60,000+ titles, including the newest releases and best-sellers, and thousands of free audiobooks. With these pricing options, Speechify aims to provide a range of choices to meet the diverse needs of its users.
Part 3. Top 5 Speechify Alternatives
While Speechify is an excellent tool, it's always good to explore alternatives to find the perfect fit for your specific requirements. Here are five noteworthy alternatives to Speechify, each with its own unique features, pros, and cons:
Murf is a powerful text-to-speech application that competes head-on with Speechify. It boasts an impressive range of features, including support for multiple languages, natural-sounding voices, and the ability to save audio files in various formats. Murf also offers seamless integration with popular platforms like Microsoft Office and Adobe Reader, making it a convenient choice for professionals. However, some users may find Murf's user interface less intuitive compared to Speechify.
NaturalReader is another popular alternative to Speechify, known for its user-friendly interface and extensive language support. It offers a wide range of voices and allows users to adjust the speed and pitch of the generated audio. NaturalReader also integrates with popular platforms like Microsoft Word, PowerPoint, and web browsers, providing a seamless reading experience across different applications. However, the free version of NaturalReader may have limitations, and the premium version can be quite expensive for some users.
Amazon Polly, powered by Amazon Web Services (AWS), is a cloud-based text-to-speech service that provides developers with a powerful set of tools and APIs. While primarily targeted towards developers, Amazon Polly also offers a user-friendly interface for non-technical users to convert text into speech. It supports multiple languages, offers a wide range of voices with natural-sounding intonation, and provides advanced customization options. The integration with AWS ecosystem allows seamless integration with various applications and platforms. However, for individuals who are not familiar with AWS or prefer a more user-friendly experience, the setup process and configuration of Amazon Polly can be challenging.
eSpeak is a compact and lightweight text-to-speech software that focuses on simplicity and efficiency. It offers multiple language support and allows users to adjust parameters such as speed, pitch, and volume. eSpeak is known for its fast speech synthesis, making it a preferred choice for users who prioritize speed and efficiency. However, compared to Speechify and some other alternatives, eSpeak may lack advanced features and natural-sounding voices.
TextAloud is a comprehensive text-to-speech software that caters to a wide range of user needs. It offers an extensive collection of natural-sounding voices and provides various customization options for voice parameters. TextAloud supports multiple file formats and offers features like bookmarking, pronunciation editing, and batch file processing. However, the user interface of TextAloud can be overwhelming for new users, and the software may be more suitable for individuals who require advanced functionalities and extensive control over the audio output.
Part 4. How To Make Your Text-To-Speech More Funny?
With advanced voice-learning tech, HitPaw Voice Changer can add more fun to your AI generated voices. It offers a range of voice effects and filters that can be applied to the user's voice. With user-friendly interface, you can easily navigate through different settings and effects. It supports real-time voice modulation during live conversations, making them useful for online gaming, voice chatting, or voice-over recordings.
A wide range of voice effects and filters include , echo, reverb, robot, alien, etc.
Modify your voice in real-time for online gaming, voice calling, or streaming platforms
Customize and fine-tune voice parameters such as pitch, formant, resonance
Eliminate background noise and enhance the clarity of the modified voice
An intuitive and user-friendly interface that makes it easy to change voices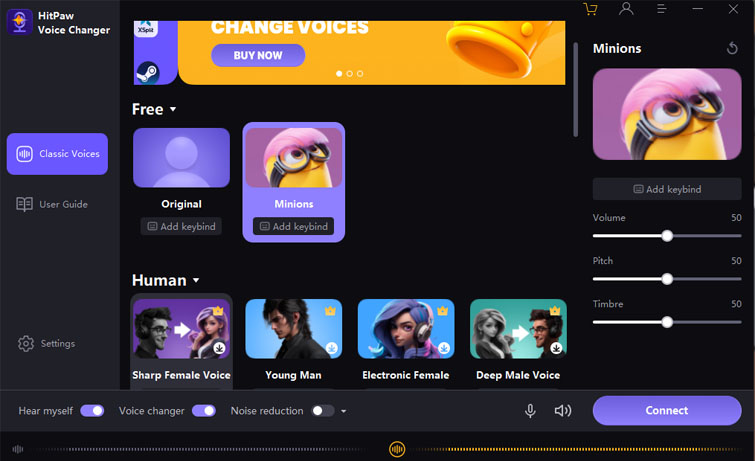 Part 5: FAQs of Speechify
1. Is there a free Speechify alternative?
Yes, there are free alternatives to Speechify available. While Speechify itself offers a free version with certain limitations, there are other text-to-speech tools like NaturalReader's free version and eSpeak that provide free access to their basic features. However, it's important to note that free versions may come with certain restrictions and may not offer the same level of functionality and customization as their premium counterparts.
2. What is the difference between Speechify free and Speechify premium?
The free version of Speechify allows users to convert up to 300 pages per month and offers access to basic functionalities. On the other hand, Speechify premium unlocks unlimited page conversions, offline access, advanced customization options, and additional features. By upgrading to the premium version, users can enjoy a more comprehensive and seamless experience with Speechify.
3. What are the cons of Speechify?
While Speechify offers numerous benefits, it's important to consider its limitations as well. Some potential drawbacks of Speechify include occasional inaccuracies in pronunciation, limitations in voice options compared to certain alternatives, and the requirement of an internet connection for real-time text-to-speech conversion. Additionally, the free version of Speechify has page conversion limitations, and the premium version comes with a subscription cost.
Conclusion
To sum up, Speechify is an exceptional tool that converts text to speech, making it easier and more convenient to access written content. Speechify is an innovative tool that utilizes cutting-edge technology and a simple interface to seamlessly transform written content into high-quality audio. Some alternatives are also worth exploring from to find the best fit for your specific needs and preferences. And if you are considering to make your text to speech more funny, remember HitPaw Voice Changer will always be a top choice as it contains so many interesting voice effects.