What Streaming Software for Twitch Do Most Streamers Use 2023
Live video streaming has turned out to be more and more popular and is predicted to boom in the years to come. With more users stuck at home due to pandemic and WFH, they are now in search of Twitch streaming software that can help them stream their live feed. This article talks about some of the best streaming software for Twitch. Have a look.
Summary
Streaming software is the key to getting your content live on Twitch. Here 8 best Twitch streaming software with the top features you need to know before you decide which one to use.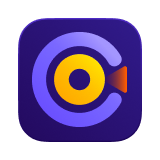 1.

HitPaw Screen Recorder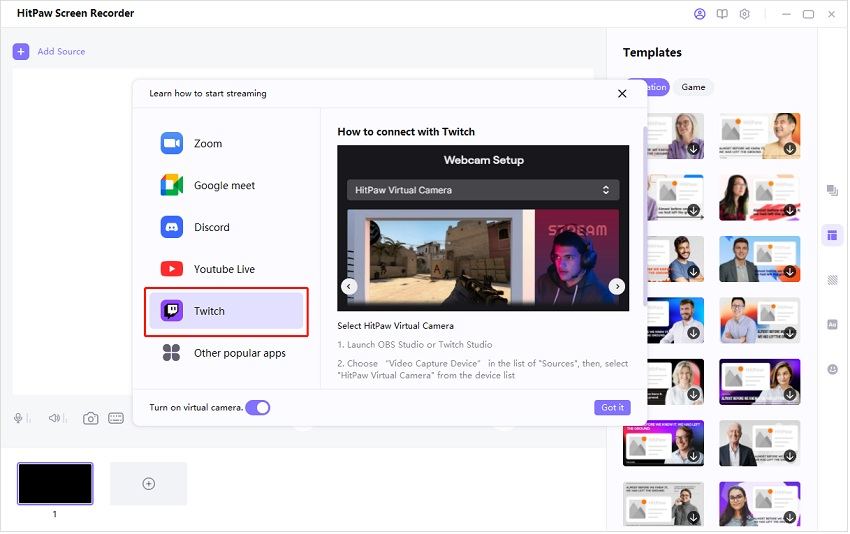 The live streaming feature of HitPaw Screen Recorder takes this tool to number one spot in the list of best streaming apps for Twitch. The tool is best for streaming your live feed on different platforms that too very easily and without any trouble. The tool supports different platforms such as Twitch, Facebook Live, YouTube Live, Vimeo, YouNow, Mixcloud, LinkedIn Live, Bilibili, Douyu, BOOYAH!, and Yingk, among others.
Change the background of your live stream with Chroma Key
Add overlays to change the look of your streaming
Provide magic virtual webcam for video chats and live streams
Works in conjunction with OBS Studio
Simultaneously stream on Twitch, YouTube, Facebook, , etc.
Easily recording and live streaming at the same time
Easy to use interface. Perfect for those who are new to streaming
2.

Twitch Studio
Developed by the brand itself, Twitch Studio is an ideal Twitch stream software for new streamers. The tool provides simple integration with Twitch and is very simple to use. Manual intervention is less as the tool guides users while making any personalization and also has automatic detection.
Easy setup
Great and quick for new user
Works on Mac and Windows
Users don't have to be concerned about technical specs
It does not allow much personalization
Enhanced options are quite limited
3.

OBS Studio
OBS Studio is one of the best Twitch streaming tools and is an open-source streaming app that is an ideal fit for pro gamers. The tool provides a limitless number of sources, including gaming consoles, webcams, window capture, and many more. OBS operates in the background and does not use an in-game overlay, which indicates users can easily capture gameplay to use in a guide. Users can mix video and audio at the same time while live streaming with the help of this streaming programs for Twitch. Users can also switch from one scene to the next with personalized transitions.
Color correction
Noise suppression
Customizable hotkeys
Chroma key
4.

Streamlabs
Streamlabs is a free streaming software for Twitch with professional overlays, a simple guided setup, and enhanced themes. It has monetization widgets to assist users earn passive income, such as Tip Jar, Goals, Tip Ticker, Stream Boss, and Sponsor Banner. Streamlabs operates particularly well for users looking for an open-source solution.
Drag-and-drop video editor
Link protection
Replay buffer
Selective recording
5.

XSplit Broadcaster
XSplit Broadcaster is a Twitch stream program and recording studio tool for gaming and content creation. Users get the highest quality video recordings with the help of this one of the best streaming app for Twitch, thereby making it a great method to create on-demand video content. The tool comes with a noise suppression tool and audio volume management which is simple to use.
Source masking
Split mode
Multiple broadcast effects and animations
Layout wizard
6.

Lightstream
LightStream Studio is another contender for the best streaming program for Twitch. The tool helps to stream on Facebook, Twitch, YouTube, and custom RTMP. The tool offers cloud-powered broadcasting accessible via a web browser. Users can also capture PlayStation and Xbox gameplay for streaming to Twitch with no capture card.
Up to seven remote guests to your streams
RTMP sources
custom RTMP destinations
PC screen share.
7.

vMix
vMix is another one of the best streaming tools for Twitch and is a high-end live production tool. Users can use it to stream to virtually any streaming provider such as Twitch, Facebook Live, and YouTube. The tool comes in five versions, from a $1200 Pro version (allowing four overlay channels, 1000 inputs, 4-camera instant replays, a maximum resolution of 4096x2160, and many more features) to a free Basic pack (allowing one overlay channel, four inputs, and a maximum resolution of 768 x576). vMix recommends users to first download their free 60-day trial version, try it, and then ask yourself questions related to the precise features you use in practice.
5 versions
Four overlay channels
1000 inputs
4-camera instant replays
Maximum 4096x2160 resolution
8.

MelonApp
MelonApp is one of the best free streaming software for Twitch and is compatible with a huge range of devices, capture cards, and camera inputs. This encoding option comprises picture-in-picture composition, live switching, audio delay, titles, and other similar features. If users need to use pre-recorded video in their live broadcast, the tool makes this aspect simple, too.
Compatible with most popular operating systems
Easy-to-use, user-friendly platform
Green screen
Fully loaded with valuable features
Instant replay
Frequently Asked Questions on Twitch Streaming Software
Q1.Does Twitch have its own streaming software?
A1.Yes, the Twitch Studio is Twitch's own streaming platform for users.
Q2.What is the best software to stream on Twitch?
A2.As mentioned earlier, HitPaw Video Recorder is the best software to stream on Twitch due to its different enhanced features.
Q3.Should I use OBS or Streamlabs or HitPaw?
A3.Obviously, this depends on your needs. But, eventually, HitPaw is the best option that you have got.
Conclusion
In short, we just had a look at some of the best streaming tools for Twitch. Amongst them, the best option is HitPaw Screen Recorder which you can change your stream theme with just a few clicks and customize your overlay easily. We're confident even a beginner could do it.