Best & Free 7 Batch Photo Editors Saving Your Time & Efforts in 2023
Editing pictures is tedious. And, when you have to do each photograph separately, it can take tons of your time. But you can use software that offers batch processing to get your work done easily. This article will discuss everything related to batch photo editor and more. Read on to find out more about it.
1.

[AI Enhancer] Best Batch Photo Editor to Conduct All Your Photo Editing Tasks

You can find tons of tools for your desktop when it comes to editing software, but finding a batch photo editor is way harder. Mainly because phone apps are not as equipped to do the tasks. But we have a new contender in the market.

The HitPaw Photo Enhancer batch photo editor is the best solution if you're looking for something that can batch-process photos. This tool enhances your pictures using AI with a single click. Other than that, you can also customize your photo size with the help of this app. It's available for Windows and Mac as well, so you'll be able to do your work across all platforms.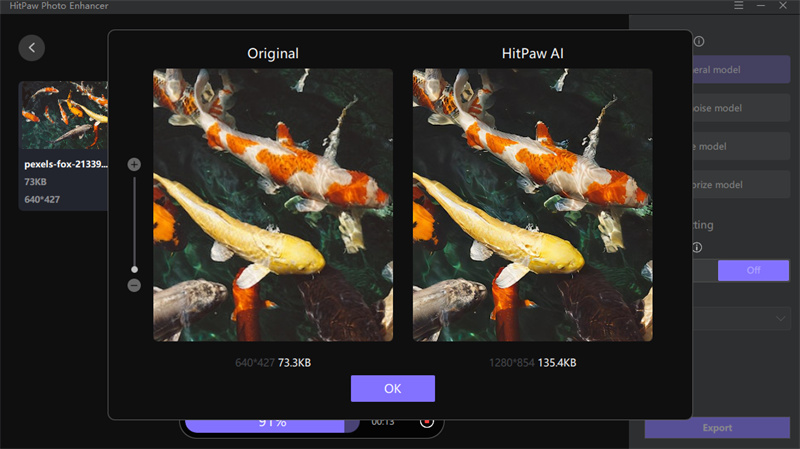 Fast processing
Support batch sharpening
Available for Windows and Mac
AI-Based tool
Here is how you can use it.
Step 1.Download and install this software by the button below.

Step 2.Once you launch it, upload the pictures you want to process.

Step 3.There will be a couple of options available. Choose the model that you want to apply to the photos.

Step 4.Once you're satisfied with the preview of the effect, click on export to download them on your phone.
2.

Top 3 Batch Photo Editors Online for Your Instant Need

Sometimes you cannot get your hands on your devices and when you have to get some work done, it can become annoying and frustrating. But there's no need to worry. When you cannot access your devices, just use a Batch photo editor online to get your work done. Here are our three best pics for Batch photo editor online free.
BeFunky
Be funky is your go-to batch photo editor. If you work in the fast-paced photography industry. You will be aware that customers can sometimes become a headache when demanding photos on the spot.
Now, it is a tedious task to edit them on the spot. Especially when you have to get done with the batch, but with the help of this tool, everything will become easier. It doesn't matter where you are, you need to log onto the website, upload the images you want to edit, adjust the settings, and you'll be done.
Besides photo editing, you can also use this tool to make collages. So, it's a win-win situation for you right here.
BatchPhoto Espresso
BatchPhoto Espresso is like that old Uncle that you think can't do anything but ends up doing the most work at a family function. This tool looks old and flimsy, but it is equipped to do the job.
You can edit all your photos in the batch with the help of this tool within a few clicks. You must get a good Internet connection and use a desktop device to upload the photos here. After that, the system will take over and get the job done.
IMGtools
IMG tools is a shark when it comes to online photo editors. When people think about online photo editing tools, they do not expect them to be huge. However, IMG tools will blow your mind away when you start to explore the options available.
There's so much that you can do here without paying a single penny. Therefore, if you want to get the editing done fast without investing in expensive editing software, then this online tool would be your knight in shining armor.
It's like that extra piece of chewing gum that you did not expect that you will find in the packet. Ain't that the best thing ever?
3.

3 Batch Photo Editors Android & iOS Users Might Need

Now, for all the people who are still skeptical about online photo editing tools. We've researched you and created a list of the best Android and Apple tools available for photo editing.
Adobe Lightroom
Adobe Lightroom is a famous editing application among photographers, and for all the right reasons. The best thing about this application is that it provides you ample room to improve your editing skills. Therefore, with time you will notice that your editing skills are improving immensely.
When you open the application, you must sign up using a Google account. Once you do that, you'll be redirected to the application. There, you can choose the tool that you want to use. Once you're done, you can share your pictures on different social media websites and save them on your phone.
This tool is the best option for people who like to be on the road. Once you take the pictures from your phone, you can edit them from there and then share your masterpieces with the world instantly.
Polarr
In case you love to edit pictures with the help of layers. Then this tool will be the best option for you. Polarr has tons of options available when it comes to photo editing tools. You will spend a full day on this app, and something will still be left.
The best thing about this application is its automatic adjustment settings. Therefore, for people who want to get the work done and do not have any customary requirements then, all you have to do is click a few buttons and get it out of the way.
VSCO
If you are a regular user of Instagram, you must've heard about the VSCO photo editing app. The best way to describe this app would be to think of an artist. The app is different from all the mainstream apps. It provides a couple of filters that just set the mood right.
The best thing about this app is that when you edit your pictures from here, it will look like you have spent hours trying to find the perfect color gradient. But it won't take more than 10 minutes to get the job done.
Conclusion
Looking for the best batch photo editor is hard. But we have done the job for you after reviewing different online editing tools and phone applications. HitPaw Photo Enhancer tool proved to be the best free batch photo editor. Mainly because it is completely safe to use, you can process your photos in a batch using the Ain models, which will take you seconds to get the job done.