[Top Pick] The Best 6 Real Estate Photo Editing Services in 2023
Real estate photo editing services can help enhance the visual appeal of your property listings, leading to faster sales and higher profits. With a variety of options available, it's essential to consider both price and features when selecting the exemplary service for your needs.
This article will explore 6 real estate photo editing services, comparing their prices and features to help you make an informed decision.
1.

Top 6 Real Estate Photo Editing Services Available in 2023

Real estate photo editing app is an essential part of showcasing properties online. In today's competitive real estate market, it is vital to present high-quality photos that highlight the features of the property and attract potential buyers.

HitPaw Photo Enhancer offers a range of affordable and high-quality real estate photo editing services that can enhance your property images, making them more appealing and engaging to potential buyers.

In this article, we will see the 6 top real estate photo editing services and highlight their price and features.
PhotoUp
PhotoUp is a Grand Rapids, Michigan-based firm that specializes in real estate picture retouching and marketing. Its teams for editing, virtual staging, design, and programming are based in Cebu City, Philippines.
Real estate photo editing
Virtual staging
Floor plans
Single property websites
Pricing:
As low as $1 per credit for subscription clients
As low as $1 per credit for subscription clients
BoxBrownie
BoxBrownie is an Australian firm that provides high-quality graphic marketing services in a variety of sectors, including real estate. They are one of the industry's major corporations.
Photo retouching, including exposure corrections and vertical line adjustments
Color changes and enhancements
Object removal
Virtual staging
Pricing:
Image enhancement – $1.60 per image
Virtual staging – starting at $24 per image
Sky replacement photo editing – $4 per image
Phixer
Another prominent firm that provides real estate marketing and picture editing services is Phixer. The firm was formed in 2009 in Seattle, Washington, and by 2010, it had swiftly grown to include editing teams in India, the Philippines, and Singapore.
Photo editing and retouching
Video editing
Sky and lawn replacement
Decluttering and object removal
Pricing:
Essential photo editing services color enhancement, cropping, and exposure correction —$2 to $5 per image
High-End Photo Editing HDR blending, sky replacement, and object removal — $10 to $25 per image
FixThePhoto
FixThePhoto is an online picture editing service that has been in operation since 2003. They employ and collaborate with hundreds of picture editors worldwide as an online business.
Object removal
Sky replacement
Line straightening
Color changes
Pricing:
FixThePhoto charges $1.50 per picture for conventional real estate image editing, which includes single-shot HDR photographs. Some services, however, are branded "High-End," and the price swiftly rises to $12.00 per picture.
Smart Photo Editor
Smart Picture Editors (SPE) is a worldwide photo editing firm based in India that provides services in a variety of industries, including fashion, antique photo restoration, vehicles, and many more.
Image retouching and correction
Fixing exposure and lighting problems
Color and saturation leveling
Straightening lines and angle correction
Pricing:
This focus on more straightforward editing tasks influences their pricing, with most photos costing between $0.80 to $15 per image.
PadStyler
PadStyler is a real estate picture editing firm with headquarters in Austin, Texas. The company operates on a worldwide scale.
Image retouching and corrections
Corrections for exposure, lighting, and color balance
Twilight sky replacement
Line and perspective adjustments
Pricing:
PadStyler is the most costly of the picture editing services that we reviewed. The starting price is somewhere about $25 per photograph. They do, however, provide savings for bulk work and allow for an infinite number of revisions.
2.

[Inexpensive Solution] How to Edit Real Estate Photos With a Poweful AI Photo Enhancer?

HitPaw Photo Enhancer AI is a user-friendly software that provides one-click photo enhancement. It supports batch sharpening and allows users to customize their photo size. It is compatible with both Windows and Mac operating systems, making it accessible to a wide range of users.

With its user-friendly interface, you can easily edit and enhance your real estate photos to make them more appealing to potential buyers. Give it a try and see the difference it can make!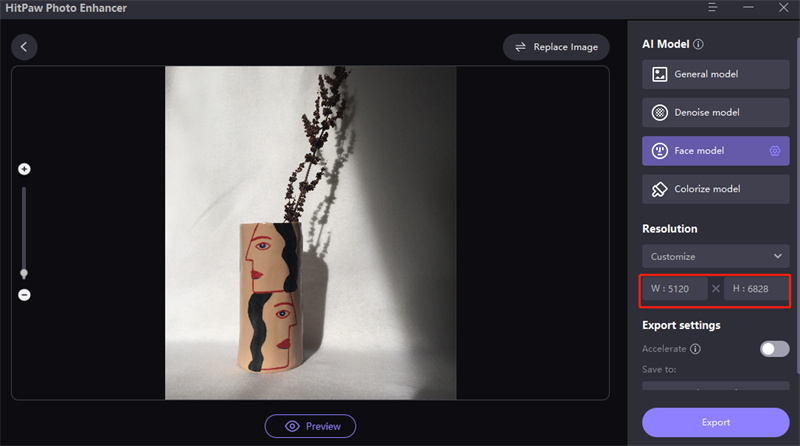 use hitpaw to do real estate photo editing
The most effective AI picture enhancer for Windows and Mac.
With a single click, you may immediately improve picture quality and resolution.
Pictures may be easily made less fuzzy and noise-free.
Images may be enlarged and upscaled without any loss of quality.
Let's see how it works.
Step 1.Download and install the software by clicking the button below.

Step 2.Upload your images or simply drag and drop them to make them high-quality.

Step 3.Selce the suitable model to auto-beautify.

Step 4.You can preview the effect and see whether you're satisfied.

Step 5.Once the process is done, simply click on export and save your pictures on your device.
Conclusion
In conclusion, the real estate industry demands high-quality images to attract potential buyers. HitPaw Product offers reliable and effective real estate photo editing that can enhance the visual appeal of your property images. These tools can improve your photos' lighting, colors, contrast, and composition, making them stand out from the crowd. Consider using HitPaw Product to create stunning real estate images that will catch the eyes of potential buyers.