Top YouTube Video Subtitle Download Solutions in 2023
YouTube is the most popular and visited video-sharing platform in the world. Currently, there are more than 800 million videos on YouTube, and every minute around 2500 new videos are uploaded on this video-sharing platform.
If you are looking for any video, you can easily find it on YouTube from tutorials, guides, music videos, web series etc. But some videos are not in our native language, or we need subtitles to follow them, and sometimes we want to download YouTube videos with subtitles on our devices. We have made a list of the 6 best solutions for YouTube video subtitles download that will help you easily download YouTube videos with subtitles.
Part 1. The Quickest Way to Download YouTube Videos with Subtitle
The quickest, fastest and easiest way to download subtitle from YouTube is Hitpaw Video Converter, which works well on Windows and macOS. HitPaw Video Converter can download YT videos along with subtitles in .srt or .vtt format.
Main Features of HitPaw Video Converter
Download videos from 10000+ sites including YT, FB, Twitter, Bilibili, Ins, etc.
Extract subtitles from the original videos
Supports downloading YouTube video thumbnails
Supports batch download YT videos and playlists
Download YouTube subtitles in .srt and .vtt formats
Convert the downloaded video to other formats easily
How to Download Subtitle from YouTube with HitPaw Video Converter
We have a quick guide for all who want to know how to download YouTube subtitles using HitPaw Video Converter.
1.Install HitPaw Video Converter and then launch it on your Windows and macOS.

2.Open the YT video or playlist or channel that you'd like to perform YouTube sub download, and copy the URL from the browser address bar.

3.In the Download tab of HitPaw Video Converter, paste the URL and click Analysis.

4.After analysis, you can select video/audio quality, thumbnail and subtitle language.

5.Click Download button to download YT video with subtitle. After downloading is finished, you can open the output folder and find there is a .vtt file along with the downloaded video.
Recommended Online YouTube Video Subtitles Downloaders
This list has the top three online YouTube video subtitles downloader available on the internet. We will be sharing the pros and cons of every YouTube sub downloader along with a guide on how to download subtitle from YouTube online.
1. Download4.cc
Download4.cc is one of the best websites for YouTube sub download as it can download YouTube videos with subtitles and thumbnails. It is easy to use and is a great option for people who want to save their device space and are looking for a good online YouTube subtitle downloader to download anytime, anywhere.
How to download subtitle with download4.cc
Using Download4.cc is very simple for YouTube subtitle download. All you have to do is paste the URL of the Youtube Video in the paste URL field and click Paste URL Now.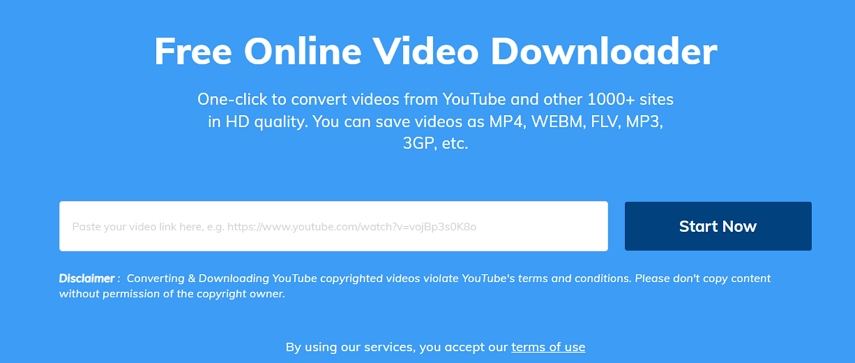 Wait for the analysis complete. The Video and Audio tabs show a list of resolutions in which you can download video up to 720p for free. Switch to the Subtitle tab, you can see all languages that the original video supports. Click the download button in SRT or TXT to get the subtitle you need downloaded.
Pros of Download4
You can download videos from Youtube and 1000+ other websites.
You can download a video in multiple formats.
It is fast, convenient and easy to use.
Separates the Youtube video into separate files like video, audio, thumbnail and subtitles so that you can download whatever you like.
Download video for free up to 720p.
Cons of Download4
Does not support batch download
2. DownSub
Downsub is a popular website that is used worldwide to download subtitles YouTube. It is a super-fast, easy and convenient way of downloading YouTube videos, and what makes it unique is its variety of options to download subtitle from YouTube. You can pick different formats of subtitles and auto-translate those subs to different languages.
How to use DownSub
It is very easy to do a YouTube srt download with DownSub. You have to paste the URL of your desired Youtube Video on the Paste URL field of DownSub and click Download. It'll give you various options like downloading videos with Subtitles or downloading just subtitles and translating those subtitles. Choose your desired option and Download it.
Pros of DownSub
The website is completely free.
Does not require any third-party app, extension or plugin.
Can Download videos from different websites other than YouTube, like Viki, VIU etc.
Downloads subtitles in various formats.
Has auto-translate options to translate subtitles to any language.
Cons of DownSub
Filled with ads.
Often opens weird and insecure pages during redirection.
It does not show the Youtube video's thumbnail, making it hard to identify if you have added the correct video.
3. Savesubs
Savesubs is another great website used for subtitle download YouTube videos. It is great for people who need a website that wants to break down a Youtube video into subtitles and simple video anytime on any device.
How to use Savesubs
It is very easy to download subtitles from Youtube videos using Savesubs. All you have to do is paste the URL of the Youtube video in the paste URL field and click DOWNLOAD. You will see the name of the video in the bottom row, along with the available subtitles, with the option to pick a format and translate the subtitles into any language.
Pros of Savesubs
Clean and easy-to-use interface.
Shows the name of the video in the bottom bar, making identification easier.
Converts subtitles in a variety of formats.
Has auto translate option to translate subtitles in any language.
Cons of Savesubs
Slower than other websites.
Open weird and insecure pages while redirecting.
Alternative Way to Download YouTube Subtitles
Here are some other ways to Download Youtube Subtitles as a text file or as part of the video.
1. How to Download YouTube Subtitles As Text
We also can easily download YouTube subtitles as text directly from Youtube App or Website. All you have to do is,
1.Log In to your YouTube account and click your profile picture in the bottom right corner.

2.A menu will appear on the left side after clicking the profile picture. Select YouTube Studio from that.

3.A new page will open with a new side menu and main screen. Click on content to see the list of videos uploaded on the channel.

4.Go to the video whose subtitles you want and click on the Detail option that a Pencil Icon represents.

5.Select Subtitles from the menu and click the Edit option next to your video.

6.Click Edit as Text from the emerging menu to download subtitles without Timestamps, then click Download Subtitle.

7.Choose a location for the subtitle text file, and it will download there.
The Bottom Line
Downloading subtitles of YouTube videos may seem hard, but with the right tools and tricks, you can easily download a high-quality video with subtitles. We have added every type of tool to our list, from desktop applications to websites, from free services to paid services, and we have shared the pros and cons of every solution so that you can make the best solution. If you have bunches of videos that need to be downloaded with subtitles, HitPaw Video Converter is your first choices as it can download videos in batch and with hardware acceleration.