9 Best Subtitles Download Sites for Movies in 2023
People often say art and cinema have no limits, which has proved to be confirmed with time. Nowadays, people believe in the phenomenon of cinema beyond the border and watch movies that are in languages other than regional languages. For doing this, some people go for the dubbed version of the film, but most people avoid this as dubbing often ruins the whole feel and emotion of the film, and not every movie is available in the dubbed form. That's why the majority of people rely on subtitles for watching movies. If the film is in any language other than the language they speak, they download English subtitles of that movie. Some films come with subtitles, while you have to download subtitles separately for others.
Today we will discuss some of the best subtitle sites and whether downloading subtitles is legal.
Part 1. Subtitles Download FAQs
1. Is it illegal to download subtitles?
Subtitles accompanying official movie releases are protected by copyright protection laws. But there are many subtitles for popular movies that can be downloaded for free.
2. How to add subtitles to movies?
Adding subtitles to movies is easy. You can easily do this with a straightforward media player like VLC or a more modern and advanced media player like HitPaw Video Converter.
To add subtitles with VLC Media Player, all you have to do is:
Open the movie in VLC Media Player.
Select Subtitle from the top menu.
Then, select Sub Track where you will see a list of available subtitles.
Select the language you need.
You can also select Add Subtitle File from the Subtitle menu to add your downloaded subtitle.
HitPaw Video Converter is modern-day video conversion, download and editing software with advanced and intelligent options. It allows you to batch convert your videos in 1000+ formats without losing their quality in a short amount of time, to download videos with subtitles at a super-fast speed with up to 8K resolution, to edit videos, and to add subtitles in a simple way.
Here are the steps to add subtitles to movies in HitPaw Video Converter:
1.Download and launch this program to a PC or Mac computer.

2.Add your video or movie file(s) to this program.

3.Click the Subtitle option and select Add Subtitles. Currently HitPaw Video Converter supports adding subtitles in SRT, ASS, VTT and SSA.

4.It supports adding multiple subtitles. The added external subtitle files will be sorted in descending order according to the import order.
Part 2. Best Subtitles Websites to Download Free Subtitles for Movies
Here is a list of some of the best websites for English subtitles download with their pros and cons and whether they are paid.
OpenSubtitles is the best website out of all subtitles websites. The reason which makes this website stand out from its competitors is that it has the largest database of subtitles and offers all of them for free.

Pros
It has subtitles for more than 5 million movies and TV Shows.
It is absolutely free.
It is a fast and safe option to download .srt file.
Cons
It is filled with ads.
The interface looks confusing.
Yify Subtitles is the best subtitles website, and there are many reasons for this. The number one reason is the massive database of this website, and the second reason is its interactive interface and metadata that makes searching easy and gives you a fantastic experience. It offers all of this for free.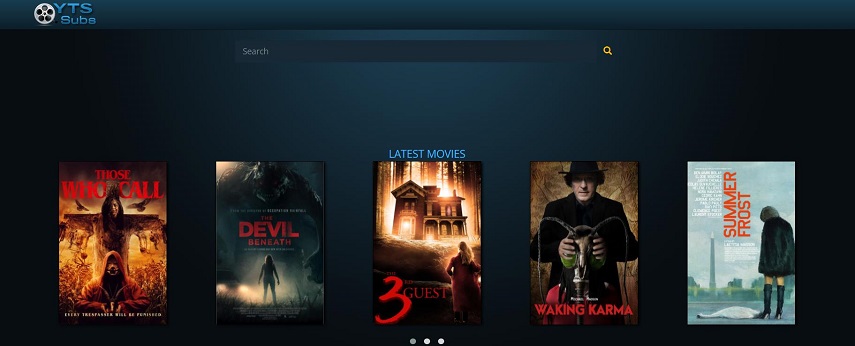 Pros of YIFY Subtitles
Easy to use interface.
Safe to use and has piracy-free subtitle files.
Has subtitles in 30+ languages.
Cons of YIFY Subtitles
Does not have subtitles for some old movies.
3. Podnapisi
Podnapisi is another excellent website. If you want the latest english subtitles download srt, then this website is excellent for you, and along with english, it has subtitles in various languages like French, Dutch, Arabic, Hungarian and many other languages. Podnapisi is free to use.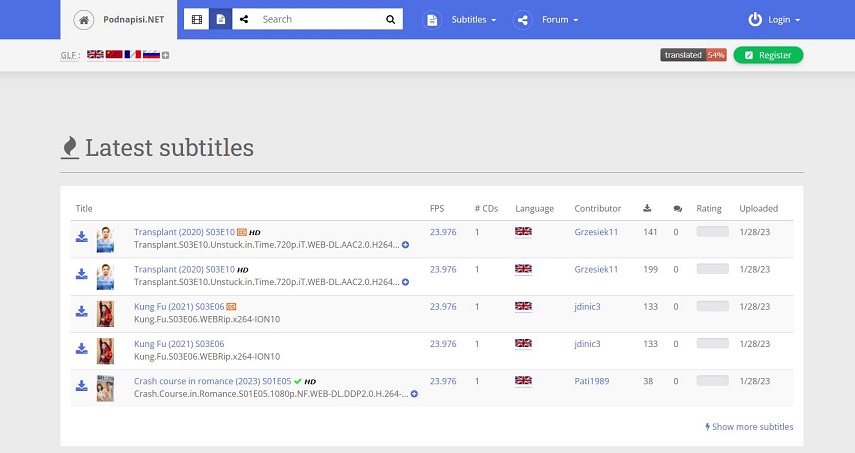 Pros of Podnapisi
Clean and easy-to-use interface.
Subtitles of the latest movies and shows are available.
Advanced search option.
Subtitles are available in various languages.
Cons of Podnapisi
It does not have subtitles for some old and classical TV shows and movies.
Subscene is another great website to download subtitles for movies, and the best part is that it is completely free and has subtitles in various languages. What makes this website unique from all other websites in this list is that you can request subtitles in the discussion section. This website is free to use.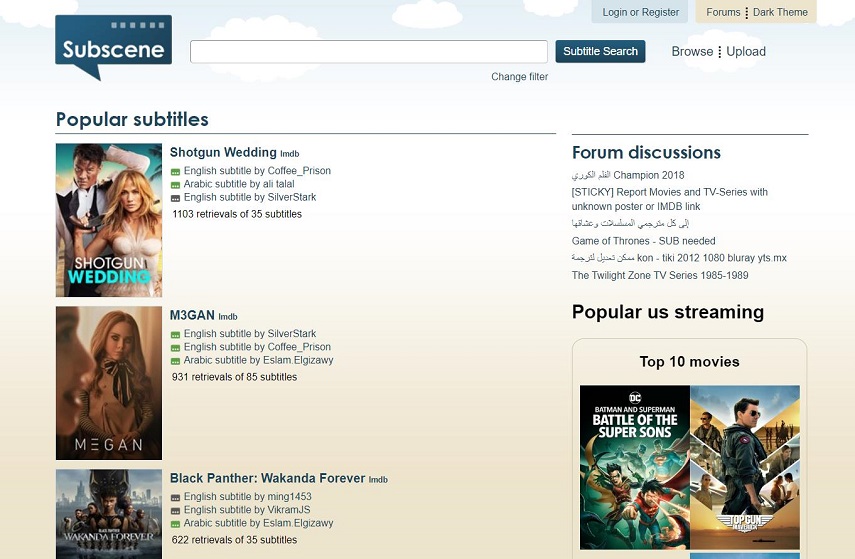 Pros of Subscene
Easy to use interface.
Has the option to request subtitles for a movie or show of your choice.
Subtitles are available in various languages.
Cons of Subscene
Complicated search option.
Addic7ed is another great website for subtitle download srt, which is free to use and has a large library of subtitles for different movies and TV shows in different languages. This website is free to use.
Pros of Addic7ed
Easy to use interface.
A vast library of subtitles is available in more than 10 languages.
Cons of Addic7ed
Login is required.
The website is slow.
Filled with popup ads.
Downsub is another great website for english subtitles download and allows you to download subtitles directly from an online video in a .srt format, making it the unique option out of all websites. This website is free to use.
Pros of Downsub
Easy to use interface.
Download subtitles from any online videos.
Cons of Downsub
Filled with ads.
Slow download.
TVsubs is the haven for any TV show lover as this website has subtitles for more than 3000 shows in 16 languages. This website is free to use.
Pros of TVSubs
Clean interface.
Fast download.
Vast library.
Cons of TVsubs
Moviesubtitles.org is another great website that has subtitles for almost every film on the Internet and is preferred by the masses for its easy-to-understand interface and inclusivity of films. This website is free to use.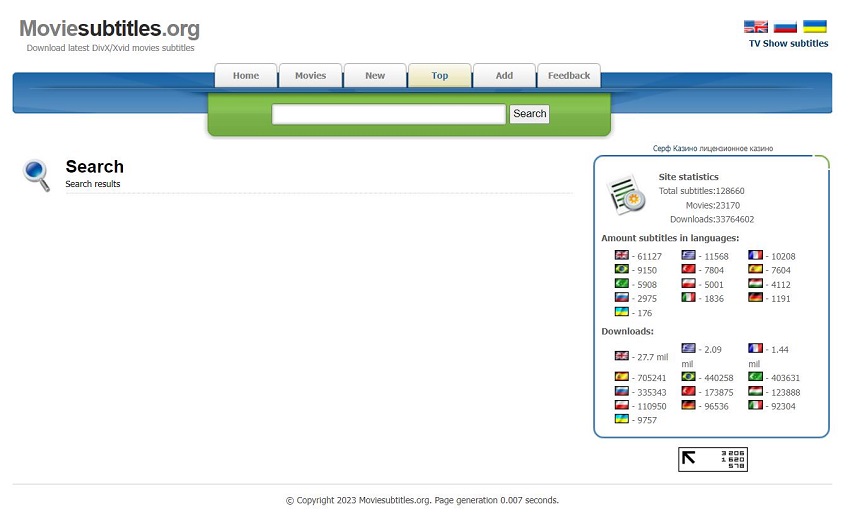 Pros of Moviesubtitles.org
Simple and easy-to-use interface.
Wide range of movies.
Cons of Moviesubtitles.org
Declared risky by some review websites.
Only has movies and no tv shows.
Last but not least is the English Subtitles website, which is everyone's favourite as it is easy to use, has a wide range of movies and shows and is free to use.
Pros of English Subtitles
Fast and safe download.
Easy to navigate interface.
Cons of English Subtitles
Has ads on every page.
Does not have old movies and shows.
The Bottom Line
Subtitles make watching movies of every language easy for the users. In this topic, we have shared some of the best subtitles websites where you can download srt files easily. If you'd like to add the downloaded subtitle to a video or movie, both VLC media player and HitPaw Video Converter are helpful.