8 Sites of Nature Loop Video Free Download (Advanced Option Included)
The use of nature loop videos has increased in recent years as a means of boosting multimedia projects such as presentations and websites. These fascinating films effortlessly loop the same few seconds over and over again. Finding free, high-quality movies of nature loops may be difficult, though.
Such information may be found on a wide variety of websites, however it is sometimes restricted or requires users to pay a fee. Here, we've compiled eight of the best resources we could find that not only let you download free video nature loop but also give you a taste of their paid membership options. Let's take a trip via your eyes.
Part 1: 8 Options of Nature Video Loop Free Download
1. Pexels
Pexels plays up to its reputation as a top-tier site for free stock media with its extensive library of beautiful free nature loop video asset.. Pexels has a large collection of high-definition nature loops and an intuitive interface, making it a popular option among video makers. Users can get videos without having to sign up for anything or pay anything. Pexels Plus, a paid upgrade, grants users access to premium services including higher download speeds and more Pexels-only material.
Pros
Free downloads without registration.
High-quality free nature video loop options.
Option for upgraded features with Pexels Plus.
Cons
Limited free capability. Pexels Plus subscription costs $12.50 per month or $99.99 annually.
2. Coverr
Coverr specializes in providing stunning video backgrounds for websites, making it an excellent choice for web developers and designers. They offer a dedicated section for nature loop videos, all of which are free to download and use. Coverr's library is updated regularly, ensuring fresh and engaging content for your projects. While the site primarily offers free downloads, they do offer a premium plan known as Coverr Pro.
Pros
Free nature loop video download options for website use.
Regularly updated content.
Access to premium content with Coverr Pro.
Cons
Coverr Pro subscription costs $99 per year.
3. Mixkit
Mixkit is a treasure trove of free, high-quality assets for creatives and is free nature loop video site. Their nature loop video collection is no exception, offering a wide range of mesmerizing clips. Mixkit's user-friendly interface allows for easy downloads without any cost or registration. If you're looking for even more benefits, they have a Mixkit Pro plan.
Pros
Free downloads without the need for an account.
Diverse selection of nature loop videos.
Mixkit Pro subscription available for enhanced features.
Cons
Mixkit Pro subscription costs $49 per year.
4. Vieddzy
Vieddzy is a lesser-known gem for free scenic loop video enthusiasts. While their collection might not be as extensive as some of the bigger players, they offer a selection of free, high-quality nature loops. No account is needed to download these captivating videos. However, Vieddzy also provides an upgraded version for those seeking more features.
Pros
Free downloads without registration.
High-quality nature loop videos.
Free nature loop video no watermark.
Option to upgrade for additional benefits.
Cons
Vieddzy's premium plan costs $19.99 per month or $129.99 annually.
5. Depositphotos
Depositphotos is primarily known for its stock photo library, but they also offer a selection of free nature loop videos. With millions of users worldwide, Depositphotos is a trusted source for visual content. While their free selection is limited, they do offer premium plans with more extensive access.
Pros
Access to free nature loop videos.
Trusted website free nature loop video with a vast user base.
Premium plans for more content.
Cons
Depositphotos' premium plans start at $29 per month.
6. Videvo
Videvo is a community-driven platform that offers a wide range of free video assets, including nature loop videos. Their library is constantly growing, thanks to contributions from users worldwide. Videvo provides an easy-to-use interface for downloading videos without any charge. Additionally, they offer a Videvo Plus plan for those seeking premium features.
Pros
Expansive library of free nature loop videos.
Community-driven platform.
Videvo Plus subscription available for advanced features.
You can download free nature loop video.
Cons
Limited number of videos can be dowmnloaded with free version.
Videvo Plus subscription costs $20 per month or $200 annually.
7. Motionelements
Motionelements is a versatile platform that caters to the needs of both professionals and hobbyists. They offer a collection of free nature loop videos that are easy to browse and download. Motionelements also provides premium content through subscription plans, making it a one-stop-shop for video creators.
Pros
Access to free nature loop videos.
User-friendly interface.
Premium subscription plans available.
You can gety short free nature loop video clips.
Cons
Motionelements' subscription plans start at $9.90 per month. Loop nature free video creation comes with limited control.
8. Veed
Veed offers a unique twist by allowing users to create their own nature loop videos with ease. While their primary focus is on video editing, they also provide a selection of free nature loop videos for download. Veed's user-friendly editing tools can be a valuable asset for content creators. However, they do have a subscription plan called Veed Pro.
Pros
Free nature loop video downloads.
User-friendly video editing tools.
Option to subscribe to Veed Pro for more features.
Cons
Veed Pro subscription costs $15 per month or $120 annually.
These free video nature loop websites offer a plethora of options for free nature loop video downloads, catering to a wide range of preferences and needs.
However, if you're looking to streamline the process and extract videos from multiple websites effortlessly, consider using a versatile video downloader like HitPaw Video Converter. This powerful tool can save you time and make your video content creation journey even more efficient.
Part 2: Advanced Option to Download Free Nature Loop Video
Now that we've explored eight fantastic websites for free nature loop video downloads, let's delve into advanced options for enhancing your video content creation experience. One such tool is HitPaw Video Converter, a versatile software that brings a host of advantages to the table.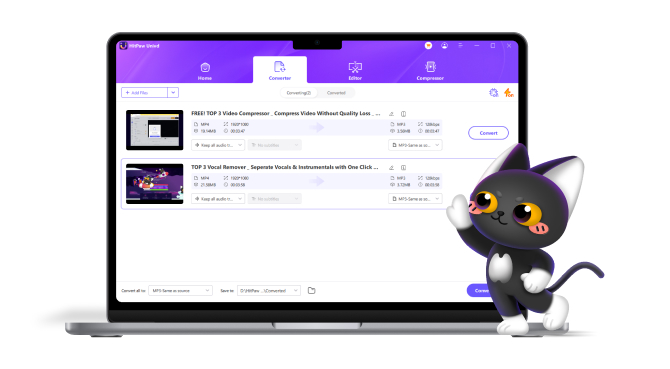 Advantages of Using HitPaw Video Converter:
This versatile software offers five essential functions:
1. Backup:HitPaw Video Converter enables you to effortlessly download nature loop videos from a wide range of websites. Whether you need content for personal projects or professional use, this function ensures easy access to the videos you desire.

2. Edit:With the built-in video editing tools, you can fine-tune your downloaded nature loop videos. Adjust aspects like brightness, contrast, and saturation, ensuring your visuals are just right for your intended purpose.

3. Cut:The cutting function allows you to trim your videos to the desired length. Say goodbye to unnecessary segments and focus on the essence of your nature loop video.

4. Filter:Enhance the visual appeal of your nature loop videos by applying various filters. From vintage effects to modern aesthetics, you have the freedom to choose the look and feel that best suits your project.

5. Add Watermark:Protect your creative work or brand your content by easily adding watermarks to your videos. This function helps maintain the integrity of your visuals while ensuring they're uniquely yours.
Part 3: FAQs about Free Nature Video Loop
Q1. Can I loop multiple nature videos for free?
A1. Yes, you can. You can use HitPaw Online video tools to merge multiple nature loop videos seamlessly and then apply the loop function, allowing you to enjoy a continuous visual experience.
Q2. How can I download nature video loops without watermarks?
A2. To download nature video loops without watermarks, you can rely on HitPaw Online video tools. This versatile solution enables you to remove watermarks from any videos, ensuring your content remains clean and professional.
Conclusion
As we wrap up our adventure in the world of free video nature loop, it's clear that these eight websites offer a treasure trove of visual delights. But before you embark on your video content journey, consider this: HitPaw Video Converter isn't just a tool; it's a magic wand for creators.