The Best Way to Download YIFY Subtitles for YIFY Movies
You want to watch a Japanese movie but must become more familiar with the Japanese language. How would you understand the story of the movie?
Captions or subtitles have been introduced to help you understand the content you're watching in your native language. Downloading the movies with subtitles will also help you get familiar with the language you're getting to watch the movie.
Of all the websites that help you download subtitles, YIFY subtitles remain the standout. This guide will help you know how to download subtitles YIFY with ease.
Part 1: What is YIFY?
In the early stages, YIFY was the only source of downloading free movies, but YIFY subtitles have become a website that only offers movies with subtitles. Among all the websites that allow you to download Subtitles, YIFY is one of the best ones.
To begin with, it offers TV shows and movies of every genre, along with subtitles listing them according to their release date and run time.
YIFY also comes up with IMDB, meaning you can view the rating of the desired movie you will download. YIFY subtitles website contains 900 pages, and it is simple to access this website.
Part 2: How to Download YIFY Subtitles
Downloading the YIFY subtitles has become simple courtesy of the YIFY subs website. The website is free to use, and you won't face any security issues.
Here's how to download the subtitles from YIFY
Step 1: Navigate to the official website of YIFY Subtitle.

Step 2. Search for the movie you'd like to download along with the subtitles.

Step 3. After searching for the movie, you'll need to navigate to the Subtitles section, and then you'll be able to see all launges that this movie supports.

Step 4. Select the language you'd want to download the YTS subtitles to. Next, press the Download link to download the movie with subtitles.
Part 3: How to Add YIFY Subtitles to Video/Movie While Playing
After downloading the Turkish series or movies in a language, if you don't know if you intend to add English subtitles, HitPaw Video Converter might help your cause. HitPaw Video Converter is a top-notch tool that empowers you to add subtitles to your videos without even tinkering with the resolution of the video.
Since HitPaw Video Converter offers a user-friendly interface, you don't need prior knowledge of adding subtitles via HitPaw Video Converter.
Features
Allows you to add subtitles to your favorite movies in a click
Supports various subtitle formats: SRT, ASS, VTT and SSA.
It comes up with a built-in player to watch your favorite movies
Watch movies without commercials and ads.
Download the movies from 10000+ online websites, including Netflix, YT, etc.
Convert video, audio, DVDs, and blu rays with 120x faster speed.
Offers the batch processing feature.
Easy to use.
Supports PC and Mac computers.
How to Add Subtitles to a Video or Movie via HitPaw Video Converter?
Step 1: Launch HitPaw Video Converter after installation. You can import the video, movie or DVD/blu ray discs that you'd like to add subtitle to.

Step 2: After adding the movie to the main interface of HitPaw Video Converter, you'll need to select '' Add subtitles'' after hitting the Subtitles icon.

Step 3: Select the subtitles that you've downloaded from YTS subtitles. You can add subtitles for SSA, VTT, ASS, and SRT using the HitPaw Video Converter. The added external subtitle files will be sorted in descending order according to the import order.

Step 4: After adding the subtitle, you can select an output format, or click the Convert button to convert files easily. After conversion, you'll be able to watch the video along with subtitles.
Bonus Tips: Top Subtitle Websites Other Than YIFY
Apart from downloading the YIFY subtitles, you can also look at other websites to download the subtitles.
Here's the list of those brilliant websites.
1. OpenSubtitles
If you're to download the subtitles of a movie and are looking for a website like YIFY, opting for the ''OpenSubtitles'' won't be the wrong decision. It is a free website that lets you download subtitles on your PC without even charging a penny. The subtitles you can download from the OpenSubtitles are available in multiple languages.
To download the subtitles, all you need to do is visit the official website and then search for the movie you'd like to download the subtitles of.

2. Subtitle Seeker
Subtitle Seeker is yet another excellent website that stimulates downloading movies with subtitles. You can download the subtitles of your favorite TV shows and movies courtesy of the Subtitle Seeker website.
All the files you download here on this website come in SRT format. To download the subtitles, you'll need to navigate to the Subtitle Seeker and search for the movie or TV you'd like to download.
3. English Subtitles
English Subtitles enable you to download subtitles in the English language. Since it supports only English, you won't be able to download the subtitles in other languages.
This website has brilliant subtitles for various popular movies and TV shows. Finding English subtitles for movies or TV shows is easy, as you can serve your purpose by visiting the official website of English Subtitles.
4. Subscene
Subscene is another source of downloading the subtitles for your desired movies, TV series, and more. It is available in multiple languages meaning you can download your subtitles in various languages.
The website has a simple user interface, as downloading the subtitles for the different content is effortless.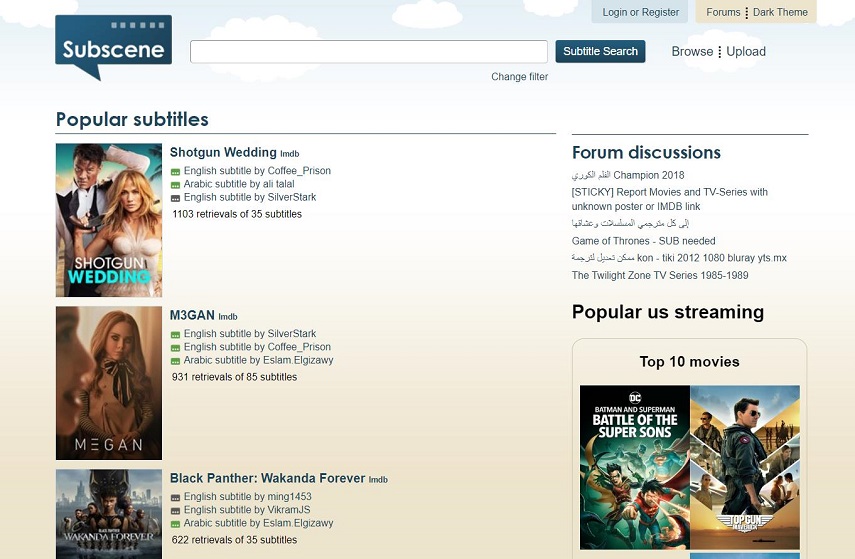 TVsubs
TVsubs has a simple user interface; you can download the subtitles for your favorite content without doing much.
It allows you to download the subtitles of over 3000 TV shows. You can download the subtitles in multiple languages, and it doesn't charge even a penny when downloading the subtitles.
The Bottom Line
Getting the YTS subtitles downloaded is only a matter of a moment, courtesy of this insightful post. Apart from revealing the credentials of YIFY, we've also listed the step-by-step guide to download YIFY subtitles.
You can opt for HitPaw Video Converter to download movies along with subtitles from 10000+ sites. It can also help add subtitles to your favorite movies.