Amazon Music vs Apple Music: Which One Is Better for You
When it comes to music streaming platforms, Apple Music and Amazon Music are noteworthy options that come to mind. Both the platforms have taken some huge leaps. Apple Music rolled out both spatial audio support and lossless music streaming, while Amazon has taken the lossless features of its Amazon Music HD plan and included the high-fidelity capabilities to Amazon Music Unlimited for free.
In this battle of Amazon Music vs Apple Music, these music apps provide much better deals and hence users get confused between the two platforms when it comes to selecting either one of them. In this comparison article, we will discuss different features of these two platforms that will help you make an informed decision when it comes to selecting just one. Read below to have detailed comparison between the two platforms.
1.

Apple Music vs. Amazon Music: Price

Amazon Music and Apple Music have a few things in common when it comes to their pricing plans. The below table gives a brief idea about their pricing plan. Have a look.
Apple Music
Amazon Music
Free Plan
$9.99 per month or $99 per year

$7.99 per month or $79 per year for Prime members.
$9.99 per month for non-Prime users.

Family Plan
$14.99 per month
$14.99 per month
Student Plan
$4.99 per month

$0.99 per month for Prime members.
$4.99 per month for non-Prime users.

Single Device Plan
NA
$3.99 per month
Both the music streaming services provide the following features if users choose them:
Complete access to all video and music content.
3-month free trial for new users.
Unlimited and ad-free playback.
High-resolution and lossless audio.
Ability to import local files.
Ability to purchase music.
Live feature –radio stations (Apple Music) and livestreams (Amazon Music).
Ability to download songs for offline listening.
There are also some differences in this Apple Music vs Amazon Music battle that sets the two music streaming platforms apart from each other. Apple Music does not offer a free plan. On the other hand, new users can opt for the Individual Premium plan and get a 3-month free trial. On the flip side, Amazon Music provides a free plan that comes with a restricted catalog of top stations and playlists. It also provides a free trial of 3 months for new customers.
The offerings from Apple Music's plan usually offers only Family, Individual, and Student subscriptions. On the other hand, users will get much more from Amazon Music, which provides extra discounted plans for current Prime users. Users can also get its budget-friendly Single Device Plan that allows them to stream from any eligible Fire TV or Echo device.
2.

Apple Music vs. Amazon Music: Content

When it comes to content offering in the Apple Music vs Amazon Music HD battle, both the platforms come with more than 90 million songs in their catalog. And with licensing offers sealed down with primary record labels, users will not have any trouble searching the big names and top hits in music on either service. Amazon Music is a step ahead from Apple Music in terms of the quantity of music available, but they surely concentrate on popular content more. And that is not shocking for a streaming platform that was once looked upon as a primary music-streaming platform. Users will find much less categories available in the Search section of Amazon Music. There are a total of 12 sections that feature playlists and cover the most popular genres. The playlists are also ranked as per what's popular among the app's users.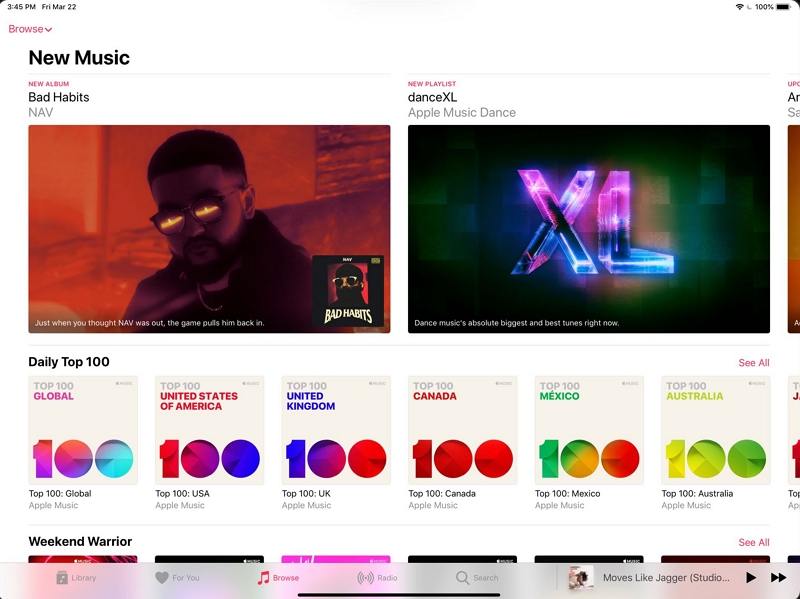 When it comes to Apple Music, the Browse section comes with bulk of the platform's music deals and is spread out over tons of sections. Some of them are incredibly unique as compared to Amazon Music. Every category is filled with playlists that additionally concentrates on that genre, resulting in users to have some interesting musical experience. However, mainstream music fans can easily keep up with all the new launches with playlists such as New Music Daily, Today's Hits, and Daily Top 100.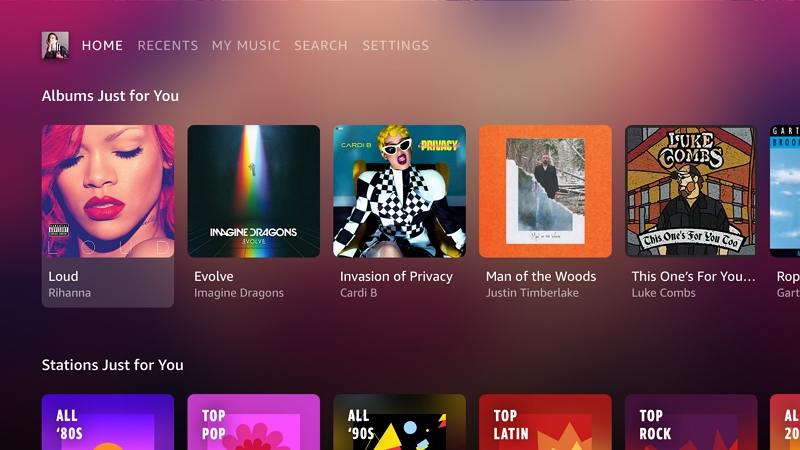 3.

Apple Music vs. Amazon Music: Music Quality

In the Amazon Music versus Apple Music battle, Apple Music earlier started its support for Lossless Audio and Spatial Audio. These features are provided by Apple Music to users at no extra price. Both the features will meaningfully enhance the listening experience of Apple Music users. Spatial Audio along with Dolby Atmos offers a multi-dimensional and immersive audio experience that lets artists to mix songs in a way that makes it sound as if the notes are coming from all the sides. Apple has had this feature for television content from ages, and now it is extending this to audio content of Apple Music.

Apple is also updating its whole music catalog to Lossless Audio together with the Apple Lossless Audio Codec (ALAC) that keeps hold of the details in the original track. Apple Music users will be capable of hearing songs in the same manner as the artists recorded initially. The standard Lossless tier starts at CD quality, which is 16-bit at 44.1 kHz, and goes up to 24 bit at 48 kHz.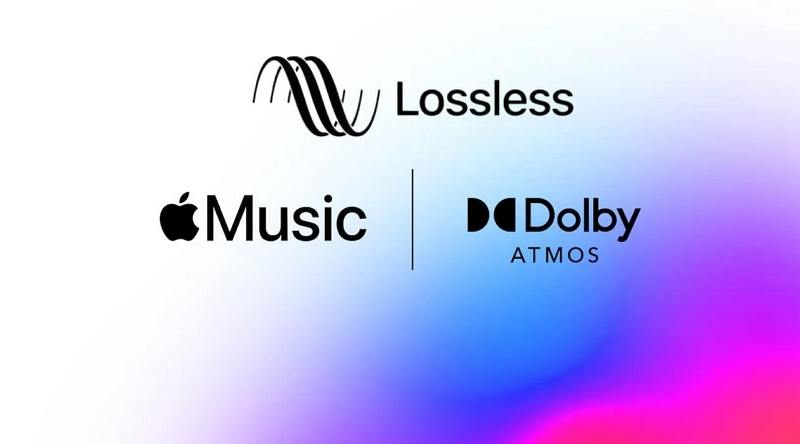 On the other hand, the high-fidelity streaming service by Amazon, Amazon Music HD, is available to Amazon Music Unlimited users for free. Amazon has not revealed the bitrate of its content, but the general idea is that the user audio quality options (low, medium, and high) range between 48 Kbps and 320 Kbps. Apart from audiophiles, most users usually will noy notice much difference between highest-quality music of the same file, but the option by Amazon Music to select the bitrate can be helpful if users are not concerned about depleting their cellular data.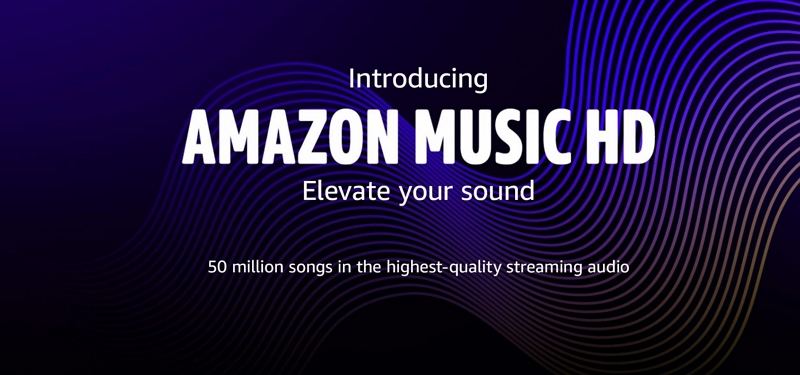 4.

Apple Music vs. Amazon Music: Music Sharing

Apple Music lets users to follow friends who are also subscribers. The platform allows to share playlists that users have personally created with friends. The For You section by Apple Music will also display users what their friends are hearing if they have connected with them. Amazon Music Unlimited has no such capabilities, but it does allow users to share links of the song over social media and via text.
5.

Apple Music vs. Amazon Music: Highlights

Below are some highlights of both the streaming platforms. Have a look.

Apple Music highlights
Beats live radio and archive
ISmooth integration with Apple's eco-system
Social features
Human curated suggestions
Works natively with HomePod
Support for uploading/matching your own music files
Amazon Music Unlimited highlights
Official web player
ntegration with Echo and Fire TV devices
Large music catalog
Final Verdict:

Is Amazon Music better than Apple Music?

Even though both the platforms are competitive and full of features, we think that Apple Music is a little bit better than Amazon Music. But this does not mean that Amazon Music lags by any means. The opinion may vary from people to people.
Bonus Tip:

How to Convert Apple Music to MP3 without Quality Loss

If you are a big fan of Apple and prefer Apple Music, here is bonus for you. You can easily convert your favorite music from the platform to MP3 without any loss in quality. This helps you to listen to their favorite music from Apple Music on any device due to the compatibility of MP3 format. And this magic is all possible with the help of HitPaw Video Converter. You can convert their iTunes music, podcasts, and audiobooks to MP3 format easily. All they have to do if follow the below steps.
Step 1. Begin by downloading and installing the tool on you PC. On the main screen of the tool, go to Add Files and click iTunes Music option.

Step 2. iTunes will be automatically activated once users select iTunes Music option. Just make sure that you have active Apple Music subscription and you have logged with correct credentials.

Step 3.Once logged in, users will see the entire iTunes Library on the screen. Select a category on the left panel to see all the media files saved in that section.

Step 4.In the Status section, the unlock sign means that the file has been converted by the tool. The lock sign means that the file is still not converted.

Step 5.Choose a music file that wish to convert. Users can select more than one file at a time. Tap the Confirm option to begin analyzing the files.

Step 6.When the analysis is done, users can continue choosing new music for analyzing or begin converting the files.

Step 7.Adjust the parameters such as bitrates and output quality as well as format in the next screen. Once done, tap the Convert or Convert All option to convert the files.
Conclusion
All in all, we just had a look at detailed comparison between Amazon Music versus Apple Music. The comparison might help you make a sound choice when selecting between two platforms. We also saw that users can easily convert Apple Music content to MP3 format without any loss in quality with the help of HitPaw Video Converter.