How to Choose between Amazon Music Prime and Unlimited
Amazon comes up with stunning streaming services for its users to attract more members, making their experience top notch. Prime Members can enjoy Amazon Prime Music's service without paying extra money. You can also look at Amazon Music Unlimited, which is a paid subscription streaming service helping you to access unlimited songs.
Many people need clarification about Amazon Prime and Music So you can see the Amazon music vs unlimited differences and go for a relevant option. Unlimited and are willing to learn which option to choose. Dive into this guide to learn everything you should about Amazon Music Unlimited vs Amazon Prime Music.
Part 1.

What are Amazon Prime and Music Unlimited?
1. Amazon Music Prime
Before jumping into Amazon Prime Music, knowing about Amazon Prime is crucial. Amazon Prime is a terrific subscription service that grants multiple benefits to customers while purchasing certain things on Amazon. It also comes up with free streaming music and movie services. Hence, Amazon Prime Music is Prime's freebie, allowing you to listen to many podcasts and songs for free.
2. Amazon Music Unlimited
Amazon Music Limited is an entirely separate entity and is a beautiful music streaming platform containing 100+ million songs. Moreover, you can enjoy the thousands of radio stations and playlists, and members have the opportunity to enjoy listening to add free playback.
If you're an Amazon Prime subscriber, you can buy the premium Amazon Music Unlimited by paying $8.99/month. Non-Prime Subscribers, on the other hand, will have to spend $9.99/month.
Part 2.

Amazon Music Unlimited vs Prime Music: Comprehensive Comparison
The Difference: Amazon Music Prime vs Amazon Music Unlimited
1. Number of songs

Prime Music Members can access the same songs that Amazon Music Unlimited members can. But Amazon Prime members can only listen to random albums, artists, and playlists. On the other hand, Amazon Music Unlimited members could enjoy listening to any radio station, playlist, song, etc., and customizing the playlists is also possible.

2. Available Music Features

The music titles are constantly changing in Prime Music, and titles might also get removed. You'll see the new albums and songs added to Amazon Music Unlimited when these songs get released.

3. Unlimited Skips

Amazon Music Unlimited can listen to unlimited skips when playing Amazon songs on all devices. However, Amazon Music Prime members can only listen to songs in shuffle mode. It implies that Amazon Music Prime Members can't skip the unlimited songs.
The Similarities: Amazon Music Prime vs Amazon Music Unlimited
1.

Add free listening

Whether you're a Music Limited member or a Prime Music member, you can listen to Amazon songs without any ads. Hence, when it comes to providing music without ads, there is no difference between Amazon Music Prime and Unlimited.

2.

Offline Listening

When discussing Amazon Unlimited Music vs Amazon Unlimited services, offline listening is a top trending thing. Music Limited and Amazon Prime Music subscribers have the luxury of listening to offline songs without the Internet. However, the single-device plan holder of Amazon Music Unlimited can't listen to songs offline.

3.

Alexa Interaction

Controlling the music playback and the voice through Alexa is also possible for Amazon Prime Music and Amazon Unlimited members.
So you can see the Amazon music vs unlimited differences and go for a relevant option.
Part 3.

Amazon Music Prime Vs Unlimited: How to Choose?

We have compared Amazon Prime music and Amazon Unlimited above, and you can select which option is better for you. The main aspect that stood out while examining the Amazon Prime Music vs Amazon Unlimited debate is that Amazon Prime Prime doesn't charge even a penny. It means that you can enjoy over 100 million songs without spending anything, and on top of that, Amazon Prime Music doesn't come up with any unwanted ads.

Skipping the unwanted songs is also possible through Amazon Prime. When you go to a location without an internet connection, Amazon Prime lets you listen to the songs offline.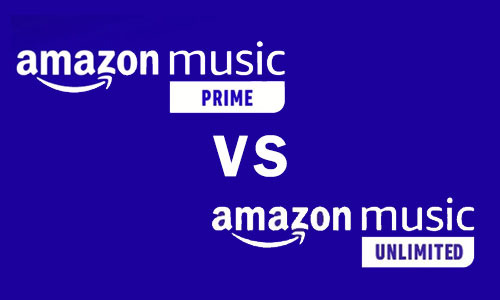 Although Amazon Unlimited Music offers more efficient features, spending that much money without taking many of the benefits doesn't make sense. Hence, we recommend Amazon Prime Music for people who enjoy listening to their favorite songs. Thus, Prime Music vs Amazon Unlimited gives you clear information regarding which option you must go for.
Unfortunately, Amazon Prime Music also has some shortcomings, as you can't listen to Amazon songs offline, provided you don't have Amazon Prime premium.
Luckily, you don't need to worry about it as we're about to introduce the best method to download Amazon songs to audio format, removing the DRM protection.
Part 4.

Pro-tips: Best Way to Listen to Amazon Music Anywhere and Anytime

You have learned about the Amazon Prime Music vs Music Unlimited credentials in this post, and you'll be able to learn about the differences and similarities between these two. Since Amazon Music comes up with DRM protection, downloading them directly from Amazon isn't possible. Unfortunately, free Amazon Prime users can't even listen to the songs offline, and that's where HitPaw Video Converter comes into play.

It is a brilliant Amazon music converter that lets you download songs in various audio formats as local files. Moreover, the HitPaw Video Converter doesn't distort the sound quality and retains all the metadata information and ID3 tags.
Features
It helps you convert Amazon Music to WAV, FLAC, and MP3 audio formats
Comes up with a simple user interface
Download multiple Amazon songs simultaneously
120x conversion speed
No sound quality loss
Here's how to download Amazon songs to audio format through HitPaw Video Converter.
Step 1. Download and install the HitPaw Video Converter Windows or Mac versionand on your computer. After installing, launch HitPaw Video Converter.

Step 2. Log in with the Amazon account to download the songs on HitPaw Video Converter.

Step 3. After accessing the Amazon songs, you must choose your preferred ones and click on the Download button.

Step 4. Click the Convert to button and select the audio format you'd like to turn the audio into.

Step 5. Press the Convert All button to start the downloading process, and it doesn't take any time, provided you've got a fast internet connection.

Step 6. Once the downloading process is finished, you can access the songs in the preferred location. After downloading these songs, you can share these songs to multiple devices to start listening to them.
Part 5.

FAQs of Amazon Music Prime vs Amazon Music Unlimited

Q1. How much are Amazon Prime and Unlimited together?

A1. If you're an Amazon Prime subscriber and willing to go for the Amazon Music Limited premium, you'll need to spend $8.99 per month. If a user doesn't have an Amazon Prime account, paying the $9.99 monthly for an Amazon Music Limited premium is important.

Q2. How to cancel an Amazon Music subscription?

A2. Canceling the Amazon Prime Music subscription is simpler than you think. To do it, you'll need to act upon the following steps to put things in order. Navigate to the "Your Amazon Music Settings" and click on the Amazon Music Unlimited icon. After visiting the Subscription Renewal details, you'll need to press the Cancel icon before confirming the cancellation.
Conclusion
Amazon Prime and Music Unlimited platforms are excellent ways to enjoy your favorite songs at brilliant sound quality. This post has demonstrated its point of view on the Amazon Music Unlimited VS Amazon Music Prime debate, and you can watch for all the positives and negatives of the Amazon prime music VS prime unlimited
We have recommended Amazon Prime Music as it doesn't charge even a penny, but non Amazon Prime Music subscribers can't listen to songs offline. Thus, we've mentioned the HitPaw Video Converter as the best tool to assist you in downloading Amazon songs to audio format for offline listening. It allows you to download the songs without affecting the sound quality.