How to Find Unlisted/Hidden YouTube Videos Easily
Unlisted YouTube videos can only be viewed by someone who has video link. It will not appear anywhere on YouTube such as search results, channels, or subscriber feeds. But, is there a way to find out unlisted videos of someone's YouTube channel? If you need to know how to find unlisted YouTube videos, this article shows different methods that can be used to find YouTube hidden content.
Part 1.

Can YouTube Hidden Content Be Found?

Yes. But that depends on how the unavailable videos are hidden. If the uploader concealed them (also referred as unlisted), then users will you have to know the particular URL of the video. If YouTube has made the video unavailable, as they declared earlier they will start doing on particular controversial videos, users will still be able to find unlisted YouTube videos. Fundamentally, they just will not show up in the recommended videos or search results.
Part 2.

How to Find Your Own Unlisted YouTube Video?

Unlisted videos won't appear in your channel but you can easily check the unlisted video. This section tells about finding unlisted YouTube videos uploaded by the users itself. All you have to do is follow the below steps.
1.Log on to your YouTube channel, access your YouTube Studio via https://studio.youtube.com/.

2.Next, from your menu list, select "Content" to access the Unlisted YouTube.

3.Then click on "Filter" section below "Uploads" tab > select "Visibility" in the drop-down list > mark "Unlisted" and press "APPLY" button.

4.You can see all your unlisted YouTube videos you have uploaded to YouTube.
Part 3.

How to See Hidden Videos on YouTube Playlist without Link?

You can watch an unlisted video if you know the URL or the webpage that links to or embeds that video, but what if you don't know the video link. In this section, we will learn how to watch unavailable YouTube videos without link.
Method 1: Through Google search
Search engines like Google can help you search unlisted YouTube videos with the help of words and symbols, offering users particular results. By using Google search, you can narrow down results and get accurate results. As YouTube videos will be shown in Google search results, these engines can help you know how to see hidden videos on YouTube playlist.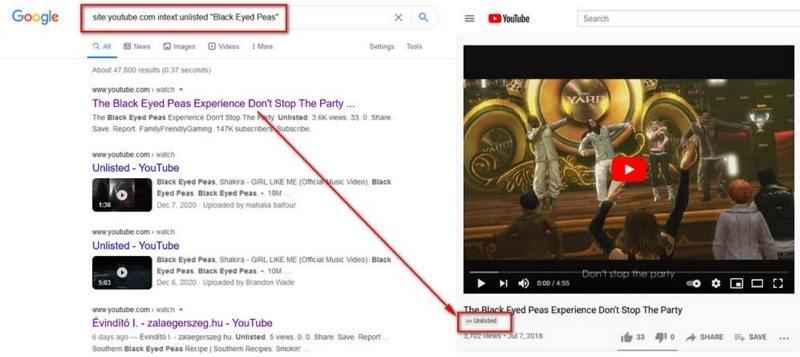 Method 2: A website for unlisted videos
Rolled out on 28 December 2014, Unlisted Videos is a platform introduced by Statistical Consultants Ltd. where you can search for, submit, and know how to see hidden videos on YouTube. Follow the below steps to know how to watch video if you see "video unavailable this video is private" message.
1.Launch the website via http://unlistedvideos.com/.

2.Tap on All Videos and Random Video option to watch and explore unlisted videos on YouTube.

3.You can also use the top search bar to search the video you are looking for.
Bonus Tip:

How to Download Unlisted YouTube Videos with Link?

If you have the link to the video and wish to download it with the highest possible quality for offline playing. At such time, it is best to use HitPaw Video Converter. The tool supports downloading videos from YouTube as well as different other platforms with the resolution up to 8k. Follow the below steps to know how to use this tool.
Step 1.Download and install HitPaw Video Converter and open the converter. Select the Download option on the main interface.

Step 2.Copy the video URL after opening YouTube in the system browser window. This is the same video that you wish to download.

Step 3.In the app, go back to the Download section in the tool. Click on the Paste URL option. This will paste the copied link to the interface automatically.

Step 4.The tool will automatically analyze the link. You can choose to download it as an audio, video, or thumbnail in the pop-up window.

Step 5.Once the process is done, users can preview the saved videos from the file location on their PC.
Conclusion
Having said that, we just had a look at different methods to know how to find unlisted YouTube videos and how to see hidden videos on youtube. Or use Google search and Unlisted Videos website to find the unlisted YouTube videos of others. We also had a look at HitPaw Video Converter that can be used to download videos from YouTube easily. You can download unlisted YouTube video in 120 times faster speed.