How to Convert YouTube to iPhone Ringtone (2023)
YouTube is heaven for music lovers to search for their favorite song albums. And you can create personalized ringtones by converting them to audio format and editing them later. However, setting a ringtone on iPhone is not a piece of cake. Therefore, you need to follow the steps below to make the task easier.
Note:
Downloading and converting YouTube copyrighted videos is against YouTube's terms & conditions. So don't copy content without getting permission from the copyright owner.
Part 1:

First Step: Download YouTube to MP3

Before knowing the tutorial for how to put a custom ringtone on iPhone, you need to download your YouTube videos in MP3 format. Here is the best YouTube to MP3 converter, along with a YouTube to iPhone ringtone tool. Let's explore!
The Best YouTube to MP3 Converter in 2023
HitPaw Video Converter is user-friendly, credible, and comprehensive software to help you directly convert a YouTube video to MP3 and MP4 format. Furthermore, you can use the conversion feature to make iPhone ringtones from various audio & video formats like FLAC, MOV, WAV, M4R, etc. Plus, Windows users can convert iTunes music, Apple Music, and Audible Books to make them compatible with iPhones.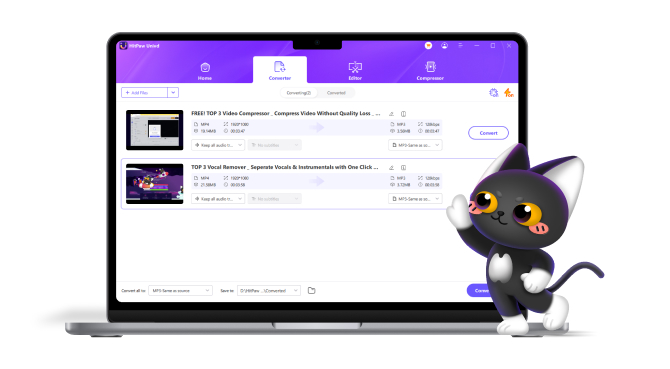 Features
Support multiple audio formats for files conversion
Let you download the YouTube videos into MP3 with one click
Extract the audio track from the downloaded videos
Cut audio length and change the playback speed
Play the audio file using the built-in media player
Here is a step-by-step tutorial to download YouTube to iPhone ringtone format (MP3) with HitPaw Video Converter:
Step 1. Once you are done with this software installed on your system, select the "Download" and then "Downloading" categories to proceed further. Also, tap the "Enable Ultrafast Download" button from the top-right corner.

Step 2. The second step is choosing the destination folder from the "Save to" tab and copying the desired YouTube video URL on the clipboard. Next, click on the "Paste URL," paste it in the pop-up window, and tap "Analysis." Now, wait a bit for the analysis. Then you need to choose the "MP3" format in desired audio quality and hit the "Download" button.

Step 3. After that, the file is accessible in the "Downloaded" and output folder. You are all done!
Don't Feel Like Downloading Any Program? Try This
What if you don't like installing third-party software on your device? To cope with this situation, b>Download4.cc must be your way to go. This free online tool assists you in making iPhone ringtones from YouTube by converting the videos to soundtracks. Not only YouTube, but it also supports 1000+ social sites (Vimeo, Instagram, Facebook, and more) to convert videos into high-definition quality.
The output formats it offers include WebM, 3GP, MP4, MP3, FLV, etc. Plus, it enables you to download thumbnails and subtitles quickly. More so, you can put a keyword, search for the desired video, and download it with its video downloader. Even it provides you with its desktop version if required.
Here is the process for how to make a YouTube video into a ringtone for iPhone using Download4.cc:
Step 1. First of all, you have to open this tool website on your browser via provided URL. Now, head to the YouTube site and copy the link of your favorite video to the clipboard.

Step 2. Next, paste the copied URL in the search bar and click on the "Paste URL Now" button. After processing, it will automatically choose the "Video & Audio" section.

Step 3. Finally, scroll down and from the "Audio" category, select the desired format, and press the "Download" tab in front of the format. All done!
Part 2:

Step-by-Step Guide: How to Set iPhone Ringtone from YouTube

Now, when you have converted YouTube video to iPhone ringtone format, it is the perfect time to learn how to put a custom ringtone on iPhone. Though it seems challenging to beginners, it becomes easier by following some simple steps below.

So let's take a plunge into this procedure of how to make a YouTube video of your ringtone on your iPhone:
Step 1. The first step involves installing GarageBand app on iPhone since it offers the simplest method to perform the required task.

Step 2. Next, go to the "Recents" section and long-press the already converted ringtone file to get the side pop-up. Here, you need to click the "Share" tab.

Step 3. From the "Share Song" window, select the "Ringtone" option, which will lead to the pop-up window. Here, you can rename the file and hit the "Export" button.

Step 4. After you see "Exporting as Ringtone," the final step is about clicking "Use sound as" and choosing "Standard Ringtone" or "Standard Text Ringtone." That's all!
Final Thoughts
The above write-up has explained the process of converting YouTube videos to iPhone ringtones. Also, you are now aware of how to put a custom ringtone on iPhone. You can use GarageBand to set personalized ringtones effortlessly.
In this scenario, you need to choose another offline or online third-party converter to download YouTube videos to MP3 format. But for better quality and quick results, HitPaw Video Converter proves to be an efficient software. Besides conversion and downloading, you can also use its wide range of editing features!
FAQs

about YouTube to iPhone Ringtone

Q1. How do I make a YouTube song my ringtone on my iPhone?

A1. Though iTunes is the best app to make ringtones, people may fail to load files since it offers limited compatibility. In this scenario, you can use the free Apple application (Ringtones: Ringtone Maker) to add the custom ringtones to GarageBand. Once you have done making the ringtone of the recorded YouTube video using the Audio from Video feature, share it with GarageBand. From here, tap the Share, Export, and then Save button to set it as a ringtone.

Q2. How to make the sound of your ringtone on an iPhone without GarageBand?

A2. Firstly, you must record your favorite YouTube video and convert it into MP3 or download its song using YouTube to MP3 converter. After that, hit the Export button over that song and choose your MacBook for Airdrop. Now, open iMazing on your Mac system and connect it to your iPhone. Head on to the Ringtones section of the iPhone and drop the specific ringtone into your Ringtones library. It can be easily set on iPhone like other ones.

Q3. How do I set a ringtone for a specific contact?

A3. Whether you are using an Android or an iPhone, the primary method to set a ringtone for specific contact will be the same. First of all, open your contacts and find the one you need to make changes to. Click it and tap Edit from the upper-right side. There will be a ringtone option where you have to select a ringtone for the contact. Once done, press Done to save the changes. That's all!