5 Best H.265 to H.264 Converters Without Quality Loss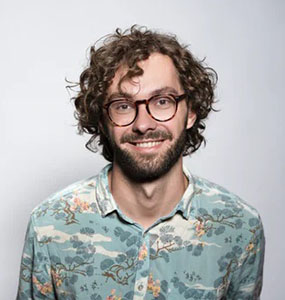 "Why I can't play this H265 video on my phone?"
You may also be stuck in this kind of suffering. The reason why you can't play the H265 video on your phone is that not all popular devices fully support H.265, and the only thing you need to do is convert H265 to H264.
H265 is also known as HEVC format. But how to convert HEVC to H264? You will get the best video converter H265 to H264 after finishing this article.
Part 1: Best Recommended: HitPaw Video Converter - Batch Convert H.265 to H.264 without Losing Quality
HitPaw Video Converter is the best recommended H.265 to H.264 converter you need to know. The most important thing we will worry about is that the quality will be lost when we convert HEVC to H264. But you will not definitely face this trouble when you convert H265 to H264 with HitPaw Video Converter, because it has a technology that reworked the file format without secondary editing of the lower layer of the image. Which means it will help you convert H265 to H264 without loss.
In addition, since Hitpaw Video Converter support GPU and CPU acceleration, the conversion speed of H265 to H264 can reach 90X. Considering that you may have groups of H265 files, you may also want to do the batch convert H265 to H264 at one time, which I must tell you that it happens to be one of the brightest features of this program.
The Excellent Features You Must Don't Want to Miss
90X faster video conversion speed
Batch conversion supported
Lossless quality video conversion
Convert video to 1000+ formats and devices
Download media in bulk from 10000+ popular websites with a single click
Add-on video editing features enhance your video experience
How to convert H265 to H264 with Hitpaw Video Converter
Step 02 Input the H265 file(s) you need to convert. You can choose the file with "Add files" or drag the file into the Convert tab. If you want to do the batch conversion, just put all the H265 files in one folder and select "Add folder" to input all files in one time.
Step 03 Select the H264 format and the folder you need to save the file.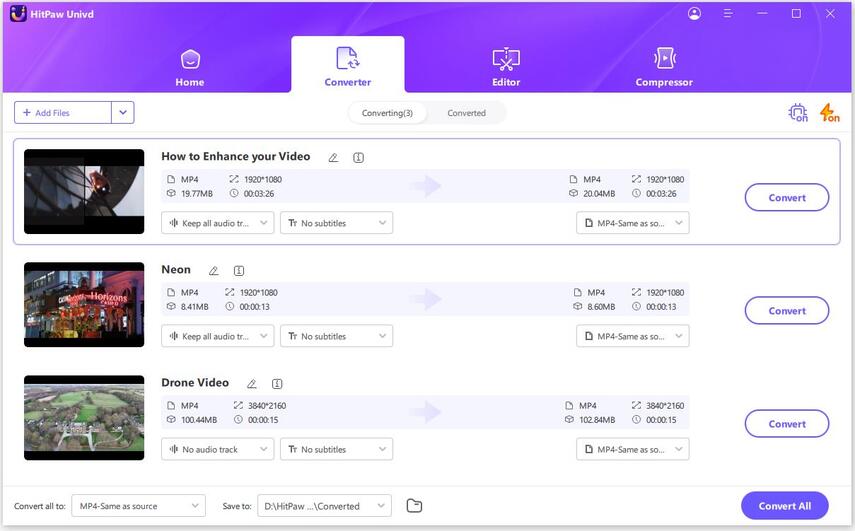 You can click on the Hardware Acceleration Detection and Lossless Conversion tab at the top-right corner to enable or disable hardware acceleration and lossless acceleration.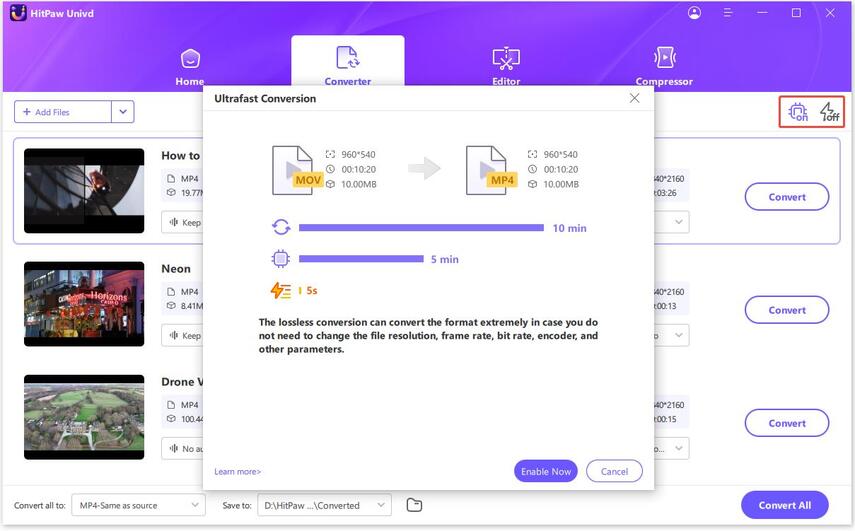 Step 04 You can click Open Folder to check the finished files in the Converted tab or do a simple edit such as cutting or merging the h264 video after the conversion is complete.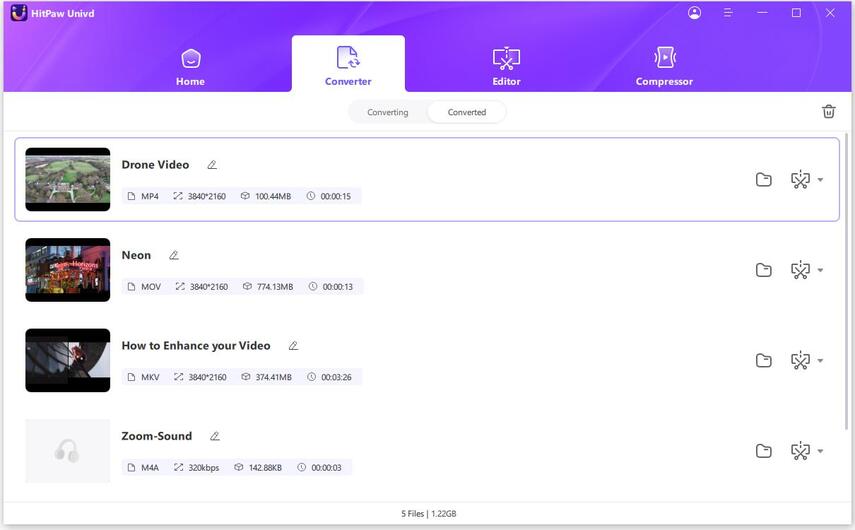 Although not to discuss the excellent extension functions of HitPaw Video Converter, it can definitely be called the first choice just in terms of conversion speed and conversion quality when you need a convenient and simple H265 to H264 converter and want to do batch convert H265 to H264.
Part 2: Other HEVC to H264 Converters You Can Use to Convert H265 to H264 Efficiently
There are much outstanding software that can satisfy your craving to own a H265 to H264 converter free. For most people, "free" is probably the first choice factor that comes to mind when you want to transcode H265 to H264. You will learn how to convert H265 to H264 free with the following introduction.
1. Free Convert H.265 to H.264 in Handbrake
As we all known, Handbrake is a great software when you need to convert H.265 to H.264 free. It is compatible with multiple of video formats and supports both Windows and Linux systems.
But what makes it just great, not the best it that, you will unable to choose the conversion algorithm and bitrate when you do convert H.265 to H.264 with Handbrake, and it will take a long time for the large size video.
How to change H.265 to H.264? Here is the simple steps for you:
1

Drop or upload to import the H265 video you need to convert.

2

Choose an output folder in the "Destination", and click the "Container" to choose H264 format.

3

Click the "Start Encode" and start convert H265 to H264.
2. Video Converter HEVC to H.264--FFmpeg
FFmpeg is an open-source software, and what's more important, it is totally free. What will be more striking is that FFmpeg is not an independent program only, it includes the function that transcoding, encoding, audio mixing, filtering, and etc.
However, the fact that it has many functions is a double-edged sword, which has also become its fatal shortcoming - it is very unfriendly to beginners when they try to convert HEVC to H264 in FFmpeg. If you don't know the basics of coding, you probably won't know where to start with this software.
Here are the steps of how to change HEVC to H264 in FFmpeg:
1

Download FFmpeg on your PC or Mac.

2

Set environment variables. You need to right-click This PC, click Properties, then Advanced System Settings, and then Environment Variables. Add FFmpeg to the variable.

3

Run CMD and Enter FFmpeg.
3. Converting from H.265 (HEVC) to H.264 with VLC
VLC is a unique HEVC to h264 converter. It is worth mentioning that what makes VLC enduring popular is that its extensions are very powerful and completely free. Besides helping you painlessly convert H.265 to H.264, it is also a very nice player.
The downside, though, is that an outdated interface will make you feel bored.
Here are the steps of how to convert H.265 to H.264 with VLC:
1

Select "Convert/Save" to input H265 file you need to convert.

2

Choose the path to save H264 files, then click the "Convert/Save".

3

Choose H264 video format across the Profile and then start the conversion process.
4. H265 to H264 Converter Online
It can be fully understood that you want to convert H265 to H264 online when you do not have enough space on computer to download a software. This is the reason why I recommend HitPaw Online Video Converter to you. HitPaw Online Video Converter is a perfect free H265 to H264 converter online without download trouble, and it is much easier to use than the desktop software.
Here is how to convert HEVC to H264 online with HitPaw Online Video Converter:
1

Enter HitPaw Video Converter Online website to any browser on a PC, Mac or mobile device.

2

Choose H265 file you need to convert.

Notes:In the free version, you can only convert files smaller than 20M.

3

Select H264 format in the "Convert to" and click "Convert".
Part 3: Help You Choose the H265 to H264 Converter You Need
I believed that you may not know which one to choose among so many dazzling products, especially when both strengths and weaknesses have combined in one product. The following part will help you make decision.
| Product | HitPaw Video Converter | Handbrake | VLC | FFmpeg | Online Converter |
| --- | --- | --- | --- | --- | --- |
| Conversion Speed | 90X | 70X | 30X | Slow | Medium |
| Support Batch Conversion or Not | Yes | Yes | Yes | Yes | Yes |
| Interface | Fashionable | Common | Outdated | Complicated | Clean |
| Quality Loss or Not | No | No | No | Yes | No |
| Difficulty of Use | Low | Low | Moderate | High | Low |
Through comparison, it is found that if you are not so concerned about conversion speed, and you do not have higher requirements for program interface, it is enough to choose products such as VLC and Handbrake. But if you need to achieve high speed, beautiful interface and other requirements at the same time, there is no doubt that HitPaw Video Converter will be your first choice.
Part 4: The Things about Converting H.265 to H.264 You Want to Know
After learning how to convert H.265 to H.264, you may also want to know something about H.265 or H.264 themselves.
What are H265 and H264 and what is the difference between H265 and H264?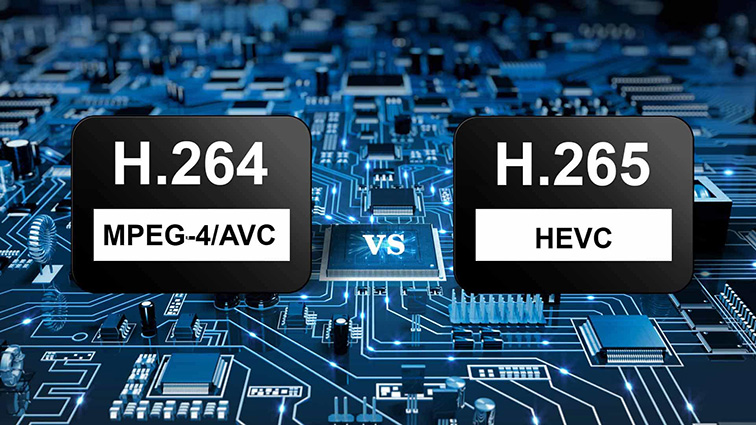 H265: H.265 also known as High Efficiency Video Coding (HEVC) and MPEG-H Part 2, is a video compression standard designed as part of the MPEG-H project as a successor to the widely used Advanced Video Coding.
H264: H264 is Advanced Video Coding (AVC), also referred to as MPEG-4 Part 10, is a video compression standard based on block-oriented, motion-compensated coding.
H.265 is a new encoding protocol, which is an upgraded version of H.264. Due to the optimization of the algorithm, H264 can realize standard definition digital image transmission at a speed of less than 1Mbps; H265 can transmit 720P (resolution 1280*720) ordinary high-definition audio and video transmission at a transmission speed of 1~2Mbps.
H265 Vs. H264: is H265 Better than H264?
The birth of the H.265 is to transmit higher quality network video under limited bandwidth. The main contents of H.265 research include improving compression efficiency, improving robustness and error recovery capability, reducing real-time delay, reducing channel acquisition time and random access delay, and reducing complexity.
But H.264, as a widely used format for recording, still occupies the majority of the video coding field. H.264 is famous because it is a codec standard for Blu-ray discs, and all Blu-ray players must be able to decode H.264. This is why we need H265 to H264 converter when they cannot be played.
Part 5: Conclusion
All in all, you can always choose an H265 to H264 converter on the market that meets at least one of your needs. For example, when your file is small and you want to do a conversion without downloading anything, you can try the online H265 to H264 converter freely. But if you are more concerned about quality, conversion speed, and all functions to achieve the best, don't hesitate to download HitPaw Video Converter. With so many excellent features, it definitely won't let you down.