How to Convert Video_TS to MP4 with Easy Steps
Playing Video TS files causing you issues? Video TS files are inconvenient since they take up a lot of space, have many encryption mechanisms, and aren't compatible with many devices or systems.
After doing some research, we concluded that converting Video TS to MP4 was the best option because MP4 videos are minimal in size, playable on any device, and of great quality. This post will primarily introduce you to four methods to convert video_ts to mp4 fast and safely if you're having conversion issues.
Part 1. What is a Video_TS File and Why Convert Video_TS to MP4?
The Video TS and Audio TS folders appear when you insert a DVD into your computer and open it. As expected, there is no content in the AUDIO TS folder, which is used only for storing audio files. Video files (including their components IFO, BUP, and VOB files) are kept in the VIDEO TS folder.
Can I convert VIDEO_TS folder to MP4? Yes, there are many ways. And all the methods are applicable to both windows and MAC. Let's take a look at each of the methods to convert video_ts to mp4.
Part 2. Best Way to Convert Video_TS to MP4 without Quality Loss
If you need to convert a video_ts file into an.mp4 format, you can't just use any old video converter. HitPaw Video Converter might be useful as an option. It's a fantastic video converter, and it's been very popular in the last several months. It streamlines processes and helps you get what you need to be done faster.
Video_TS files may be converted to MP4 and other HD video formats with ease with HitPaw Video Converter. It's a complete Video_TS to MP4 converter for PC and Mac users alike. Video and audio files can be converted at a pace that is 90 times faster while maintaining the same high quality.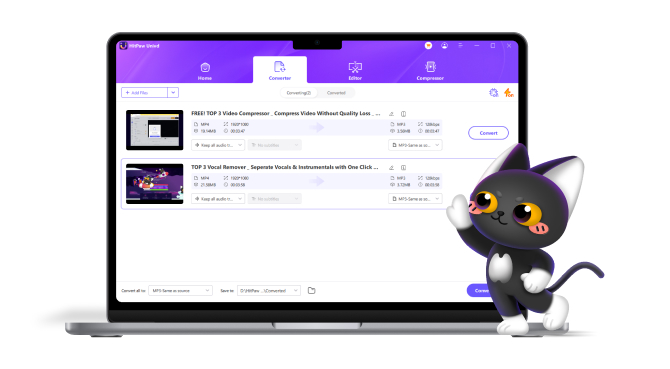 The following are the features of the HitPaw Video Converter:
It is possible to convert video and audio files into over a thousand different formats.
Save high-definition videos from websites like YouTube, TikTok, and Instagram as MP3s and MP4s.
You may change the format of podcasts, audiobooks, iTunes music, and Apple Music (Windows version only).
Making GIFs from videos and converting many files at once.
Built-in support for a wide variety of video editing formats.
Video conversion speeds can improve 90x with GPU and CPU acceleration.
You will have the option to cut and combine your converted videos.
Here is how to convert video_ts to mp4 using HitPaw Video Converter:
Step 1.First, you need to download and Install HitPaw Video Converter. You may download and install HitPaw Video Converter by going to the official website of the program.

Step 2.Drag and drop a Video_ts file from your device or choose it from the "Add Files" menu to convert it.

Step 3.Choose mp4 as the file type to be exported. Select the format you want to convert to.

Step 4.Choose the destination folder you need to save the MP4 files.

Step 5.Then click Convert All. You may now download your video in MP4 format.
Part 3. Free Ways to Convert Video_TS to MP4 in Easy Steps
On Windows and Mac, you can use a lot of free software or tools to convert Video TS files to MP4. Here are the two most popular free video ts converter to mp4:
1. VLC Media Player
VLC is an open-source, portable, cross-platform media player and streaming media server that is free to download and use. Various mobile and desktop Operating systems, including Android, iOS, iPadOS, Tizen, Windows 10 Mobile, and Windows Phone, support VLC.
VLC Media Player is one of the most well-known media players and streaming platforms since it can not only play and stream media files but also convert them to and from a wide variety of formats. Using it, you might be able to quickly and easily transform your Video TS folder into an MP4 video.
Let's take a look at how VLC converter vts to mp4 can help:
Step 1.Launch the VLC media player, then from its main menu, select "Media" and then "Convert/Save..." to convert your media files.

Step 2.Click "Disc" > "DVD" in the new window. Next, choose the DVD drive by clicking the "Browse..." option.

Step 3.You may convert and save your output by selecting the button labeled "Convert/Save" at the very bottom.

Step 4.In the popup window, pick MP4 in the Profile dropdown box to encode your conversion. Then, select a local folder to save the converted DVD video in by clicking the "Browse" button.

Step 5.After doing the necessary steps, you may begin converting your DVD to MP4 using VLC media player by pressing the "Start" button. A bottom progress bar will appear as the conversion process begins. When finished, save your mp4 file.
2. Handbrake
In addition to MP4, MKV, and WebM, HandBrake supports a variety of other common digital file types. The fact that it can rip any copy-protected DVD or Blu-ray for no cost is a big factor in its rapid rise in popularity. Furthermore, certain copy-protected ones may be ripped with the help of libdvdcss.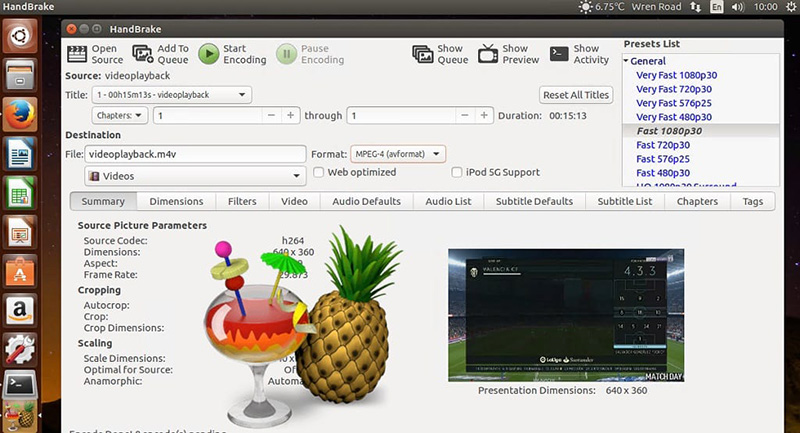 Here is how to convert video_ts folder to mp4 using Handbrake:
Step 1.Download HandBrake from their website and install it on your PC. Additionally, you can try downloading the right version of libdvdcss from this website of if your DVD disc lacks copy protection.

Step 2.As soon as you load a DVD into your optical drive and launch HandBrake, a window will appear asking you to select a destination file.

Step 3.Locate the DVD's VIDEO TS folder and then import it into HandBrake. Be patient while the DVD is being read, since this process might take up to two minutes.

Step 4.HandBrake will choose the longest video automatically. To double-check that the longest title is selected, click the arrow next to the Title box's icon.

Step 5.Select MP4 as the output video format in the Summary section.

Step 6.After renaming the file in the Save as box, select its destination folder using the Browse button in the box's lower-right corner.

Step 7.Finally, on the top line, click the green Start button to begin the free Video TS to MP4 conversion.
Part 4. Online Way to Convert Video_TS Folder to MP4
Online converters are also a fantastic solution if you only need to convert a small VIDEO TS file to MP4 on a one-time basis. As long as your network speeds are sufficient, you won't even need to install any additional software on your computer.
However, VIDEO TS is unique, thus not all web-based converters support it. In the end, after trying a number of different programs, we settled on FreeConvert as the most promising candidate.
Let's take a look at how to use vts to mp4 converter online:
Step 1.We recommend manually entering the official FreeConvert page's link URL into the browser rather than looking for it on Google due to the prevalence of similar-sounding but malicious sites.

Step 2.Place your video file in the VIDEO TS folder. The file name will have the extension.vob. Online VIDEO TS to MP4 conversion is, in reality, a VOB to MP4 conversion.

Step 3.Choose MP4 as the file type to output. To further customize your video experience, you may use the optional Advanced Options menu.

Step 4.Select your desired format and click the Convert button. There's nothing left to do but wait for the MP4 video to finish converting and download it.
Part 5. Why HitPaw Video Converter is the Best Tool to Convert Video_TS to MP4
| Features/Software | HitPaw Video Converter | HandBrake | Online Video_TS to MP4 converter |
| --- | --- | --- | --- |
| File duration | Unlimited duration and size | Unlimited duration and size | Small size of the file, need to paid to upgrade |
| Conversion speed | 90x faster speed. | Slow | Slow |
| Batch convert files | Yes, it can batch convert unlimited files. | No | Most online tools don't support |
| Editing feature | Various editing features, such as trim/crop/rotate video, change effects, add watermarks, etc. | No | Some offer a few editing features like trim the video, select simple rate |
| Convert copy-protected Video_TS folder | Yes, it can rip all copy protection DVDs including bypassing region code, CSS encryption, etc. | No | No |
| Download function | Download online videos from 1000+ websites | No | Some online tools support |
Part 6. FAQs of Video_TS to MP4
1. How do I convert VTS to MP4 for free?
First, you need to select the best vts to mp4 converter. We recommend you use HitPaw Video Converter or any other converter that we reviewed in this article. Follow the step-by-step guide mentioned above and you can easily convert your mp4 to video_ts or vice versa.
2. How do I open a VIDEO_TS file on Windows and Mac?
How do I open a VIDEO_TS file on Windows and Mac?
Using a VIDEO TS player, such as VLC, is one way to watch a VIDEO TS on your computer. These players are compatible with a wide variety of music and video file types, so you may use a VIDEO TS file to play your videos.
Converting the files to a PC-friendly format is another option for enjoying VIDEO TS files on your Windows or Mac computer. To play VIDEO TS files on your Windows or Mac computer, you'll need a video converter program such as HitPaw Video Converter.
Part 7. Conclusion
We hope this guide has helped you convert Video TS to MP4 so you may watch movies without any restrictions. Video TS to MP4 converters can be used for free online or offline if only a few video_ts folder to mp4 need to be converted and no copy protection is present.
However, if you have a lot of files and they're all very huge, a professional converter like HitPaw Video Converter is recommended. This is because it can convert the Video TS folder rapidly and without any limitations, and it can handle any type of DVD disc.
So, download HitPaw Video Converter today and experience the best features of video conversion.