6 Perfect Tools For The Creation Of Attractive YouTube Short Video
In the developing landscape of content creation, a dynamic and influential force has been practiced by YouTube short video creators. The designing of these creators involves algorithms that make them capable of creating captivating and bite-sized videos that surely attract attention.
We can say that a YouTube short video creator has successfully embraced the challenge of creating memorable and fascinating content. If you want to create short YouTube videos, you can consider any of the given apps or online platforms.
Part 1: 3 Efficient Apps To Make YouTube Short Videos
If you are a YouTuber then you will surely know the importance of YouTube content that a person has to upload on his channel. YouTube short videos are nowadays in trend and every YouTuber is in a race to create attractive and interesting YouTube short videos. The above-mentioned apps prove to be perfect for you to create interesting YouTube content.
(1) KineMaster
If you want to make short videos like professionals then Kinemaster is a perfect app. It is the best app, especially for beginners with no skills. So everyone can benefit from it. It also has all the main, common, and necessary editing tools that a dream app must have.
Key Features
It can be accessed by all IOS and Android users.
It has a large number of editing tools.
The videos created look real and professional.
Cons
Stable internet is required for accessing advanced features
(2) InShot
Inshot is a powerful short video maker for YouTube with a large number of high-quality editing tools. It also has an easy interface so that everyone can use it. You can also add different customizable features such as video effects, slomo, background music, stickers, and many more.
Key Features
It is available for iOS and Android versions.
It has a large number of customizable features.
Its rating is also very impressive.
Cons
Sometimes, it fails to satisfy the user with the video quality.
(3) YouCut
Youcut is a user-friendly app with several high-quality editing features which make it one of the most highly demanded apps for short content creators. In addition to YouTube short videos, this tool can also create Instagram stories, and TikTok clips or can also edit vlogs. If you want to know how to make a video short on YouTube then this tool is a perfect choice.
Key Features
Users can also add music and sound effects.
A large number of filters, text stickers, and different editing tools are available.
It has an easy interface.
Cons
The interface is a bit complex for beginners
Part 2: 3 Online Platforms For Creating YouTube Short Videos
There are a lot of people who dont want to go through the hassle of searching an app and then wait until it downloads. We are here with some effective and reliable online tools that a person can access in seconds without downloading. The amazing fact is that these tools have the same interface as that of available YouTube short video maker apps.
(1) Flixier
Flixier is a cloud-based short video-created app that fulfills all the needs of a professional short creator and solves the query of how to make short videos on YouTube. If you look at its features and tools then it is rare that there is not any necessary and helpful tool. It can also be used to enhance your followers.
Key Features
It also has features of real-time collaboration.
It has a library consisting of different templates and features.
The user can instantly export or share the result.
Cons
Advanced features demand a paid version
(2) BrandCrowd
Another online app which is used for making amazing and attractive shots is Brandcrowd. It is a quick, affordable, and online platform. It makes the video eye-catching enough which results in increasing your viewers and likes.
Key Features
It has a large number of customizable features.
It also makes high-quality videos.
It has an easy interface.
Cons
Users are asked to access the paid version for the latest features
(3) CapCut
It is a popular app created by Bytedance which is the creator of different popular social media apps like TikTok. It also has unexpected tools used for making short videos more interesting and can also make YouTube video a short. It can also be used for adding and removing background music.
Key Features
The user can access a large number of editing tools.
You said you can also add or remove background music.
It is a popular app and is being used by different popular short creators.
Cons
Sometimes, this tool fails to understand the exact demands of the user
Part 3: What Are The Pros & Cons Of Using A YouTube Short Video Maker?
Using a YouTube video maker comes with its key features as well as drawbacks. But it's important to understand that these features and drawbacks completely depend upon your preferences and how you utilize that tool. Let us have a look at some features and drawbacks of a free YouTube shorts maker so that you can make your decision whether to use it or not:
Pros
These video makers allow the facility of easy and quick content creation to the content creators
YouTube short video makers are now a days in trend and every content creator is taking help from them to engage more audience
The videos created by using YouTube short video makers are of perfect dimensions so that users can view them on any device
You will never be asked to do a subscription if accessing a free tool
Cons
The videos created by using YouTube short video makers may not perform well in the competitive world of social media
The creation of videos may consume more time as compared to other tools
Some tools need a stable internet connection to access features
Part 4: Bonus Tip: Perfect AI Video Editor To Make YouTube Stort Videos
It's human nature that he remains in search of something better even if he has got the best. Similarly, the above-mentioned tools are fully featured and perfect for the creation of YouTube short videos but we are here with something better. Let us have a look at an AI video editor that allows users to create all kinds of YouTube short videos in seconds.
HitPaw Edimakor
Different artificial intelligence-generated tools are getting placed off traditional platforms and are providing way better results to the users. HitPaw Edimakoremerges as an ai video editor that can do any kind of video editing without charging any payment. The amazing fact is that you don't have to get help from multiple tools for creating a single video but you will get all the facilities at a single interface.
Features Of HitPaw Edimakor
You are allowed to get access to different creative suggestions like transitions animation and visuals
You can even get a speech form of data by inputting only text
The resultant video can easily be shared on YouTube directly from the HitPaw video editor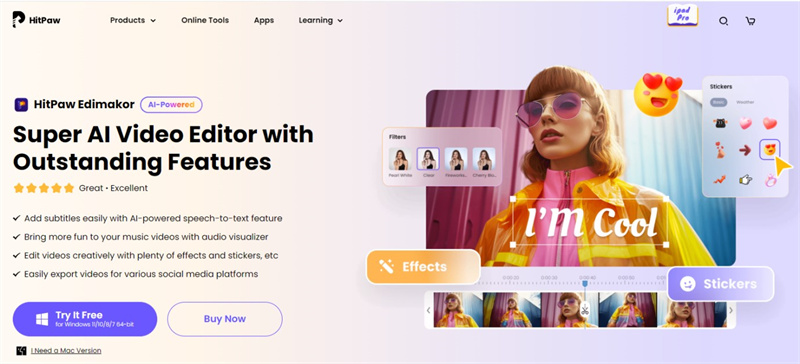 Part 5: FAQs About Youtube Short Video Maker
Q1. Which App Is Used For Short Videos?
A1. There are a number of tools available in the market that allow users to create short videos by utilizing their amazing features. If we talk about the most recommended and preferred tools then Capcut, InShot, KineMaster, and YouCut are at the top list. HitPaw Edimakoris another perfect working AI tool for editing any kind of video in a few minutes.
Q2. How Do I Make A Short Video For Free?
A2. Creating a short video is not a difficult ass but you just have to follow some general steps. First of all, you have to look for a perfect platform where you want to share the video. Next, get a video creation app where you will find all the essential features for editing. You busy allowed to do all kinds of editing and once you have done so, share the video on your selected platform.
Conclusion
It has become important for YouTubers to know how they can create YouTube short videos that attract a large number of viewers. The introduction of different YouTube short video creators has made this process a simple task and allows you to take help from the available features to create stunning videos. You can also take HitPaw Edimakor(Video Editor) and go ahead with it.