Top 5 AI Singing Voice Generators With Text To Speech In 2023
The entire landscape of text-to-speech technology has been revolutionized after the introduction of AI voice generators in the market especially in terms of singing. Music production has been taken to the edge of creativity because of the AI tools of singing text to speech.
These tools required written content from the user and the algorithms automatically convert the data into a human-like voice with perfect vocal characteristics. Let us have a look at given mentioned wonderful tools for the generation of songs easily through text.
Part 1: 5 Text To Speech AI Voice Generators For Singing Songs Easily
You will be amazed to know that there are different tools available in the market that allow users to convert speech to text perfectly. This service assists the users in singing songs easily. Here are 5 perfect working text to speech AI voice generators:
(1) Uberduck :
One of the most popular text to speech sing for singing voice easily is Uberduck. It has different features such as you can create custom voice clowns and reference audio for rap songs. It has a microphone button for uploading or recording voice. You can also adjust the speed, pitch, and volume of the output voice.
Advantages:
The microphone button makes it very easy to record voice.
You can also preview the results before downloading it as a WAV file.
You can also create rap songs with their reference audio feature.
Disadvantages:
To use this feature there are some requirements such as needing an account and API key.
(2) Typecast :
For creating realistic singing voices from the text you can use typecasts that generate high-quality and natural-sounding voices. It has different video styles such as rope, rap, robot, etc. You can also use typecast for other purposes such as for education, sales, documentary, training or games.
Advantages:
You do not have to Hire professional singers as with this platform you can create engaging rap songs.
This platform will minimize the use to purchase music instruments, recording studios, and many more.
You can also add AI-generated virtual avatars to the video.
Disadvantages:
It is made for personal use only. If you want to enjoy the commercial use then you have to subscribe to the service.
(3)Resemble.AI :
If you want to create text to speech singing voice then you can enjoy the features and functions of Resemble. AI. It is made for personal use and produces natural-sounding speech. There are a large number of languages that resemble.AI supports. You can also add musical styles and genres.
Advantages:
It is one of those platforms that has a very unique and easy interface.
The voices produced are high quality and look natural.
There are a lot of customization options for making a video more eye-catching.
Disadvantages:
It is a paid platform which means it needs a paid subscription for advanced features.
(4)FineShare FineVoice :
Fineshare finevoice is a popular platform that is known as the best text-to-speech voice generator. It has different features in which you can review and select the best according to your need. It provides easy access to AI-generated voices. Also, the voice generated is of high quality and gives a natural look to the video.
Advantages:
The quality of the audio and voices is very high.
It can be used for generating expressive voices.
The voices produced look natural.
Disadvantages:
There are limitations on the number of editing features.
(5)Melobytes :
An AI-powered platform that is used as an AI text to speech singer is Melobytes. It Is especially used for singing songs. Through this platform, you just have to input the script or dialogues of the music and after then an AI text-to-speech singing voice video is made. It also has several unique tools and features.
Advantages:
You can also choose your song's language, tempo, type of singer, and time signature.
It has an easy interface.
It has a free trial of up to five times a day and a paid subscription for unlimited use.
Disadvantages:
The result produced is not of high quality and gives low-budget results.
Part 2: Bonus Tip: Best Alternative Video Editor With AI Text-to-Speech Feature
There is another helpful option for you. You can consider the HitPaw Edimakor for getting a speech form of content from text. You will be amazed to have good results that will surely inspire you.
HitPaw Edimakor
HitPaw Edimakor is an excellent choice for video editing and offers a range of additional features that elevate the video creation process. With the ability to effortlessly convert a talk show, news clip, or interview into a text file, you can enhance your content for social media sharing or any other purpose you have in mind.
You will know how to make text to speech sing which adds a new layer of convenience, catering to users who prefer visual information over audio.
Noteworthy Features Of HitPaw Edimakor:
The extensive library of templates and creative options lets you take benefit of its AI TTS feature more effectively.
Seamlessly share your creations directly to various social media platforms within the application, streamlining your sharing experience.
Gain complete control over the tool's settings, allowing you to fine-tune and customize every aspect according to your preferences and needs.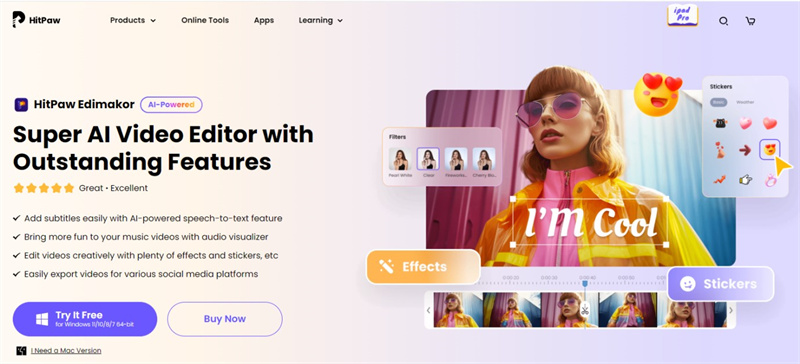 Part 3: FAQs About Singing Text To Speech
Q1. How Do I Get Text To Speech To Sing?
A1. If you want to convert a text to speech to sing then you have to access a reliable and authentic tool for singing songs. Then you will be asked to enter the text that you want to convert and after some time, you will be able to see the results.
Q2. Is There A Program That Sings What You Type?
A2. If you search online then you will see a large number of platforms that support text-to-speech features. You just have to input the script and after some click the video will be provided in front of you. ResembleAI, typecast, fineshare finevoice, etc. are some of the main and commonly used popular platforms for this purpose.
Q3. Is There An App To Help Me Sing?
A3. There are a lot of apps that allow you to sing perfectly. You can go ahead with a singing voice text to speech tool that will help you to get a song by providing text to the tool. You can go ahead with the HitPaw Edimakor which is considered a recommended text-to-speech convertor.
Final Verdict
You will be amazed to know about the technology that supports the transformation of speech into a song, some wonderful tools are working in the market that allows users to create a singing song just from the written content. You can go ahead with any of the above-mentioned tools and take benefit of its services.