Top 7 AI Furry Art Generator Tools For You in 2023
If you've never encountered the terms 'furry culture' or 'AI furry art generator', prepare for a delightful revelation. These unique domains have intertwined, introducing many to the fascinating world of AI-driven furry artwork.
For the uninitiated, the furry culture celebrates anthropomorphic animals, with its fandom tracing back several decades. Concurrently, the concept of AI-driven art creation is a burgeoning field, harnessing artificial intelligence to craft art. Within the furry realm, AI furry art generators have seen a surge in popularity, serving diverse needs from character conceptualization to visual narratives and personal artwork.
Part 1: List of Top 7 AI Generated Furry Art in 2023
AI furry art generators use machine learning, enabling them to autonomously produce digital depictions of anthropomorphic animals, popularly known as furries. These generators collect patterns from expansive datasets of pre-existing furry art, subsequently crafting new and original artwork. Such advancements help artists to conceptualize distinctive furry art with minimal drawing expertise or intricate knowledge of furry design.
This piece will get you through the furry culture and the evolving sphere of AI generated furry art. We have reviewed and ranked these AI furry generators. Here are our top picks for 2023:
4AIPaw Online
NightCafe
Fotor
Picso
HotPot
Neural Love
HitPaw Video Converter
| Rank | Tool | Main Feature | Price |
| --- | --- | --- | --- |
| 1 | 4AIPaw Online | Automated text prompts with AI lucky dice | Free trial pack with all features |
| 2 | Picso | Easy use with unique prompt for instant artworks | Free trial, $9.99/month, $49.99/12 months |
| 3 | NightCafe | Easy accessibility with advanced image-generating algorithms | Free daily credits, $4.79/month, $7.99/month |
| 4 | Fotor | Quick transformation of text to images | Free, $8.99/month, $19.99/month |
| 5 | HotPot | Automated photo editing and enhancement | Most features free, web usage credits |
| 6 | Neural Love | Multiple output file types with detailed prompts | Free, $30/month, $57 once |
| 7 | HitPaw Video Converter | Deep learning text-to-image generator with neat interface | Free, $19.95/month |
Part 2: 7 Need to Try AI Art Generator Furry in Details
When you think of merging creativity with technology, what comes to mind? For many, it might be the cutting-edge platforms that allow artists to take their passion for furry art to new heights. These tools, known as furry art generators, have become the talk of the town.
With just a few clicks, you can turn your imaginative ideas into vibrant, digital creations. We're about to review 6 of the must try AI art generator furry tools as mentioned before. You will get to know their features, pros and cons, and we hope that will clear your confusion on furry tools.
1. 4AIPaw Online
If you're on the lookout for a user-friendly platform, 4AIPaw Online tops the list. Its unique feature, the AI lucky dice, generates text prompts on its own. Accessible via a browser extension on Chrome or apps for both Android and iPhone, it ensures flexibility in the creative process.
What's more, you have many painting styles and artist preferences at your disposal for furry art ai generator. You're even given control over output settings like saturation and size. The platform has its own Discord community, perfect for sharing and gathering feedback on your designs.
Features:
Easy to use without advanced technical know-how
Enhances your creative horizons
Provides swift, safe, and hassle-free operations
Lets you view a sneak peek of your design beforehand
Safeguards your creations in a dedicated folder for up to three days
Step 1: Go to 4AIPaw Online using your preferred browser. Click on "Start Creating".

Step 2: Choose your desired style and artist. This can be done easily using the drop-down menus. Once satisfied, go to the "Generate" tab to select your desired output size and saturation.

Step 3: Simply hit the "Generate" button and give it a moment. Once done, click "Download" and voilà, your furry art design is ready to shine!
Generate Now!
2. NightCafe
NightCafe stands out in the world of digital art creation as best furry ai art generator because of its user-friendly interface. What sets it apart is its ability to churn out distinct and original pieces, which is a boon for content creators.
The process is straightforward. Simply describe your vision for the furry art, click on the Create tab, and in a mere 30 seconds, you'll have your artwork. What's more, the quality of these creations is commendable.
Pros
Gives you full control over the end result
Provides a platform to connect with other artists on social media
Avail of its services without any need for signing up
Online, Android, iOS Compatibility
Cons
Art creation requires the use of credits
You'll need to craft the descriptive prompts yourself
3. Fotor
Fotor's digital art creation platform is a breeze to use. All you need is a brief description, and in moments, you'll see your words transformed into captivating visuals. If you're unsure about crafting descriptions, Fotor provides a lot of prompts, which you can use directly or tweak to your liking and be your favrite furry art generator ai.
One notable feature is its ability to morph one image into another. It caters to a diverse range of art styles: 3D graphics, oil paintings, cartoons, and more. Many also laud it for its capability to craft NFT-compatible artwork.
Pros
Offers an extensive library of over 10,000 templates
Enables direct exporting of artworks as NFTs
Hassle-free image enhancements
Cons
Doesn't have an autosave feature
Some advanced features require a subscription upgrade
Only online compatibility
4. Picso
Picso is among the most straightforward digital painting apps out there. If you've been wanting to create digital art but are deterred by the complexities and price tags of other tools, Picso is your go-to furry ai art generator free! It's accessible via web and app, making it simple for anyone to begin their artistic journey. The tool provides unique prompts to instantly craft stunning pieces of digital artwork.
Pros
Initial usage is free
Intuitive and user-friendly interface
Swift artwork generation
Versatile for design tasks and more
All creations are safely stored online with automatic history saving
Accessible via web and app stores
Engaging community for discovery
Cons
Description prompts have a 300-character limit
5. HotPot
HotPot provides a digital space to spruce up and enhance your photos, with many tools available at no cost. So basically, it is free ai furry art generator for you to use. It's designed to simplify the often intricate process of photo editing by utilizing advanced digital algorithms.
Pros
Automated image enhancements
Users just describe their vision, choose the style, and get started
Consistently delivers appealing images
Typically speedy in processing images
Numerous features and styles available without charge
Cons
Final artwork might not always match user expectations
Processing might be slower for those using free features
6. Neural Love
In addition to a suite of digital tools, Neural Love aids users in crafting digital furry art. You're provided with an array of output choices, ranging from photos to fantasy and anime themes. Users provide a detailed description and then select their desired output style and format.
Furthermore, options exist to determine the count of artworks, quality, and privacy settings. Once an artwork is produced, users can refine, modify, combine, or save it. You can use it as furry ai art generator NSFW.
Pros
Hassle-free and straightforward operation
Supports both text and voice descriptions
Ability to create up to four artworks simultaneously
Cons
Output size isn't adjustable
A payment is required after an initial period
7. HitPaw Video Converter
HitPaw Video Converter is the only desktop program that is recommended. This deep learning text-to-image generator can generate stunning artworks by entering promt. The desktop program lets you have more control over prompts and other parameters.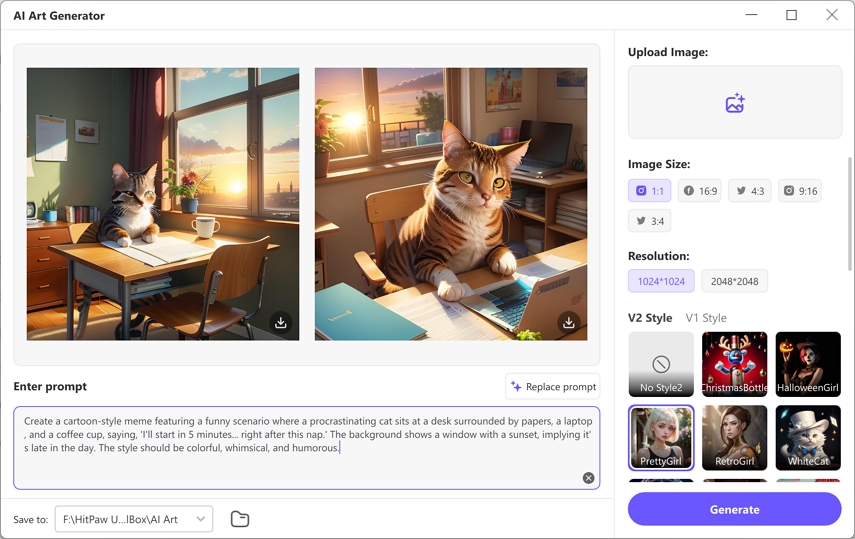 Pros
Two input methods support: Text prompt or upload an existing image and combine it with a prompt to transform it into a unique artwork.
Different art styles to choose from: realism, future, unreal, ghibi, anime, etc.
Different aspect ratios and resoutions for selection
Other AI tools include background removal, noise removal, vocal remover, speech to text, etc.
User-friendly interface
Cons
The free trial only provides generating 2 images
Step 1.Luanch HitPaw Video Converter on computer after installation. Go to the Toolbox and select AI Art Generator feature.

Step 2.Now, you can enter a prompt and choose a art style.

Step 3. Click Generate button to start generating the AI photos from text. You can preview and adjust the prompt to do minor adjustments. Finally click the Download icon to save the AI artwork.
Part3: FAQ About Furry AI Generated Art :
Q1. What AI can make furry art?
A1. Several platforms can make furry art using advanced algorithms. Some of the popular ones include 4AIPaw Online, NightCafe, Fotor, Picso, HotPot, and Neural Love. Each platform has its unique features and advantages tailored to different users' needs.
Q2. Can I use AI generated art as NFT?
A2. Yes, you can use AI art as an NFT. Creating AI art NFTs does not differ from creating any other type of NFT. The process is the same. The best way to create AI art is using 4AIPaw Online or Picso.
Q3. Where do I get AI generated art?
A3. You can get AI-generated art from online platforms that offer AI art creation tools. These platforms typically allow users to input text or voice prompts to guide the generation of art. Some reputable platforms include 4AIPaw Online, NightCafe, and Fotor among others.
Q4. What is the furry art style called?
A4. The furry art style is typically referred to as "Anthropomorphic Art". This style features characters that have both human and animal characteristics, often emphasizing human expressions, emotions, and postures in animal figures.
Final Thought
As technology continues to evolve, the bridge between creativity and automation is becoming increasingly seamless. The rise of furry AI generated art stands as a proof to this fusion. Whether you're a professional artist, an enthusiast, or simply someone curious about the furry culture, AI-generated art tools offer a unique way to explore and express creativity. Notably, with platforms even catering to mature audiences under the "nsfw furry ai art generator" niche, the scope is vast and varied.
If you like to make your work easy, then we recommend using HitPaw Video Converter and give it a try. IT's easy to use interface and advanced features make it a favorite of many users.