How can I Download HitPaw Photo Enhancer Crack Version and How to Use
It should go without saying that outstanding visual material is essential for marketers, and this is especially true on social media. As a result, marketers must understand how to develop captivating photos for their company's social media and blogs. Fortunately, there are a plethora of excellent low-cost and free photo editing apps available, with some of them costing as little as a few dollars. But a lot of them aren't worth the effort or any investment made on them. There's one such tool that can make life easier for you; let's dive deep into it.
Part 1.

What is HitPaw Photo Enhancer?

HitPaw Photo Enhancer is a professional-grade image editing software for PCs. It's also software that lets you upscale your photos and graphics, making them look better than they did before. Image AI integration, Landscape sharpening, and enhanced anime photographs are only a few of the app's primary capabilities. You can also use the software to sharpen unclear image structures and increase the image's resolution for painting.

On the other hand, it is not free software. But, it provides giveaways. You can get giveaway news by subscribing to their site. HitPaw features tiered pricing, which is similar to that of other competitive apps. The One-Month Plan is $8.99 a month, the One-Year Plan is $29.99, and the Lifetime Plan is $59.99 per year.
Features of HitPaw
Touching up photographs and photos may appear simple at first, but it can become complex over time. You may also need to use professional image characteristics and tools to enhance your photographs. HitPaw Photo Enhancer is the best image quality and photo resolution booster for increasing image size without sacrificing quality.
Auto Enhancement
High Quality
AI Upscale
Preview Effect
The Special Use of HitPaw Photo Enhancer
HitPaw Photo Enhancer is an image processing program with a wide range of applications. Normally, you'd use the software for simple to moderate image modification. It's also capable of handling technical and comprehensive improvements. The following are some unusual applications for HitPaw photo enhancers:
Landscape Clear-Up
Animated Image Enlargement
Building Sharpening
Part 2.

Is HitPaw Photo Enhancer Cracked Version Download Safe?

Is it safe to download HitPaw Photo Enhancer cracked version? Absolutely not! There will be a lot of problems when using the cracked version posted by various websites on the Internet.
Invalid:

HitPaw Photo Enhancer crack or cracking the registration code is invalid for you and cannot solve the problem of enhancing picture clarity.

Malware infections:

Partially cracked HitPaw Photo Enhancer is equipped with malicious software, which may damage your computer and cause the loss of various data on your computer.

No upgraded and full functions:

HitPaw Photo Enhancer crack may not support the latest functions. You cannot experience the latest AI technology.

Illegal and unethical:

HitPaw Photo Enhancer crack download is illegal and not allowed.
Moving on, we'll discuss the HitPaw Photo Enhancer in this article; it offers all the tools you'll need to make a quick photo modification. It offers everything you need for lighting or color fixes, from altering color tones to adjusting exposure and brightness to rotating and straightening a shot. It has grown in popularity as a photo editing tool.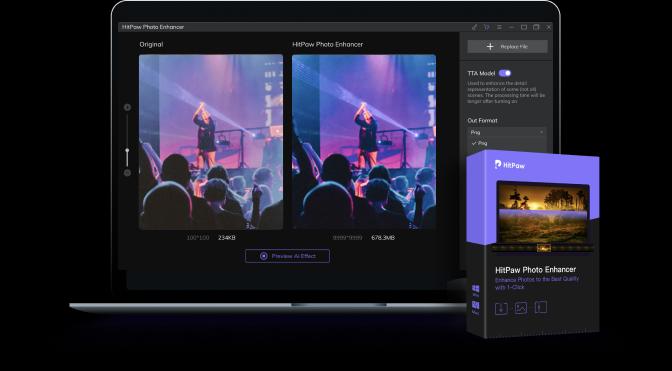 Part 3.

How to Use HitPaw Photo Enhancer Without Password

HitPaw Photo Enhancer is one of the best options for enhancing a fuzzy photo. All you have to do is follow these 4 simple steps. Check out the instructions in detail below:
Step 01: Download HitPaw Photo Enhancer. To get the official HitPaw Photo Enhancer bundle, go to the official website page.

Step 02: Upload the Original Photo. After you've installed the software, you'll need to import the image you wish to upscale into it. You can either choose a file from your computer or simply drag and drop the original photo onto it. To test the effect, simply click on the sample given by HitPaw.

Step 03: Preview the Effect. Click the Preview option to process the photo after it has been uploaded; you may need to wait a few seconds. If you're not happy with the result, you can use the TTA mode to reprocess the image. Because this mode is a little complicated, it may take longer to process the shot.

Step 04: Select Format and Export. PNG, JPG, and WEBP are the three output formats offered by HitPaw Photo Enhancer. To save the upgraded photo, select the format you require and click Export. You can't export the upgraded photo if you're using the free version. Please click the Buy Now button to get a complete edition of HitPaw Photo Enhancer so you can save and use the photos you've worked on.
The Bottom Line
You might be interested in amateur or professional image processing, and you'll need the necessary tools to get the job done. Because some of the mainstream choices are either too pricey or too complicated, there is a great offer to use HitPaw Photo Enhancer. The preceding article provides a comprehensive overview of how to utilize the HitPaw Photo Enhancer application on your computer to perform automatic improvements. Overall, it's a fantastic app that gives you a lot of bang for your buck. So, make sure to download it to do some kick-ass editing.