Top 5 Kpop AI Voice Generators to Create Kpop AI Voice
K-Pop has a huge fan base worldwide because of its catchy melodies, amazing choreography, and eye-catching visuals.
If you are a fan of the K-pop music industry, then you must be delighted to hear that with the help of the K-Pop AI voice generator, you can now sound just like your favorite K-pop idol. These voice generators include voices like V, Jungkook, Jimin, Lisa, and more.
In this guide, we will explore the top 5 voice generators to get K-Pop AI voice. Ensure to read this guide till the end to find out the best voice generator.
What is Kpop Culture? Do you have any favorite K-pop idols?
K-pop is a short term for Korean Pop Music; K-pop is a large part of a phenomenon called Hallyu, which means Korean Wave. Hallyu refers to the growing Korean Culture worldwide.
K-pop culture is seen almost everywhere around the world, from Gaming to Music, Film to Food, and more.
But this wasn't the case for decades because Korean TV and radio were heavily censored worldwide. That means Korean culture has little space to make an impact around the world.
The first band who rose to the top of the K-Pop was Seo Taiji, and since then, this music industry has introduced one of the top Bands globally.
Here are some of the Top Bands available today in K-Pop.
1. BTS
BTS, aka Bangtan Boys, is a well-known band in K-Pop formed in 2010. The band consists of 7 members, including Jin, J-Hope, Jimin, V, JungKook, Suga, and RM. The group has gained immense popularity for their authentic and self-produced Music. BTS has become the 21st Century Pop Icon, breaking countless music world records.
2. Blackpink
The four-women group, aka Blackpink, debuted in 2016. This group has been breaking records ever since; it consists of four women: Jisoo, Jennie, Rose, and Lisa.
Their song Ddu-Du Ddu-Du is the most-watched music video produced by any K-Pop group on YouTube, with over 730 Million views. They have a huge fan base on social media as well; Lisa is the most followed K-Pop female artist on Instagram, with over 16 Million followers.
3. TWICE
Twice is another K-pop music group consisting of nine members: Tzuyu, Dahyun, Mina, Jihyo, Nayeon, Jeongyeon, Momo, Sana, and Chaeyoung. This group was formed in 2015 by JYP Entertainment. Twice rose to fame in 2016 with their super hit song Cheer Up, which ranked number one on the Gaon Digital Chart and became the Song of the Year at the Melon Music Award.
5 Highly Recommended Kpop AI Generators
Here is the list of 5 highly recommended K-Pop idol AI voice generators available in 2023.
1. HitPaw Voice Changer (Win & Mac)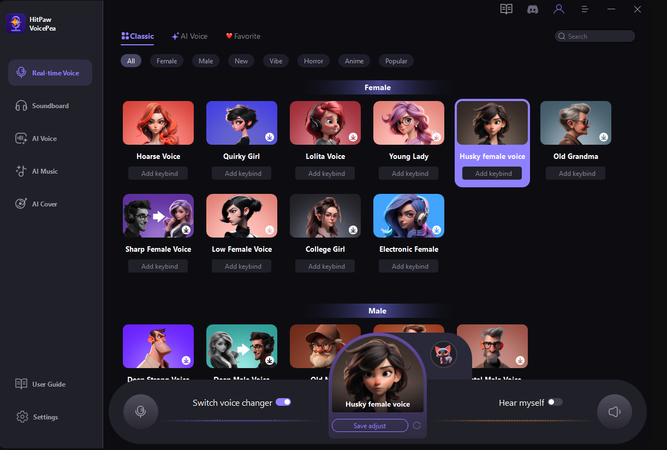 HitPaw voice changer is the best AI K-Pop voice generator on our list. This tool uses AI technology to transform your voice into any character in real time. HitPaw has a huge library of voice effects, including Korean AI idol voices such as Lisa, V, and Momo.
It has a simple and easy-to-use interface that allows users to navigate through settings easily. With the help of this voice changer, you can also modify your voice on platforms like Discord, Twitch, and Zoom.
Further, HitPaw offers some amazing features like TTS, Voice Cloning, Speed Controller, and more.
Pros
Offer Straightforward interface
Huge library of voice effects and filters
Consists of features like Voice Cloning, Speed Controller, TTS, and more
Seamless integration with Live streaming and Gaming platforms
Affordable Pricing as compared to others
Compatible with Windows and macOS
Cons
No free trial or version is available
Price: One Month for $15.95
How to use hitpaw voice changer to change voice
Step 1:Go to "Settings", and click the drop-down button to select the input and output you are using.

Step 2:Choose the effects you prefer and click to apply it.

Step 3:Turn on the "Voice Changer", "Hear myself" and try to speak to your microphone to listen how your voice sound like. If the surrounding environment is noisy, you can manually activate noise reduction. Please don't set the noise reduction level too high, as it may filter out some sounds.

Step 4:After selecting the desired sound effects and previewing them, you can adjust the volume according to your preferences.

Step 5:Change Voice on Discord:Open "Discord", Click your "User settings" and go to "Voice & Video, Then select "HitPaw Vitrual Audio Input" from the drop-down list of input device.
2. Voicify (Online)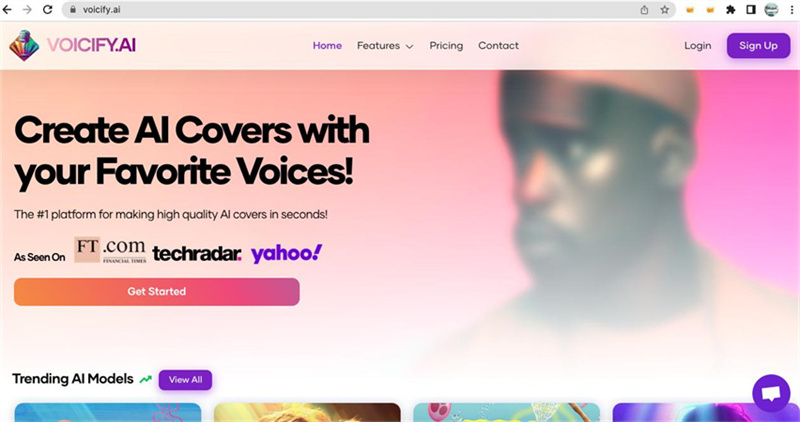 The next K-Pop AI voice changer on our list is Voicify. Voicify is known for its realistic AI voice Models. This program has over 4000 AI Voice Models, which includes many famous singers such as Pop Smoke, Drake, Jimin, V, and more. With the help of this program, K-pop enthusiasts can transform their voices into AI K-pop idols in no time.
If you are a content creator who wants to generate AI covers for social media platforms like YouTube and TikTok, then this program is the best option.
Pros
Best for Music enthusiasts wanting to create music covers with AI voices
Easy-to-use interface
Offers more than 4,000 AI voice models
Suitable for Musicians and Songwriters
Customizable Output
Featuring artists like Drake, Juice WRLD, Travis Scott, and The Kid Laroi
Cons
Not suitable for Songs with background vocals
Price: One Month for $8.99
3. Typecast (Online)
Typecast is a Powerful AI tool for generating voiceovers. With the help of this tool, you can create voiceovers in 300+ voices, including voices of K-Pop AI, Celebrities, Politicians, cartoon characters, and more.
Typecast not only allows you to generate voiceovers, but with its Virtual Avatars, you can also create videos for your voiceovers; with its huge collection of AI-based avatars, you can use them as a narrator in your videos.
Pros
300+ voice effects to turn your text into speech in different voices
Offers different Text to voice templates
Realistic AI Avatars used as video Narrators
Super Easy to use
Ability to Add emotions to your videos
Cons
Support only Two Languages
Some voices don't sound natural
Price: One Month for $8.99
4. TopMedia (Online)
TopMedia voice changer is another K-Pop idol AI voice generator on our list that works amazingly to transform your voice. This tool is perfect for games and chats because it works perfectly with platforms like Discord, Twitch, and Zoom, games like Call of Duty, Fortnite, and more.
Many unique features are also available on this program, such as voice customization, voice cloning, voice morphing, and more.
Pros
Work amazingly with all kinds of formats.
Different tools available that work with all types of voice-changing situations
Promises high-quality recording and modifications
Easy to use, just visit the site and change your voice into any AI K-Pop idol.
Cons
The paid version is expensive
Price: One Month for $7.99
5. Murf.ai (Online)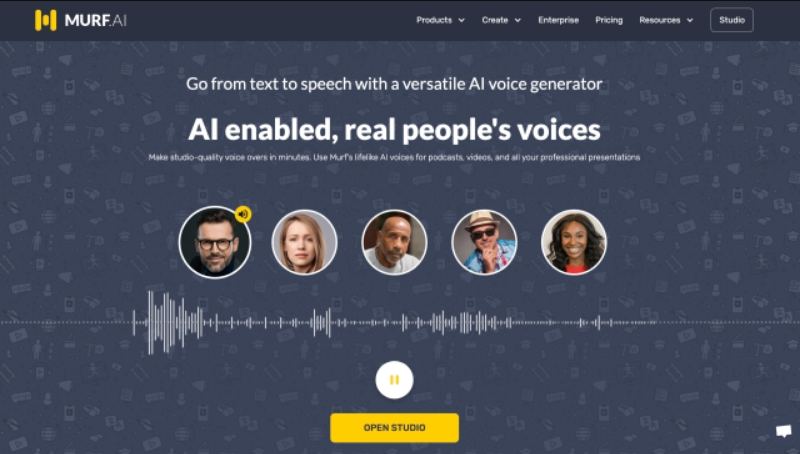 Murf.AI is a fantastic K-Pop generator that offers quality voice effects and filters. This tool offers more than 120+ TTS voices in 30+ languages. With this program, you will also get an advance video editing feature that will allow you to add visuals to your speeches in no time.
It also offers a voice cloning feature that allows you to create new voice effects in your voice.
Pros
Offers 120+ voice effects in 30+ languages
Advance video editing features to give visuals to your speech
Pitch and Pause control to sound more realistic
Simple TTS Voice converter
Voice effects include voices of K-Pop, Celebrities, and more
Allows you to download voiceovers in HD
Cons
The free plan has limited features and voice effects
Price: One Month for $29.00
FAQs of Kpop AI Voice
Q1. Is there an AI K-pop Idol?
A1. Yes, there are many K-Pop AI Idols available in 2023. BTS, Twice, and Blackpink are the biggest K-pop idols that have a huge fan base worldwide.
Q2. How do you get Kpop AI voices?
A2. To get a Korean AI K-Pop voice, first select a K-Pop voice changer and then choose the input and output device. Now select your favorite K-pop voice effect and click on the Apply button to alter your voice in real-time.
Final Thought
In conclusion, K-pop culture has captured audiences worldwide due to its unique style and features. Due to its popularity, many content creators want to create content in K-Pop voices, which is why, in this guide, we have mentioned the top 5 K-Pop AI voice generators to create musical voiceovers.
HitPaw is the best K-Pop voice changer available on our list because it has a unique set of features and realistic voice effects.