Top 3GP Video Converters for PC, Mac and Online
3GP file format plays an important role in sharing and storage of your files. It is a lightweight file format designed especially for 3G devices and works well with 4G devices as well. The main reason behind its creation is to save space on devices and transfer videos quickly from smartphones increasing bandwidth, but all of this comes at the cost of low quality and incompatibility with many platforms and devices. That's when a 3GP converter comes into the picture. A good converter will convert your 3GP video to any format, ideally mp4, and maintains the quality of the video during conversion.
Finding a good converter can be difficult. That's why we created a list of the best 3GP converter for you, along with some of their pros and cons and how to use them.
Knowledge about 3GP
1. What kind of file is 3GP?
We will start by learning what a 3GP file is, so as the name suggests, 3G files were created for 3G devices so that videos and other media files won't take up a lot of space on them. 3GP files save storage space and increase bandwidth so that you transfer files easily over a network and are an ISO (International Standard Organization) preferred video format. It was developed mainly for 3G devices but also worked well with 4G devices.
The name of this file is inspired by its creator, 3GPP (The Third Generation Partnership Project 3GPP). If we go into the technical details, the video streams are either of H.263 or H.264 codec, and the audio streams are either AAC or AMR based. The video and audio streams allow us to compress the video size easily.
But this video format has some downsides as well. The most significant one is that it severely degrades the video quality, and the second is that not all devices support this format.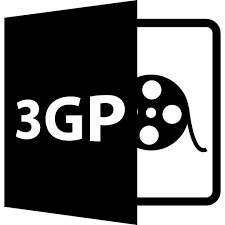 2. What resolution is 3GP?
3GP videos are available in two resolutions depending on the type of device you are playing them on. If you are playing 3GP videos on standard smartphones, the resolution will be 176 x 144. If you play them on a widescreen smartphone, iPod, PSP, and any other MP4 player, the resolution would be 320 x 240.
3. What devices can play a 3GP video?
You cannot play 3GP videos on all devices. Still, a certain number of devices and software support 3GP file format and easily play its videos, like Microsoft Windows Media Player, Apple QuickTime Player, and VLC media player. Sometimes they play without installing any pre-requisite, while sometimes, you need a CODEC to display them properly.
Part 2. Top 3GP Video Converter Reviews
Sometimes the 3GP files do not work on your device even after installing CODEC, and you have to convert 3GP. Sometimes you want to convert your 3GP to mp4 similar file formats so that it becomes compatible with every platform. We have created a list of the 6 best 3GP converters. Whether you want an application for your windows or macOS or are looking for a free online website, you will find it in our list.
1. HitPaw Video Converter for PC and Mac
HitPaw Video Converter is an excellent 3GP file converter that converts any video into 1000+ formats without losing any quality. The best part of this software is that it allows batch processing which helps you convert many videos simultaneously without any intervention.
Advantages of HitPaw Video Converter
Convert 3GP and other video files without losing quality
Batch convert 3GP files
120x faster conversion speed
More than a video converter. It is a video downloader, video compressor, image compressor, and Instagram downloader so you will get everything in one software
Easy to use and 100% secure
Works on both Windows and Mac systems
Cons
The free trial version converts 1/3 length
How to Convert 3GP Files in HitPaw Video Converter
Step 1.Download and install HitPaw Video Converter.

Step 2.Import your 3GP files.

Step 3.Select an output format like MP4.

Step 4.Click Convert or Convert All to start converting 3GP to MP4.
2. Convert 3GP File with VLC Media Player
Now we have software that needs no introduction as it is the GOAT media player and is available on all devices. The VLC media player plays 3GP videos for you and works as a 3GP video converter, and converts 3GP files to MP4.
To use your VLC media player as a 3GP converter software, all you have to do is:
Open the VLC media player and select Media from the top menu.

Select Covert/Save from the resulting menu and add 3GP videos by clicking on the Add Button of the pop-up menu.

Click Convert/Save button at the bottom after adding videos.
Select the MP4 file format from the Profile option.

Add destination and click Start to convert the video.
3. Handbrake 3GP Converter
For many reasons, Handbrake is the best free video converter software out of all free 3GP video converters. The first is that it is open source, so many people are contributing to making it bigger and better. Handbrake is an ideal option for those who are searching specifically for a 3GP conversion.
Using Handbrake as a 3GP download video converter is easy. All you have to do is:
Open the application.
Select the 3GP video through the Open Source option. Select the location of the converted video through the Destination option.
Select the video format and quality through the output window.
Click Start Encode from the topmost menu to start the conversion.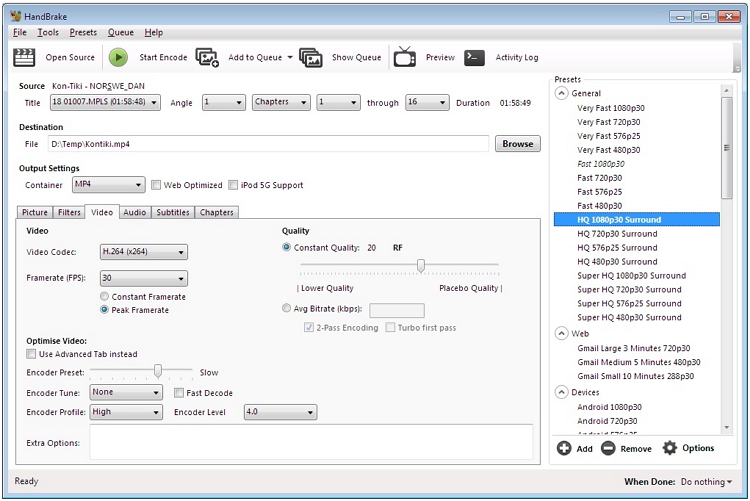 Pros
Available for all operating systems like Windows, macOS, and Linux.
It converts videos in almost any format.
Easy to use interface.
Cons
Conversion can be slow at times.
CThe conversion process can be complicated due to the order of options.
4. ZAMZAR 3GP Converter Online
We can't make a list of video converters without including Zamzar, which is one of the online 3GP video converter and is used by many trusted companies like Google, IBM, Shell, etc., and has converted more than 500 Million videos to this date, so there are no questions about its quality, safety, and service.
Using Zamzar to convert video to 3gp online free is super easy. All you have to do is:
Go to their websites and upload your files through Drag and Drop or by browsing through folders.
Select Format.
Hit Convert.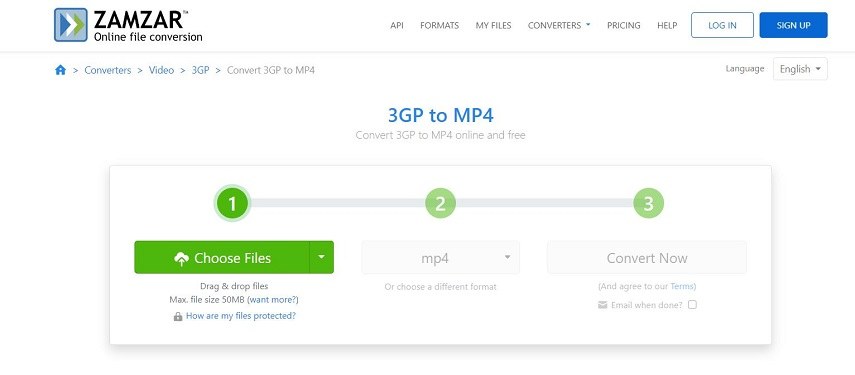 Pros
Fast Download
Easy-to-use interface
Videos files stay safe and secure
Cons
The free convert supports 50MB only
5. CloudConvert Online 3GP Converter Free
If you are looking for an online 3GP converter free, then CloudConvert is perfect for you as it is safe and secure, has a crystal clear payment plan, and comes with many features and options for uploading, converting, and downloading videos.
Using CloudConvert as a 3GP movie converter online is easy. All you have to do is,
Visit the website
Add your video from the Select File option
Set all the important details like quality, audio, etc.
Hit Convert

Pros of CloudConvert
It has an easy-to-understand interface with many features.
Maintains the quality of videos while converting.
Keeps video safe and secure.
Has a wide range of formats to choose from.
Has many feature options to maintain the quality and properties of videos.
Cons of CloudConvert
You have to pick a pricing plan, and pricing plans are difficult to understand as they depend on the minutes of conversion.
The pricing plan is not fixed and depends upon timing, so if your video takes longer, then you have to pay more.
6. Convertio 3GP Converter
Convertio is another great website for people who want to save space on their computer and prefer a powerful conversion website over a specific software dedicated to a 3GP movie converter download.
Using Convertio for 3GP conversion is easy. All you have to do is,
Upload video from your device, Google Drive or Dropbox.
Select the format and adjust options for video quality and audio.
Download the final video.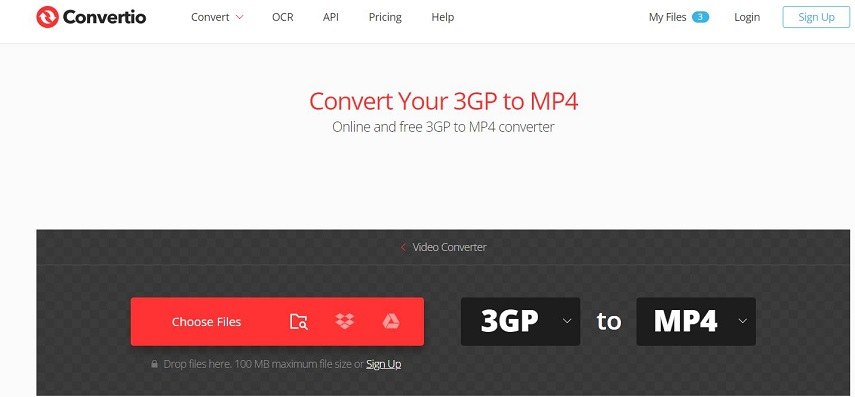 Pros
Converts your video files in a variety of formats
A minimalist interface that is easy to follow
Multiple options for uploading files and adjusting video quality
Cons of Convertio
No free conversions.
Limitations of size and concurrent conversions in Basic and Light Plan.
The Bottom Line
This marks the end of our best 3GP video converter. We have included the best desktop application as well as 3GP converters online. If you only have a few 3GP files to convert, then online tools such as ZamZar and CloudConvert can easily do it for you, but these online tools only provide free conversion for files of limited size. If you have a lot of 3GP files to convert, and also need to convert them to different formats and devices, then HitPaw Video Converter is your best choice. It supports batch processing, and supports more than 1000 formats.