Best 6 Methods to Convert 3GP to WAV on Windows/Mac/Online
Converting your file from 3GP to WAV can be a cakewalk if you have the right set of tools in your hand. But finding these tools can be a task. However, we have done the homework for you! In this article, you will get a list of amazing 3GP to WAV converter to simplify your job.
1.

Everything You Need to Know About 3GP and WAV

3GP to WAV conversions are a common requirement among creators, but before we find more about their conversion methods let's understand the basics of these two formats.
What is 3GP?
3GP is a multimedia container format. It is designed for third-generation (3G) networks of the Universal Mobile Telecommunications System (UMTS).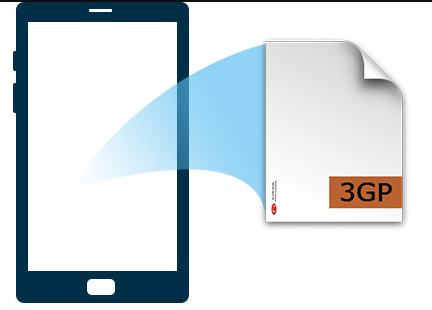 Because UMTS is a technology for mobile devices, the 3GP format permits mobile phones on UMTS networks to capture, store, deliver, and play media over a high-speed wireless connection. It does not support interactive offers but is compatible with third-party tools that provide such support.
3GP is a flexible file format
It supports subtitles and subtitles via 3GP Timed Text
What is WAV?
WAV is the most popular digital audio format. It is suitable for uncompressed audio files. WAV files are more extensive than M4A and MP3 files.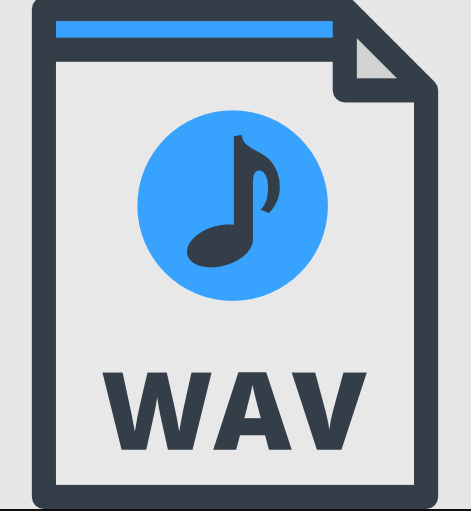 This makes them less practical for consumer use on portable players. However, their quality surpasses M4A and MP3.
Thanks to the higher, uncompressed quality of the WAV file, they are the ideal choice for importing into music editing
They are also suitable for easy production and manipulation of programs
2.

Top 5 3GP to WAV Converters Online For Instant Needs

Now that you are familiar with the two formats of discussion today, let us take you through a list of the top 3GP to WAV converter online.
Convertio
Convertio does things in a unique as the app works entirely in the user's browser. A simple drag-and-drop interface serves as the beginning of the process, and everything flows smoothly from there.
The tool works surprisingly fast, particularly for some more challenging formats that may require additional encoding. And because it operates in your browser, it doesn't need any manual effort to keep it up-to-date - everything is handled automatically on the backend.
Zamzar
Zamzar is an excellent 3GP to WAV converter free that supports many file formats. You can visit their website, upload your original files, select the format and then click Convert Now. Converted files can be downloaded immediately, or you can choose to receive links via email.
Zamzar supports various file formats. Some notable problem formats like WPD (Wordperfect Document), RA (RealMedia Streaming Media), FLV, and DOCX. Zamzar makes it easy to work with these and many other formats with just a few clicks.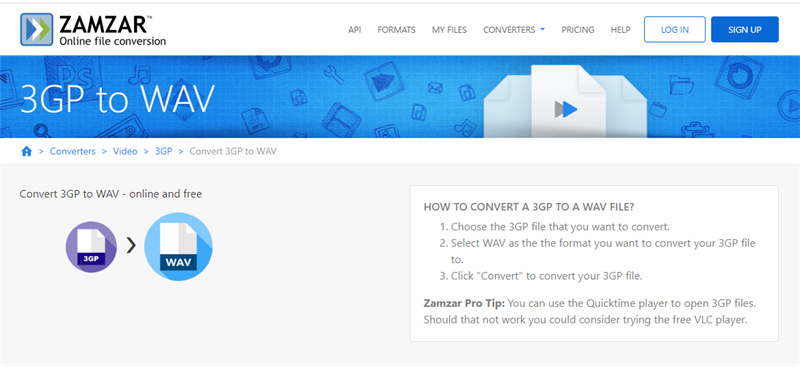 Cloudconvert
CloudConvert is a file converter supporting more than 200 file formats. The tool is web-based, so you need an internet connection. It also has restrictions on not logging in and using it for free. It uses SSL certificates to encrypt data transmission from your PC to its servers and vice versa.
It supports a wide range of formats. One of the best things about it is that it automatically detects and displays the supported file formats. Like other programs, there are some limitations. You get ten conversion minutes on their free plan. Conversion minutes are used depending on the file type.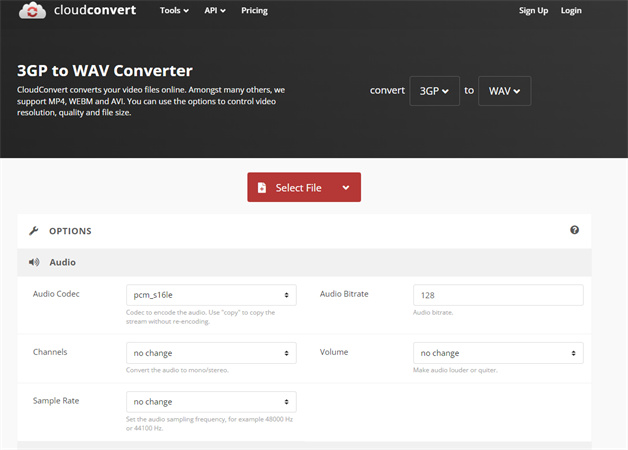 Online convert
Online-Convert works as an all-in-one converter website with regard to image, archive, video, audio, e-book, web service, and document.
You can upload source files from local storage, cloud storage and URL without signing up or installing the browser extension. It is a versatile tool and offers conversion with a wide range of file formats.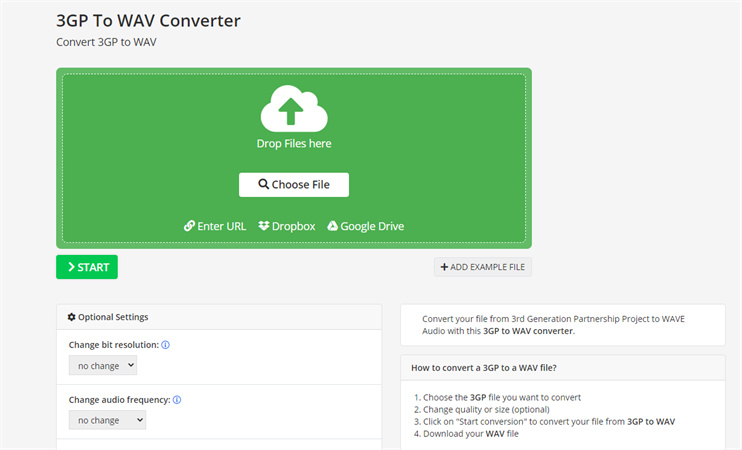 Free Convert
Free Convert is a popular file conversion tool available online or as a browser extension. Although it started as an image converter, it has expanded its capabilities and can now convert audio, video, document files, e-books, etc.
Currently, the service supports about 1500 different file formats. The tool offers several file format options and you can upload and convert up to 20 files simultaneously without having to install any software or register.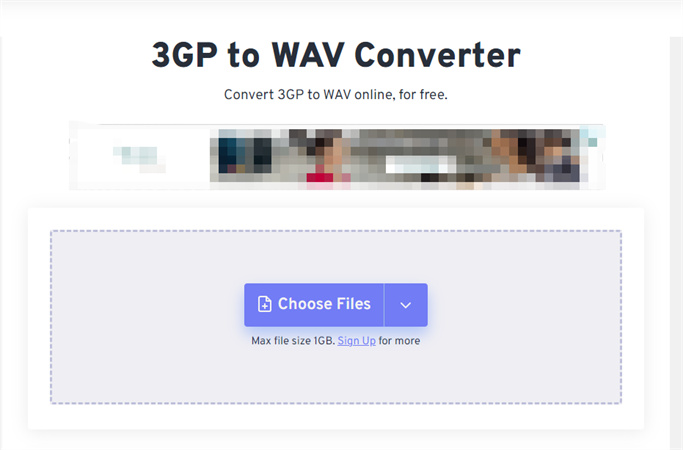 3.

Best Solution to Easily Convert 3GP to WAV without Quality Loss

The tools mentioned above might not reach the level of absolute perfection when you want to convert 3GP to WAV, HitPaw Video Converter is a great option.

HitPaw is a 120X faster video converter and HD video downloader that converts video and audio files to more than 1000 formats. It can download and save videos from YouTube, TikTok, and Instagram, to MP3 and MP4 in HD quality.
Batch converts 3GP to WAV
Built-in rich video editing features
Up to 120X faster video conversion speed in real-time
Extensive support for various devices and platforms
Here're steps on how to use it:
Step 1.Download HitPaw Video Converter freely by the button below

Step 2.Open HitPaw Video Converter and add files

Step 3.Select the output format by clicking the inverted triangle icon at the bottom right of each file

Step 4.Select the destination folder in the interface and click Convert to convert the video to the selected format
Conclusion
Converting your file from 3GP to WAV online is not a tough task. With the correct choice of tools, it becomes super easy and HitPaw Video Converter is one such choice. If you wish to convert your files from 3GP to WAV now you know which tool is your smartest best!