How to Convert 3GP to MOV Without Quality Loss
Got a bunch of recordings in 3GP format that you want to play? You can encounter errors like "file is not in a supported format" while attempting to play or import a number of recordings from an outdated phone into a video editor. In this situation, you could find it useful to convert 3GP to MOV, a more contemporary format with better compatibility. So, what do you need to do?
You can load the video into a video converter and edit it as you choose by first converting the 3GP file to MOV format. You could also look for a different video editor like HitPaw Video Converter, which is an excellent choice regardless of which one you choose. It's simple to figure out how to convert 3GP to MOV. So here we'll show you how to convert 3GP to MOV on MAC and PC fast without quality loss.
Part 1. Best Way to Convert 3GP File to MOV on Windows and Mac in 90X Speed
HitPaw Video Converter is a professional yet user-friendly video converter. It enables converting practically all video formats in any resolution, including 3GP, MOV, MKV, AVI, M2TS, AVCHD, and HEVC. It can convert 3GP to MOV for usage with the iPhone, iPad, Mac, iMovie, iTunes, YouTube, and other devices. Any video or music can be converted to the required format with the help of HitPaw Video Converter, simplifying the process. 
You may simultaneously convert tens of thousands of movies using HitPaw. You may easily convert in bulk thanks to its effective converting feature. Not only does it convert in a matter of seconds, but it also includes lossless acceleration, which speeds up the process without sacrificing quality. HitPaw is your best bet as 3GP to MOV converter for fast 90X conversion without losing quality.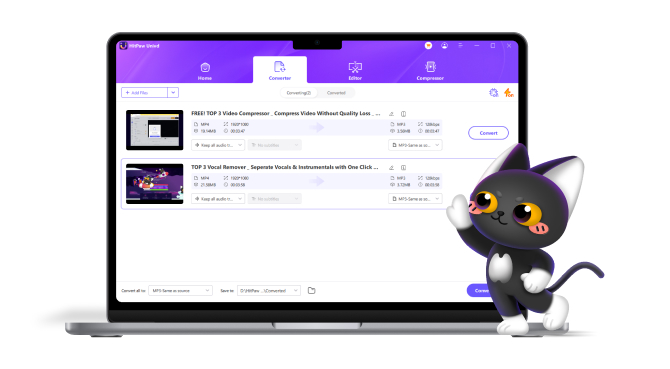 Features of HitPaw Video Converter
Offers fast conversion of all formats to the desired one. 
HitPaw Video Converter's lossless acceleration technology keeps the video quality intact and efficiently completes the conversion.
Use the batch conversion feature at once to convert more than 5000 videos.
HitPaw Video Converter has an integrated editor with outstanding functionality that improves the user experience.
You can edit and enhance your videos with the built-in editor. 
Steps to convert 3GP to MOV with Hitpaw Video Converter
Here are the easy steps of how to convert 3gp to MOV with the help of HitPaw Video Converter:
Step 1.Download the HitPaw Converter from its official website on your Apple or android. Here is the link to 3GP to MOV converter free download.

Step 2.Open the app and click the "Convert option". Or you can drag or add the 3PG files that you want to play.

Step 3.Choose the MOV format you need to convert to.

Step 4.Choose the destination folder and click Convert All, and all your files will start converting instantly.

Step 5.Converted files will be available in the downloaded folder. 

Step 6.Choose the destination folder and click Convert All, and all your files will start converting instantly.
Part 2. 2 Free Ways to Convert 3GP to MOV on Desktop
Here are two of the free software to convert 3GP to MOV that shows you free ways to convert on a desktop.
1.Mega Video Converter 
Mega Video Converter is a straightforward, quick, and user-friendly video converter for Windows OS. Mega Video Converter features a unique user interface compared to other audio and video converters. It facilitates the conversion of 3GP files to supported output formats, such as AVI, FLV, ASF, MOV, WMV, MP4, FLAC, OGG, MP3, etc.
Simple and expert converting modes are available in Mega Video Converter. You can choose the output format and other codec options in expert mode, including the audio and video codecs, the sample bit rate, the channels, the resolution, and many others.
Pros:

A solid referral program is offered by Mega.

It is very easy to use

In usage it is very secure

Cons:

Competitors are offering much more.

Mega has less suite of apps then competitors.

Steps To Convert 3gp to mov
1.Open the mega converter official website.

2.Register yourself and log in.

3.Upload the 3pg files and choose the format MOV.

4.Click convert now.

5.Your files are ready and in downloads on your desktop.
Eusing Free Video Converter 
A free program called Eusing Free Video Converter enables users to convert 3GP files to various other output formats, including FLV, AVI, MOV, MP4, MP3, OGG, FLAC, AMR, AIFF, SWF, WMV, and WMA. It can quickly convert various audio and video file formats in bulk to the required format. It will solve your question of how to convert 3GP to MOV by easily downloading files on your desktop.
Pros:

Permits adding a video effect before conversion.

You can combine and convert many videos into a single video file.

You can choose the video format in it based on the device you plan to play the file on.

Cons:

A video conversion may take longer with this program than with others.

It has few integrations.

Steps to Convert 3GP to MOV
1.Click Add files on the screen's middle when you launch the Video Convert.

2.Make basic settings, such as selecting the folder where the video will be saved, the video size, and the video quality, on the right side of the screen. You may set up the audio and video options right below.

3.Choose the format based on the video player you'll use to view the content.

4.Click Convert now once you've chosen the conversion format for your video.
Part 3. 3 Online Methods to Convert 3GP to MOV for Free
Here are how to convert a 3gp file to MOV online for free.
Music, video, document, ebook, archive, image, spreadsheet, and presentation formats can be converted using Cloud Convert. Almost every common format is supported by Cloud Converter, including JPG, JPEG, PNG, WEBP, and others. 
You don't need to log in or register to perform any operations. Instead, you can purchase the premium version for better performance and additional resources.
Pros:

Allows for cutting and subtitle addition.

Software downloads are not required.

Supports both locally saved files and cloud-based data.

Cons:

Allows for the import of files only up to 1GB in size for free users.

Like other online tools, it requires a network to function, therefore processing times are always longer.

Steps To Convert 3GP to MOV
1.Go to CloudConvert 3GP to MOV Converter in Step 1.

2.Select the 3GP file from your PC or the cloud by clicking Select File.

3.If you want to change anything, click the wrench icon.

4.To convert 3GP to MOV, click the Convert button.

5.When the process is complete, click the green Download button to download the outcome.
Zamzar is a document management program that offers a consistent interface for developers to compress and convert files in a variety of formats, including PDF, JPG, MOV, GIF, and MP4. On a single interface, the platform enables administrators to convert Windows Media Video (WMV) files to MPEG-4.
Pros:

Users can try Zamzar without registration

It is nice and easy to use.

Cons:

Only 50MB is the max size.

There are no advanced options.

Steps To Convert 3GP to MOV
1.Go to the 3GP to MOV page on Zamzar.

2.Select the target 3GP files from your PC, Box, Dropbox, Google Drive, or OneDrive by clicking Add Files. MOV is the default selection.

3.To upload and convert 3GP to MOV, click Convert Now. The advancement is obvious.

4.To download the 3GP to MOV file conversion, click Download.
Convertio operates online and is accessible through a browser. In comparison to other file-converting tools, the UI is relatively straightforward and doesn't require much practice to become familiar with. Convertio does, however, include several complex features, making it an excellent choice for power users.
Pros:

Videos can be flipped and rotated.

Advanced settings are available.

Cons:

Only 100MB file size.

Ads can be annoying.

Steps To Convert 3GP to MOV
1.Visit the Convertio free 3GP to MOV converter page in step 1.

2.Select the 3GP video you wish to convert by clicking Choose Files.

3.To begin uploading and converting, click Convert.

4.Download the transformed file as the last step.
Part 4. FAQs of converting 3GP to MOV
1.3GP vs MOV
File Name
3GPP file format
MOV File Format
Developer
Third Generation Partnership Project (3GPP)
Apple Inc.
MIME Type
Apple Inc.
video/QuickTime
Video Codecs
MPEG-H HEVC/H.265, MPEG-4 AVC/H.264, MVC, MPEG-4 Visual, H.263
MPEG-2, XVID, H.264, H265, Apple ProRes
Audio Codecs
AAC, AMR
AAC, MPEG-1 Audio Layer 1-2-3
Associated programs

Microsoft Movies & TV
Windows Media Player
QuickTime Player
VLC Media Player

iTunes
QuickTime Player
Windows Media Player
VLC Media Player

File Conversion
3GP Converter
MOV Converter
2.How do I convert 3GP MOV on iPhone? 
You can easily convert 3GP to MOV on iPhone by following the 3 simple steps using the HitPaw Video Converter online:
Upload the video you want to convert
Select the format and press covert
Download the converted video
Part 5. Conclusion 
Audio and video streaming can be contained in 3GP media containers. This kind of media is frequently used on mobile devices. However, it might not work with other software or hardware. 
Converting 3GP to MOV is the solution. A great video converter can do this easily and save your videos. We recommend HitPaw Video Converter, which can instantly convert thousands of video formats to your desired ones with the same great quality.