Where to Find Minecraft Emoji Discord and Add to Discord
The usage of emojis, emoticons, and Gifs have increased to a great extent are not just limited to chatting and texting. Discord is a platform that is widely used for messaging and the platform is well known for the emoji customization that it allows. Users can add a bit of their personality to the emojis. This is why the hunt for Minecraft emoji Discord has increased in the recent times. If you are also one of the users looking for Minecraft emojis for Discord, then article is the ultimate option for you. The article talks about different sites that can offer you emojis as per your needs.
Part 1.

Where To Find More Minecraft Emojis for Discord?

This section lists different platforms and sites that can offer you Minecraft Discord emojis as per your needs. Read below to know more.
1. emoji.gg
emoji.gg has been present in the market for quite some time now. Users do not even require to download it to make Minecraft emoji for Discord as per their needs. In addition to this, users have full control over the whole creative procedure while they are working on this platform. The UI is quite simple to understand and has a tutorial which teaches users to create a completely new emoji without any trouble.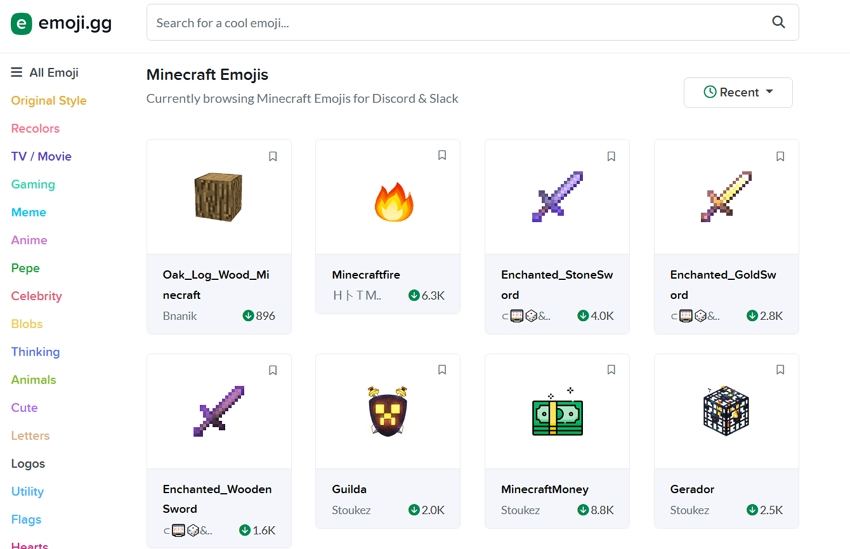 2. emojisky
emojisky is specially designed for a Discord professional and for users who wish to earn from their account. For this purpose, users will need to look different and unique from the other accounts. For such cases, users can always rely on emojisky. This Minecraft emojis for Discord platform comes with some unique tools and emojis.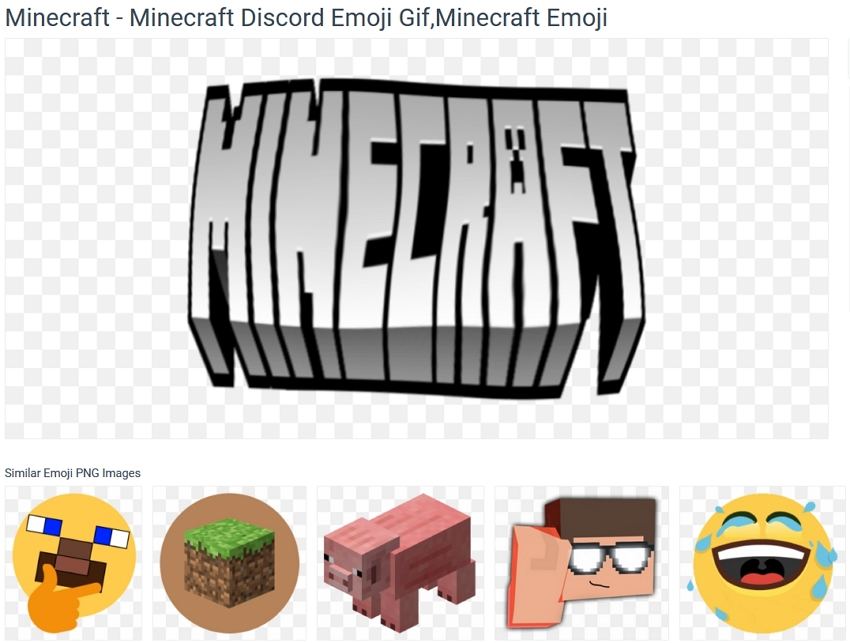 3. discord.st
Discord Street is a library for Discord Minecraft emoji as well as servers. Form this site, users will find all the servers and can search through the huge library of emojis below different sections. Users can upload these emojis to their server on Discord or download them to their device. If they have an emoji they wish to use, users can also upload it to the server from their device.
4. emoji.house
emoji.house is unlike any other Discord emoji Minecraft maker. It has a collection of emojis, animated and static, so huge that users will not require to customize or create any. On this site, users will find one for their liking if they look deep enough into the platform. If users like an emoji, just click it to download it.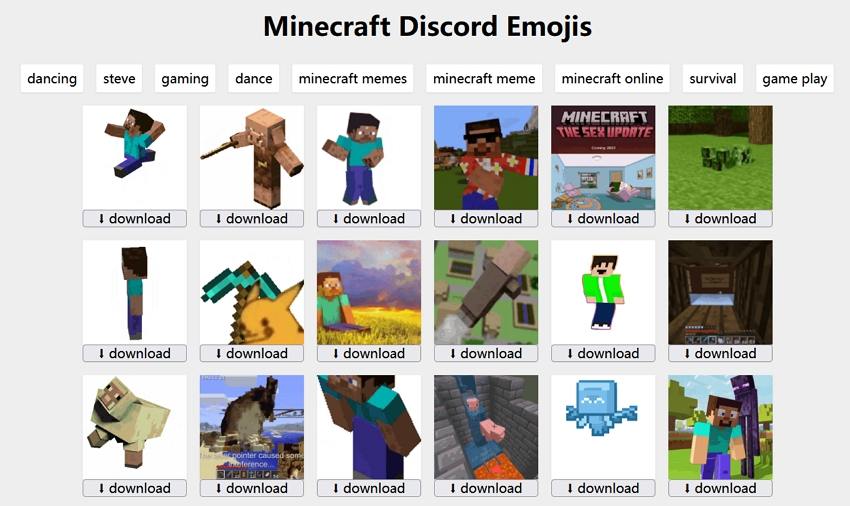 5. emojicombos
emojicombos provides users with extraordinary Discord emojis Minecraft. Users can upgrade the emojis using this site. Users can get an emoji or make a personalized one and they can use an animated avatar of their profile, too. The platform comes with a lot more features as well.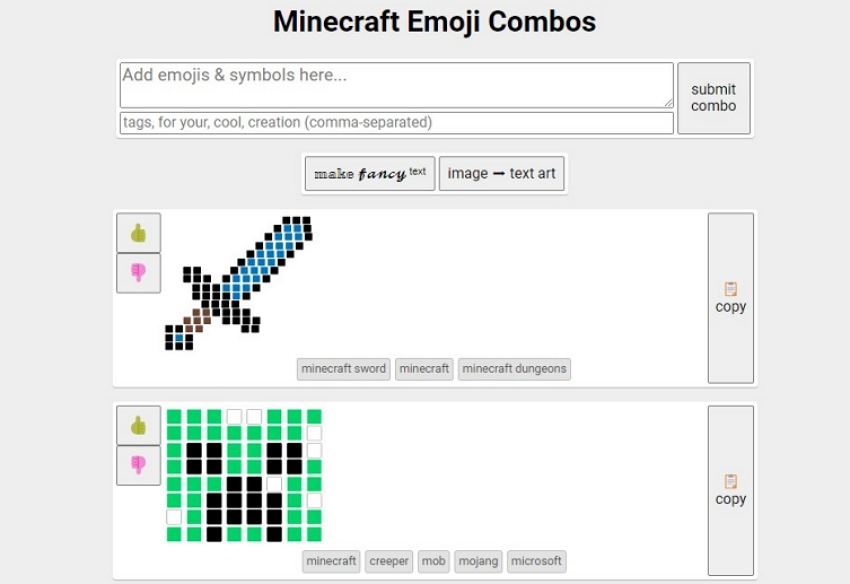 Part 2.

How to Add Discord Minecraft Emoji to Discord?

You can always upload your own personalized emojis explicitly customized for your server to use too. Follow the below steps to know how to add Minecraft emoji to Discord.
1.Go to the Server Settings section on Discord. You do this by tapping the server name and clicking the tab from the drop-down list provided.

2.Once here, you will see the Emoji section. Tap it to open up the Server Emoji pop up.

3.If you are the owner of the server or have been given the required Manage Emoji permission, you will have entire access to the Emoji section. Next, tap the upload option present to the right.

4. You can upload their own customized emoji stash to the server.
Note that your are restricted to 50 emoji uploads per server and those specific emojis will only operate for the server of which they have been uploaded. If you try to use an emoji that was uploaded to a different server, they will be shown an error message.
Part 3.

How to Show More Customized and Attractive Emojis to Discord with HitPaw

How to upload emojis to discord without any limits? You may quickly add an unlimited number of emojis to your recordings with the HitPaw Screen Recorder. Its powerful virtual camera function can easily show what you put on HitPaw to Discord including emojis, videos, images, texts, games and more.Thus, you can show more personalized and attractive emojis to Discord.
Step 1.Download and install HitPaw Screen Recorder on your PC and then launch it. On main interface and tap Live option and click Virtual Camera option.

Step 2.Tap the Add Source option to add Screen, Game, Webcam, Window, Texts or Images you want to Live Stream.

Step 3.Here, users need to click on the Image option in order to add the Minecraft emoji they wish to upload to Discord server.

Step 4.Open Discord and proceed to join a video call. When asked, click on the HitPaw Virtual Camera below the camera list.

Step 5.Here, the audience will see what you will show on HitPaw Screen Recorder.
Conclusion
All in all, we just had a look at different sites that can be used to create or make Minecraft Discord emojis. In addition to this, we also had a look at how to add Minecraft emoji to Discord. Lastly, we had a look at HitPaw Screen Recorder, which can help users show more personalized and attractive emojis to Discord. Users can record almost anything on their screen using this tool.