6 Useful Moaning Soundboards for Various Platforms
In this article, we will explore the world of moaning soundboards and their applications across various platforms. A moaning soundboard is a tool that allows users to play pre-recorded moaning sounds in different scenarios, adding a touch of humor or creating a specific atmosphere. Whether you're looking to spice up your online conversations, prank your friends, or simply have a good laugh, moaning soundboards can be a great source of entertainment. In the following sections, we will delve into different software, mobile apps, and online platforms that offer moaning soundboard capabilities, highlighting their unique features and benefits.
Part 1: What is a Moaning Soundboard?
A moaning soundboard is essentially a collection of pre-recorded moaning sounds that can be played at the user's discretion. These soundboards often feature a variety of moaning noises, ranging from subtle to more explicit expressions. Users can select the desired sound from the soundboard and play it during conversations, pranks, or any other situation where the sound adds to the desired effect. Moaning soundboards can be found in different formats, including software for PCs, mobile apps, and online platforms.
Part 2: 2 Moaning Soundboard Softwares for PC
If you're looking to use moaning soundboard software on your PC, here are two moaning soundboard for windows worth considering:
1. Voicemod
Voicemod is a popular voice changer software that offers a wide range of voice effects, including a moaning soundboard feature. With Voicemod, you can transform your voice in real-time during voice chats or use the moaning soundboard to add some fun to your conversations. This software is compatible with Windows operating systems and provides a user-friendly interface, making it easy to navigate and customize your soundboard experience.
Real-time voice changer software
Includes a moaning soundboard feature
Compatible with Windows operating systems
User-friendly interface
2. UniversalSoundboard
UniversalSoundboard is another excellent software option for moaning soundboards on PC. This software allows you to create custom soundboards by importing your own moaning sounds or utilizing the existing library of sounds. UniversalSoundboard offers various features such as hotkeys for quick sound playback, volume control, and the ability to organize sounds into different categories. It supports both Windows and macOS platforms, providing flexibility for users.
Create custom soundboards
Import and organize moaning sounds
Supports Windows and macOS platforms
Offers hotkeys for quick sound playback
Part 3: 2 Moaning Soundboard Apps for Mobile
For those who prefer to have moaning soundboards on their mobile devices, here are two noteworthy apps:
1. Custom Soundboard - Moaning Soundboard for Android
Custom Soundboard is an Android app that lets you create and customize your own moaning soundboard. You can record or import moaning sounds of your choice and arrange them into a personalized soundboard. The app offers features such as looping, sound trimming, and the ability to assign custom buttons for easy playback. With Custom Soundboard, you can have your moaning soundboard on the go, ready to add some laughter to any situation.
2. Meme Soundboard - Moan Soundboard for iOS
Meme Soundboard is an iOS app that includes a wide range of moaning soundboard for macos, including a dedicated moan soundboard. This app provides a curated selection of moaning sounds that you can instantly play during conversations or share with friends. Meme Soundboard offers an intuitive interface, allowing users to easily find and play their desired moaning sounds. It's a fun and easy way to incorporate moaning sound effects into your iOS experience.
Create and customize your own moaning soundboard
Record or import moaning sounds
Looping and sound trimming features
Assign custom buttons for easy playback
Part 4: 2 Moaning Soundboards Online
If you prefer the convenience of online platforms, here are two moaning voice changer worth exploring:
1. Myinstants Moan Soundboard
Myinstants is an online platform that provides a vast collection of soundboards, including a dedicated moan soundboard. With Myinstants Moan Soundboard, you can instantly access a wide range of moaning sounds with just a click. The platform offers a simple and user-friendly interface, allowing you to search for specific moaning sounds or browse through different categories. Whether you're looking for a subtle moan or a more explicit expression, Myinstants has got you covered.
Curated selection of moaning sounds
Instantly play and share moaning sounds
Intuitive interface for easy navigation
Wide range of soundboards available
2. Voicy
Voicy is another popular online platform that offers a diverse collection of soundboards, including moaning soundboards. With Voicy, you can explore various moaning sounds and easily play them during online conversations, live streams, or any other situation where a moaning sound adds to the desired effect. The platform allows users to create their own personalized soundboards, customize the playback settings, and even share their creations with others.
Diverse collection of soundboards, including moaning
Play moaning sounds during online conversations or live streams
Create personalized soundboards
Customize playback settings and share creations
Extra Tips: HitPaw Voice Changer- Best Anime Voice Changer for PC
With cutting-edge voice-learning technology,HitPaw Voice Changer stands out as an exceptional choice for those seeking a top-notch voice changer for PC. It provides an array of voice effects and filters that can be seamlessly applied to the user's voice. The interface is designed to be user-friendly, allowing effortless navigation through various settings and effects. Furthermore, it enables real-time voice modulation during live conversations, rendering it invaluable for online gaming, voice chatting, and voice-over recordings.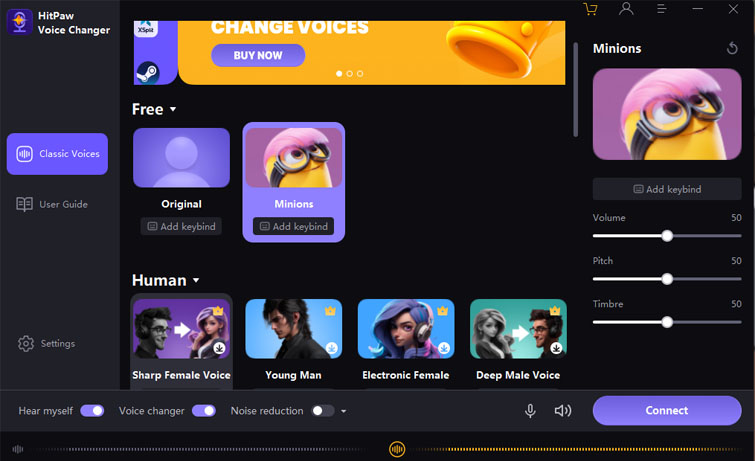 Features
Change your voice with various voice-changing effect in real-time
Integrate perfectly with all popular games and programs
Perfect voice modifier for gameplay, content creator, Vtuber, or live streamer
Remove noise and echo while changing voices
Change voice effortlessly with high quality
Part 5: FAQs of Moaning Soundboard
Q1. What is the app for moaning sound?
A1. The app for moaning sound refers to mobile applications that provide moaning soundboard features, allowing users to play pre-recorded moaning sounds.
Q2. How to represent a moaning sound through text?
A2. Representing a moaning sound through text can be challenging, as it requires conveying an audio expression in written form. Some common representations include words like "mmh," "ah," "oh," or using descriptive phrases to capture the essence of a moaning sound.
Conclusion
Moaning soundboards offer a unique and entertaining way to add laughter and amusement to various platforms. Whether you're using software on your PC, an app on your mobile device, or an online platform, the availability of moaning soundboards allows you to express yourself in a playful manner. Enjoy the entertainment responsibly and have a great time exploring the world of soundboard moaning!