5 Powerful Voice Changers for Mac in 2023
Changing voices is a new trend going on social media; now, with a Mac voice changer, you can also be a part of this trend and modify your voice.These voice changers can effortlessly transform your voice, and you can use that voice to make prank call or make funny videos on social media.
While these programs are only made for fun purposes, many people try to misuse the technology. So we advise the reader to use these voice changers for fun purposes only. Let's explore the top paid & free voice changer for Mac available online.
5 Best Voice Changers for Macbook
Here is the list of best voice changers for Mac in 2023, which you can try to change your voice.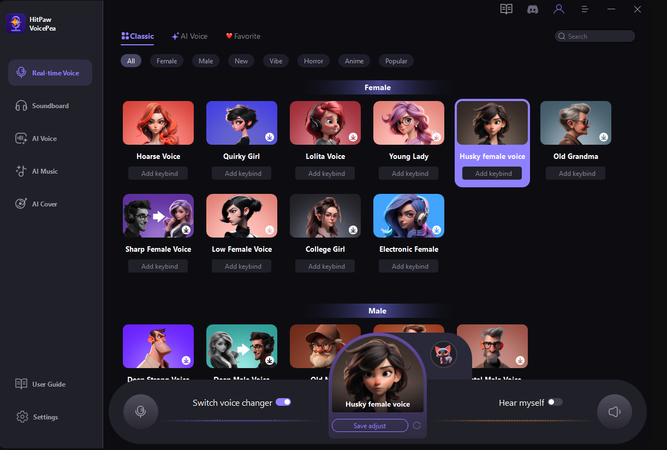 HitPaw is a real-time voice changer for Mac that allows you to change your voice during chats or calls on various platforms. With the help of this App, you can add various effects, alter your pitch, and imitate specific characters or accents. It has a huge library of sound effects, including Chipmunks, Robot, Alien, Devils, Monster, and more.
This program also offers a noise reduction feature that allows you to remove the noises in your background. The best part of this program is that it doesn't distort the sound quality and offers a high-quality voice change.
Pros
Offer an intuitive interface
Integrated with multiple gaming platforms such as Fortnite, Call of Duty, League of Legends, and more.
Make your voice like a celebrity.
Noise reduction feature to remove background noises.
Natural voice effects with high-quality output.
Available on both Windows and macOS.
Cons
New product to the market.
Pricing:
1 Month: $15.95
1 Year: $35.95
One-Time: $65.95
Here're easy steps that how you can use HitPaw Voice Changer.
1.Go to "Settings", and click the drop-down button to select the input and output you are using.

2.Choose the effects you prefer and click to apply it.

3.Turn on the "Voice Changer", "Hear myself" and try to speak to your microphone to listen how your voice sound like. If the surrounding environment is noisy, you can manually activate noise reduction. Please don't set the noise reduction level too high, as it may filter out some sounds.

4.After selecting the desired sound effects and previewing them, you can adjust the volume according to your preferences.
5.Change Voice on Discord:Open "Discord", Click your "User settings" and go to "Voice & Video, Then select "HitPaw Vitrual Audio Input" from the drop-down list of input device.
How to Change Voice on Mac with HitPaw Voice Changer
With this program, you can easily change your voice in simple steps. Follow the instructions below to transform your voice into any character.
2. MorphVOX
MorphVox is another voice changer for MacBook; with this program, you can transform and modify your voice by completely changing it to another character. This program works in real-time, meaning your voice will be transformed into other voices as soon as you click on the voice effect.
With this software, you will get both paid and free versions, MorphVox Junior is a free version, and MorphVox Pro is a paid version. The free version offers fewer voice effects than the paid version, such as Male, Female, and Robot.
Pros
With this program, you can record high-quality audio
It offers an option to adjust the background noise
This program is the best voice changer macOS because it supports a wide range of applications
It has a user-friendly interface
Cons
The interface is not very attractive
Some users experienced glitches while recording
Pricing:
MorphVOX Junior: Free
MorphVOX Pro: $39.99
3. MagicMic Voice Changer
iMyFone MagicMic voice changer is one of Mac's most famous software, allowing you to change your voice in real-time. This program is designed to add some fun and creativity to your content. With the help of this program, you can quickly change your voice and sound like a monster, robot, alien, female, or even a celebrity.
This tool is an ideal voice changer on Mac and has a straightforward interface. It comes with an amazing set of features that make it best for content creators and gamers. It also supports many apps on your MacBook that are compatible with a microphone, such as Zoom, Team, Skype, YouTube, and more.
Pros
Available on both Windows and Mac
Offers at least 120+ voice filters
The free version is available
The software lets you control the pitch and tone of your voice
Easy to use and has a user-friendly interface
Cons
Some sound effects don't sound realistic
Pricing:
Monthly: $9.99
Yearly: $39.99
One-Time: $49.99
4. Clownfish Voice Changer
Looking for a free MacBook voice changer? Then Clownfish MacBook voice changer is perfect for you; this audio modification program allows you to alter a human voice to a great extent.
Still, this program is very famous among gamers and content creators because this program is compatible with a wide range of applications such as Twitch, Zoom, Call of Duty, CS: Go, and much more. It offers 12 different sound effects and filters and a unique feature that can easily convert text into speech.
Pros
Real-time voice changer Mac
Offer more than 12 different sound effects and filters
Ability to convert your text into speech
Straightforward and easy to use
Supports platforms like Viber, Zoom, and many more
Cons
Offers lesser sound effects as compared to its competitors
Lack on Advance features
Pricing:
5. Voice Candy
Voice Candy also comes in the race for the best free voice changer for Mac. It has a simple interface that allows you to change your voice into a Chipmunk, Robot, and other 7 different effects.
However, the worst part of this voice modulator Mac is that the transformed voices don't sound realistic. Besides that, this program has many pro features, such as a voice recorder, voice editor, text-to-speech, and more.
Pros
Create a simple shortcut to record your voices
Offers customization options
You don't have to purchase a microphone because it has an internal microphone
Direct share option to iTunes
Cons
It doesn't support local files
It has a limited number of voice effects
Transformed voices are not realistic
Pricing:
Not Sure Which One is Suitable for You?
If you cannot decide which real-time voice changer Mac is suitable for you, don't worry. To make it easy for you to decide, we have mentioned a comparison table below that will allow you to find the best Mac Voice Changer.
| Voice Changer for Mac | Pricing | Key Feature | Best For |
| --- | --- | --- | --- |
| HitPaw | $15.95 | Offers 200+ Voice effects and filters | Content Creators, Professional Singers, gamers, streamers |
| MorphVox | $39.99 | User-friendly interface | Pranking, Content creators |
| MagicMic | $9.99 | Ability to control voice pitch and volume | Professionals and Gamers |
| Clownfish | Free | Free of Cost | Gamers |
| Voice Candy | Free | Internal Microphone | Beginner voice artist |
FAQs of Mac Voice Changer
Q1. What is the voice changer for Mac gaming?
A1. A voice changer that supports all online games such as Fortnite, COD, CS: GO, and more is the best voice changer for gaming. It also has advanced features, such as a live voice changer Mac to change your voice while playing online.
Q2. Is there a Discord voice changer for Mac?
A2. HitPaw Voice Changer is the best live voice changer for Mac that supports multiple platforms, including Discord and Twitch. With the help of this program, you can change your voice in real time.
Final Thought
As we all know, Mac users have fewer choices regarding AI voice changer Mac. All the voice changer available on Mac provides minimal access to its features. However, this blog has mentioned the top 5 voice modifiers for Mac that will allow you to change your voice in real time.