What is the Best 3D Video Converter Mac?
The entertainment industry has reached new heights in the last few years. It has became a common things to watch 3D movies. But, users can watch these 3D movies in theatre only. What if you are watching one of your favorites movies from childhood and wish to view it in 3D. Is this possible? Well, of course. All you need is an excellent 3D converter for Mac and you are all set to view your favorite movie in 3D. This article lists the best 3D converters for Mac.
Part 1.

Best 2D to 3D Video Converter for macOS 2023

This section talks about some of the best 3D movie converter for Mac options for you to try. Read below to know more.
1. HitPaw Video Converter - Best for Beginners
HitPaw Video Converter is one of the best 2D to 3D converter Mac for beginners that will offer the pro-level 3D converter with ease. This tool support mutiple 3D modes, including Red/cyan anaglyph, side by side full or half width, top and bottom full/ half height, etc., to help you convert 2D videos to 3D with the best viewing experience. You can play 3D movies on your 3D TV, computer, glasses-free 3D smartphones, and other compatible devices.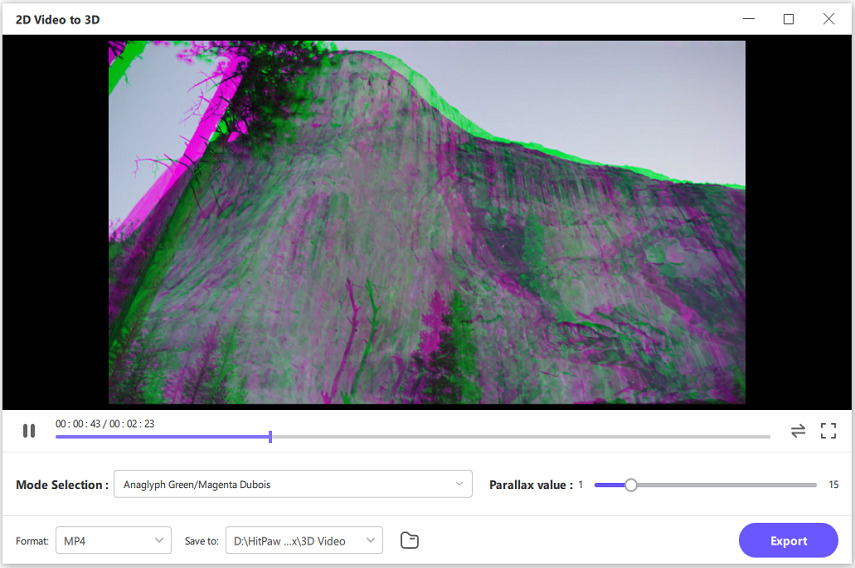 Pros
Convert any video files to 3D videos
Incredibly easy to create 3D videos
Support different 3D modes like Anaglyph, side by side
Preview the 3D video effect before exporting
Enjoy 3D videos freely with your VR devices
Cons
The free version is limited
2. IQmango 3D Video Converter - Free 3D Converter
IQmango 2D to 3D video converter for Mac provides tons of free audio tools, video tools, burning tools, portable device tools, and a lot more. The tool helps in easy and free 3D video conversion that turns 2D videos into 3D for enhance viewing experience. This tool supports 7 different kinds of 3D capability such as 3 anaglyph, 2 side by side. It shows support for Windows 8/8.1, Windows 10, Windows Vista, Windows 7, and Windows XP (SP2 or later) as well as Mac.
Pros
Preview of the file before converting it
Get the same quality of the video after conversion
Convert different video formats such as HD, FLASH, and more
Convert multiple files simultaneously
Cons
Lack of video editing features to enhance your video
The interface is out of date and not intuitive
Software core features have not been updated for a long time
3. ImTOO Video Converter for Mac - 3D SBS Video Converter
The 2D to 3D conversion offered by ImTOO 3D converter Mac is one of the best in the industry. You can convert 2D videos to 3D format with optimized multimedia formats and presets, probably over 150 file formats. As for the editing features, the tool permits you to clip, merge, add effect, crop video, and watermark. In addition to this, general features such as preview, snapping images, and editing video & audio stream are supported.
Pros
Supports different video and audio formats
Able to control frame rate, bitrate, and more
Convert multiple files simultaneously
Cons
You're limited to only conversation in Anaglyph and Side by Side 3D formats
Low resolution output
Core features have not been updated for a very long time
4. Xilisoft 3D Video Converter for Mac
Xilisoft 3D file converter for Mac is one of the best options for Mac OS Mavericks, X Yosemite, and OS X Lion. The tool easily convert 2D video to 3D. It can also convert another 3D video to Standard 3D video as well convert 3D video to 2D. Moreover, it also converts both HD and SD videos. The tool is well compatible with the different of output devices such as iPad, iPhone, and Apple TV.
Pros
Supports Anaglyph (Red or Cyan) video as output
View 3D Movie as Standard 2D Television
Transfer converted files to iPhones, iPad, and iPod
Quick 3D video conversion speed
Cons
Does not work well with AMD GPUs
No new feature has been added for a long time
Free conversions are limited to 3 minutes
Part 2.

How to Convert 2D Movies to 3D Videos on Mac with HitPaw?

We have list the four best 2D to 3D video converter for MacOS. If you're looking for a powerful yet user-friendly 3D video converter, HitPaw Video Converter will be your best choice. Below we will talk about the detailed steps that you must follow to convert 2D videos to 3D using this tool.
Step 1.Begin by downloading and installing HitPaw Video Converter on your device. Launch the tool and go to the Toolbox tab and choose 2D Video to 3D feature here.

Step 2.Make sure that have polarized lenses or head-mounted VR glasses to preview the 3D effects post conversion.

Step 3.The tool supports different effects such as Anaglyph Green/Magenta Gray, Anaglyph Red/Cyan Gray, Anaglyph Side By Side(Full Width), and more.

Step 4.On the right Parallax value line, users can drag to tweak the Parallax value. The more the value, the better the effect.

Step 5.After selecting the parallax value and split mode, you can choose an output format for the output 3D video.

Step 6.In the end, preview the 3D effect and click the Export option to save the 3D video to their device.
Part 3.

FAQs about 3D Converter for Mac

Q1. What should you look for in 3D Converter Software?

A1. The following things must be seen for while selecting a 3D Converter tool: 1. Support for common 2D and 3D formats, 2. Simple interface and easy to use, 3. Enhanced features 4. Excellent technical support.

Q2. Is there an online 2D to the 3D converter tool?

A2. As far as we know, there are not many online 2D to 3D converters. Such tools require high processing power and hence a dedicated software is the right choice for conversion instead of opting for an online tool.

Q3. What is the best 2D to 3D video converter Mac?

A3. HitPaw Video Converter is the best 3D converter for Mac due to its enhanced features and easiness to use.
Conclusion
Having said that, we just had a look at some of the best 3D movie converter for Mac options. According to us, amongst all the option in the list, HitPaw Video Converter is the ideal choice for converting 2D videos to 3D on Mac. It doesn't require special technical skills and provide the pro-level 3D effects for you.