How to Install Free HEVC/H265 Codecs on Windows 11/10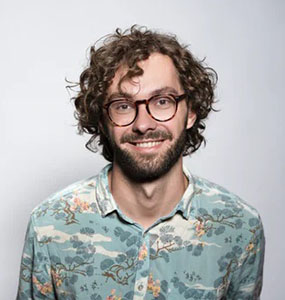 With the development of the technology, you will find the quality of your video has been higher and higher. This is largely due to the advent of HEVC coding. But what will trouble you is that, the HEVC video can not be played on Windows 11 or 10, even Windows 7 or 8 because the quality is too high to be compatible for Windows system. In this time, a HEVC video extensions for free that can decode the video will help you play the HEVC video on Windows. 
You may be confused about what is Microsoft HEVC/H265 extensions and why we need HEVC codec? HEVC means High Efficiency Video Coding (HEVC), also known as H.265 and MPEG-H Part 2, is a video compression standard. And HEVC codec is the program to compress or decompress the video in HEVC so that they can be played on devices.
We need HEVC codecs for Windows 10 or Windows 11 is definitely to accommodate our video playback needs. Without the HEVC codec or HEVC player, your HEVC video can not be played on Windows, because Windows is not support the HEVC codec inbuilt. That is, you need some HEVC codec downloading ways to play your video.
Part 1: Official HEVC Video Extension Free Download in Windows 10/11/8/7
We will get easily cranky when we are stuck in the trouble of plaing Hevc videos. The truth is that your troubles will disappear when you have the HEVC extensions for free on your Windows computer. Considering you may be keen on both official and unofficial methods, we have done rigorous investigations, summarized all methods, and excluded the inferior choice for you. And here are the best 4 that are filtered out if you need an H265 video extension free download for Windows 10 or other Windows systems. You will get the answer for your question that "Where do I get HEVC codec?" after finishing the following content.
1. Paid for Official Version
People will be partial to the official way since there are unknown risks accompanied by unofficial versions such as virus software and spyware. You can enjoy the official one only by paying 0.99$ to Microsoft. There is no double that the HEVC video extensions from Microsoft will provide an experience that is beyond reach for you for its professional element.
If you need the paid version, just open the Microsoft Store. Then search the HEVC video extension. Paid and download it on your Windows computer.
2. Microsoft HEVC Video Extension for Free on Windows 10 or 11
For the question that "How can I get free HEVC video extensions?", you don't need to assume that you have to pay for official software. In this way, you can also satisfy your desires for the HEVC codec on Windows 10 free download from Microsoft. In fact, the free HEVC video extension from Microsoft is exactly the same as the paid version. Nothing but just because it is the HEVC video extensions from device manufacturer free. As a device manufacturer, of course they can pre-install these codecs on their PCs. In the past, you are able to download it for free, but recently the old package seems to be no longer free.
Here is how to download an HEVC video extension from Microsoft store for free on Window 10/11:
Type ms-windows-store://pdp/?ProductId=9n4wgh0z6vhq into the browser and click on Open Microsoft Store when prompted. Then Click on Install to download the free HEVC codec on Windows 10/11.
Part 2: Other Free HEVC Codec Pack to Download on Windows
There are 3 HEVC codec packs for you if you still want to seek other effective ways. For price or other reasons, most people will give up official choice when there are many other free ways to solve their problem. The ways we provide you can definitely help you achieve the goal of free downloading HEVC video extensions.
1. Media Player Codec Pack
Decoding the HEVC video will become an easy thing with the simple and advanced installation of the Media Player Codec Pack. The compression types of files include HEVC, x264, x265, h.265 and etc. The Graphics card GPU detection and acceleration make it become a choice being considered when you need an HEVC codec for free.
2. K-Lite Mega Codec Pack
The K-Lite Mega Codec Pack provides the essentials needed to play the HEVC video files. Additionally, it contains some ACM/VFW codecs that can be used by video encoding applications. Meaning that as long as you have installed the K-Lite Mega Codec Pack on you Windows 10 or 11 computer, things about playing HEVC video on Windows will be promoted smoothly. Just download and try it if you want an H265 codec free download.
3. x265
Anyone with a 64-bit Windows PC can easily take advantage of the x265 to decode your HEVC video. The encoder has been taken and used by many players or converters such as Handbrake and FFmpeg, which indicated that it should be added to your list if you need an H.265 video extension on Windows 10 for free -- because there are many programs that prove it is reliable and usable for you.
Part 3: Can't Play HEVC/H.265 After Installing HEVC Codec?
You may fall into a vicious cycle that can't play H.265 after installing H.265 extension for free. Due to high CPU load, you will find that the playback of H265 video will be freezing or your CPU will be too overheated to undertake the H.265 video playing tasks, even if you have downloaded a free H265 video extension on your Windows. It also depends on your computer hardware and network.
If you want to get away from this, try the following solutions.
1. Upgrade Your Hardware
Now that the problem was caused by old computer hardware, the thing you need to do is to upgrade the hardware of your Windows computer. With the higher requirement of playing H265 video and the need for compatibility with H265 extensions, a new CPU, a new graphics card, and a new RAM are the things you can consider to be upgraded.
In addition to making our computers adapt to the H265 codec, another way to fix this is to convert the H265 video to H264 because H264 is a format that is widely supported by more devices. At the same time, to avoid the problems of helpless free h265 codecs and the high cost of downloading or changing something, finding a converter for H265 to H264 seems to be a wiser choice.
Despite that there are many video converter on the market may help you in this issue, HitPaw Video Converter still is the most recommended one you should try. With the GPU and CPU acceleration, the conversion speed can reach 90X. That is to say, only need for a while, you can play your H265 video on your Windows computer after it is converted to H264. And you don't need to worry about the quality issue, because HitPaw Video Convert will convert the H265 video without compressing the files.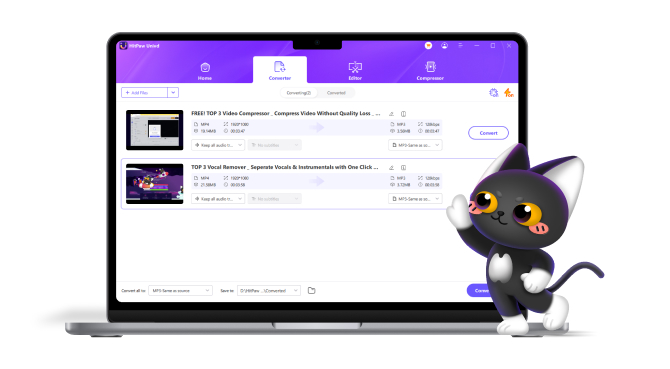 The Outstanding Features of HitPaw Video Converter
90X faster video conversion speed from H265 to H264
Batch conversion supported
Lossless quality video conversion
Convert video to 1000+ formats and devices
Here are the Steps of How to Convert H265 to H264:
Step 02 Input the H265 file(s) you need to convert. You can choose the file with "Add files" or drag the file into the Convert tab. Just put all the H265 files in one folder and select "Add folder" to input all files in one time if you want batch conversion.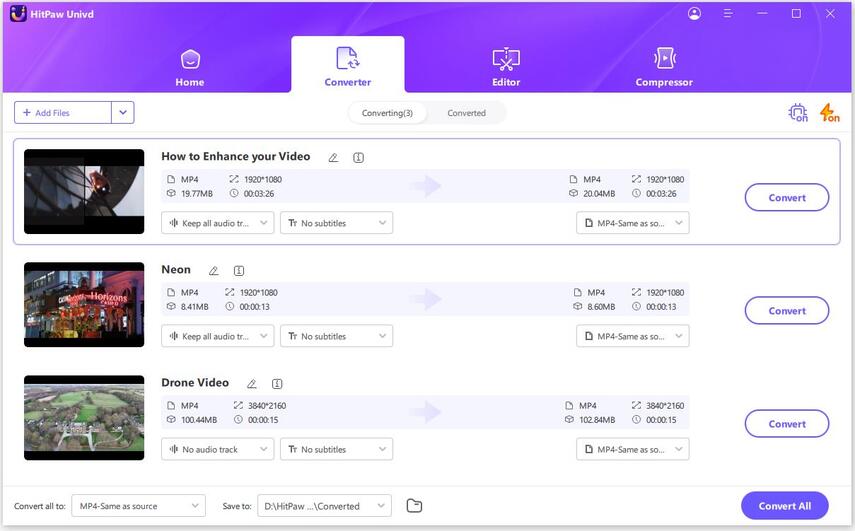 Step 03 You can click on the Hardware Acceleration Detection and Lossless Conversion tab at the top-right corner to enable or disable hardware acceleration and lossless acceleration.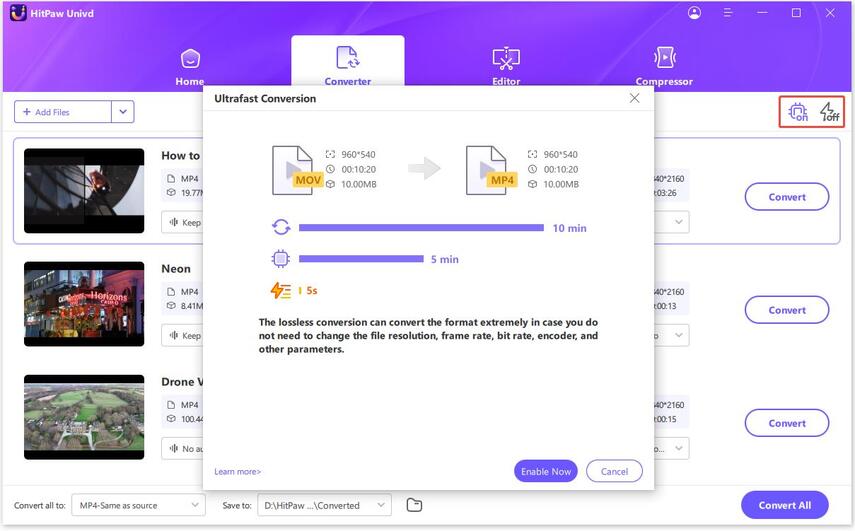 Step 04 Select the H264 format and the folder you need to save the file. After all things are ready, click "Convert" to start your conversion process.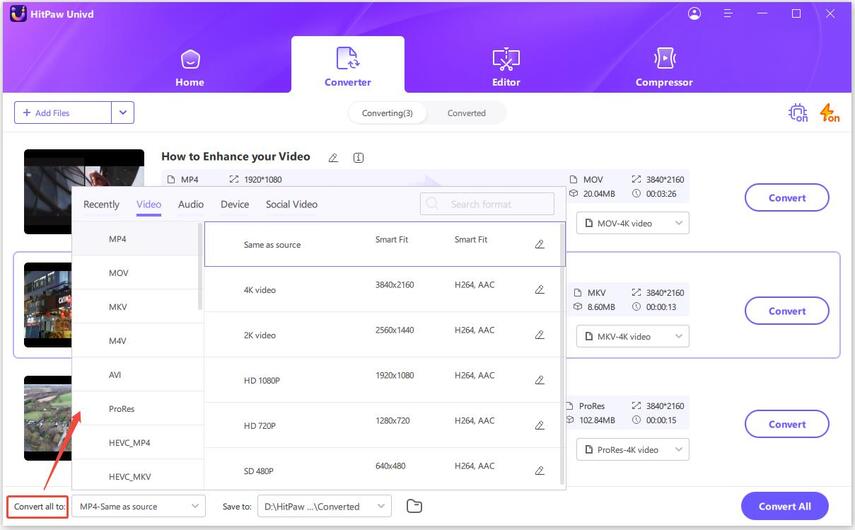 Part 4: FAQs about HEVC Video Extensions Download Free
How do I add HEVC codec to VLC?
Unfortunately, VLC does support HEVC codec. So the related modules of HEVC video codec should be installed by default. Check by: Open VLC player > Tools > Plugins and extensions > Plugins > Search: HEVC.
Does Windows 11 have HEVC video extensions?
Windows 11 does not support inbuilt HEVC video extensions. If you want an HEVC video extension for Windows 11, you need to download or purchase it from Microsoft or choose the type of converter to help you convert the format so that Windows 11 will play them.
Part 5: Use HEVC Codec Alternative Tools to Play 4K/8K Video
There are some video players that come with built-in HEVC codec. So it's not a bad way to play the HEVC video in the player supported HEVC codec. You will not only get a helpful HEVC video extensions for free in this way, but also harvest a convenient player for daily life. Here are 2 HEVC codec alternative tools to play your 4K or 8K HEVC video you must know.
1. HitPaw Video Converter
Apart from being a powerful video conversion tool, HitPaw Video Converter is also a free HEVC/H265 player.
1

Just download HitPaw Video Converter free on your Windows computer.

2

Click the Play icon present on the thumbnail of the uploaded video after inputting or batch inputting the H265 file(s). Then you can play and enjoy your HEVC video.
2. VLC Media Player
VLC media player earned its reputation for being a standout and enduring popular player. It is friendly for beginners, and it will complete the task without pushing any trash ads. You can completely immerse yourself in your HEVC video without being faced with the annoying ads.
You just need to click Open File to open your HEVC video.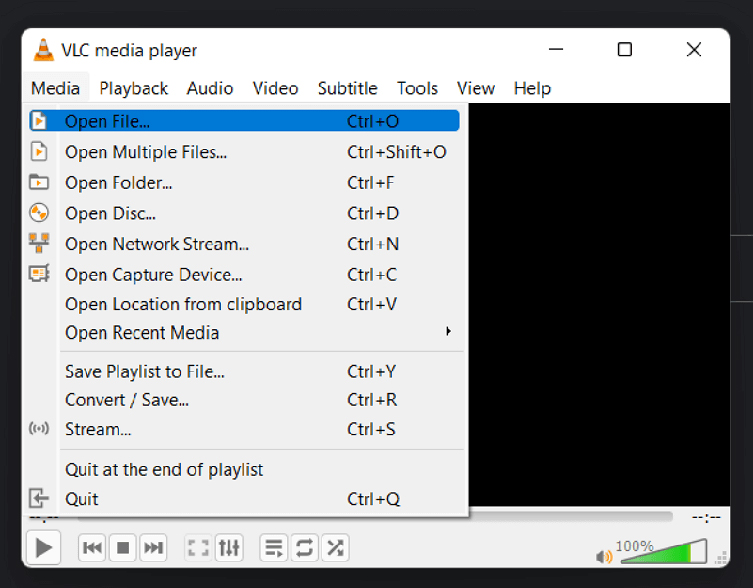 Part 6: Conclusion
Generally speaking, for the problem of playing HEVC video, there are many methods that can help you, for example, you can download the HEVC video extension for free, no matter it is official or unofficial. You can also choose to convert the video format to the one that Windows is compatible with.
But if you want a lower-cost approach, there is no harm in trying HitPaw Video Converter . You will not need to worry the HEVC video can't be played after installing HEVC codec, because the video not only can be played with the built-in player but also can be converted to any format you want.