[Realistic AI Voices] Top 8 Free TTS Generators You Should Not Miss
Accessing the text to speech is easy nowadays as there are hundreds of tools being made available nowadays. The question here is, do these tools offer realistic voices without getting the premium package?
Considering this question, we're about to reveal the 8 sublime free TTS generator tools.
Part 1. How to Convert Script into Voice Free?
Converting the text into speech is way easier than you think, courtesy of the TTS voice generator free. Let's discuss the two most popular scenarios for using a free AI TTS generator.
Scenario 1
Creating the voiceover for marketing purposes is something that has been introduced previously. However, if you don't have an engaging voice, you can turn the written description into a famous celebrity's voice to create a mind-blowing voiceover.
Scenario 2
Having an urge to sound like someone else isn't talked about enough. A free TTS generator might help you replicate the voice of other popular characters by entering the text prompt.
Part 2. Top 8 Free TTS Generators with Pros and Cons
1. TTS Voice Generator Free using Free TTS Online
Free TTS might be a brilliant free TTS generator with the 13 different English languages coupled with the 30 overall languages. Although Free TTS online is a bit underrated, and many people need to learn its credentials, it is worth a try. After turning the text into speech, you won't complain about the sound quality.
Features:
Add SSML codes
30 languages
Allows you to turn the 6000 characters into speech per week
Pros
Easy to use
Terrific sound quality
2. TTS Generator Free with Naturalreaders
If you ask one of the significant Free TTS generators, Naturalreaders would surely make it into that list. With amazing and realistic voices and various voice customization options, Naturalreaders could produce a dream-free AI TTS generator to produce the voiceovers.
Features:
Easy to use
Supported multiple languages
Read any written text
Pros
No login required
Brilliant free trial version
No ads
Cons
Free versions offer limited features
3. Free AI TTS Generator with Wideo
With the Wideo text-to-speech generator, you don't need to pay a penny. The TTS generator free allows you to convert the text into speech to contain breathtaking sound quality. On top of that, Wideo supports multiple languages, and replicating the voice of multiple characters is possible.
Features:
Download the voiceovers
Offers the intuitive user interface
No installation required
Pros
Comes up with the breathtaking voice
Free to use
4. Free AI TTS Generator using Murf AI
Many people opt for the Murd when creating voice overs for business or personal purposes. Besides offering natural-sounding voices, Murf.ai brings in eye-catching and flawless editing options. It allows you to download and share the generated voiceover on any social media platform.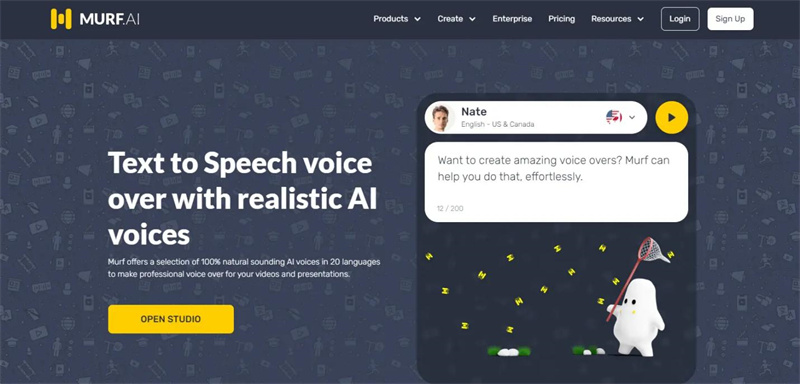 Features:
AI voice changer
Collaborative workspace
120- voices
8000+ licensed soundtracks
Pros
Easy to access
Supports a variety of languages
Cons
Some voices might sound robotic
5. TTS Generator Free with TTSMaker
Although TTSMaker doesn't come up with the most exciting user interfaces, it won't be a bad free TTS generator. Besides allowing you to input tts 10000 characters, TTSMaker also blesses you with mind-blowing sound quality. Moreover, it also supports multiple languages, which isn't difficult either.
Features:
Input up to 1000 characters
Easy to use
No login required
Pros
Offers the various sensational voices
Customize the generated voice
Download the generated audio
6. Free TTS Generator with TextMagic
Trying out more free TTS generators will help you access more reliable options, and TextMagic is another tool you must aim at. It offers an intuitive user interface and provides massively good sound quality. Visiting the official website of this free TTS generator and then generating the text-to-speech is effortless.
Features:
Comes up with an exciting user interface
Turn the text into speech quickly
No installation needed
Pros
Easy to use
Mind-blowing sound quality
Cons
It might work slow at times
7. Free TTS Generator with Speechify
Reading out written texts has become simple and joyful courtesy of Speechify. The free AI TTS generator relies upon modern technology to create voice overs from the written Word document, PDF documents, and more. Regardless of how much reading material you go through at Speechify, it will turn into wonderful speech with immaculate sound quality.
Features:
6000+ audiobooks
30+ voices
5x listening speed
15+ languages
Pros
Offers a clean and smooth user interface
No installation needed
Control the speed of the voice
Cons
Limited options with the free version
8. TTS Generator Free with Voicemaker
Another sublime free TTS generator that could help you to produce amazing voice overs through text is Voicemaker. Since it is an online tool, you don't need to install any software to turn the text into speech. Despite being a free tool, it comes up with an exciting user interface, and the sound quality it comes up with is also breathtaking.
Features:
Allows you to apply the pauses to the generated voices
Modify the Volume and speed of the voiceover
Offers the simple user interface
Pros
No installation needed
Simple to use
Supports multiple languages
Cons
The free version only allows you to Input 250 characters
Part 3. Ultra-Tips: The Best Free TTS Generator on PC — HitPaw Edimakor
Despite thousands of text-to-speech generators being available, only a few are efficient and reliable. HitPaw Edimakor is the best free TTS generator with an immensely powerful sound quality when turning text into speech.
It is a majestic TTS voice generator free that pays attention to all the parameters while generating the voiceover from the written text. HitPaw Edimakor's recommendation will be a good gig considering the top-notch voices and sound quality.
Features:
HitPaw Edimakor is compatible with the AI text-to-speech function.
You can edit the subtitles wonderfully.
It enables you to export and import the SRT.
It enables you to customize the voice parameters of generated audio.
Extracting the audio from the video is also possible courtesy of the HitPaw Edimakor.
It supports multiple languages.
Bottom Line
That's what we've had from this inspirational guide, listing the 8 mesmerizing text-to-speech generators. You can look at all these remarkable online tools, and you won't get disappointed even one bit after using these tools.
All the other tools provide less efficient and powerful sound quality than HitPaw Edimakor.
It allows you to turn the text into speech in a highly realistic voice.