Best 8 Free Sites to Retouch Photo Online with Ease
Transform your blurry and grainy pictures into high-quality Instagram-ready pictures in just a click. YES! You read it right, now you can enhance the quality of your pictures with free online photo retouching tools.
The AI photo retouch online tools, not only make your pictures look better, but also increase the quality and make them appear more clear and bold.
Ahead, we will recommend amazing tools to retouch photo online and make them look more appealing.
1.

8 Photo Retouching Online Free to Refresh Your Photo on Windows/Mac

Let's have a look into some easy-to-use online free online photo retouching tools, that can help you in enhancing your images easily:
Fotor
Fotor's Beauty tool can bring out the glowing 'you' and give your images a makeover regardless of picture quality, with a variety of photo touchup tools to change your pictures. Fotor is ideal for quickly editing any type of image, including selfies, portraits, and shots.
On the main page, click on the" Get started button" to get to the editing window.
Drag and drop or upload your image.
Click on the "Skin retouch button", and let the AI do its work.
Finally, click on the download button to save the final picture to your device.
Cutout
2.The Cutout pro online photo retouching tool, can easily remove elements from your picture that are not needed, and can astonishingly retouch your pictures and make them look amazing. It is effortless to use and the interface is very user-friendly.
Click on the upload option to select the picture or just simply drag and drop it anywhere on the page.
Once your image is uploaded, the editing panel will appear, where you can choose the areas that you need to retouch.
Click on "Done" and download your final picture to your device.
IMGonline
IMGonline is a free online photo retouch tool, which can help you retouch photos online and enhance the quality of your pictures by making them look professional and more attractive, it is a simple, fast and easy-to-use software and ensures safety of your pictures as well.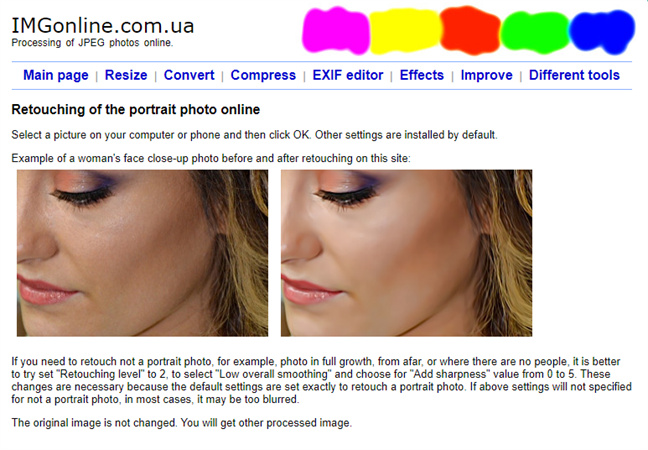 Upload your image in any of the following formats- BMP, GIF, JPEG, PNG, TIFF
Enter the retouching level, ranging from 1-8.
Adjust any other settings if needed, such as sharpness, brigthness, contrast, etc.
Choose the output format and click on 'okay'.
Your final image will be ready, just click on download to save it in your device.
Befunky
Befunky can do it all, it can even out skin tones, enhance blurry pictures, remove blemishes, adjust coloring and a lot more. It is very simple to use and the interface is very user-friendly.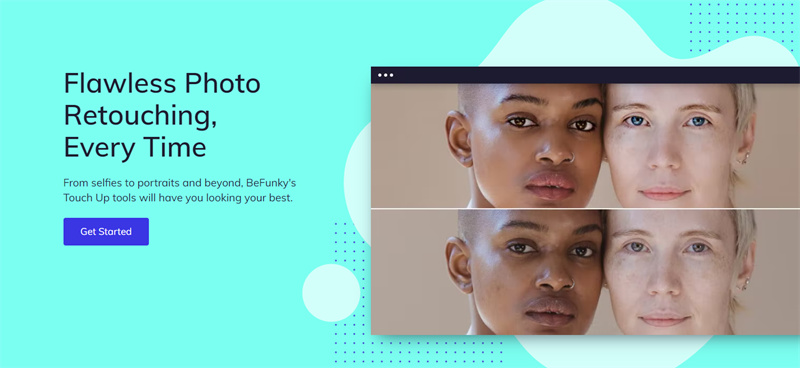 Click on 'Get started' and upload your image.
Select the things that you want to retouch/adjust.
Click on the save button to directly save the final picture to your device.
iPiccy
Retouch photos online free becomes really easy, while using the Ipiccy photo retouch tool, as it is completely safe, fast, and efficient. Ipiccy automatically enhances your image, by making it look better as well as increasing its size.
Upload your image to the user-friendly photo editor.
Open the retouch tab, to start the process.
Select the tools that you want to apply on your picture.
Phowd
If you want to retouch your pictures, without sticking to your computer for hours, trying to figure out complex procedures, you can simply use Phowd to enhance your images in just very simple steps.
Upload the required pictures.
Make adjustments according to your fancy, by using the vast variety of tools.
Let the AI do the rest of the work.
Once the processing is done, simply download your image and enjoy!
2.

Better and Faster: Retouch Photo Online? Let's Retouch Photos with HitPaw AI!

The HitPaw Photo AI is one of a kind Photo enhancing software, which is available for both Windows and Mac, it is fast, easy to use, safe, and totally reliable.

The HitPaw Photo AI can enlarge, retouch and upscale your pictures while ensuring no quality loss.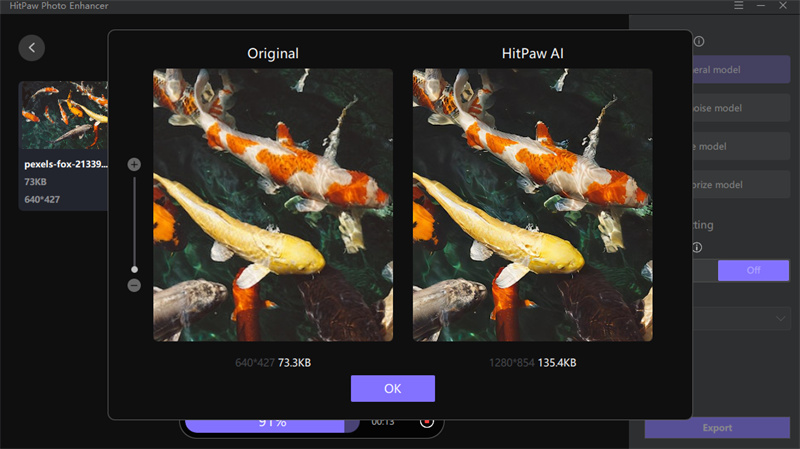 There are no complex procedures involved, and you can enhance your images, simply with a single click.
The 4 AI Model, gives you the freedom to choose from different variations and use the one that you like the most.
The HitPaw Photo AI supports batch enhancing, which saves a lot of time and makes it more efficient to use.
You can use the following simple steps to retouch and enhance your pictures, using The HitPaw Photo AI:
Step 1.Download and install the software by clicking the button below.

Step 2.Upload the images you want to enhance.

Step 3.Select from the 4 different AI models and start processing your image.

Step 4.Preview the outcome and download the final image to your device.
The HitPaw Photo AI also features a Multi-model processing mode, which is an extremely great feature for enhancing old portraits as the AI with its amazing algorithm manages to colorize old black-and-white pictures and make them look extremely realistic.
Conclusion
Photo retouching online free  is now very easy, given that there are so many tools available for enhancing your pictures, one of the best being The HitPaw Photo AI, making the whole process very easy and enhancing the efficiency of your work in all regards.