[Bumble Unblur] How to See Bumble Beeline Without Paying
Bumble is an amazing platform that helps you connect with so many people. It's a fun way to interact with people without having to make it awkward. However, one of the most annoying things about it is that you cannot see the pictures of your matches. The most logical thing would be to just pay for the feature, but if you're short on money.
There's no need to worry. This article will discuss everything related to Bumble unblur. Read on to explore more about it.
1.

[Video Tutorial] How to See Bumble Matches Easily and Freely

Here's a detailed video guide telling you how to see Bumble matches with 2 methods. Click in and know more!
2.

AI Photo Enhancer to Help You One-Click See the Beeline Photo Clearly

Several tools will help you with the Bumble unblur script, but most apps are unsafe. But there's no need to worry, as you can use the HitPaw photo enhancer tool to make your life easy. It's the best tool that you can find on the internet these days for a couple of reasons.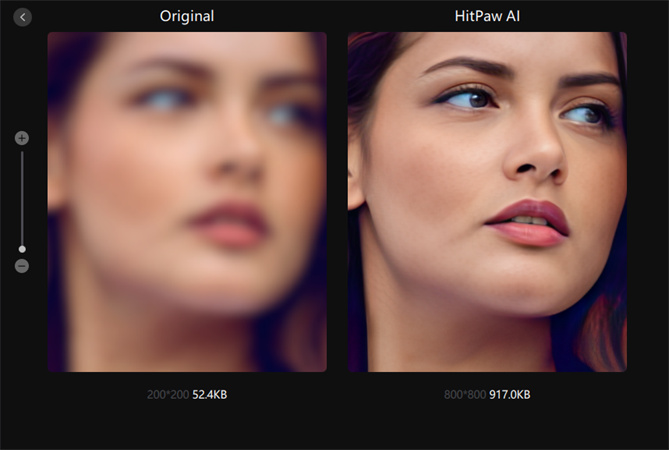 HitPaw Photo Enhancer will help you figure out how to unblur Bumble pictures in a single click, so you don't have to spend extra time on it. Other than that, you can also batch-enhance your photos using this tool.
Here are the pros of using the HitPaw photo enhancer tool for how to unblur Bumble.
It's easy to use as the tool has a user-friendly interface for how to unblur Bumble Beeline.
It's incredibly fast.
You can process your photos in a batch.
Helps save time as you can edit your photos with just one click.
Available for both Windows and Mac.
Here are the steps that you need to follow to use the HitPaw photo enhancer tool for Bumble Beeline unblur.
Step 1.The first step is to download the HitPaw photo enhancer tool from the website and launch it on your computer.

Step 2.Take a screenshot of your Beeline photo from the app.

Step 3.Upload the picture on the HitPaw photo enhancer tool by clicking on "choose images".

Step 4.Now, from the AI options - choose the face model

Step 5.After this, preview the picture and download it if you want!
In case you need an online photo enhancer, HitPaw can help you. It provides the best photo enhancer online free to upscale image, increase image resolution up to 8X. Not to mention the functions of restoring old photos and colorizing black and white photos are the best in HitPaw Online.
3.

Addition Guide - How to Freely See Bumble Matches

For some reason - if you cannot download the HitPaw photo enhancer tool on your computer. Here are some other tricks that you can use for the Bumble unblur extension.
Method 1. Seeing Your Matches
Open up the Bumble application on your phone.
Look at the bottom right corner of your phone and click on the chat icon.
On the top of your screen - you can see the match queue to preview the pictures of your matches without paying.
Method 2. Tricking Your Browser Code
Open Bumble on your computer and then press on "ctrl" + shift + j. And for Mac, press Command+⌥ Option+J. Now the developer console will open on your computer.
From the top of your screen - choose the network tab.

After this, refresh your browser by clicking on the "reload" button located at the side of your search bar. Several URLs will appear on your screen - choose /mwebapi.phtml?SERVER_GET_ENCOUNTERS.

Next, press on the response tab.
From that tab, copy everything.

Open another tab and go to a JSON reader.

Paste the text that you copied from the response tab.
Once you're done - press on the "viewer" tab.
Expand the body menu and others, such as the client encounter menu and the number folders. After that, expand the first user folder from the screen.

At the top of the user folder - you will see "has_user_voted". You need to check for either true or false. If the value is true, then it means that the user liked your profile. But, if the value is false - the user did not swipe on your profile.
4.

5 Pro Tips to Help You Get More Dates on Bumble

Now that you know how to blur the Bumble Beeline, here are 5 tips to help you get more dates on Bumble.
Radiate positivity
Yes, we know it's hard to use Bumble unblur github and constantly look for new matches. However, one of the best things that you can do for yourself is to be positive about it. Look at this journey as a process you must go through rather than a struggle.
Try to add positive things to your bio (don't fake it). Just be yourself, and the people that will get attracted to your vibe will swipe right!
Add a good photo
They say, "first impression is the last impression". At the same time, it's not entirely true. However, your "looks" do matter - at least during the first interaction. You don't have to look like David Beckham to get Bumble matches. Just make sure that your picture is a reflection of who you are as a person. Try to upload a clear selfie - it will leave a good impression.
Be open
Honestly is the best policy. We have heard this phrase a thousand times, and it's the best advice that you can get if you're trying your luck on Bumble. Be true to yourself and your potential matches. Do not try to be someone that you're not, it won't go a long way.
Get creative
People love to read something out of the ordinary. So instead of saying, "I love to bake", try to write something like, "just baked some good old brownies". It will add a new dimension to your profile.
Make use of Bumble badges
Keeping secrets will not do you good on Bumble. So, use Bumble badges to get creative with your profile. You can edit the "my basic info" section of your profile using them. It's a great way to start a conversation.
Conclusion
If you're looking for a tool that can perform Bumble unblur - The HitPaw Photo Enhancer tool is the best software that you can use to get the job done. It is because you will be able to Bumble unblur with a single click.