Top 6 Instagram Video Makers To Unleash Your Creativity
The world of social media has continued its journey as a visually driven space by keeping Instagram at the top of its digital landscape. Due to this reason, the demand for attractive video content on Instagram increases and this is when the need for an Instagram maker arises to make a video on Instagram.
Doesn't matter if you are a professional videographer or a novice looking for a source to enhance your Instagram presence, the given mentioned Instagram video makers will be the perfect choice for you.
Part 1: 3 Easy-to-Use Applications To Make Instagram Videos In Minutes
There was a time when the creation of a video for a social media platform like Instagram was done by hiring a professional or consuming a great time on software. But now you can easily take out from easy-to-use applications available in the market and can create Instagram videos in seconds.
(1) InShot
InShot is a popular and recommended free Instagram video maker that comes with a great variety of features not only for experienced content creators but also for novices. The reason behind getting so much popularity lies behind its user-friendly interface along with the feature to transform raw footage into an attractive video.
Benefits
A list of versatile stickers and text options is available
You can easily add subtitles captions and other fun elements to your video
You can go ahead with a variety of sound effects available in the library of InShot.
Drawback
The process may take more time compared to other available tools.
(2) Vivavideo
Now you are going to discuss another famous video editing application, VivaVideo that has gained a significant position in the world of social media because of its user-friendly interface and robust features. It doesn't matter if you are an experienced content creator or are using this tool for the first time, you will never face any difficulty while performing the entire procedure.
Benefits
A comprehensive music library has been available at VivaVideo.
For enhancing the video look, VivaVideo comes with impressive filters and effects
Users can perform editing on multiple clips at a time
Drawback
Most of the latest editing features need to be purchased.
(3) Movavi Clips
Movavi Clips is considered the best app to make Instagram videos for users who want to create stunning Instagram videos but can find such a tool that allows them to access a variety of features. You will be provided with an accessible platform for the creation of stunning videos from raw footage.
Benefits
Users can make professional-looking videos using the Montage Wizard feature
A large variety of stickers, visual effects, and filters are available for users to use
The supported interface by Movavi Clips is intuitive and simple
Drawback
Access to advanced features needs subscription plans
Part 2: 3 Online Platforms To Make Instagram Videos Easily
In addition to above mentioned effective tools for the creation of Instagram videos, you can also go ahead with different online platforms that you can access anytime. Here are the three most recommended and preferred Instagram video makers that will inspire you from their work:
(1) VEED.IO
An Instagram video maker that caters to a large number of users ranging from marketers and content creators to individuals searching for a source to enhance their videos, is VEED.IO. You can access this free online Instagram video maker at any time to take help from the available amazing features and can uncover your creativity using this advantages tool.
Benefits
It allows multiple users to work on the same project simultaneously
Transcription tools and automated subtitle tools are offered to users
The user-friendly interface helps beginners to access its services easily
Drawback
It has limited precision control and other advanced features
(2) Canva
Canva has successfully gained a significant position in the list of Instagram video makers because of its comprehensive suite of creative tools and accessibility. Because of having amazing specifications, this tool is considered the perfect choice for business individuals and content creators trying to enhance their work.
Benefits
Users can easily add animation and other text effects to their videos
It allows users to access a large library of stock templates, videos, and photos
The video creation process has been made easy because of the drag-and-drop interface of Canva
Drawback
The free version has limited editing features
(3) FlexClip
Searching for a perfect Instagram video maker online is not an easy task especially when your requirements are high. FlexClip Instagram video maker comes with amazing editing capabilities that enable content creators to bring enhancement to their work.
Benefits
A wide library of pre-designed templates is available.
It supports drag-and-drop video editors so that users can easily arrange different clips on a timeline.
Users can easily access the white collection of stock videos, music tracks, and photos.
Drawback
It only supports the creation of straightforward videos.
Part 3: Bonus Tip: Recommended AI Video Editor To Make Instagram Videos
Here is an amazing bonus trip for you and that is another recommended AI video editor that allows users to create Instagram videos without putting much effort. HitPaw Edimakor is here to help you out in getting more views on an Instagram video effortlessly.
HitPaw Edimakor
HitPaw Edimakor is famous because it is listed among the user-friendly and versatile video editing tools that are specially designed to empower beginners so that they can make their first step effortlessly. Users find this Instagram video editor pc an opportunity to uncover their creativity with an array of features available at HitPaw Edimakor.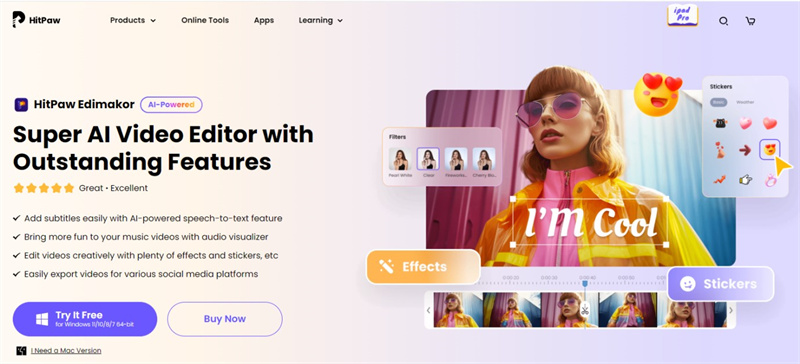 Features Of HitPaw Edimakor
It supports a large variety of output formats like MOV, MP4, AVI, etc
You will be provided with the facility of multi-track editing
Sharing the resultant video directly to Instagram is an easy task
Part 4: FAQs About Instagram Video Maker
Q1. How Do I Make A Video For Instagram?
A1. If you want to make videos on Instagram then you have to follow some simple steps. First of all, you have to create a video on any content according to your desire and then search for an editing app to edit the video. Once you have successfully edited the video then save it on your device and upload it to your Instagram account.
Q2. Can I Make A Video With Pictures On Instagram?
A2. Making a video with photos on Instagram is very common. You just have to move to your Instagram account and then move to the stories portion. Here, you have to choose the picture that you want to add and perform different editing on it like adding text, stickers, etc. Moreover, you can also take help from any Instagram video maker with photos.
Q3. What Is The Best Video Maker For Instagram?
A3. There are a lot of video makers that are working perfectly in creating videos for Instagram. If you are in search of a tool that is not only reliable but also provides high-quality results then it is suggested to go ahead with HitPaw Edimakor. The available features will help you in enhancing the entire appearance of the video.
Bottom Lines
Instagram has become a very popular source of entertainment and it has provided an opportunity to content creators to uncover creativity to audiences. HitPaw Edimakor(Video Editor) will help you to create stunning Instagram videos and increase the number of views on your content.