6 Best Batman Voice Changers in 2023
If you are a DC Comics fan, then you must be familiar with Batman. Batman is one of the most famous superheroes in the DC Universe. The most notable thing about Batman is his voice; many fans want to achieve his deeper voice. However, it is impossible to mimic Batman's voice on your own.
But with the help of Batman voice changer, you can sound like Batman easily. This guide will introduce the best voice changers available online with Batman Voice AI.
Who is Batman? Who is Batman Voice Actor?
Batman, aka Bruce Wayne, a wealthy American Boy, lives in Gotham City. After the murder of his parents, Thomas and Martha, he wages war on the criminals of Gotham City.
He trained his body and mind to become a self-made superhero without superpowers. With the help of his wealth and technology, he has defeated many villains, including Joker, Riddler, Two-Face, and Penguin.
Christian Bale has played Batman Character in Batman Begins, Batman the Dark Knight, and Batman the Dark Knight Rises. However, in the non-live-action version, Kevin Conroy voiced Batman.
In the animated series, Kevin has given a unique voice to this character, which is loved by many fans. Due to his deep, mysterious, and powerful voice, many people want to mimic his voice. To fulfill this job, there are many Batman voice generators available online.
6 Great Batman voice changers to Get Batman voice effortlessly
With so many voice changers on the market, finding the best one is hard. To make it easy for you, below we have mentioned the top 6 Batman Voice Modulators that will allow you to transform your voice into the iconic character voice.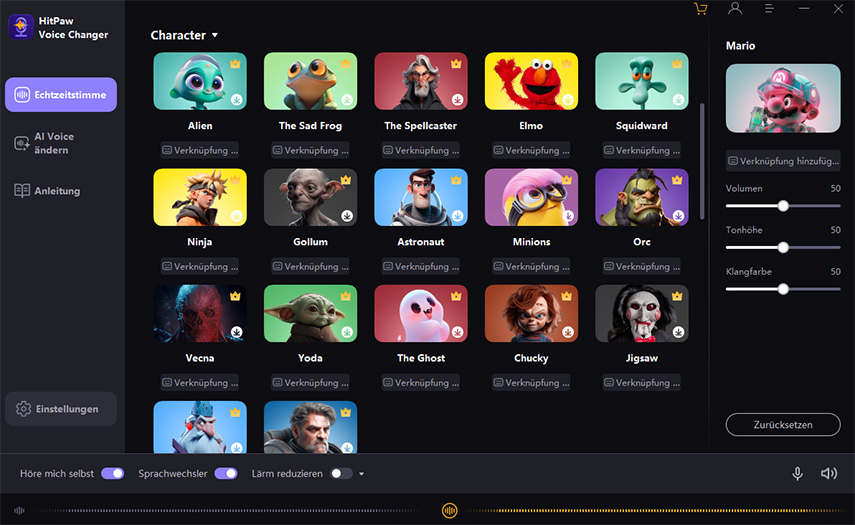 Want the best Batman Voice Simulator for PC? HitPaw Voice Changer is the best choice for those who want to mimic Batman's deep and powerful voice. With this tool, you will get hundreds of voice effects and filters.
These voice effects include the voices of many superheroes and villains, such as Bane, Superman, Batman, Joker, Thanos, and more. HitPaw supports voice changing on platforms like Twitch, Discord, Zoom, YouTube Live, Skype, etc.
It transforms your voice into Batman without lowering the original sound quality. With the help of its Text to Speech features, you can generate speeches in various voices, including Chipmunk, Donald Duck, Megatron, SpongeBob, and many more.
Pros
Best voice changer to mimic Batman voice
Offer a wide range of voice effects and filters
Supports many online platforms such as Discord, Twitch, Zoom, etc.
Clean and easy-to-understand interface
Use it on games like Valorant, CS: GO, Minecraft and more
Noise Reduction feature
Cons
Limited function with free version
Compatibility
Price
Here're easy steps that how you can use HitPaw Voice Changer.
1.Go to "Settings", and click the drop-down button to select the input and output you are using.

2.Choose the effects you prefer and click to apply it.

3.Turn on the "Voice Changer", "Hear myself" and try to speak to your microphone to listen how your voice sound like. If the surrounding environment is noisy, you can manually activate noise reduction. Please don't set the noise reduction level too high, as it may filter out some sounds.

4.After selecting the desired sound effects and previewing them, you can adjust the volume according to your preferences.

5.Change Voice on Discord:Open "Discord", Click your "User settings" and go to "Voice & Video, Then select "HitPaw Vitrual Audio Input" from the drop-down list of input device.

2. VoiceMod

The second Batman Voice Changer App on our list is VoiceMod. This program is perhaps the most used voice changer on our list. With VoiceMod, you can create customized voices in HD quality.

It offers over 100+ voice effects, including voices of Super Heroes, Celebrities, and Politicians. This tool is easy to use and quickly alters your voice into Batman.

With the help of this tool, you can change your voice while playing games, streaming, and chatting. It supports many online platforms, including Discord, YouTube, and more.

Pros

Offers a wide range of voice effects
Supports Hotkeys for easy transformation
High-quality voice effects and filters
Can alter your voice in real-time
Has a free version

Cons

Only available on Windows

Compatibility Price

3. AV Voice Changer

If you want to entertain your family and friends in the voice of Batman, then this program is your best option. This tool can disguise your voice in any character, like Alien, Monster, Atari, Female, and more.

It also offers a wide range of celebrities and cartoon voices. Once your voice changes, connect this program with platforms like Skype, Zoom, Discord, and Twitch, and then prank your friends.

The Batman voice changer also allows you to create unique sound effects by mixing the real ones.

Pros

Offers various options to create unique voice effects
Integrates with platforms like Skype and Zoom
Has realistic voice effects and filters
Easy-to-use interface

Cons

It has an outdated UI design

Compatibility Price

4. MorphVox

MorphVox is another Bane Batman Voice Changer that can alter your voice in real time. This program offers many famous characters voices, including Bane, Joker, Batman, Superman, and more.

MorphVox offers two variants, Junior and Pro. Junior is the program's free version with limited voice effects, and the pro version is the paid version with unlimited voice effects and features.

If you want the Batman voice AI, you must purchase the paid version. With the paid version, you will also get a customization option to change the existing voices.

MorphVox Pro is famous among YouTubers and Content creators due to its compatibility with many popular platforms such as Twitch, Discord, Zoom, etc.

Pros

Has a straightforward interface
Can customize voice effects
Famous among YouTubers and content creators
Compatible with Twitch, Skype and Zoom
Offers a Free version

Cons

The free version only has three voice effects

Compatibility Price

5. Voxal Voice Changer

Voxal Voice Changer is the oldest voice changer available on the market. With it, you can create realistic Batman voice AI on platforms like Twitch, Skype, Twitch and more. Moreover, this program offers voice effects like Alien, Monster, Chipmunk, etc.

If you are unsatisfied with the voice effects, don't worry; with its customization feature, you can make your own voice effects.

This program is compatible with Windows and Mac Systems.

Pros

Offers a huge library of voice effects
Can change your voice in real-time
Includes background sound effects to enhance your experience
Allows you to download altered audio clips in popular formats

Cons

Some users say that the output audio is not clear

Compatibility Price

6. Voicechanger.io

The only batman voice changer online on our list is Voicechanger.io. This program is free, and the best part of this platform is that no sign-up is required. It offers over 50+ voice effects, including Batman, Alien, Monster, Radio, and many more.

The voice-changing process is so simple that this program allows anyone to alter their voice in real time. Further, it allows you to alter pre-recorded audio files and download them in MP3 or WAV formats.

Pros

Offers 50+ voice effects and filters
Online platform and no sign-up is required
Download audio clip in MP3 format
Simple and easy-to-use interface

Cons

Lacks on Advance features

Compatibility Price
Find the Most Suitable one for you quickly.
Follow the below table to find out which Batman voice changer is the best.
| Voice Changers | Compatibility | Price | Pro |
| --- | --- | --- | --- |
| HitPaw | Win/Mac | $15.95 | High-Quality Batman voices |
| VoiceMod | Windows | $45.00 | Hotkeys |
| AV Voice Changer | Windows | $99.95 | Easy-to-Use |
| MorphVox | Win/Mac | $39.99 | Famous among Youtubers |
| Voxal | Win/Mac | $29.99 | Alter voice real-time |
| Voicechanger.io | Online | Free | No sign-up requires |
FAQs of Batman Voice Changer
Q1. How can I change my voice like Batman?
A1. To change your voice like Batman, use the HitPaw voice changer and select the Batman voice effect. Then, choose your input-output device and click the filter to apply it.
Q2. Why doesn't Batman use a voice changer?
A2. In Fact, Bruce Wayne uses a voice modulator in Batman movies to mask his original voice. After wearing the mask, his voice will become deeper and more powerful, so no enemies will recognize him without the mask.
Conclusion
This Guide has some of the best Batman Voice Changers that you can use to mask your voice. All these tools offer Batman voice effects. But HitPaw Voice Changer is the best because it offers various Batman voices. It also offers real-time voice changes, a soundboard, a music player, and more features.