How to Unblur Video without Any Difficulty
Do you have several blurry videos but no clue how to fix the problem? Do you want to improve the clarity of your old videos? Have you ever received a video of poor quality from someone else?
If you answered yes and are interested in fixing the videos, read on to find out what can be causing the blurriness and how to unblur a video quickly and easily.
Part 1. What will Cause Blurry Video?
It's important to know why certain videos blur before learning about common techniques for fixing the problem. You may use this knowledge to prevent such challenges in the future. Here are some of the most common reasons for blurry videos, which most video creators will eventually encounter:
Interoperability between programs.

When you watch a video, you could notice that the detail in it isn't very good. It's possible that the video's compression strategy is incompatible with the version of your media player. If you want to see the video, make sure it's in that format. This is why media players require newer versions of their software to prevent video quality issues like blurring and distortion.

Help with various codecs.

After the video has been compressed into a file, a codec is applied to it. If a video seems blurry in your media player, while being in a format that the player should be able to read, it's likely because your computer doesn't have the codec installed to play it.

Disk space is really limited.

If your computer's hard drive is full, the video may not play clearly. A hard disk might get completely overwhelmed by the huge volume of its stored contents and programs. Even worse, they can impede your computer's functionality. When you try to play a video that was recorded before this, you'll receive blurry vision.

Data authenticity.

Inadequate encoding is another cause of blurry video. Videos need to be digitalized correctly in addition to having codec support, suitable software, or enough disk space. An improper digitizing process might result in a blurry video.
Part 2. How to Unblur Video on Windows and Mac with AI Video Enhancer?
Whether you're looking to improve your general videos, animation videos, human face videos, or black-and-white movies, HitPaw Video Enhancer has you covered.
You might be wondering why a program that uses AI video enhancer to improve video quality would be necessary. Because the computing power of video enhance AI tool will allow us to automatically detect enhancement targets and finish the enhancement process. Furthermore, we don't require any specialized knowledge or training.
This fantastic Windows and Mac AI video upscaling program smooths out the video by adjusting the levels of brightness, contrast, and saturation. You won't find an easier way to improve your low video quality to high.
You can now enjoy beautifully improved videos with the help of HitPaw Video Enhancer.
HitPaw Video Enhancer's Best Functions:
Made your old footage video to look better with only one click, especially with the help of trained AI video upscaling tech.
Increase video quality to 8K or any other desired resolution with ease.
Specialized face and animation model for flawless anime.
Unblur and remove the noise from your video as if it were brand new.
Here are the detailed steps of how to unblur a video that has been blurred:
Step 1.Get the Windows or Mac version of HitPaw Video Enhancer and run it.

Step 2.Select the video you want to improve to a higher resolution, up to 4K, and then use the provided drag-and-drop interface to do it.

Step 3.Select a good AI model for your videos. Choosing 4K as the export quality will automatically up the resolution of the video to that standard.

Step 4.You can click "Preview" to see how it will look.

Step 5.Then you can just click "Export" and it will be on right away.
Learn how to make a blurry video clear up to 4K, with HitPaw Video enhancer for Windows and Mac from this video.
Part 3. How to Unblur Video Online for Free?
For those users whose computer does not have enough memory, using online video enhancer is a wise choice. So the best way to unblur video online free is using Clideo.
Clideo Video Clearer is a free internet tool that can fix blurry videos online free without the need for additional software to be downloaded and installed.
The Clideo Video Clearer is a web-based tool that can be used to remove the blur from videos. It's a free internet service that can fix any blurry video in seconds.
Here are the quick and easy procedures to take advantage of Clideo Video Clearer's online, remove blur from video and make blurry video clearer free online.
Step 1.1.Visit Clideo Video Clearer's website and click the box labelled "Choose files." In order to remove fuzz from a video, you can upload it from your PC, Google Drive, or Dropbox.

Step 2.After you submit your blurry video, you can choose from many filters to make it clear again. Modify the picture's exposure, colour, and contrast here.

Step 3.The video blurriness can be eliminated by increasing the brightness and decreasing the contrast. Obviously, this won't be a complete fix if your video is really blurry, but it may assist.

Step 4.After you have finished making changes, choose an output format like M4V, MKV, MP4, MOV, M2TS, FLV, or F4V. If you want to play it on a mobile device, the MP4 format is your best bet.

Step 5.Just preview the updated video and see how it looks. If you like what you see, just hit the download button. The clear video may be stored on your PC, Google Drive, or Dropbox.
Part 4. How to Make Video Clearer on iPhone?
For many people, they use advanced iPhones, but they don't know how to use iPhone to unblur video. Actually it's a very simple thing to learn how to unblur a video on iphone. The following are the 3 apps that you can use to make your videos clearer on iPhones:
1. Using the Photos App for Free
The Photos app on the iPhone and iPad allows you quick and simple access to all of your photos and videos. It also has video editing abilities. There is no necessity for an additional tool, so there is no associated cost. Very simple. Read on to know how to fix a blurry video.
Step 1.To unblur an iPhone video, you first launch the Photos app and then choose the video in the issue. Then, in the video editing window that appears, select the Edit button and go to the Adjustment section.

Step 2.You can select Noise Reduction by swiping to the right. Raise the setting to 100 if your video is really blurry.

Step 3.Then, go to the left side of the screen where it says "Sharpness" and increase it to between 20 and 30.

Step 4.When you're finished, click the Done button to save the video to your library.
2. Unblur a Video on iPhone via the VN App
To fix the blurriness of your video, you can utilize a separate program, and one of the greatest editing tools available will help you do it. The VN video editor is the best program for editing videos. A straightforward interface is a potential feature of this program. When compared to similar programs, this one performs rather well.
To learn how to unblur videos from an iPhone video using the VN app, read on.
Step 1.To add a new video, open the VN Video Editor app on your iPhone, then select the Plus (+) button.

Step 2.The next step is to go to the New Project option and pick a video to work on.

Step 3.To adjust the filter settings, click the Filter button. Scrolling to the right will reveal the Sharpen options. Increase it to 30.

Step 4.Select Noise Reduction, then increase the value to 100. Confirm by tapping the checkbox. Once you're satisfied with your video, save it.
Part 5. How to Fix Blurry Videos on Android?
CyberLink's PowerDirector is an editing program that combines the sophistication of professional programs with the ease of use of consumer ones.
When it comes to supporting cutting-edge formats and technology, it typically outpaces its professional competitors. It has everything you need to make a professional-quality digital movie, including transitions, effects, and titles.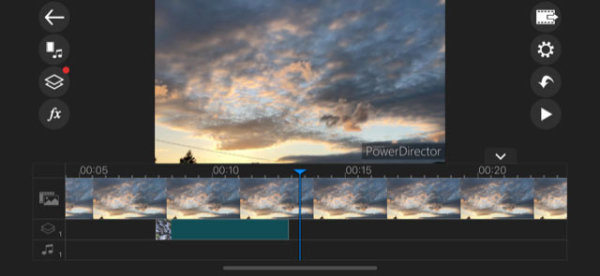 CyberLink PowerDirector Mobile Android's resolution and bitrate parameters impact the quality and size of the final video by performing the following:
Step 1.On the producing video page, change the resolution from SD to Ultra HD(4K).

Step 2.To change the bit rate, go to the settings menu and choose Bitrate.

Step 3.Make the switch from low to high bitrate for higher quality but less file size.
Part 6. FAQs of Unbluring Video
1. Why Do iPhones Send Blurry Videos?
Before sending the file over MMS, certain wireless providers may compress it. Depending on the device's capabilities, the transferred file might be compressed, blocky, and grainy when playing the iPhone video.
2. How to unblur YouTube videos?
If you're seeing blurriness while streaming videos on YouTube, it might be due to a slow connection. If it's not the network, then maybe the video's resolution is too low. Setting the resolution to a higher definition, such as 720p, 1080p, or 4K, is the simplest approach to unblur a YouTube video.
Part 7. Conclusion
So, can you unblur a video? Of course, you can. In this article, we discussed the causes of blurriness in videos and provided you with multiple solutions of how to make a video not blurry.
HitPaw Video Enhancer is a fast and easy way to automatically improve your video quality. Expert video editors can utilize HitPaw Video Enhancer to make precise adjustments to blurry videos and pictures. Now is the time for video unblur.