Dates, Tickets and Everything You Wonder about Coachella 2023!
Coachella is one of the biggest and most popular music festivals in the United States, held annually in Indio, California.
Every year, music lovers from all over the world flock to this festival to experience an unforgettable weekend of music, art, and culture. In this article, we'll take a closer look at Coachella 2023 and everything you need to know to prepare for this incredible event.
From the lineup to the location, we've got you covered. So let's dive in and get ready for Coachella 2023.
Part 1. Basic Info About The Coachella 2023
1. What is Coachella?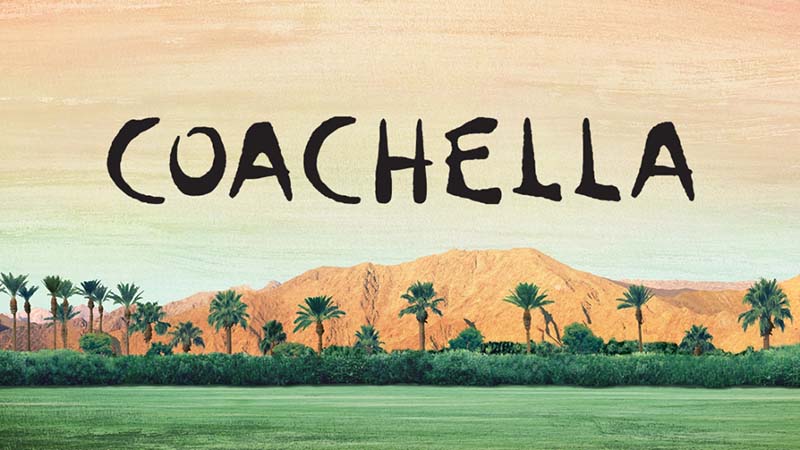 Coachella is an annual music and arts festival held in California, United States. It takes place over two consecutive weekends in April and features a diverse lineup of musicians and artists from various genres, such as pop, rock, hip-hop, and electronic dance music.
The festival is also known for its fashion trends and celebrity sightings. In addition to music, the festival offers a range of art installations, food vendors, and other attractions.
The first Coachella festival was held in 1999, and it has since become one of the most popular and profitable music festivals in the world.
2. What is the Coachella 2023 Dates and Where is Coachella 2023 held?
Coachella 2023, the 22nd edition of the popular music and arts festival, took place over two weekends in mid-April 2023. The Coachella 2023 location is Empire Polo Club in Indio, California. This much-awaited event featured an impressive Coachella 2023 lineup of talented artists and performers from around the world.
Headlining the festival were some of the most sought-after names in the music industry, such as Puerto Rican rapper Bad Bunny, South Korean girl group Blackpink, American singer Frank Ocean, and American rock band Blink-182. With its diverse selection of artists and genres, Coachella 2023 truly represented a celebration of music and arts.
3. Who performs at Coachella 2023?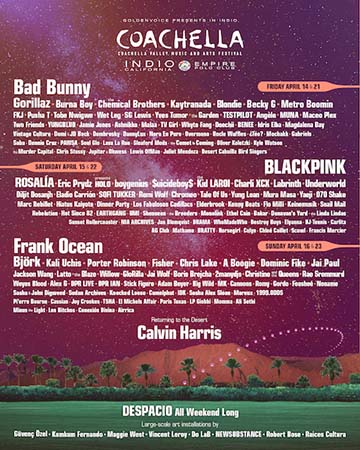 Coachella 2023 featured an impressive and diverse lineup of talented artists and performers from around the world:
● Bad Bunny
● Blackpink
● Frank Ocean
● Blink-182
These headliners and many more contributed to the festival's celebration of music and arts at the Empire Polo Club in Indio, California, over two weekends in mid-April 2023.
Part 2. Where to Watch the 2023 Coachella Livestream?
Coachella 2023 can be streamed live on its official YouTube channel on the first weekend. The good news is that this year's event will feature an extensive slate of streaming on the second weekend as well, instead of just select highlights.
You can access the live streams on desktop, mobile, or via the YouTube app on Coachella's official YouTube page. This year, instead of only three stages, you can access six stages from the festival.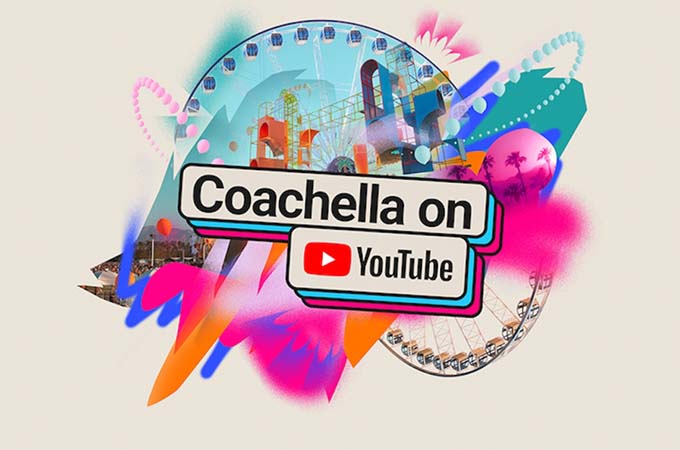 The streaming starts on April 14 at 4 p.m. PT and continues on April 21 at the same time for the festival's second weekend. Coachella's YouTube will also rerun video performances from the day prior following each day of festivities.
Part 3: Download Coachella 2023 Video from YouTube
To download the Coachella 2023 video from YouTube, you can use HitPaw Video Converter. This powerful tool supports downloading and saving videos from over 10,000 popular sites, including YouTube, Facebook, Instagram, and SoundCloud.
Here's a set of instructions to follow if you want to download a video of Coachella 2023 from YouTube using HitPaw Video Converter:
Step 1. Download & launch HitPaw Video Converter and go to the Download tab.

Step 2. On your system's browser window, access the YouTube website and copy the URL of the video you want to download.

Step 3. Navigate back to the Download tab and select the "Paste URL" sign or drag and drop the video URL into the interface box. Wait for HitPaw Video Converter to analyze the link and display the video and audio information available. You can also decide on the file type, subtitle, and thumbnail download.

Step 4. Click the Download button to initiate the download process for an MP4 or MP3 format. Pause and resume the download at any time.

Step 5. Once the download is successfully completed, locate the video file in the Finished tab. You can use the built-in player to play the video, open the output folder to review converted files, or edit the downloaded video.
Part 4. How to Enhance Downloaded Coachella 2023 Video to 4K?
If you've downloaded a video of Coachella 2023, but it's not in the 4K quality that you were hoping for, don't worry - you can enhance it with the help of an AI video enhancer! HitPaw Video Enhancer is an excellent option to consider, as it is equipped with advanced AI technology that can transform low-quality videos into stunning 4K resolution.
One of the standout features of HitPaw Video Enhancer is its simple and clean interface, which makes it easy for users of all levels to navigate and use effectively. Plus, with its advanced AI technology, you can trust that your video will be enhanced in the best way possible.
Here are some of the features of HitPaw Video Enhancer:
Advanced AI technology for enhancing low-quality videos
Simple and clean interface for easy use
Preview your enhanced video without watermarks
Enhance the downloaded Coachella 2023 video to 4K quality
User-friendly for all levels of experience
Here is how to enhance the video quality of Coachella 2023 to 4K:
Step 1. Start by downloading the official HitPaw Video Enhancer package from its website to your computer.

Step 2. After installing the program, import the video you want to enhance using the "Choose File" option or by simply dragging and dropping it into the player.

Step 3. HitPaw Video Enhancer has 4 different artificial intelligence models to choose from, including a general denoise model, an animation model, and a face model. Select the AI model that best fits your needs.

Step 4. Once you've uploaded your video, click the Preview button to begin the processing, which should only take a few seconds.

Step 5. Once you're satisfied with the enhanced video, click the Export option to save it and enjoy watching Coachella 2023 in 4K resolution.
Learn How to Enhance Coachella 2023 Videos with HitPaw Video Enhancer:
Part 5. FAQs of the Coachella 2023
1. How much is a Coachella ticket 2023?
Tiers determine ticket prices, and prices for General Admission passes start at $549 before fees in Tier 1. The Coachella 2023 tickets price tiers then increase as follows:
● Tier 2: $574
● Tier 3: $599
● Tier 4: TBA
● Tier 5: $649
If you're looking for something more luxurious, VIP tickets to Coachella are also available, starting at $1,069.
2. Is BlackPink performing at Coachella 2023 weekend 2?
Yes. Fans of K-pop sensation Blackpink were thrilled as the group returned to Coachella 2023 on Saturday, April 22, to close out the second night of the festival's second weekend.
It was a night to remember, with Blackpink delivering an unforgettable performance that left the audience wanting more.
3. Is Coachella hosted every year?
Yes, Coachella is typically hosted annually in Indio, California. The festival is known for its star-studded lineup of musical performances, as well as its art installations and other attractions. However, the festival was canceled in 2020 and 2021 due to the COVID-19 pandemic.
Part 6. Conclusion
Coachella 2023 promises to be a memorable experience for music lovers and festival-goers. With an impressive 2023 Coachella lineup of performers and numerous attractions, attendees are sure to have an unforgettable time.
If you're planning to attend Coachella 2023, be sure to get your tickets early to take advantage of better pricing. And if you're looking to enhance your video memories from the festival, consider using HitPaw Video Enhancer to upscale your footage to 4K quality.
With its advanced AI technology, easy-to-use interface, and watermark-free previews, HitPaw Video Enhancer is an excellent tool to enhance your Coachella 2023 videos for optimal viewing pleasure.