Lights, Camera, Action: Your Guide to the Venice Film Festival 2023
The Venice International Film Festival, one of the world's oldest and most prestigious film festivals, celebrated its 80th edition in 2023. This article provides insights into the festival's basic information, jury members, venue, and its most coveted award. We'll also look into tools you can use to enhance your video quality and enjoy Venice film festival 2023-like screenplay.
Part 1. Basic Info About The Venice Film Festival 2023
Venice Film Festival 2023 Dates
About the Venice film festival 2023 dates, the 80th Venice International Film Festival took place from 30 August to 9 September 2023.
Venice Film Festival 2023 Jury
The Venice international film festival 2023l has announced the jury members for its 80th edition. Alongside Damien Chazelle, the jury will consist of Saleh Bakri, Jane Campion, Mia Hansen-Løve, Gabriele Mainetti, Martin McDonagh, Santiago Mitre, Laura Poitras, and Shu Qi. This jury will be responsible for determining the recipients of several official prizes for the competing feature films.
Where is Venice Film Festival held 2023?
The Venice Film Festival 2023 will be held at Lido di Venezia, Palazzo del Cinema.
What is the highest award in Venice Film Festival?
The Golden Lion, as the festival's premier prize, is conferred upon the best film showcased in competition. Over the decades, this award has served as a launchpad for numerous films and directors, propelling them to global acclaim.
The Venice Film Festival, with its rich history dating back to 1932, holds the distinction of being the world's oldest film festival. Throughout its illustrious journey, the festival has earned a reputation for spotlighting innovative and audacious films, often catapulting winners to worldwide fame and success.
Part 2. What are the Golden Lion Winners in 3 Years?
1. Nomadland (2020)
Director: Chloé Zhao
"Nomadland" is a poignant exploration of the American West through the eyes of Fern, a woman in her sixties. After the economic collapse of her hometown in rural Nevada, Fern decides to pack her van and embark on a journey through the vast landscape of the American West, living as a modern-day nomad. The film delves deep into the underbelly of the American dream, capturing the sense of loss, adventure, and the unbreakable human spirit.
2. Happening (2021)
Director: Audrey Diwan
"Happening" (L'Événement) is a gripping narrative set in the 1960s France, revolving around Anne, a young woman who finds herself pregnant. With abortion being illegal in the country at the time, Anne faces the harrowing challenge of seeking a safe but clandestine way to terminate her pregnancy. The film is a powerful commentary on women's rights, societal norms, and the lengths one goes to reclaim control over their own body.
3. All the Beauty and the Bloodshed (2022)
Director: Laura Poitras
From the talented hands of Oscar-winning director Laura Poitras comes "All the Beauty and the Bloodshed." This profound and heartfelt tale dives deep into the life of the famed artist and activist, Nan Goldin. Through captivating slideshows, personal interviews, revolutionary photographs, and exclusive glimpses into her relentless pursuit to hold the Sackler family answerable for the overdose epidemic, Poitras crafts a memorable narrative that resonates on multiple levels.
Part 3. Ultra-tips: How to Enhance the Venice Film Festival Movies to High Quality
For film enthusiasts, watching Venice Film Festival winner movies in the highest quality is a must. To achieve this, an AI video enhancer is essential. Enter HitPaw Video Enhancer, a state-of-the-art tool designed to upscale and enhance video quality.
Features:
Mature AI Technology: Uses advanced AI algorithms to upscale videos.
Simple and Clean Interface: User-friendly design ensures easy navigation.
Preview Without Watermarks: Check the enhanced video before saving.
AI Upscaling: Automatically upscale low-resolution videos to 4K/8K.
Noise Reduction: Effectively removes background noise from videos.
Sharpen Video: Uses AI to recognize textures and remove blurs.
Enlarge Video: Losslessly enlarge videos while preserving details.
Colorize Black and White Movies: Add natural, realistic colours to old films.
Batch Processing: Enhance multiple videos at once.
GPU Acceleration: Faster video processing with GPU support.
HitPaw Video Enhancer: A Step-by-Step Guide
Step 1. Get Started with the Software
Head over to the official HitPaw Video Enhancer website and download the application. Once downloaded, follow the installation prompts to get it up and running.

Step 2. Choose Your Video
You can either click on the "Choose File" button to browse and select the video you want to enhance or simply drag and drop the video into the designated area.

Step 3. Pick the Right AI Model for Your Video
This is where the magic happens. HitPaw offers four distinct AI models tailored for different types of videos:

General Denoise Model: Ideal for real-scene videos, capturing landscapes, buildings, animals, and more.
Animation Model: Specifically designed to handle animation videos, especially those that might be old or blurry.
Face Model: If your video primarily focuses on faces, this model will ensure they appear clear and sharp.
Colorize Model: Perfect for bringing life to black and white or grayscale videos by adding color.

Step 4. Preview and Save Your Enhanced Video
Before finalizing, you can preview the enhanced video to ensure it meets your expectations. Happy with the results? Click on the "Export" button to save the enhanced video. If you're using the free version of the software, remember that you'll need to purchase the full version to save and share the enhanced video without any restrictions.
For Batch Enhancements
If you have multiple videos to enhance, HitPaw has got you covered. Use the "Choose File" option to upload all your videos. Then, pick an AI model that suits all or use the "Batch Apply" button to apply the same model across all videos. Preview each one, make adjustments if necessary, and once satisfied, hit "Export". The software will then process and save all your enhanced videos.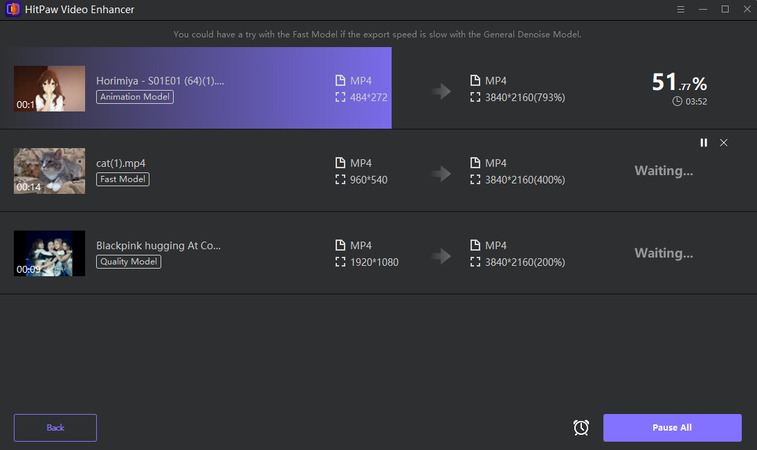 Part 4. FAQs of Venice Film Festival 2023
Q1. How do I attend the Venice Film Festival 2023?
A1. To attend the Venice film festival 2023 submission, you need to purchase tickets or passes, which are available on the official La Biennale di Venezia website. There are different types of passes, including those for the public, professionals, and students. The festival offers a range of Venice film festival 2023 tickets options, from single screenings to multiple-day passes. It's essential to book tickets in advance due to the high demand, especially for popular screenings.
Q2. Is Venice crowded during the film festival?
A2. Venice is a popular tourist destination, and it can get quite crowded, especially during peak seasons like the Venice Film Festival. The busiest months in Venice are typically from April to October, with the highest crowds in July and August. The Venice Film Festival, held in late August, attracts a significant number of visitors, adding to the usual summer crowds.
Q3. What movies will be at the Venice Film Festival 2023?
A3. The Venice International Film Festival 2023 will feature a diverse lineup of films. Some notable movies making their world debuts include Bradley Cooper's "Maestro," Sofia Coppola's Priscilla Presley movie, Michael Mann's "Ferrari," David Fincher's "The Killer," and Ava DuVernay's "Origin." The festival will also showcase films from controversial directors like Roman Polanski and Woody Allen. Other anticipated films include Yorgos Lanthimos' "Poor Things," starring Emma Stone and Mark Ruffalo, and Michel Franco's "Memory," with Jessica Chastain and Peter Skarsgaard.
Conclusion
The Venice Film Festival 2023 is a prestigious event that celebrates the art of filmmaking. With its rich history and commitment to showcasing the best in cinema, the festival attracts filmmakers, celebrities, and film enthusiasts from around the world. The 2023 Venice film festival edition promises a diverse range of films, from high-profile Hollywood productions to independent gems.
If you're a film enthusiast or planning to attend the Venice film festival 2023, consider enhancing your movie-watching experience with HitPaw Video Enhancer. This tool can improve video quality, making your viewing experience even more immersive. Whether you're revisiting classics or exploring new releases, HitPaw ensures every frame is in its best light.