What is Youcut Video Editor and How to Use It with Ease
After taking nice videos and photos with your camera or mobile phone, you want to edit it to make it look nice. There are different kinds of video editors out there but you want the best of them to give you the high-quality video you crave. This is why you need Youcut video editor. With Youcut video editor for pc, you don't need to be a professional video editor before you can make high-quality videos.
Summary
Summary
This is an article about Youcut video editor, we will tell the main features of it, the system it supports, how to use it in detailed steps, the pros and cons of it.
What is Youcut Video Editor App
Youcut video editor is a capable video editor that can transform videos from your camera or smartphone to a movie. It has most of the video-editing tools you will find in top quality video-editing apps. However, Youcam is free to use. It was developed by Inshot Inc.
Youcut Video Editor Pro Apk Features
| No. | Features | Details |
| --- | --- | --- |
| 1 | Free Video Editor | Use Youcut video editor without paying a dime. Use all the video editing tools at no cost. |
| 2 | Video Cutter or Trimmer | Cut and trim your videos to fit your taste. It makes it easy to remove unwanted parts in your videos, leaving only the parts you like. |
| 3 | Video Merger | Join cut videos or separate videos to form a movie you would love. It is as easy as clicking a button. |
| 4 | Video Splitter & Slicer | Split and slice videos into parts so you can arrange them in your preferred order. |
| 5 | Zero Watermark | Get a neat video with no watermark at all. |
| 6 | No Ads | On the Youcut video editor pro apk version, you can choose not to see ads while using the software. |
| 7 | Video Speed Control | Control video speed so you can highlight special moments. |
| 8 | Video Compressor & Converter | Do you think your video file is too large? You can compress it and still retain its high resolution with Youcut. |
| 9 | Share Video Online | Enjoy multiple options for sharing your projects online via YouTube, Instagram, Facebook, etc. |
Which System and What Format Youcut Video Editor Support?
Youcut supports lots of video formats including Avi, DivX, mp4, MPEG, WMV, and many more. Youcut is supported by Windows, Mac, and Android devices.
How to Use Youcut Video Editor
(1)Download
You can download the android version of Youcut on Google Play Store. Youcut for PC can be downloaded on Techforpc website for free.
(2)Install
Install the Android version straight on Google play store or download the apk file when you search for Youcut video editor apk on Google.
For the PC version, you need to download an emulator first. Youcut is an Android app. Before it can work on PC you must already install an emulator. We recommend Bluestack as a good emulator that can help Youcut run properly on PC.
Once you have installed Bluestack on your PC, you can go to Google Playstore on PC to download the Youcut app.
After downloading Youcut app, open Bluestack, and launch Youcut from there. Your PC will ask you to allow permissions.
Read the TOS and click next to install the app.
After a successful installation, you can begin to import video files from your PC.
(3)How to use
Import video files from your PC to begin a new project. You may also drag and drop videos on the Youcut interface to begin video editing. Choose the editing tools you need and click Preview to see how good your edited video looks.
Pros of Youcut Video Editor
Easy to use software
Apt video slicing tools
Its free version is embedded with lots of video editing tools
The live Recording feature is inclusive
Cons of Youcut Video Editor
Options for adding music to videos is very limited
Some users complain of seeing a black border when Youcut video is uploaded on YouTube
There is no Undo button to return to a previous editing
Some video players may not play some Youcut video formats
See more reviews and get Youcut video editor tutorials.
Moreover, use a video editing software for mobile may cost more time than using software for PC, as editing videos with desktop software will make your editing work more effecient and easier. The computer's screen is larger than the phone's, which makes it easier to operate when editing videos. Moreover, since Youcut Video Editor has these disadvantages, why not choose an easy-to-use desktop software to improve the efficiency of editing video?
Best Video Editor for Deaktop Users - HitPaw Edimakor
Since Youcut Video Editor has such drawbacks, you may want to find a best alternative of it. To edit your videos effevtively, choose a desktop video editor will be a better choice. Here we will recommend HitPaw Edimakor to you.
To have all its features, you should download the software first. If you want to try to use HitPaw Edimakor after downloading, you can refer to the user guide of them.
Features of HitPaw Edimakor:
HitPaw Edimakor features a lot, and here we will just list several of it.
Offers almost all video editing features.
Edits videos, audios with ease.
Provides an easy-to-operate interface.
Allows users to add text, music, stickers, filters and transitions to videos.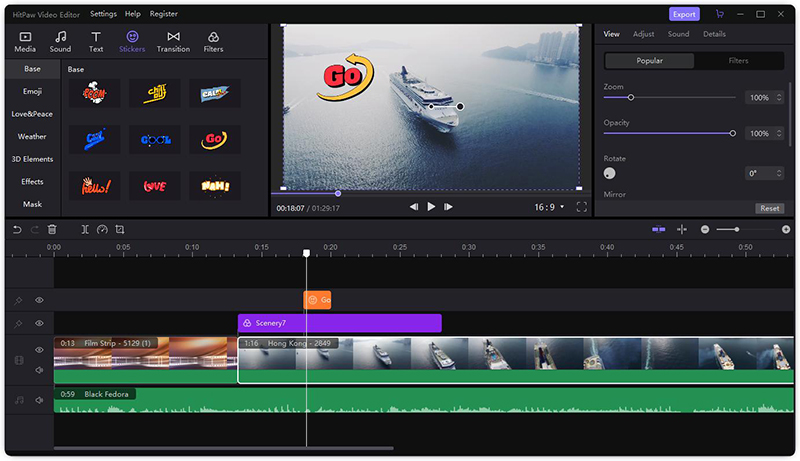 Conclusion
Creating beautiful videos is now very easy when you have the best video-editing software to do the job for you. Youcut can offer a good deal for editing home-made videos. And this article has told you everything about it. If you have any question about Youcut video editor, please feel free to let us know by leaving a comment. And if you are finding the best alternative of Youcut Video Editor, then choose HitPaw Edimakor.