10 Best & Exciting Movies of the Golden Globes Prize Winner Michelle Yeoh
The Golden Globes were all over the news recently. And many celebrities got a lot of attention due to it. Especially when one Indian movie got to win the best song of the year award. It was truly a rare site for the platform.
However, some stars like Michelle Yeoh hit it out of the park as she won a Golden Globe prize for one of her movies. In this article, we will explore 10 famous movies by Michelle Yeoh. Read on to find out more about Michelle Yeoh movie.
1.

10 Highly Recommend Michelle Yeoh Movies You Shouldn't Miss

The Golden Globes Winner Michelle Yeoh is a famous and extordinary actress. Here are the her top 10 movies that you should watch.
1. MEMOIRS OF A GEISHA (2005)
We've seen Michelle in very different roles before this movie. However, in this film, she has a different role altogether. Usually, she features in roles where she has physical capabilities. But here, the movie focuses on her personality.
This movie is based on a Japanese book that focuses on how Japanese women were forced into prostitution. You may find it offensive at times, but this movie has got many things right about this movies Michelle Yeoh.
2.YES, MADAM! (1985)
This might be an old film. But it's got everything that will force you into saying yes, madam!
Michelle is playing a cop in this film. The story is based on a story where a guy gets killed in a hotel room, and his passport gets stolen. Now, the offices are after the thief so that he can pay for his actions.
3. THE HEROIC TRIO (1993)
The heroic trio is a superhero film that will make you go crazy. Michelle plays a wicked role when she kidnaps children. And once they hit adulthood, she trains them to become her partners. The story will keep you interested towards the end of the film. It's one of Michelle's great films that you should definitely not miss this year.
4.TAI CHI MASTER (1993)
Have you seen the matrix? And if you liked it, then you will like this movie too. It is made by the action choreographer of the matrix. And Michelle has an all-guns blazing role that will make you cheer for her throughout the running minutes of the film.
It's an out-and-out action film that you will cherish for the rest of your life when you watch it. And you will go back to it every once in a while to just witness their acting prowess of Michelle.
5. SUNSHINE (2007)
Michelle has played a variety of roles during her career. This one is a science fiction film focusing on scientists sent to space to save the sun. Hence the name sunshine.
Although her plans don't go according to her wish throughout the movie, Michelle shines bright and outshines all her co-actors in the movie.
6. KUNG FU PANDA 2 (2011)
Remember Soothsayer? Well, that was played by Michelle. It's safe to say that kung fu panda two was a better movie than its prequel. It's a much more dramatic and darker movie, but it will keep you hooked on the plot until the end.
7. THE LADY (2011)
Yes, she has done political movies as well. In this film, Michelle plays the Burmese leader Aung San Sun Kyi. It's safe to say that she lived and breathed this character and has done justice to the film.
Even though this is always way different to what she's used to. She said it out of the park in this one.
8. CRAZY RICH ASIANS (2018)
Crazy Rich Asians was insanely popular after its release. It's among the Michelle Yeoh new movie. One of the reasons for this was that it was based on a popular novel. However, Michelle's character proved to be the life of this movie. She played the role of a matriarch who is a tough cookie. And she plays the role without even flinching for a second.
9. CROUCHING TIGER, HIDDEN DRAGON
In this film, Michelle plays a warrior. The film is filled with jaw-dropping action sequences that will keep you hooked. However, there is a twist. Also, the character of Michelle seems very tough, but she is a softie on the inside. And that plays a huge part in the plot of the story.
10.EVERYTHING EVERYWHERE ALL AT ONCE (2022)
This one is a new Michelle Yeoh movie. The role of Michelle in this movie was slightly more modern than in all her other films. Here she plays the owner of a laundromat who can't seem to finish her taxes. It's a great film with a subtle storyline. But, Michele does come out of her shell to break a few bones in the film. It's the best Michelle Yeoh movies 2022.
2.

BEST Photo Enhancer to Enhance the Michelle Yeoh or Your Highlight Moment

When the Golden Globes are aired, some of the fans want to save the pictures of their favorite actors instantly. However, the quality may not be as good at that time. But you can use tools like HitPaw Photo AI to highlight these moments.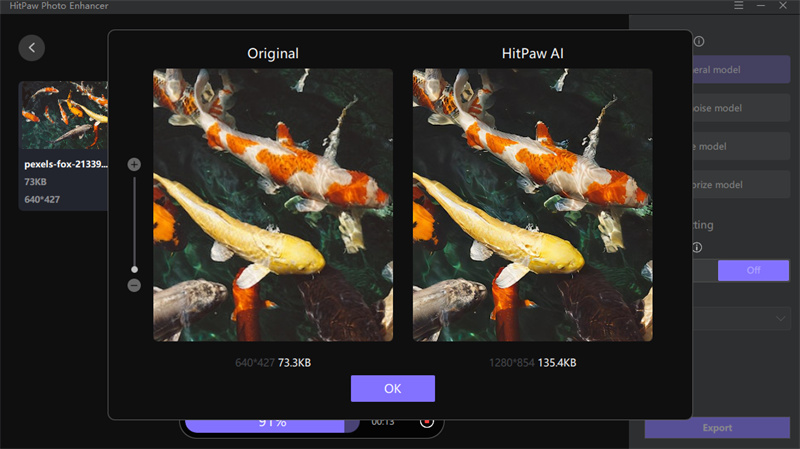 HitPaw Photo AI is an AI photo-enhancing tool that you can use to do a number of things. All you have to do is select the AI model that you want to use and the rest will be done by the software. The best thing about it is that you can also batch-sharpen or enhance your photos to save time. It's available for both Windows and Mac, so you can enhance pictures from Michelle Yeoh movies 2022.
Available on both windows and Mac
Batch enhancement
Fast-paced
No glitches
Here is how you can use the tool.
Step 1.From the official hitpaw website, download the HitPaw Photo AI tool and install it.

Step 2.Upload the photo on the tool that you want to improve. You can even use screenshots to get the desired result.

Step 3.From the options, choose the general AI model as it will be useful in enhancing the picture

Step 4.Before saving, you can preview the image to ensure that everything is according to your standards.

Step 5.You can save the picture by clicking on export.
3.

FAQs of Michelle Yeoh

Here are some frequently asked questions about Michelle Yeoh.

Q1. Is Michelle Yeoh an actual martial artist?

A1. No, Mishaal is not an actual martial artist because she had no formal training for it. However, she is really good at it so people sometimes presume that she is a real martial artist.

Q2. Is Michelle Yeoh married to Jean Todt?

A2. No, they have been engaged since 2005. But the couple is still not ready to tie the knot.
Conclusion
Michelle Yeoh movies have been a great source of entertainment for the masses. However, if you ever wanted to take a screenshot from one of her movies - and you were disappointed because of the resolution. You can pull all those screenshots out of your bag and enhance them using the HitPaw Photo AI and you will finally be able to upload them and even enhance pictures from Michelle Yeoh.