How Can We Remove Watermark from Video Magically and Simply?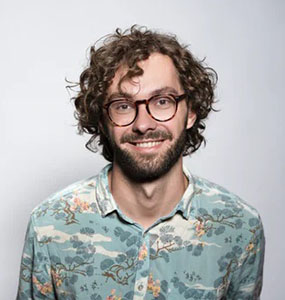 Joshua Hill
As we all know, videos are always added logos and texts to protect the copyright of the original videos, which causes bad visual effects of the video. But how can we remove watermark from video for personal use? Luckily, we get several methods to help us solve the problem.
In this article, I'll share with you how to remove logo from video directly by using a desktop software, and the detailed information about how to use an online solution to remove watermark from video free, as well as other indirect ways to finish the job such as crop, replace and add mosaic to videos. Now, let's keep reading the article below to learn more.
Part 1. The Best Paid Way to Erase Watermark from Video Directly
Removing watermark from video with HitPaw Watermark Remover is a simple and easy process. We highly recommend you to try this impressive program. The software offers a highly intuitive UI, therefore you can remove the annoying texts or logos with just a few clicks. This excellent program allows you to get rid of watermark on video as well as image. Its features and steps of use are as follows:
The Advantages of Using HitPaw Watermark Remover for Video Watermark Remove
Supports both image and video watermark remover.
Provides 4 modes to satisfy different watermark remove needs. For example, in"Matte Filling" mode, you can copy any part in the video and cover to remove watermark from video without blur.
Real-time preview.
Fast speed.
Friendly and easy-to-use for new comer.
How to Remove Watermark on Video with HitPaw Watermark Remover
Below are the steps on removing watermarks from videos with HitPaw Watermark Remove software.
Step1: Download and install HitPaw Watermark Remover on your computer.
Step2: Launch the HitPaw Watermark Remover and click the 'Remove Video Watermark' tab.
Step3: Click 'Choose File' button and locate the video for which you want to remove the logo or watermark.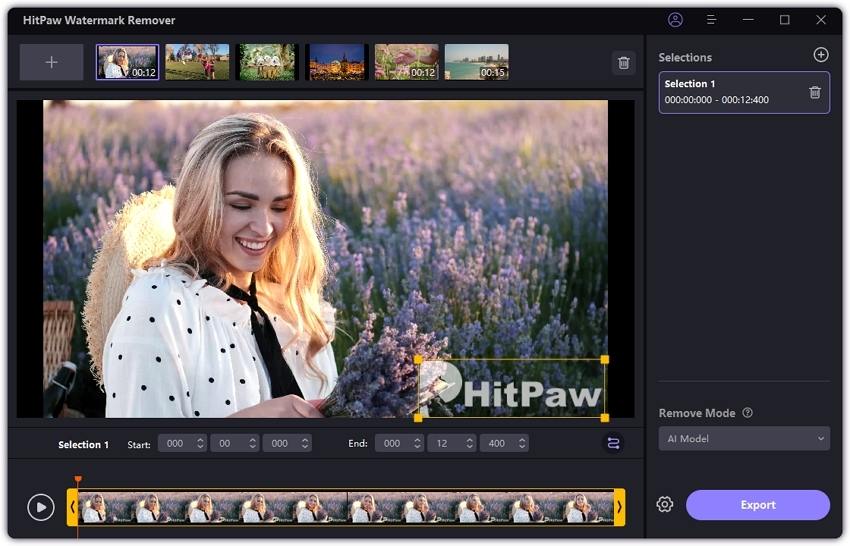 Step4: At this point, you mark the watermark on your video. Press, hold and drag your mouse to cover the entire area of the watermark.To drag the timeline bar, you can adjust the duration of the watermarks.
Step5: Finally, click 'Remove and Export' button to remove the watermark and save the file. Then, you can select 'Open Folder' to find the video without watermark.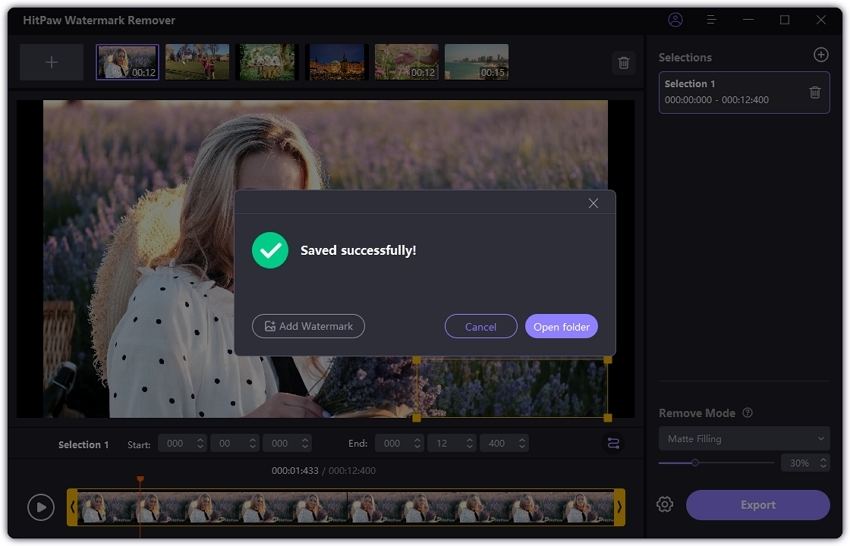 Here is the video introduction for the 4 new features that allows you to erase watermark from video.
Part 2. Free Watermark Remover Video Online Solutions
There are also free online ways to remove watermark from video free. The pros of online tools are that they are free and requires no installation. Meanwhile, the downsides are that the speed is slow and no adds-on features provided. Here we recommend you to try the methods below:
Method 1. Remove Watermark from Video Via HitPaw Online Watermark Remover.
HitPaw Online Watermark Remover allows you to remove watermark from videos or images. And it also can add watermark to your videos. Furthermore, it has more functions and more surprises such as cut, speed and crop the videos and so on. The software is web-based and doesn't require any software downloads. We show you the steps as follows:
Step1. Visit HitPaw Online Watermark Remover site, and select 'Remove Watermark Now'.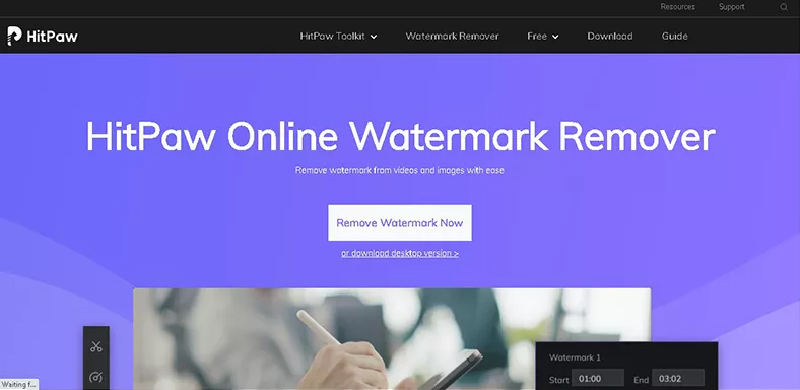 Step2. Then, select 'Choose File' and locate the watermarked video.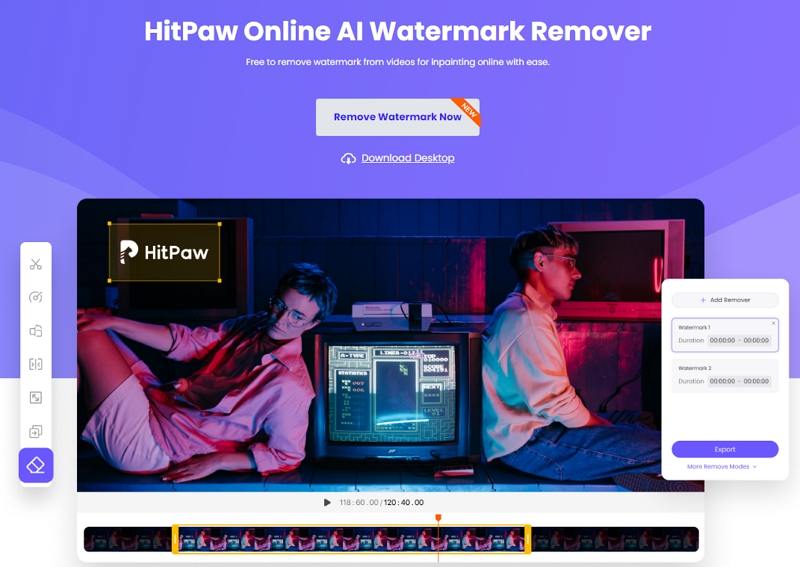 Step3.Drag the box to the watermark and adjust its size to be consistent with the watermark size.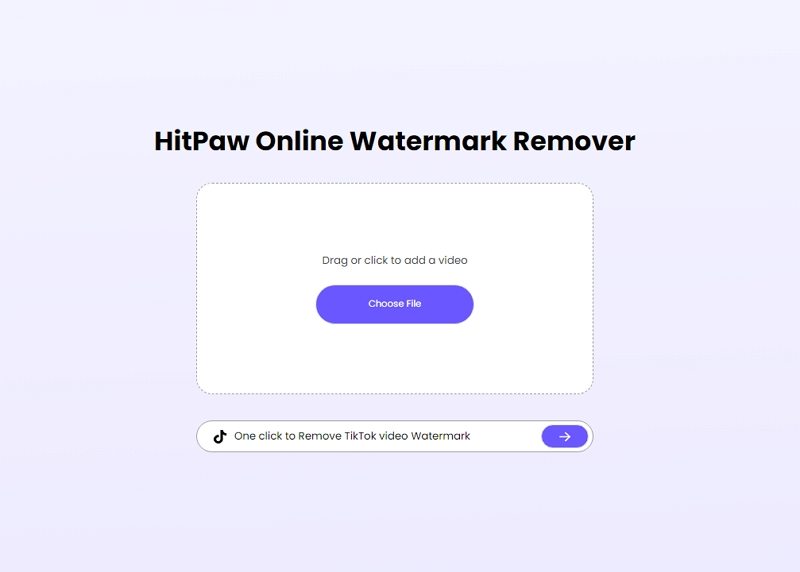 Step4. After it is complete, click "Save" button to remove watermark. Then choose "Download" button to finish the job. Now open up your video on your local device, you will find the watermark is gone.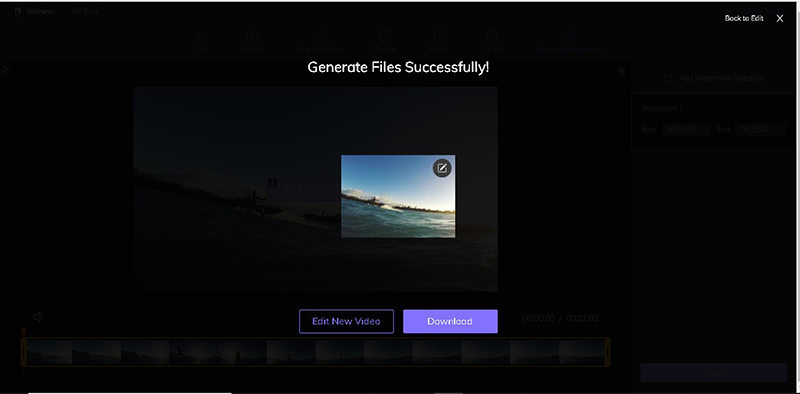 Method 2. Apowersoft Online Video Watermark Remover.
Apowersoft Online Video Watermark Remover is a software for users with any hassle. It can remove any kinds of watermarks. Its features are as follows:
Remove watermark from videos or images
No privacy risk
Ease of use
Free and nothing to install
Here are the steps to use:
Step1. Visit Apowersoft Online Video Watermark Remover website.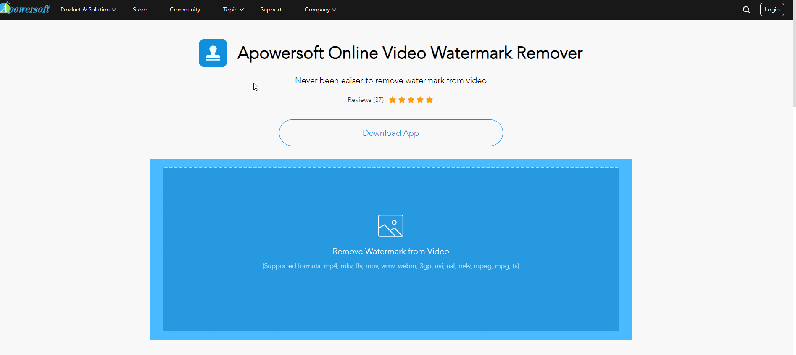 Step2. Click "Remove Watermark from Video" to upload your videos from the computer.
Step3. Mark the watermark and adjust the size. You can add at most 10 boxes.
Step4. Click the "Erase" button and this online tool will process automatically and download video. Then you can open your file at the bottom left.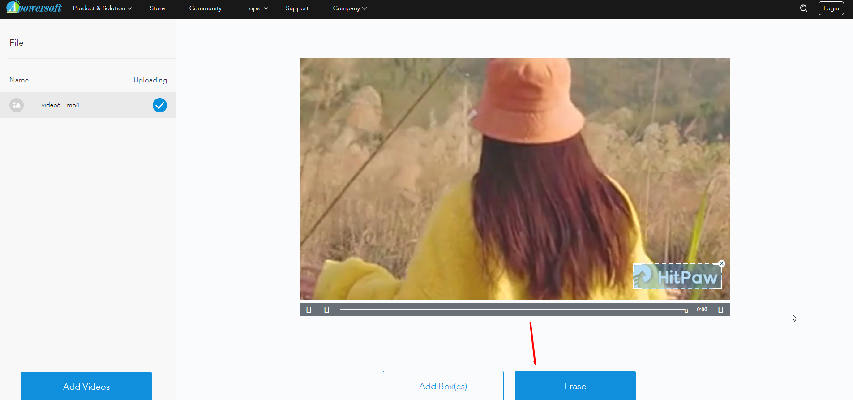 Part 3. Crop Video for Watermark Removal on Windows & Mac
Here we finds indirect ways to remove watermark from video. By trying these ways, you can also solve your problem.
Method 1. Using HitPaw Toolkit
If the watermark is a small one and located in the corner of your video, then you can crop that specific area with watermark. This will lose a certain part of the video but the video keeps clean. Here you can have a consider of HitPaw Toolkit video editor. It is very easy to use as it has highly intuitive user-interface. It has many features such as cut, crop & rotate, add music and so on. Please follow this guide to learn its detailed steps.
Firstly, visit HitPaw's official website. Download, install and buy the software.

Next, open up HitPaw Toolkit. You can see its many features here. Select" Crop & Rotate" feature and import your video to HitPaw Toolkit.

Then adjust the box to get rid of the watermark from your video or choose Original, 1:1, 4:3, 16:9, and so on to avoid the watermark.

When done, click "Export" button. The software will process the crop order and export the video on your local device. And you can open folder to check the video. Then find the video without watermark.
Method 2. Remove Watermark from Video on Mac with iMovie
You can remove watermark from video in iMovie by cropping it. Here are the steps to perform iMovie watermark remover.
Import the video to iMovie.
Click the Cropping button to show the cropping controls.
Click on the "Crop" button, you will see the ajustable frame on top of the video in the viewer.
Move and drag the frame until the watermark has been totally removed.
Click the Apply button to confirm your changes.
Then, click on File to save your video with the watermark removed.
Final Thought
At this point, we have introduced you all the feasible ways on watermark video removal, including the powerful desktop software HitPaw Watermark Remover as well as online watermark remover tools. We can only choose the best one under certain circumstances. HitPaw Watermark Remover is recommended when you have both video and image to get rid watermark. What is more, it offers more choices to remove watermarks on video easily.