[Super Useful Tutorial] How to Watermark Instagram?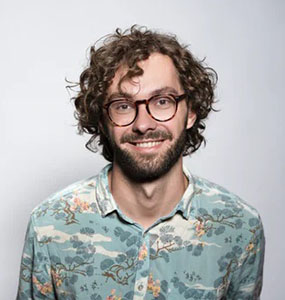 Joshua Hill
With the nerve-wracking competition on Instagram, the rate of using pictures without the owner's concern is also increasing. Anyone can use your content and efforts with their name. Watermarks give security to your pictures and also helps you to promote your business through logos and signatures on them. If you use a proper app to watermark Instagram pictures it will not affect their quality as well.
How to Watermark Instagram on Android/iPhone/Windows/Mac
1. How to Watermark Instagram on Android
The app 'Watermark- Watermark Maker| Watermark Photos' is one of the best option to add a watermark on Instagram using your android only. It lets you make customized watermark Instagram logos for your brand and you can also use the existing ones as well. You can customize your fonts, ratio, background, sizes of your pictures. It offers 2500+ high-quality logos, 10,000+ icons, and backgrounds to enhance the beauty of your pictures.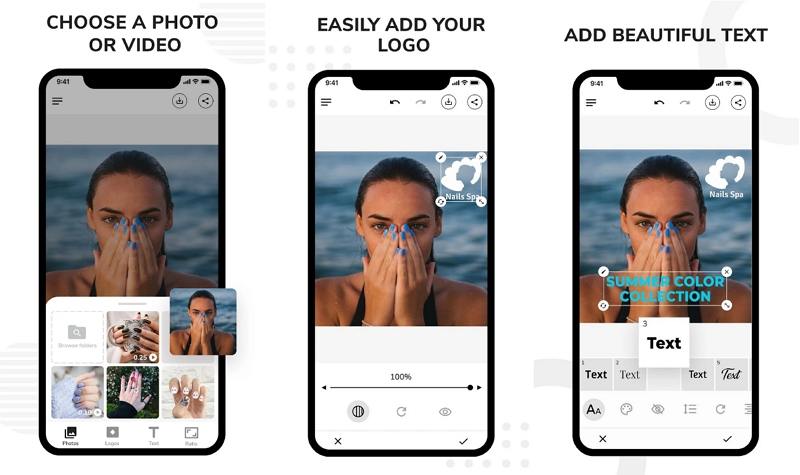 Step 1: Search the name of the app on the Google play store and install it.
Step 2: After getting the app on the phone. Open the app on its home page and add an image to edit and watermark it. Adjust the ratio of your image first from the number of available options as per your need.
Step 3: Now create or use the available logo on your picture. Adjust the size of the logo to make it look like a part of the picture. You can also add text and style it according to your likes and preferences.
2. How to Watermark Instagram Photos on iPhone
Who would have thought that owning and creating a watermark logo for Instagram would become this easier and convenient? The Watermark Photo app provides a remarkable experience of watermarking your photos on your iPhones without any hassle. With custom made unique logos, impactful signature styles, and tons of other design elements you can beautifully put out your work with your name in the internet world. The most amazing quality of this app is that it allows you to share your work on all the social media platforms.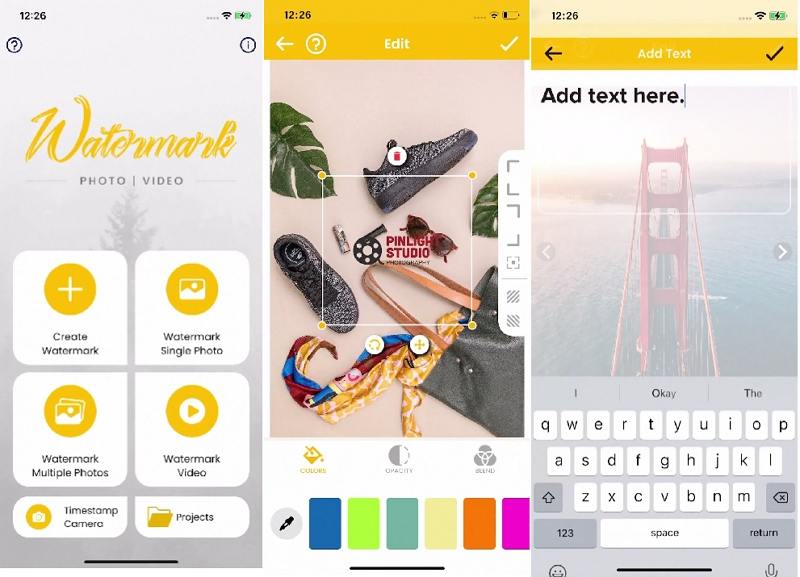 Step 1: Download the app from the App Store free of cost. You can also apply for a subscription to enjoy even more advanced features.
Step 2: Open the app and select the photo you want the watermark to be added. From the options below the picture, you can use stickers, texts, and graphics to create a unique logo for your brand or you can also import a logo that is already saved on your phone.
Step 3: Once your design is final you can resize and relocate the logo anywhere on your photo where you find it suitable. Once you are satisfied with your work you can save it and use it freely on Instagram.
3. How to Add Watermark to Instagram Photos on Windows
Visual watermark is a great comprehensive software to add watermark on Instagram photos using Windows. They offer a wide range of features to its users. You name it they have it. You can also add watermarks on 100 photos in just 1 min using this software.
It supports all image and logo formats including JPEG, PNG, TIFF, GIF, and much more. This software works in such a great way that the original quality of the image remains intact. It offers around 200 font families which you can use in bold, italic, and normal form. If your logo has a background they offer a feature to remove it as well.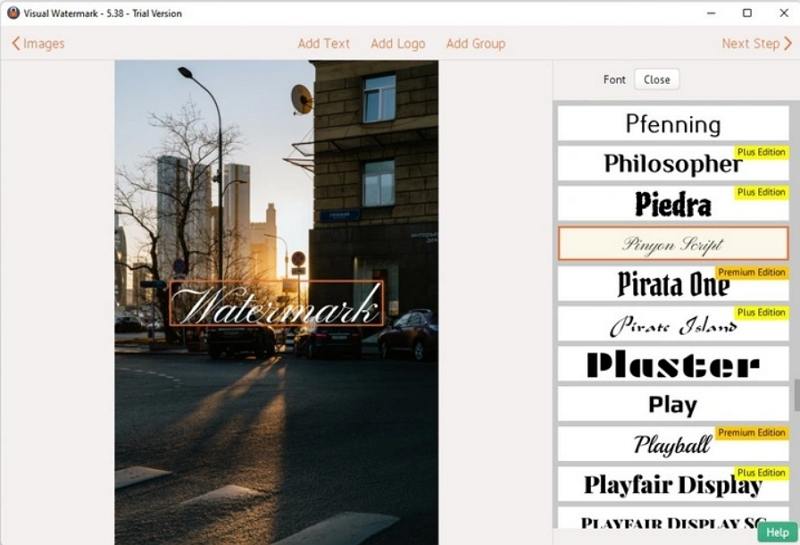 Step 1: Download the trial version from their website Visualwatermark.com. You can also get a paid version with 30days money-back guarantee.
Step 2: Once the software is downloaded select your targeted image or images, click on the Add logo option on the top. You can use a logo available on your desktop or their 60 built-in logos.
Step 3: The size, transparency, font of the logo, and the text can be adjusted accordingly. Then click on the next step option and add the location where the file needs to be saved and then click on the orange icon of Watermark below.
4. How to Watermark Logo Instagram on Mac
Photoshop is a powerful program with a modern interface that provides its users with automatic tools to correct and edit any image that you want. You can add watermark Instagram logos to any of your images. When it comes to creating a watermark for Instagram photos, Photoshop is the easiest and the quickest option on mac. It is advanced software that comes with a lot of handy and advanced features to add, create, and edit all kinds of text, logos, or signatures to your image.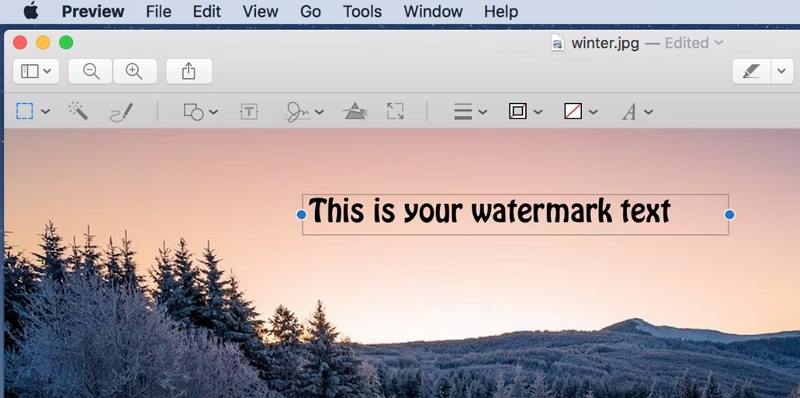 Step 1: Open your image in Photoshop and then create a new layer named watermark to hold the mark on it instead of the real picture.
Step 2: On a new layer select the text tool. Click on your image where you want your watermark to be and write your text. Select the text to change the font and color of your text from the toolbar. Drag the mark where you find it most suitable.
Step 3: You can also adjust the transparency of your mark. Keep the opacity from 30 to 50% as it will not divert the attention from the image.
Why You Shouldn't Watermark Your Instagram Pictures
Adding a watermark has become a very common practice in today's times. People watermark their Instagram photos for quite a lot of reasons that we have already discussed above. But certain reasons guides us not to add watermark to our extraordinary Instagram pictures. A few of them are as follows.
Reason 1: When you add a watermark to your picture, it affects the composition of your image sometimes in a good way and most of the time in a bad one. Most of the time your watermark looks quite out of the place laid out on your picture ruining the beauty of it. It distracts the attention of the viewer from the actual motive of the image.
Reason 2: Adding a watermark will not save your picture from getting stolen. The internet world is so cruel and sharp that they can use your image by cropping the watermark from that part of the picture effortlessly. They have thousands of other ways to use your photos without your consent.
How to Remove Watermark from Instagram Pictures
When it comes to removing a watermark ethically from any image the HitPaw Watermark Remover can prove to be your best friend. It is so easy to use that any non-tech person can also master it skillfully. They provide great tools and features to remove any watermark without nudging the quality of your precious image.
How to remove watermark
Step 1: Install the software on your desktop. Open it and select the option Remove image watermark. Drag and drop or import the image into the program.
Step 2: Now there are three ways to remove the watermark in the Remove mode I.e. smooth filling, edge filling, and texture repair. The first and second modes are best when you are dealing with a single color picture and the third one is best for mixed color images.
Step 3: Click on the Remove Now option and review the image without the watermark. If you are 100% satisfied then you can export it to save it permanently.
Conclusion
Using a watermark is your choice completely whether you want to use it or not it's up to you. People who use watermark are usually the ones who want to protect their work and earn through it. Your watermark is not going to stop people from stealing it. The above-mentioned apps and software can assist you a lot in adding a watermark to your pictures whereas if you are in need to remove any watermark then HitPaw Watermark Remover is your best option to go for Watermark Instagram photos.